How I turned a junk food challenge, looking for a different macaron filling, into Coca-Cola macarons.
When you love macarons like I do and discover macaron blogs like MacTweets, it's all part of the magic! Run by Jamie and Deeba, who are both adorable macaronivores, sadly they don't run it any more but the blog continues.  What was particularly fun about their blog, is that they set a macaron challenge every month.  Each month the challenge is something different and inspires us to come up with macarons that are rather original.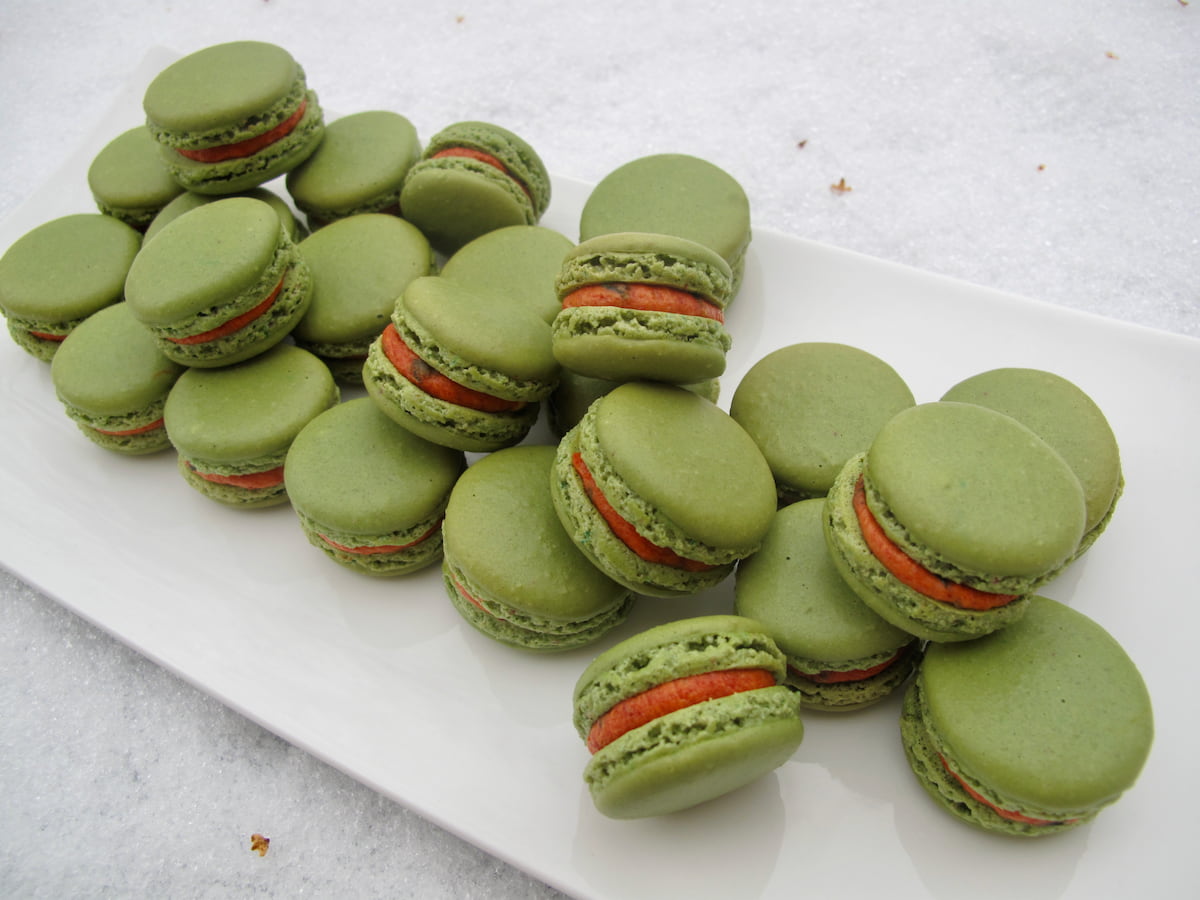 Previously, the macaron challenge was something spicy.
For spicy macs – have you seen my mini Thai Red Curry Macarons, Tikka Macsala or Beetroot and Horseradish macarons (all in the savoury chapter in my first book, Mad About Macarons)?  I contacted them, excitedly. Can I join in, too, even if I've written a macaron recipe book? Eeek. Yes! The filling fun was going to start.
The Junk Food Macaron Challenge
When I saw their macaron challenge based on JUNK FOOD (which is not me at all) – it was definitely a personally difficult challenge I had to try!
"….Put aside all of those elegant flavors, the sophistication and beauty of those little French treats and think junk food! Transform your macs into the perfect ballpark (or couch potato) snack food! Give it the old ballpark twist, salty or sweet, creamy, crispy or ice cold and here's a Hip Hip Hooray for the old ball game….snack!"
My first reaction was to go for a buttery, caramel popcorn.  That was perfect; but I discovered quickly that others had thought of this already with beautiful popcorn adorned macarons.  I had to think of something else.  Not easy, especially as we're too tempted to dream up elegant flavours and go the sophisticated route with macarons.  But JUNK FOOD?
I am definitely not a junk food eater but one thing I could identify with is Coca-Cola.  A chilled coke in the summer heat, watching your favourite match.  Could I turn this into a macaron?  The beauty with macarons, you have an empty canvas – so you can make any kind of filling to make the macarons of your choice!
Creating the Visual and Taste of Fizz in a Macaron
I made a start, flicking (perhaps a bit too wildly in places!) dark food colouring to show a visual fizz.  Antoine's cousin had a brilliant idea: use some space dust fizzy sweets to crumble on top (just discovered they're called pops rocks dips here in France).
Taking the fizzy filling a step further, I used some sucre pétillant – fizzy sugar or popping candy.  What a real fizzy sensation as a result on the tongue! So, ladies and gentleman, boys and girls, I present you with my fizzy Coca-Cola Ballpark Snack Macarons for MacTweets.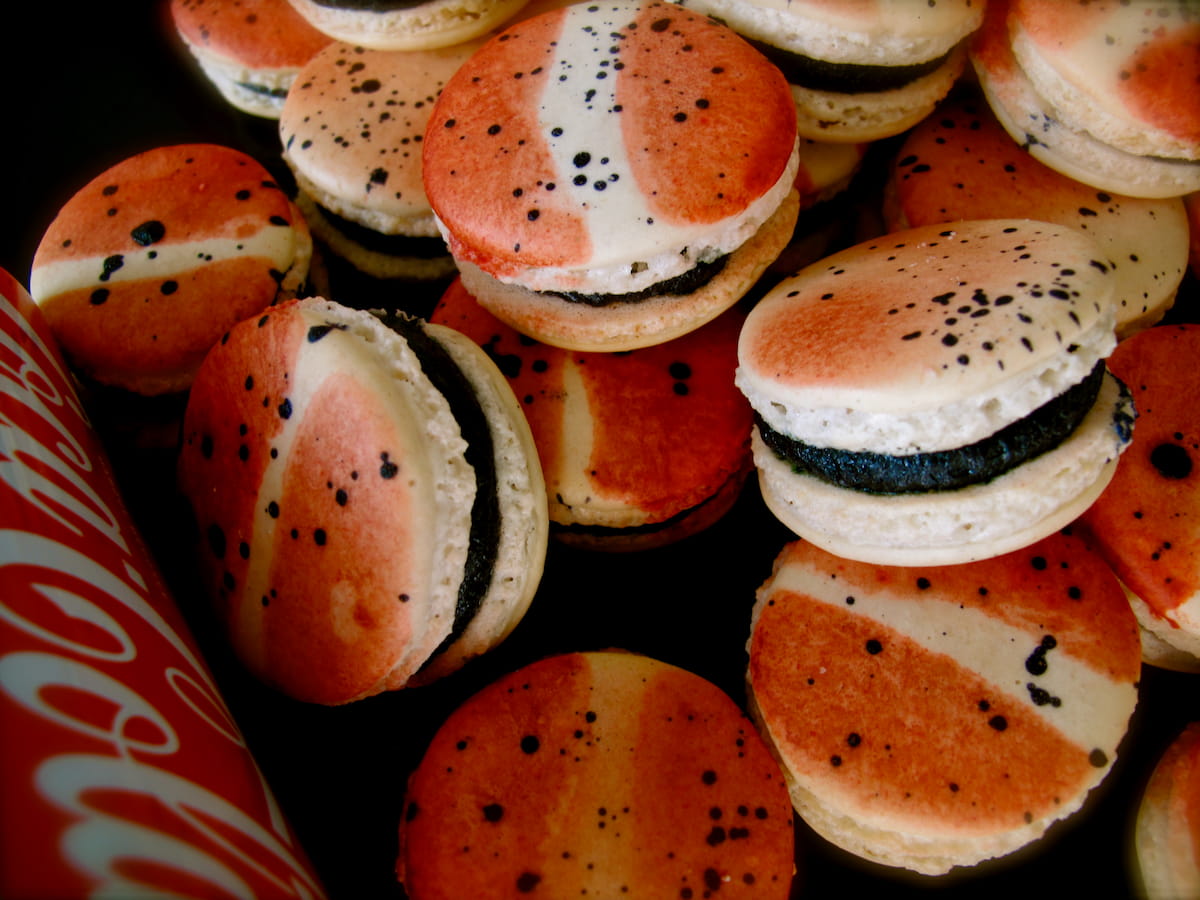 Idea for the Filling
The filling's main ingredient is actually Coca-Cola. Except this is not an easy one for the flavour, as it's not strong enough for a macaron.  It needed a bit of a boost with extra flavourings.  Coca-Cola extract is not something I normally have in my cupboards (although I'd recommend using it if you have). Instead, I added a dash of caramel flavouring to concentrate the flavour.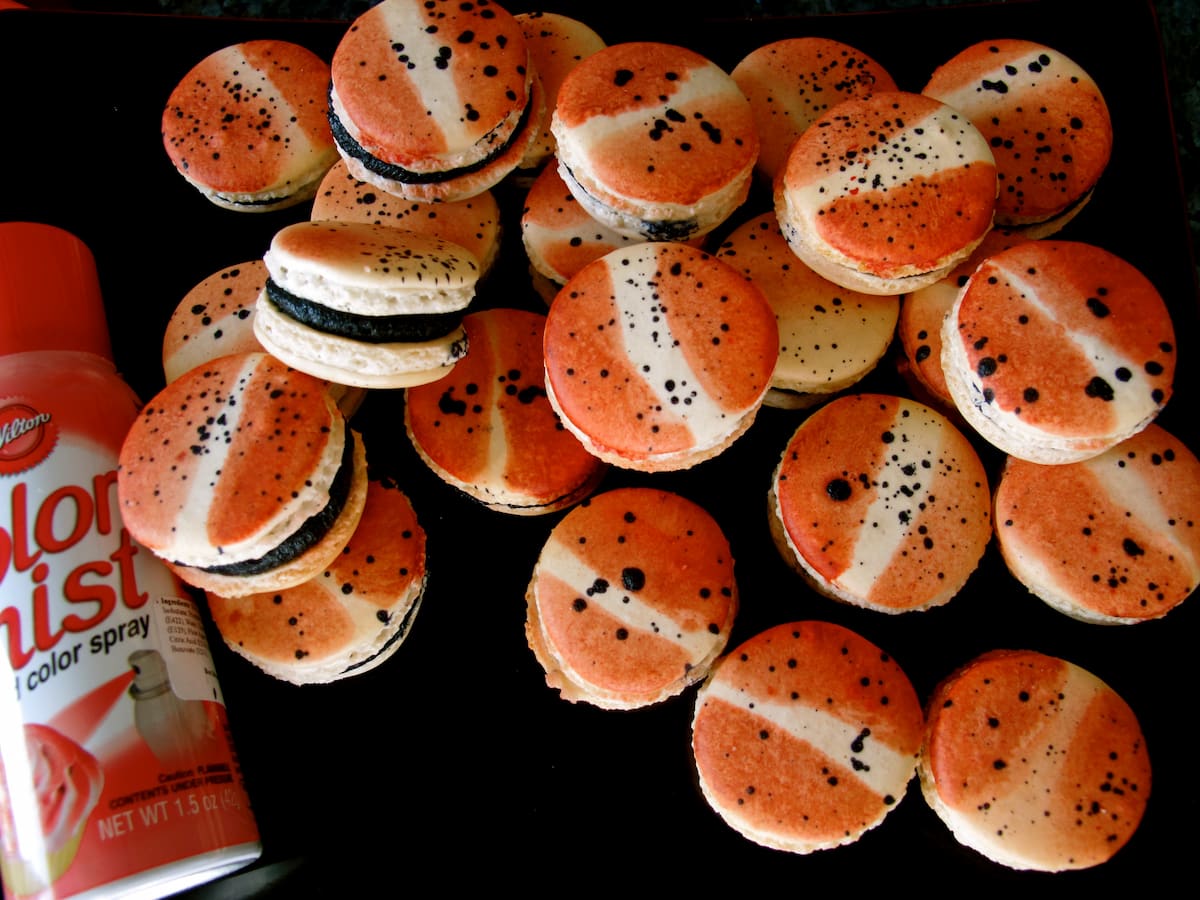 Macaron Shell Decor
Then I had some fun and sprayed them with Wilton red food colouring. And since I'm a bit Mad About Macarons, I couldn't resist finishing off with a fun shot using my kids' doll house toys – just to throw them into the ballpark!
The Fizzy Soda Macaron Recipe
For the complete recipe how to make Fizzy Soda macarons, such as Coca Cola macarons or Orangina (fizzy orange) macarons, get my second book, Teatime in Paris! It's in the Macaron Recipes chapter on page 165.
This blog post was originally published on 23 May 2011 but text is now updated and includes better images