Continuing our morning walk in St Rémy (part 1), you can really feel Vincent Van Gogh's presence in Saint-Rémy-de-Provence. Reminders of his paintings appear when you're least expecting it.
Vincent was fascinated by the enormous plane trees; they're dotted all around town, providing welcome shade here at the Mairie or town hall.
I love getting lost in the back-streets, especially when they're as old as this – do you?
Always look up at the buildings.  I could have missed this Hospital established in 1646.  Look at the scallop shell (Saint Jacques) above the doorway. Although no hanging around – I could have missed our friends who were pressing on with a delicious destination in mind.
We were heading to the most exquisite chocolate shop in boulevard Victor-Hugo.  I'd heard of Joël Durand as a chocolatier (seen in La Grande Epicerie in Paris), so when I saw this sign at the entrance of his boutique, I was confused. Parfumeur?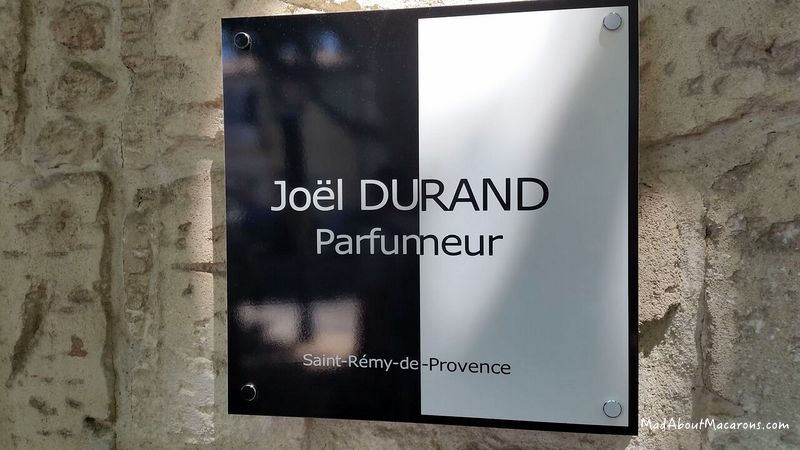 Joël Durand not only makes his signature Chocolate Alphabet (l'Alphabet des Saveurs), in which each letter represents the most delicious concoction of dark or milk chocolate perfumed with spices, provençal herbs, flowers or fruit to name a few, but he also creates a chocolate Eau de Toilette and scented chocolate candles.
His ice creams are also welcome during these soaring summer temperatures. The day's specials were chocolate with violet, white chocolate with mint, chocolate with a liquorice stick.
Joël Durand also honours the local cigales in the form of milk chocolate lavender or dark chocolate with rosemary. I'm also looking forward to tasting his Coriscan cédrat marmalade, salted caramel, plus some vanilla coated almonds on return from our travels but right there on the spot, Valérie and Hervé insisted we try out a selection of Joël Durand's alphabet chocolates.
Just next door was the perfect solution to have a chocolate tasting: a wine bar (21 Chai d'Oeuvre) with tables in the shade of more plane trees and leafy vines, as we realised the chocolates would melt in a matter of minutes in temperatures approaching 100°F/ 38°C!
A platter of charcuterie and cheeses just hit the spot with some chilled local Equinox rosé wine before tasting a selection of Joël Durand's chocolates from the alphabet.  As Valérie enjoyed V for Violet, we watched our Ps and Qs: P for Provence (almond pralines with black olives from the Baux valley) and Q for Châtaigne (milk chocolate with chestnut liqueur from the Ardèche – or should that be the Q-Ardèche?). My favourites were G and L: G for Guyane with 41% milk chocolate, crunchy nutmeg and cinnamon with a slight hint of lemon zest; and L for Lavender and 41% milk chocolate.
Y, O, Y didn't I get all the way to Z? I'll try out the rest on my next trip to La Grande Epicerie in Paris.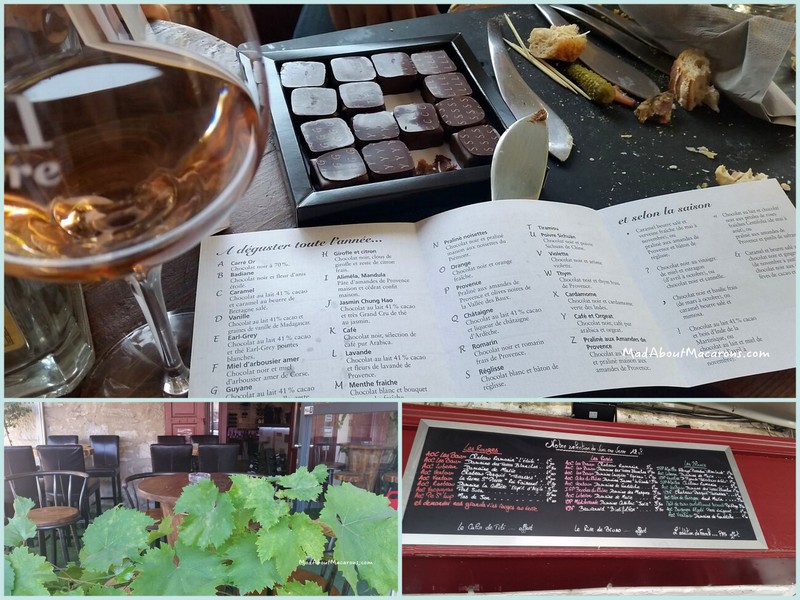 Who could resist the wine bar's humour presented at the bottom of the blackboard?
Le Calin de Titi … offert (the hug from Titi is free)
La Rire de Bruno …. offert (Bruno's laugh is also on the house)
L'addition du Frank … PAS offert (the bill from Frank is NOT free)
That was our lunchtime apéritif.  Original with the chocolate but hey, when in Provence during a heatwave, we need a plan B (incidentally, B is for Badiane: dark chocolate with flower of star anise).
Saint-Rémy-de-Provence was closing up for siesta time.  It was time for the kids' naps.
And ours after lunch, dreaming up what Valérie would cook for another Provençal dinner!  Now that's another delicious story.
3 boulevard Victor-Hugo
13210 Saint Rémy de Provence
Tel: 04 90 92 38 25
Open seven days a week!
---
As I'll be going on holiday this week, posting and responding to your welcome comments will be rather erratic (depends if I can get to a computer!), so please don't forget to subscribe to posts (see right bar) so that you don't miss them.  It's also easy to follow me on my travels on instragram.