I should have split this long post up into episodes. Instead let me share with you a bumper wine edition from Burgundy's annual wine festival which took place in Clos Vougeot.
This past weekend the vineyards around Burgundy's Côte d'Or were alive with the sound of visitors trying desperately to park their cars.
Nearly 50,000 visitors turned up to the 70th edition of the Festival of Saint-Vincent Tournante in Burgundy this weekend, over 25-26 January.  It's the first time the wine festival was held in the tiny village of St Aubin (with 260 habitants) in the Côte de Beaune.
Traditionally celebrated over 2 days in January, each year the wine growers around Burgundy get together to pay homage to their patron saint, St  Vincent.  It's a festival that originated in 1938 but not until 1964 was it opened up to the public and, ever since, each year it has become increasingly popular.
It's as if we're stepping back in time. Early morning at sunrise – following a glass of the white nectar with breakfast – there is the traditional red and golden robed procession of the Confréries des Chevaliers du Tastevin with the wine growers (vignerons) through the chosen village, followed by a religious ceremony – all under the protection of Saint Vincent, held high above the vignerons' shoulders, represented as statues amongst the various wine growers' banners.
We witnessed the St-Vincent procession four years ago in the neighbouring host village of Chassagne-Montrachet. I've hunted for my photos from the ceremony in vain, but see images of the religious procession in St Aubin.
We missed the ceremony this year, as an invitation to a tasting of Jean-Claude Ramonet's legendary Chardonnay whites in Chassagne-Montrachet was one of these you-only-live-once opportunities.  The only wine bottles we saw were ones without labels, replaced with white abbreviated markings of type and year, not yet ready for the public.
Starting with Bourgogne Aligoté (the dry, even tart wine that traditionally is used in the kir apéritif), we went through young wines such as Le Montrachet (I took me years to realise not to pronounce the 't') and concluded this exceptional white tasting with a monumental Bâtard-Montrachet.  The sophisticated aromas were either already full of butter and dried fruits or slightly closed, like under-ripe peaches. What's astonishing is that a couple of minutes later after tasting, the most immense flavours of buttered toast, nuts, cream and peachy fruits start dancing in the mouth.
With these kinds of wines, you don't use the spittoon.
Having my modestly petit wine diploma from the Wine and Spirit Education Trust a hundred years ago (the first that takes you on to the ultimate Master of Wine), it gave me a lame excuse to swirl the golden drink of the wine gods around the tasting glass. What I hadn't learned in my student days was the traditional hand-twirling, clapping song, le ban Bourguignon: lala, lala, lalalalalèèère, lalala, lalala, la, la, la – a signature appreciation to end off the event.
Next stop, St Aubin. As you can see from the dazzling sun bouncing off my huge frozen nose, St Vincent also protected us with the weather. It may have been just above zero degrees but the sun made up for the numb fingers and toes.
For the festival, 6 wines (cuvées) were made especially for the occasion with a 7th ticket for the day used as a glass of your chosen wine-maker. Glasses sporting Saint-Aubin logos are THE designer glasses that you'll need for the weekend; apparently the glass idea started in 1973.  There are 130 hectares with 30 Premiers Crus in St Aubin, with reminders throughout the village.
Every house and balcony are decorated by the village residents with realistic-looking flowers, made from colourful crepe paper.
We were so wrapped up with the convivial atmosphere, with musicians and eating stands (my idea of the perfect lunch was a bowl of oeufs de meurette, not pretty to photograph but exquisite poached eggs oozing in a red wine, garlic and bacon sauce mopped up by a crusty baguette), that it was quite easy to forget about the wine tastings themselves!  I ended up tasting only 2 whites but then, after Ramonet's exquisite wines, it's no surprise.
 The village is traditionally decorated according to the four seasons.  Spot the tree humour and crêpe paper effects on this summery deck-chair.
Another reminder of St Aubin's Premier Crus…
Do you know your Magnum (1.5l) from your Rehoboam (4.5l) or Balthazar (12l)?  Perhaps useful to have up your sleeve if you're playing 'Who Wants to be a Millionnaire'?
This is when I got lost from our group members by taking photos.Suddenly there were a few people wearing red hats like our friend, Hervé.  I just happened to follow the wrong one.
Hot oysters this way, red wine tasting that way.
Wine Aroma Experience
What about this way for a wine aroma experience?
This was my girls' favourite part. They'd already worked it out: touching the buttons below each vase circulated the air inside and the aromas wafted around in the giant glass.  Let's face it, as French children, my girls don't drink the wine yet but can appreciate their aromatic qualities and practise with Mum and Dad…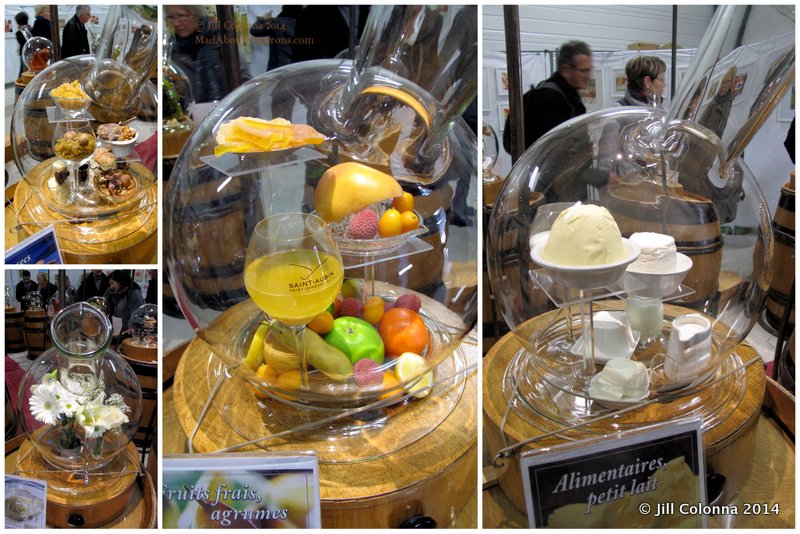 Stick your nose in there. Do you get white flowers, fresh fruits, citrus, butter or cream? What about dried fruits and nuts?  Each aroma family is more powerful than meets the eye.
One of my favourite wine games is blind tasting using black glasses (sometimes you can get caught out with water!) but this was a blind aroma test.  We all debated but I'm sure this one was honey.  Time to move on, as it's a sticky subject.
For red wines in particular, perhaps you discover the animal side: do you get the leather aromas, or wooded vanillas and spices such as cardamom, pepper or coriander?
My daughter, Julie, pushed the button on the sous-bois jar.  How many times have you had an earthy red wine, recognising the natural wafts  of the leafy, moussy undergrowth?  It was so realistic.
Now, repeat after me, 'Empyreumatic'.  I still can't say it. This is a family of aromas that cover anything burnt, smoked or grilled, which includes coffee and chocolate.  It's a sign that wines were aged in wooden barrels rather than just inbox cylinders.  Do you get that toast, reminiscent of a white Burgundy, like Mersault?  Hm. Try and pronounce that at a wine tasting.
The red fruits and candied fruits were definitely to be sniffed at.  Again and again.  Hm. I felt like a berry gratin or brûléé.
Before night was upon us already, we headed back to our gîte at the Pavillon de Chasse, or hunting lodge.  The only hunting we were doing was checking out the rest of our wine friends next door at the Château de Tailly, where dinner was laid on by our chef à domicile friend, Thomas Le Courbe aka Toma, who has worked with chefs including Pierre Gagnaire.
The glasses on the table were preparing themselves to be thrilled with our friend, Jean-Pierre Guyon's nectar for the evening. Another legendary wine-maker in Vosne Romanée – covering the Côte de Nuits and Côte de Beaune – he took us through his delicate feminine wines from whites such as Savigny-les-Beaune, Nuits-Saint-Georges (pinot blanc) to the purest reds such as Chorey-les-Beaune, Gevrey Chambertain and Vosne Romanée Premier Cru. All tasting samples, you understand.
By the end of it all, who could forget the customary appreciation of such an epicurean weekend by singing le Ban Bourguignon? My Cod, it was wonderful, Jean-Claude Ramonet, Jean-Pierre Guyon and Toma. With special thanks to our good friend, Hervé, the prince of organisation!  I give you vin sur vin (20/20). Just next time, please don't wear a red hat.
Before I ask you to sing it and wave your hands in the air, what kind of wine would you prefer to go with this cod dish?  It has a touch of chorizo, saffron, butter, potato, mussels?
I'd thoroughly recommend where we stayed. It's a 3 hour drive from Paris, 1h30 from Lyon and 35 minutes from Dijon.  For more information, contact info@chateaudetailly.com.
Château de Tailly
Gîtes and Chambre d'hôtes
Tailly
21190 Meursault
France
This post is not sponsored.