Think of French poppies and often Claude Monet's impressionist painting comes to mind, n'est-ce pas?
Monet painted Camille and Jean strolling amongst the poppies near Argenteuil – not far from where we live.  I couldn't stop thinking about Monet's impression of the poppy field as we took a drive to the country recently. En route, poppies were out in all their glory – fields upon fields – to say bonjour.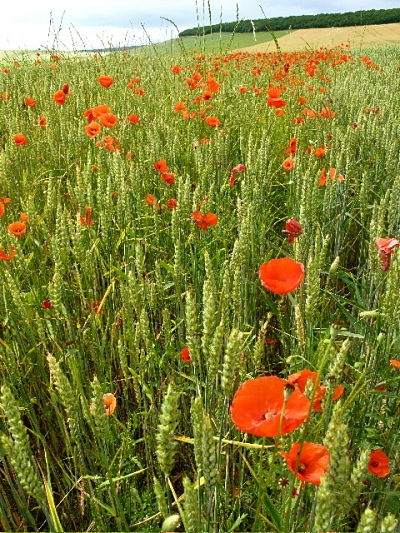 There was this urge to make French poppy macarons as soon as I got back home.  I had found an intense poppy essence (arôme coquelicot), which was like tasting pure bonbons as a child.
As the poppy flavour was so sweet – and it's still the rhubarb season – I added a touch of rhubarb compôte.  A classic is to pair poppy with strawberry, but the rhubarb just gave that tiny touch of tartness that brought out all the memories of poppy coquelicot sweeties.
The recipe for poppy and rhubarb macarons are in my second book, Teatime in Paris.
Visit to Pain de Sucre Pâtisserie in Paris with ParisPâtisseries
Join us on our mad macaron adventure at Pain de Sucre Pâtisserie in Paris.  I recently went with Adam Wayda of Paris Patisseries fame, to watch them making macarons using their new macaron-making machine.  Please don't forget that this is on a large scale (about 2000 macarons a day) and don't let that put you off making them yourselves at home.  Remember, they are a lot easier than you think!
Pain de Sucre making macarons Part I
Pain de Sucre making macarons Part II