Do you love your food and planning your first visit to Paris? Then a warm, tasty introduction to traditional French foods is a delicious way to start your trip. I recently discovered that The Paris Guy has an evening food tour, that's quite literally the hottest Paris food tour in the Marais!
While most walking Paris food tours focus on markets, ingredients, bread and cheese plus the sweeter side (like I used to lead in Saint Germain-des-Prés) on chocolates, pastries and macarons while walking, discussing and tasting in and between boutiques, Le Marais Paris Food Tour concentrates on primarily sit-down restaurant tastings of oysters and Champagne, wine, cheese, galettes (savoury crêpes) with cidre, Boeuf Bourguignon, more wine and crème brûlée – and that's not all.
Thank you to the Paris Guy for sponsoring this post by inviting me to experience Le Marais Paris Food tour. As always, all opinions are entirely my own.
The Hottest Paris Food Tour
The Hottest Paris Food Tour in the Marais kicks off with a warm welcome early evening near the metro, République. Our English-speaking guide for the 3-hour walking tour was Erica.
Our group was made up of a maximum of 12 so, along with the food tastings, anecdotes and history thrown in, it ended up being a fun social evening too.
Oysters and Champagne
To get us in the French mood, the POP sounded as our bottle of Champagne was opened with some explanations on the French's famous bubbly. Platters of N°4 and N°3 oysters arrived in this lovely seafood bar.
A touch of smoked salted butter served with the most delicious bread is delicious – but be careful: go easy on the bread in the initial stages, as you need to pace yourself on this food tour!  There's still more to come.
Sipping on Champagne, I also loved the refreshing minty touch to their carafe water. If you know me, however, I usually prefer more Champagne than grabbing (or "crab-bing") that bottle of water!
See anemones at the Parisian seafood bar?
Say Cheese – French Fromage!
Normally the Paris Guy Food Tour starts with the Oyster tasting with Champagne but exceptionally, as it hadn't yet opened at our meeting time, we started with the cheese. With over 1000 cheeses in France, no savoury tour is complete without it!
I'll leave you to discover the cheesy stories and tips on the tour but the tasting platter had a good variety of many of my personal favourites. If you're a couple, ensure you both have a taste of the stronger types together (just saying…), absolutely delicious served with fig jam (see my Corsican fig jam recipe here).
Walking past many landmarks in the Marais, such as the Mairie of the 3rd arrondissement above, we headed for the famous rue des Rosiers in the Jewish quarter. The speciality? Falafel.
Falafels, deep-fried chickpea balls, are one of those deliciously "Did you know that they're vegan?" types of foods that we enjoyed outside (the only tasting outdoors on the tour), with finger-licking sesame sauce coupled with a vibrant, festive ambience.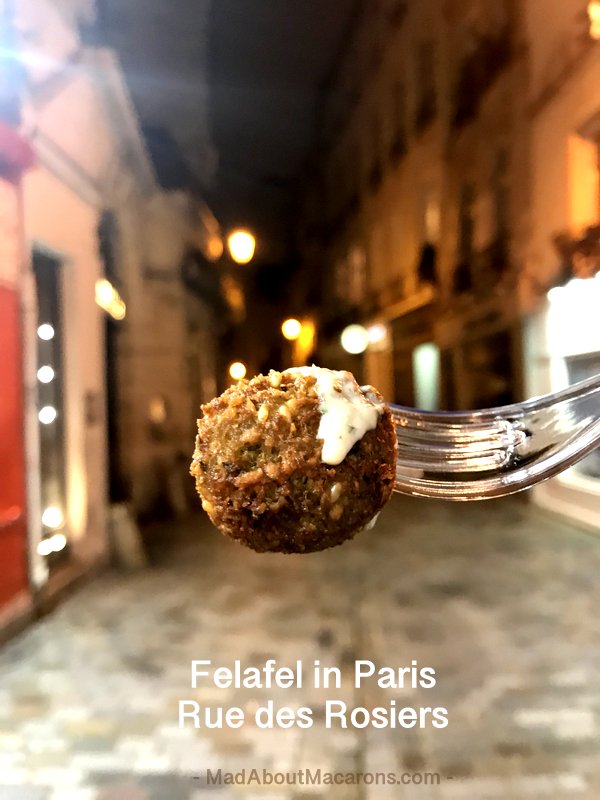 Galettes – Savoury Crêpes
Next up on the tour was a walk to a cosy Crêperie. Typically served in Brittany and in Normandy, traditional wafer-thin buckwheat galettes – savoury crêpes – are enjoyed with cider served in giant cups. We tasted a couple of varieties: Forestière (chicken and mushroom) and the popular Complète with ham, cheese and egg washed down with some Cidre Brut.
I did tell you you need to pace yourself! Our last stop was a most relaxed setting in a quiet, slightly hidden Parisian Brasserie for not one but TWO finale tastings.
As more wine was served, so was a generous tasting of Boeuf Bourguignon, a typical hearty beef stew from Burgundy, slowly cooked with mushrooms and carrots in Burgundy wine. Served with purée (also wonderful with Gratin Dauphinois), this is the ultimate French comfort food.
This is when Amelie Poulin would adore coming here too.  Her favourite part of this Parisian dessert, crème brûlée, is cracking the burned sugar surface and discovering the eggy vanilla cream underneath.
Incidentally, I have a recipe for a milk chocolate crème brûlée here.
As we said Au Revoir to Erica, our cheerful Paris Guy guide, Paris by Night awaited outside. The 17th Century Eglise Saint-Paul-Saint-Louis was glistening in all its glory before heading back into the metro home on rue St Antoine.
Hottest Paris Food Tour
Looking to try traditional French food in Paris on your first trip? Prefer to sit more in restaurants than mainly eat outside? Then this is the ideal evening walking tour with the Paris Guy – indeed, literally the hottest Paris food tour for couples, solo travellers, families with older children and amongst friends – and great as gifts too if friends or family are going to Paris!
Just don't forget to bring your appetite.
Disclosure: Thank you to the Paris Guy for sponsoring this post by inviting me to experience their Le Marais Paris Food tour. As always, all opinions are entirely my own.