Last year, when I finally plucked up the courage to weed our jungle at the bottom of the garden, a few plants with these familiar tiny white flowers were also weeded.  This was too cool: we'd been given a lovely present from the local birds! The more I looked, the more I found.  We had tons of them: wild strawberries or fraises des bois.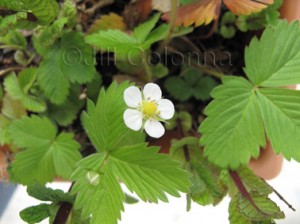 My first reaction was to dig them up and replant them into containers; well, there are plenty of cats and murky things in the night! They have lasted well throughout a tough winter and these tiny bright jewels continue to spring, hidden beautifully underneath their protective leaves. This container is filled with mint, which ended up being a good companion.
It's incredible how the birds don't even touch them: my biggest thieving magpie is my youngest daughter who gets in there before I can make something out of them.  She doesn't even like strawberries! Fraises des bois are seen more as forbidden sweets and no wonder: their taste is like the most concentrated strawberry you can find, mixed with a sensation of violets (remember the parma violet sweets?) in one miniscule, ephemeral bite.
When the thieving magpies were away for the weekend, I treated myself to a summery salad of Cherry Tomatoes, Strawberries and Rocket. The flavours of the fruits, peppery rocket and globe spice basil make this a real summer treat, giving an extra toast to the birdies with a glass of chilled rosé.
Tomatoes and strawberries together are intriguing; let's face it – they're both fruits, so why not with a touch of balsamic and rocket for some peppery spice? Using some mara des bois strawberries that were slightly on the acidic side, a few fraises des bois from the garden were delicately added at the end for a simple yet decadent taste of summer.
Then after this week's temperatures soared in and around Paris, it was time to chill out with something light and refreshing for dessert: an express millefeuille with peppermint pastry cream, redcurrants and wild strawberries (part of the egg yolk recipe series).  It was also a fitting combination with the Wimbledon tennis finals this weekend.
How could I not finish up with a few macarons?  I was going to delete that last phrase but do you realise how French that is?  They adore double negatives like "it's not that I wasn't going to add this at the end"; it has oozed into my franglais, so to speak. Et voilà: fraises des bois and mint macarons from le jardin, mes amis.
I'm so behind on le Blog at the moment and have missed posting this for the MacTweet Fruity Challenge for June. Ah well.  Enjoy anyway!
Wishing you all a lovely summery week and Happy 4th July to all our American friends!
P.S. Just as I had this ready for today's weekly blog, David Lebovitz had also posted his latest on Friday with Fraises des bois. I adore his blog and my first reaction was therefore to toss this. Then on second thoughts, this is different. Don't forget that I'm a frugal Scot!