It's Christmas countdown! Is the excitement crescendoing in your family? I don't know about you but up until now, I've been avoiding any tunes or decorations – especially since our local authorities mounted the festive decorations as early as mid October! Motivation, however, soon jump-started last week on a shopping spree in Paris. Check out these macaron baubles for the tree.
More baubles were hanging up with the gingerbread men at my favourite pastry shop in St. Germain-en-Laye, Le Petit Gateau. This is where I first learned how to make macarons all those years ago, since they have workshops for adults and children. Looking in the window, everyone becomes a child. Isn't it magical?
Their gingerbread men are a huge hit with customers but the pastry chefs are freaked out by them. The popular smiling treats are hanging on their strings when it's lights out at night; first thing in the morning they've dropped off them, lying motionless in the window. Did they come alive during the night like in Toy Story? I wonder if they played with the dwarves (oh dear, makes me think of a terrible joke but I should keep this website respectable) or did they storm the gingerbread house, claiming their territory?
Speaking of gingerbread, there has been a huge trend towards gingerbread macarons on the blogosphere recently. It has been exciting to see so many macaron lovers preparing their Christmas mac treats. You must visit Laura of Craftstorming's Ginger Macaron Men. Also Jamie of MacTweets aka Life's a Feast. Jamie added Cognac to her macs (she had an excuse to use the good stuff after visiting the place en direct, lucky girl!) I didn't have any left (what's going on in our liqueur cabinet?) so resorted to Cointreau – a lovely orangey alternative, which goes well with the ganache and spices. I loved Jamie's addition of the sweet chestnut purée: you don't taste it with the chocolate as much as on its own but adds a beautiful Christmas gloss to the ganache.
Back to Christmas tree baubles. Just take a peek at Patrick Roger's vitrine of his St Germain-en-Laye boutique. How would your family react if you came home with a chocolate tree like this with real orange baubles? This year, kids, we're respecting the environment. We're fed up of untangling the Christmas lights, so let's just decorate it with oranges and spiced orange blossom macarons. What do you think?
This time last year it was snowing. It was so dizzily exciting at first but it soon made way to alarmingly heavy snowfalls, that my first TV debut for making macarons was postponed. Instead we consoled ourselves my munching through these spicy orange blossom macarons that I'd prepared for the program. All was not lost; we just sat and gorged on them in front of the fire with slippers on, watching the snow outside plus the snow reports on the TV.
For orange blossom spiced macarons: just follow the recipe for orange blossom macarons (on p.77 of the mad about macaron recipe book), infusing 2 cinnamon sticks, 3 star anises and 2 cloves in the cream.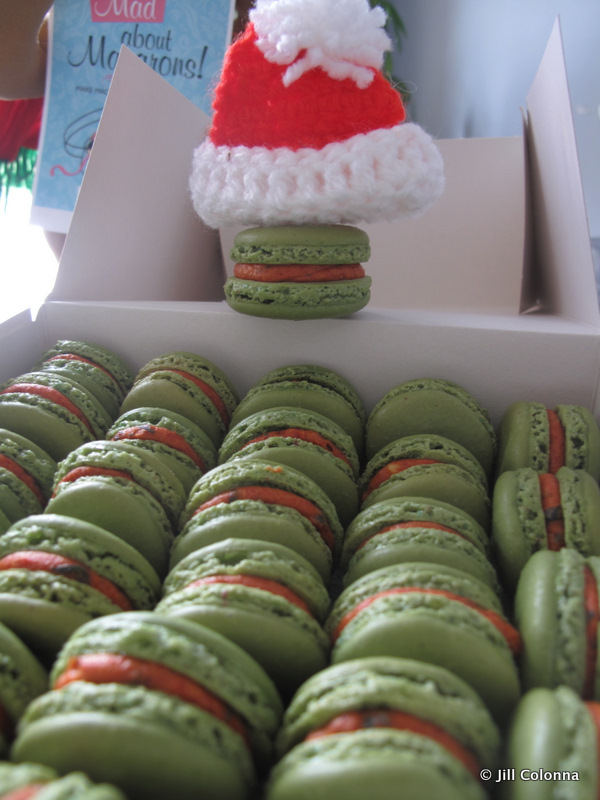 Are you Christmas partying? These mini Thai green/red curry mac'sala macarons are a real hit at parties.
Same goes for the beetroot and horseradish macarons or tikka mac'sala curry ones: serve them with drinks or better still, with hors-d'oeuvres/starter, as a surprising gluten-free alternative to bread with Leek, Pumpkin and Ginger soup with curry macarons.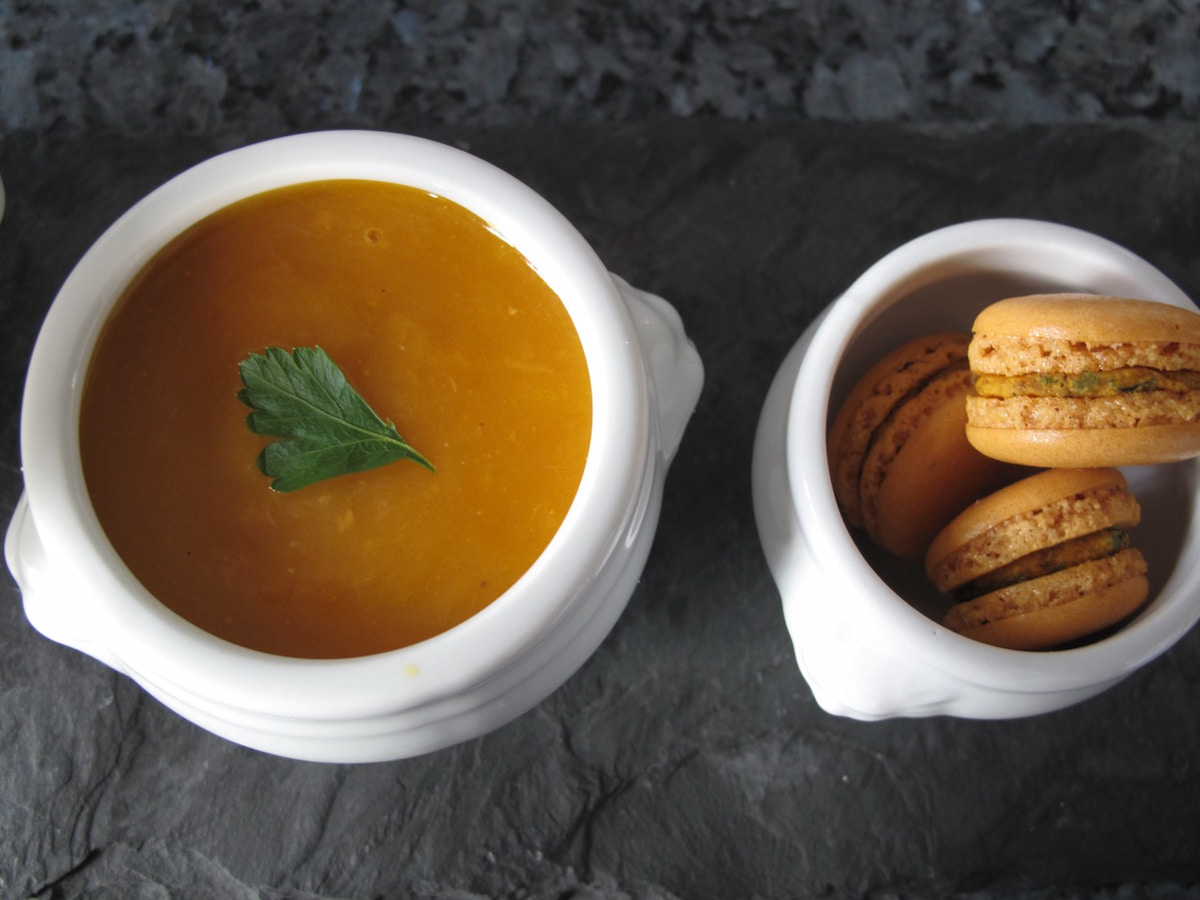 This weekend, my eldest had her first boum – disco party – which is quite a milestone for 11/12 year-olds. I'm still recovering myself after that disco! What happened to the next day?
When I brought out the boxes of macarons, one boy asked Antoine if they were actually allowed to eat them. Can you imagine? Are macs just seen as treats for the adults? Really. Makes me want to make them all the more.  Then all the boys pounced on the chocolate ones and the girls were discussing what was the cube in the middle of the strawberry ones.
Meanwhile, these macarons were preparing themselves for another party debut: drunken cranberry egg nog macarons. Using my favourite Appleton Estate Rum, I only wished I'd upped the dose by not just macerating the dried cranberries in it but also adding more rum to the vanilla cream, too. It just confirms that I should do what I say myself and don't be afraid to concentrate the flavours as much as possible.
Cranberry Egg Nog Macarons: Simply follow the basic recipe for vanilla macarons (p. 35 of Mad About Macarons), using 120ml whole milk and 40ml rum, and add freshly grated nutmeg, cinnamon and 100g of drunken cranberries to the filling.
This week, it's time to say "merci, maîtresse" (thank you teacher) with little macaron bags at the end of term.
The question is, do I give dark chocolate and mint macs to the French or the British school teachers? I love making these every Christmas – and each time Antoine still tries to explain that the French just don't like mint with chocolate. Well I'm sorry but we love it in Britain: we were brought up to serve After Eights after dinner. It's posh. So I'm still doing it whether you like it or not, Monsieur Antoine.
Wanting to decorate them with something festive, Mum had given me these Edible Green Trees by Rainbow Dust last year. Great idea and thanks, Mum – but they were so small and fiddly to use and kept curling. Now Lora, aka The Mad Hausfrau had a great arty crafty technique of painting on snowflakes with white food colouring directly on the macaron shell, then glittering them with disco dust for a Christmas macaron disco fever!
Don't forget to put out some macarons for Santa with these macarons aux marrons glacés. Bulging stockings are guaranteed…
Well, the macarons are made and there's even more partying: this is going to be a mad week! Enjoy your Christmas macaron-ing. Now it's time to hang up the decorations!