Let's continue a short break to Normandy in summer. Remember the visit to the watercress beds in Veules-les-Roses?  It's not surprising that this Normandy village, with the smallest river in Europe, was voted as 6th most preferred village in France by the French in 2013. The locals also host a Watercress Festival on 20 April.  It's a date to note for 2015 but it's not too late to mark this fun festival in your diaries for this summer.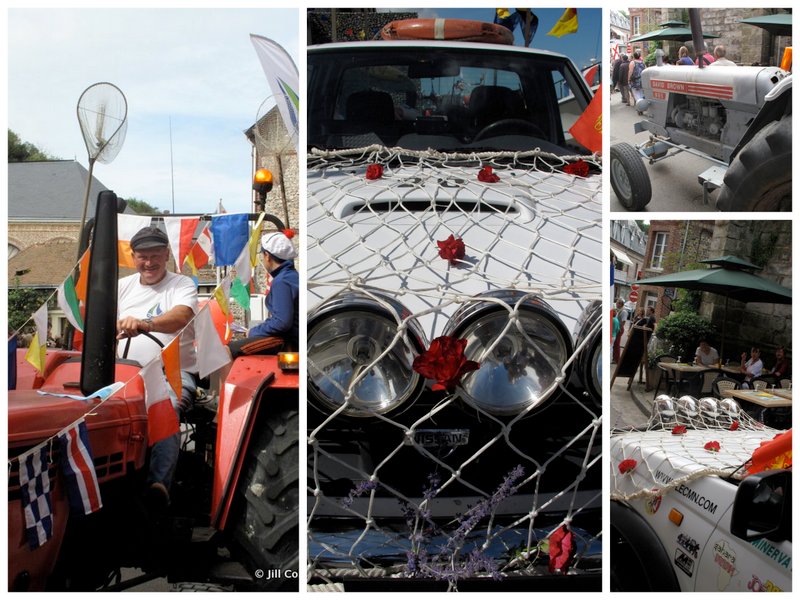 La Fête de la mer, or Festival of the Sea, takes place on 15 August. It's a popular date as the 15 August is always a national holiday in France (and this year it falls on a Friday, making a 'pont' bridge for the long weekend). For those of you who prefer to take off earlier, then on 14-15 June there's the Rose Festival for budding weekenders and on  5-7 July 2014, Veules-les-Roses will run the Linen festival for the very first time.
The sea festival kicks off with a religious ceremony at the Church of Saint-Martin in the village centre. Then, driven by decorated tractors and jeeps, boats carrying light-hearted, proud youngsters clad in nautical stripes and sailor's berets form a procession through the main street.
We follow them to the beach, so popular with Russian artists at the end of the 19th Century, inspired by the likes of Monet and Eugène Boudin.
It's a procession with a difference.  Yes, the boats are going to sea with the Mayor and a couple of priests.
They give their benediction to protect the boats and throw a wreath in memory of all sailors lost at sea.
Time for some reflection.
At the end of the procession, the town hall laid on a splash of Normandy cider, before most visitors headed off for their oyster picnics on the beach or grabbed a table at the numerous seafront restaurants for a plate of local fish and seafood with a view of the cliffs. We already had a super gastronomic meal at Les Galets the night before; this time we found a more light-hearted table at Le Petit Veulais crêperie.  Luckily we booked a few hours beforehand!
Eye-aye, Captain.  I see their prizewinning oysters (gold medal winners 2013 and 2014 at the Concours Général Agricole) on the horizon, plus watercress beds, rosebeds, oyster beds, seabeds. For sleeping beds, we loved staying a few years before at l'Hôtel Douce France when Julie was just a baby.  This time we stayed in the neighbouring market town of St Valery-en-Caux and thoroughly recommend the Hotel du Casino which is great value.
A great dose of fresh sea air is guaranteed: overlooking the harbour with excited seagulls and tinkering boats for extra ambience, all included.