Carol Gillott is an American artist who has been living in Paris full time now for 3 years.  As soon as I started following her popular ParisBreakfasts blog a few years ago, it didn't take long to become hooked on such an artistic eye's view of life in Paris and open my own eyes to a different perspective on a city I'd lived in since 1992.
Carol particularly loves the gourmet side of the City of Light. Whether it's varieties of cherries or Coeur de Boeuf tomatoes floating around the Eiffel Tower, she always manages to paint Paris dreams. It's no surprise that ice cream also makes a lip-smacking feature, as she lives just a stone's throw from the Parisian ice cream institution on Ile Saint-Louis.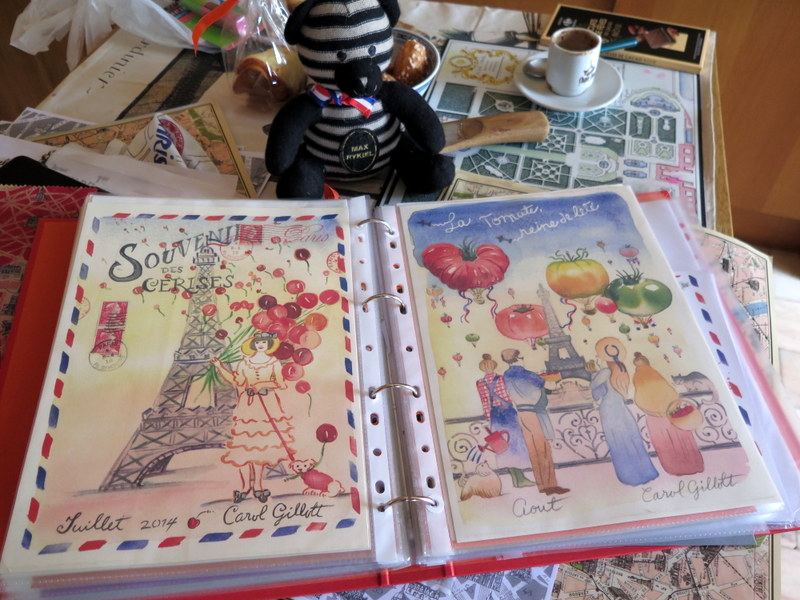 While I tend to look up at historical plaques on buildings and put my foot in it (twisted my other ankle this way last month), Carol is more down to earth – spotting spectacular shoes and colour-coded fashions of those around her. I always wondered about the fascination in chaussures until she explained her background in designing shoes which took her around in the fashion world from NYC, Hong Kong, India, and Italy.
As she says herself, her Mom taught her watercolors at 5 and she's still at it, painting for Champagne Mumm, Peggy Porchen, Guerlain, The Russian Tearoom, the Maharana of Udaipur, and … for my book, Teatime in Paris!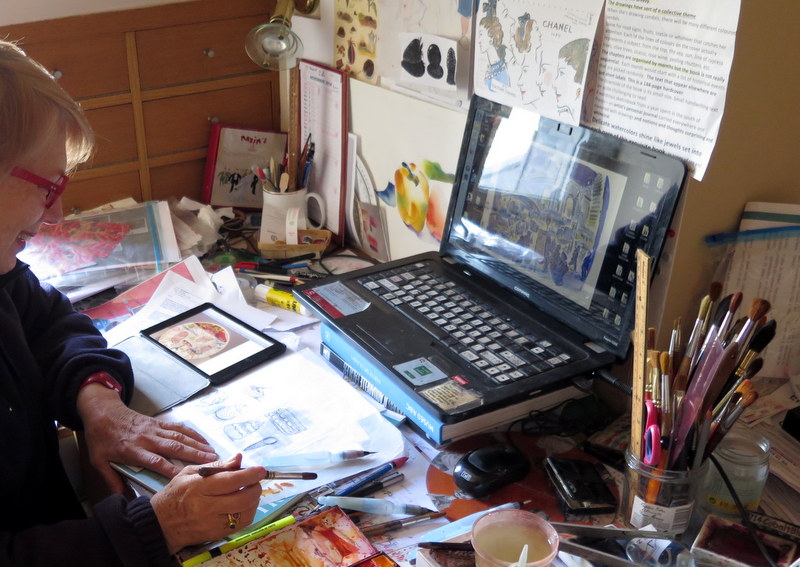 When Carol agreed to work on a delicious map as the endpapers of the book, I was overcome with excitement seeing her at work in her studio as she started sketching out ideas based on the book's recipes.  I knew she was mad about maps already, but I had no idea that this was her first gourmet map of Paris in the making!
Imagine having a wonderful excuse to taste what she paints: as I brought a few madeleines, chouquettes, and buttery financiers from the book, Carol made us the most exquisite hot chocolate with grated cinnamon.  And while we sipped on the chocolate, I realised that we were surrounded: even her placemats were maps of the gardens of Versailles.  And before we knew it, the book was launched in May this year.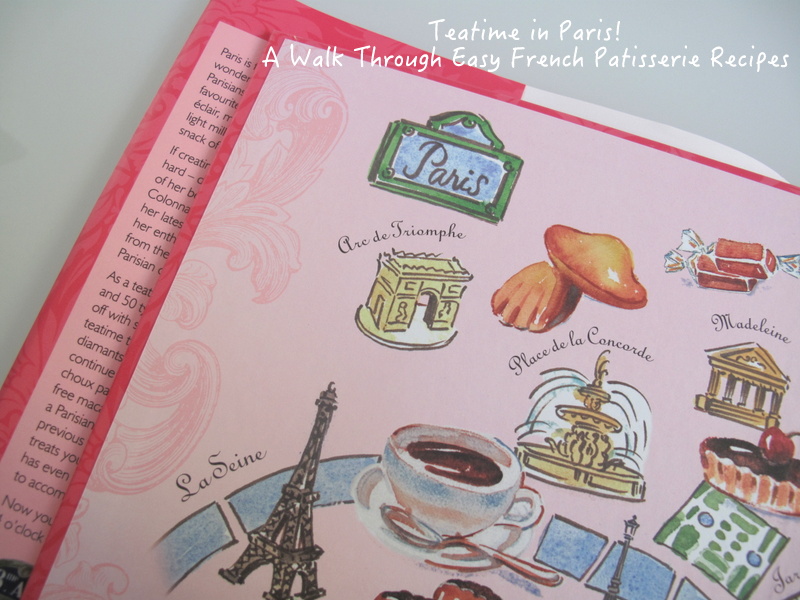 Then in June, Carol presented us her map of Rue du Bac (check out my latest guide to the pâtisseries and chocolate shops on Rue du Bac).  Her subscribers were also receiving such treats in the mail while last week, Chef Conticini also fell under Carol's mapping spell.
And just look what continued? Rue Mouffetard, Rue du Cherche-Midi, Rue Montorgeuil, Rue de Martyrs, Ile-Saint-Louis ….
These foodie streets could all be yours and it's not too late before Christmas, although you'll need to hurry to receive Carol's Paris monthly sketches and maps in your Mailbox.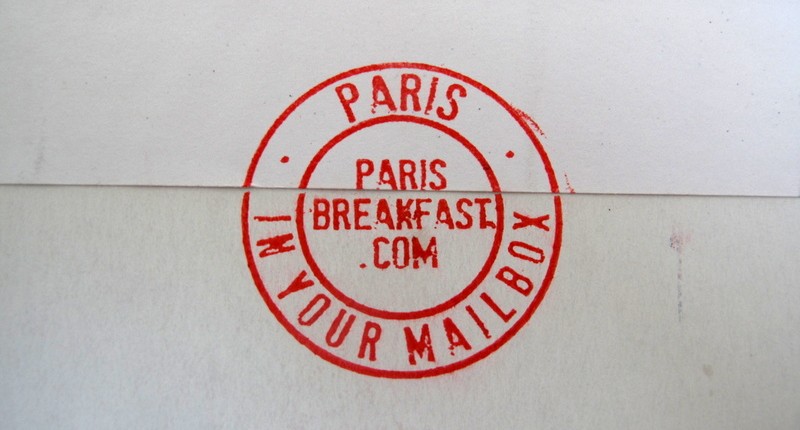 Don't you just love to get mail in the holidays?  Especially from Paris…