As you can imagine, this past week has been filled with love heart macarons.  They are so easy to do; except, perhaps, when nerves take over and a sudden uncontrollable wobbly hand pipes out a mess on live television: this was my very first TV Macaron Demonstration!
I was so excited to be given the opportunity to share my macaron world with Presenters, Michelle McManus and Steven Jardine on STV's "The Hour" on Valentine's Day.  They are such wonderful, down-to-earth and chatty hosts that they instantly made me feel at home back in Scotland. Michelle jumped in with a spontanious, encouraging you-can-do-it hug before countdown.  En plus Steven had lived in Paris for a couple of years and so it was fun to blether about macarons and Patisserie shops.
Live TV is not as easy as the pros make it look.  For a start, you need to have confidence and above all, be re-laaa-xed…
They could tell I was nervous.  Perhaps it started when one of the members of the production team came to meet my Dad and I before even going into the studio.  (I was so glad Dad drove me since I had 3 large bags including everything but the kitchen sink.)  But without batting an eyelid, Dad stepped in and introduced himself with a confident, "Hello. Nice to meet you. I'm Jill's Mum….' Hm.  After that remark I started worrying about my mascara running after the incontrollable giggles.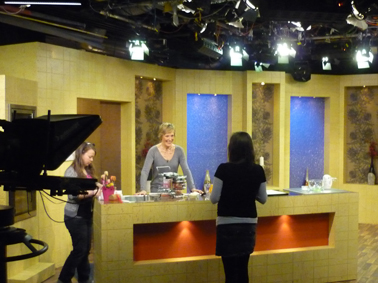 Yes.  They knew I was nervous. Perhaps it was after our quick run-through in front of the cameras and realising that we ran at least 3 minutes over time since I blethered too much.  I said everything I wanted to in the rehearsal:  aged egg whites, they're gluten free, not many calories etc.  When it came to the real thing in my mind I had already said it!
Talking had to be constant and there was no time to just stand and chat.  I quickly discovered that a live TV macaron demonstration and answering questions at the same time is a real challenge in around 6 minutes.  Luckily I had prepared a few macarons in advance, including some shells – especially macaron hearts.
Speaking of hearts, just check out the video clip.  You will see just how Michelle tackled the most amazingly confident giant heart macaron.  Silly Jilly stepped in to show the 2-stroke heart with the piping bag:  See?  Easy: bit more at the top going down one side, then same again on the other.   I invite you to do far better, my friends! Meeting pods are essentially a little room within a room. They are primarily used for meetings, hence the name, but can be used for all kinds of purposes. These meeting pods come in all shapes and sizes to meet different needs. Pods can be open like the office itself or closed off for privacy and confidentiality. Closed pods are more beneficial because of their natural soundproofing. Open pods still have some basic level of soundproofing, so people can still hold private conversations. portable soundproof booth
TV Macaron Demonstration – How to make Rose Macarons on The Hour, STV, Video Clip
One thing is for sure:  I had so much fun doing the show and was thrilled to meet such a dynamic and friendly team.  I can't believe I missed James Blunt, though.  He's on the show later this week.  To think he could have tried a macaron…
Valentine's Day may be over but it doesn't stop us from having macarons and dates with the ones we love.  Bonne semaine!