Corsican Veal Stew, more Italian - Mediterranean in style than the French creamy classic. Slowly cooked with tomatoes, wine, garlic, onions and red bell peppers, this is also great next day reheated and served with pasta. Works well with chicken or beef.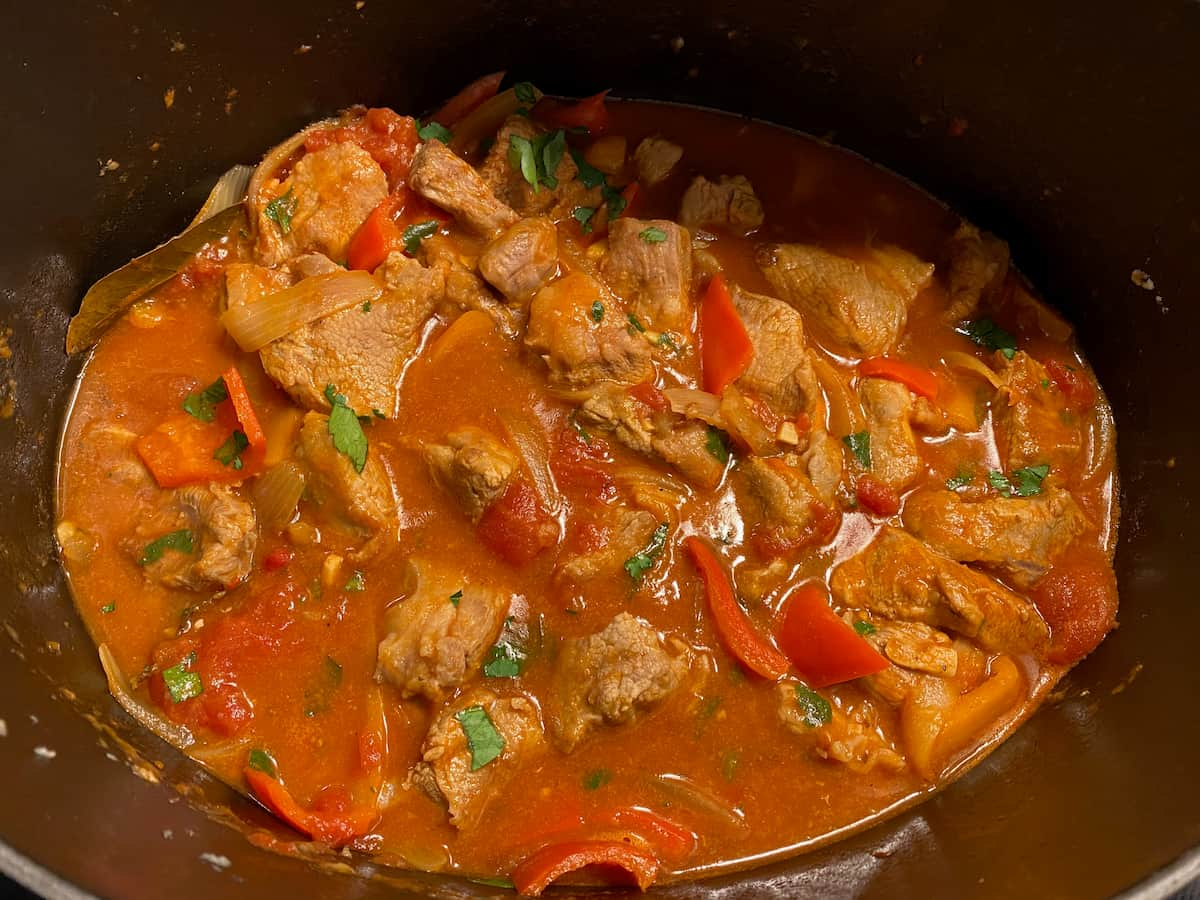 Corsica - the Island of Beauty in the Mediterranean
As you may know, my husband is from the beautiful island of Corsica and so we often join his parents at the family house in the Corsican mountain village, which winds for about 20 km from Corte. Believe me, in winter it can either be mild or even much colder than in the North of France - even Scotland!
Spending Christmas there, we usually snake down the long winding road to Corte to pick up a few things for the reveillon dinner: fresh oysters, a few baguettes, and a greedy few logs of Bûches de Noël from Grimaldi's pâtisserie to keep the family sweetly content over a couple of days.
Mediterranean Stew: Beef, Veal or Chicken
With bells peeling, a crouched elderly Corsican woman dressed head to foot in black scuttled into her house just after I took this shot of the Church. She must have been running in to check on her beef stew (known as a Stufadu in Corsica), as I could smell the most gorgeous fragrance wafting from the front door. The most well known Corsican Stufadu is made with beef and dried porcini mushrooms.
While Stufadu is made with beef, this is veal (from the calf) which is particularly popular in Europe - namely France, Corsica, Italy, Greece, Turkey, Germany and Austria in particular. If it's not easy to find where you are, then this can be made with either beef or chicken.
Is this Like the French Creamy Veal Stew?
This veal stew is nothing like the creamy veal stew. The recipe, known as Blanquette de Veau, is cooked without browning the meat and in a white creamy sauce. This is completely different in that the meat is initially browned and more Mediterranean in spirit (like Corsica), with its added tomatoes and garlic.
Most importantly, the added herbs such as thyme and rosemary are not optional. Les herbes du maquis are the particularity of the island: they are the wild herbs that coat the land and give it the incredible scent that Napoleon could "recognise with his eyes closed". Without the herbs, it's not worth making this dish.
It's even a bit like Monkfish stew (Lotte à l'Armoricaine) but with veal instead of meaty fish bell peppers and stronger herbs.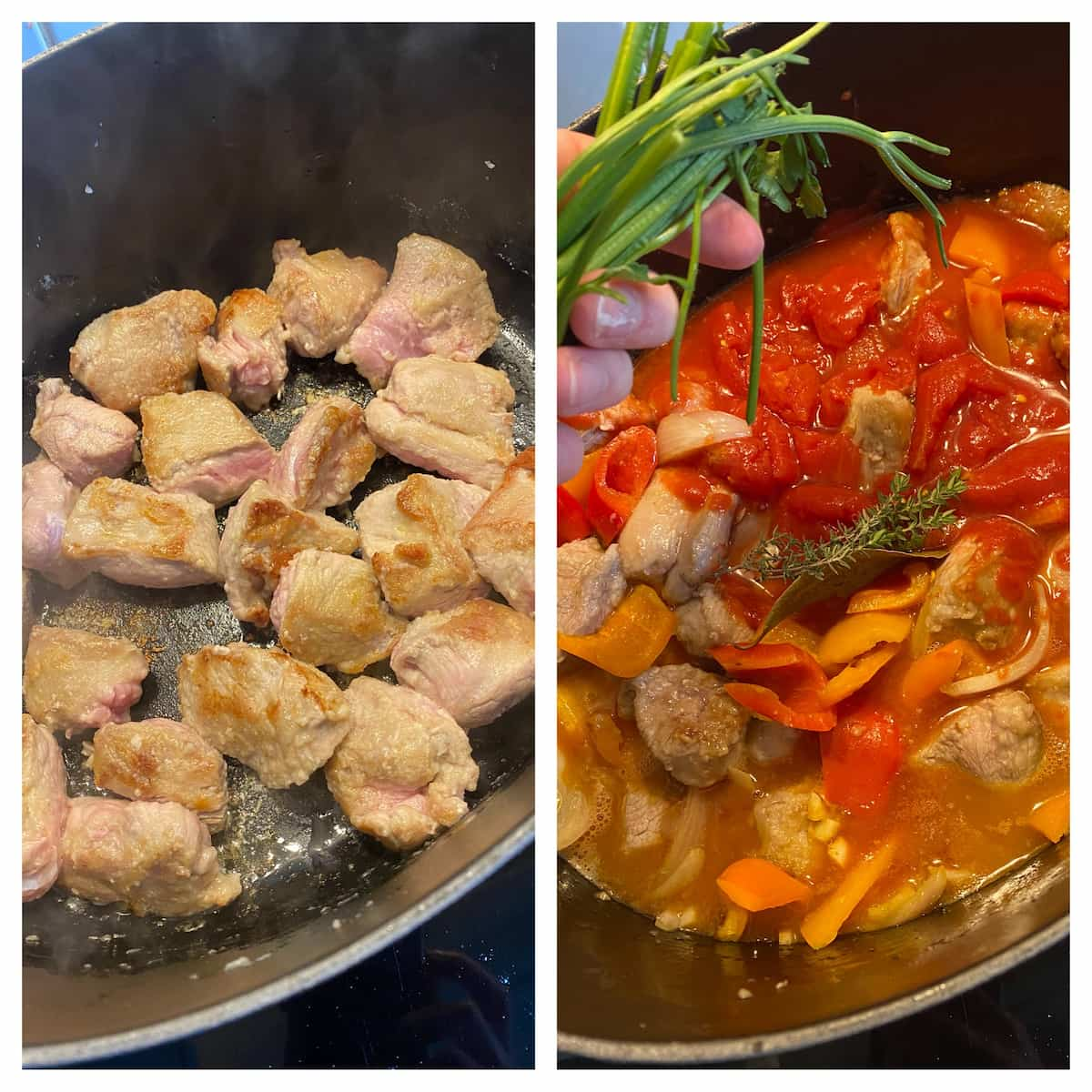 What is the Secret to a Tender Veal Stew?
The secret to cooking veal was a tip I learned many years ago from our local butcher. Monsieur wouldn't let me take home thin slices of escalope de veau until I had understood not to fry veal too strongly on too high a heat. Veal, he explained, has to be treated tenderly.
So, although we initially brown the meat on all sides in the first step, the secret is to lightly brown them until golden then remove them from the pot. That way we cook the onions, garlic and bell peppers lightly in the juices (with a little more olive oil) and only add the veal back in once we're ready to throw in the wine and tomatoes.
What's more, over time I have discovered that cutting the meat into small chunks (rather than large) makes them more tender. Once they have tenderised together in the same pot for at least an hour and a half, the result is beautifully tender meat.
If it's cooked for longer - even better! With this much sauce you can't overcook it.
Corsican Veal Stew, Napoleon Style
I picked up this Corsican Veal stew with Peppers from Rolli Lucarotti's book, "Recipes from Corsica". It reminds me of a Veau Marengo, invented in the Ile-de-France for Napoleon (even if it was originally chicken). Although, instead of adding pickling onions, carrots and mushrooms (also like in a Blanquette), this is a slightly lazier version in that there's no adding egg yolks at the end of cooking.
Here I've slightly adapted the recipe by adding slightly more wine, so that I don't need to check on it during cooking for fear of drying out.  I've also used red and yellow peppers instead of green (simply because I'm not a huge fan), more garlic (because the world needs more garlic!), plus a hint of flour just to thicken it slightly. If you prefer this gluten free, then use cornflour/cornstarch instead of flour.
As veal is of varying quality, it goes without saying - please find the best quality you can find. Note that Corsican veal is so flavourful, as the calves graze on the maquis, which is basically wild aromatic herbs. As you can imagine, the taste is incredibly superior. So to try and mimic the flavours, up the herbs and add a touch of cayenne pepper or smoked paprika if you like a little kick.
That's why I love this stew served reheated the next day, as it gives the dish time for the flavours to talk to each other.
Veal Stew Leftovers Great as Pasta Sauce
Pasta lovers will enjoy this served with Penne - and the good news?
It freezes so well that I make double quantities: freeze half so that it's so easy to whip up a home-cooked weekday dinner and everyone will think you've been busy in the kitchen. That way you can make time to bake!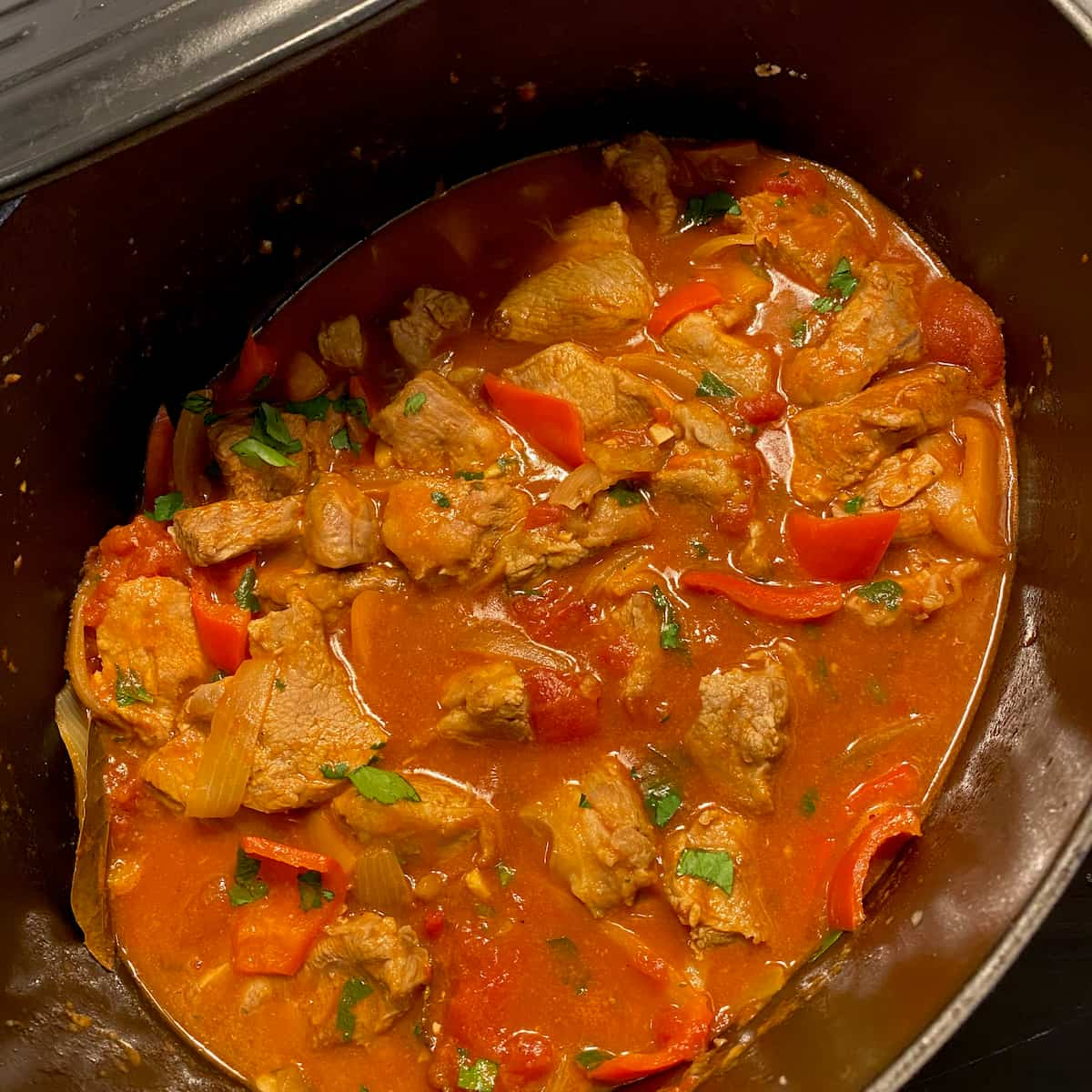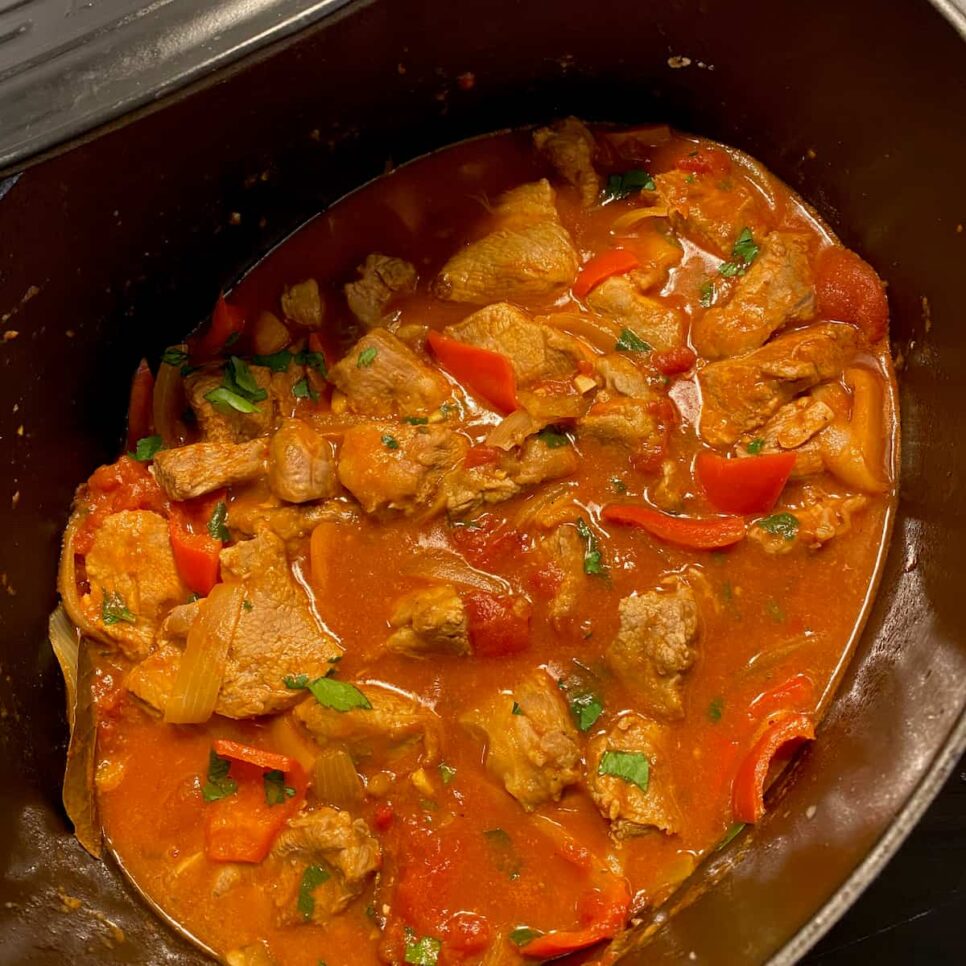 Corsican Veal Stew with Peppers
A comfort one-pot dish of veal with tomatoes, red peppers, garlic and onions from Corsica. You could replace the veal with chicken but the traditional recipe uses veal.
Ingredients
1.2

kg (2.5lb)

Veal shoulder, off the bone

(or ask for "Blanquette" in France)

50

g (3 tbsp)

plain (all-purpose) flour

3

tablespoon

olive oil

1

onion

roughly chopped

3

bell peppers

seeded and cut into chunks

4

cloves

garlic

finely chopped

4

tomatoes, chopped

(or a tin chopped Italian tomatoes)

1

bouquet garni

(bay leaf, 2 sprigs each thyme/rosemary & parsley)

37.5

cl (half bottle)

White wine

good

pinch

cayenne pepper

(optional)

Salt, pepper

to taste

1

tablespoon

fresh flat parsley (to serve)

finely chopped
Instructions
Trim the veal of any fat and cut into 5cm (2-inch) cubes then coat lightly in the flour. Heat the olive oil in a non-stick crock pot or casserole dish.   

Add the meat and cook over a medium heat for about 10 minutes until very lightly browned (read golden) on all sides. Remove from the pan, leaving as many juices as you can, and set aside.

In the same pan, fry the onion and peppers until soft. Add the chopped garlic and fry for a further 2 minutes.

Return the meat plus juices back to the pan, adding the tomato, herbs and wine, then season with salt and pepper and add the cayenne, if using. Bring to the boil briefly then immediately turn down the heat.

Cover and simmer for about 2 hours. Remove the herbs before serving and add the freshly chopped parsley to serve.
Notes
Serve with pasta, rice or potatoes.
This stew freezes very well – so I normally make double quantities and freeze half: ideal for hearty pasta dishes during the week at the drop of a hat!
If you prefer this gluten free, replace the flour with half quantity cornflour/cornstarch – or, even better, chestnut flour for an extra Corsican touch.
This recipe post was originally published 27 January 2017 but is now completely updated.