Enjoy a taste of summer in France with this fig and almond pudding with raspberries.  Top with mini macaron shells for an elegant Parisian touch, to complete this easy gluten free dessert.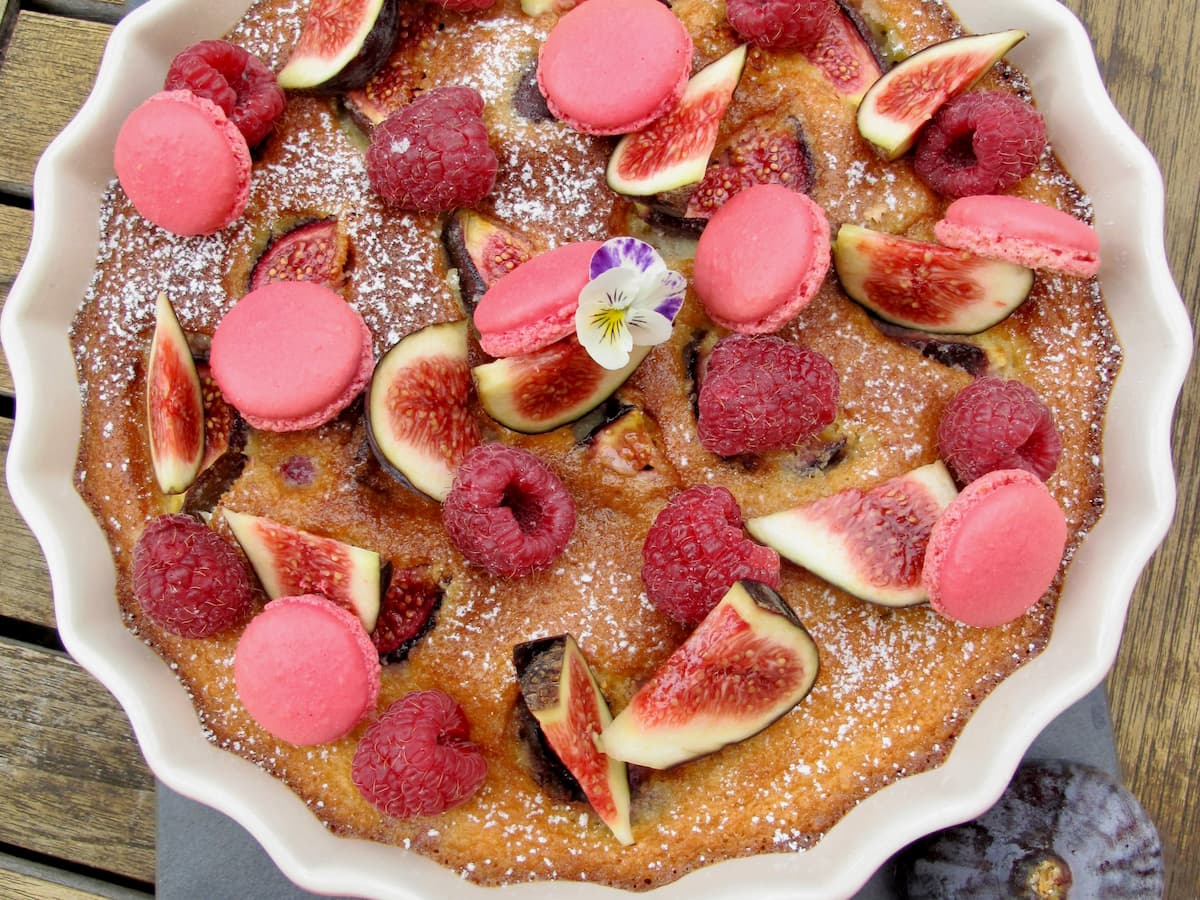 Autumn is trying to settle into Paris but I'm still not having it yet with this Fig & Almond Pudding.  Still grabbing on to the most plump of fresh violet figs from the market, raspberries top this to make a ridiculously easy French-inspired dessert with the addition of macarons. Moreover, this dessert just so happens to be gluten free.
French Fig & Almond Pudding Dessert
This dessert was inspired by one of my favourite French celebrity pastry chefs, Christophe Michalak, as I was flicking through the summer issue of Fou de Patisserie. Some of his recipes are not that difficult to make – and this is so simple (if you know me by now, I believe in delicious recipes that are easy to make!) As figs are featuring in so many of the Parisian patisseries just now, something figgy had to be in a French pudding.
The magazine's alluring photo showed an almond cream decorated with giant dollops of a blackcurrant and fig juice with grilled French brioche cubes. As I played around with the idea, thinking about how some of the ingredients could be prepared in advance – such as adding mini heaps of Corsican fig jam instead of the juice – it struck me that some mini macarons as decor would perfectly echo the almonds in the pudding. The result is wonderful!
I call it a pudding since it's a dessert that's a mixture of a soft cake with a pudding texture without the gluten.
Gluten Free Dessert Decoration – with Macaron Shells
Macarons give it that extra French touch of elegance. By now I hope some of you have been making macarons from my books.  Why not make a batch of mini macs and save them in the freezer for dessert toppings, especially over the festive season? You'll see how they will be so handy to have in your freezer bank!
How to Make Fig & Almond Pudding – Gluten Free Dessert
Fig & Almond Pudding with Raspberries
---
Description
French summery gluten free dessert with figs, almonds and raspberries. Serve at room temperature or chilled for breakfast.
Ingredients
90

g (3oz)

Butter (unsalted)

softened

75

g (2.5oz)

Icing/Confectioner's sugar

3

Organic eggs

90

g (3oz)

Ground almonds (almond flour)

4

g (heaped tsp)

Cornflour (Cornstarch)

3

Large figs

12

Raspberries

few

macaron shells

(optional - for decor)
Instructions
Preheat oven to 200°C/400°F/180°C fan/Gas 6.  Butter a round gratin or brownie dish (about 20cm diameter).

In a large bowl, whisk the butter and sugar together and when light and creamy, whisk in the eggs, ground almonds and cornflour until well mixed together.

Pour the mixture into the gratin dish and press in 2 sliced figs and half of the raspberries.

Bake for 20 minutes and set aside to cool.

When cool, decorate with a chopped fig, the rest of the raspberries and dust with icing/confectioner's sugar.  Add a few macarons for that finishing touch.
Notes
Serve at room temperature, not cold. Delicious next day for breakfast!
And if you want that extra few dollops to make a figgy pudding, then top with tiny spoonfuls of fig jam.