"How can you find anything in here?  Why does this cupboard door not shut properly?" These questions made me shudder but they were meant well.
Life just got in the way. Correction. Cooking and baking were much more fun. I'm a fanatic at keeping things clean but I knew my mess. I knew that the rubber spatula was loitering somewhere in the middle. The only thing organised in this kitchen drawer was the bag of elastic bands, their matt rainbow colours collected from countless bundles of asparagus from the market.  It was time to do something about it when the kitchen scissors were continuously mislaid.
After becoming completely side-tracked on Pinterest, the unanimous solution was to find these little rubber, non-slip boxes (like these interlocking storage bins).  Once they were played with to size, everyone found a home.  This is when I realised just how many corkscrews we have.  How did that happen?
As you can imagine, this kitchen tidy-up was contagious.  It spread to my favourite pâtisserie drawer. It's a deep drawer - underneath the oven - and so plastic containers made life easier to house pastry bags, different tips and ribbons for cellophane macaron gift bags.
Then it dawned on me what space I was wasting with a long, deep cupboard (50cm). It wasn't using the space to the maximum.  It housed my favourite cookery books and the space in front was temptation for loitering post-its, pens, pencils… you get the picture.  My prized package containing Granny's Black Book of her favourite recipes was hidden at the back.
Granny would be proud to see that her kitchen notebook filled with family scribblings is moving to my new office, complete with a secret door (more on that later; it's nearly finished!  I'm having trouble blogging since I've been bluffing my way at being an interior designer for our attic conversion).
Now my Mad About Macarons books are floating.  An ingenious design, it's so easy to install this floating bookcase - and it saves space.
All the other recipe books are now replaced by a pull-out, sliding drawer. This valuable space can now store syrups and alcohols for cooking and baking.  Underneath, it's an ideal nest to stack up patisserie moulds.
The pull-out drawers (I got mine from the Cooke & Lewis range at Castorama in France) are also excellent for storing heavy objects and, as a result, it's much better for your back. They can hold a heavy crock-pot cocotte and other kitchen 'stuff', such as essential macaron making equipment: digital scales and an electric mixer.
Baking trays were even under the pots before.  Not practical; no wonder the back was having a hard time!  With a simple change of plan, all baking sheets are now stored vertically and stay in place, thanks to a simple cut-out of non-slip kitchen drawer liner.
Do you hide bits and bobs under the kitchen sink, too? Now, thanks to a pull-out tray on a roller, I can pack in all the little kitchen organisation extras. It has changed my life!  Nothing fancy, just simple and effective.  An extra shelf was put in on the left side above our Go-Green bucket, recuperated from a shelf taken out to accommodate the sliding shelves above.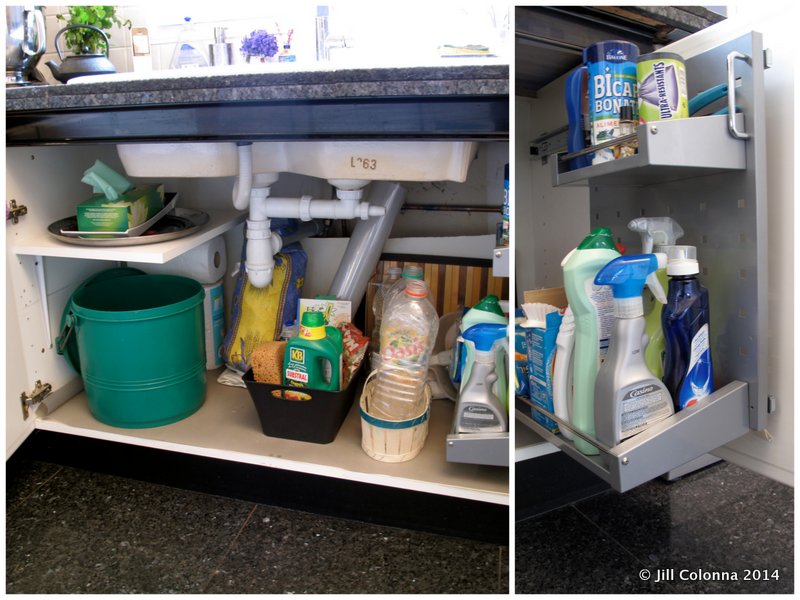 Our main kitchen cupboard is divided with all sweet baking ingredients on the left and on the right, pasta, rice, pulses and flours.  The spices can now be found easier since I got one of these extra little cupboard shelves from our nearest capital of Sweden store.
And do you know what?  These photos were taken a few weeks ago, yet the tidy order continues!  I feel like Bree.  Or perhaps more of a French-style Brie?  Hm. That sounds rather cheesy.
Next, I'm on to all those odd socks in the laundry.  Normally I'm obsessed about macaron feet but now it's socks and secret doors!