I have great news for praline lovers since they'll be spoiled this holiday season: Pascal Caffet's new festive pastry collection is entirely based on his winning praline theme.
Known by his Meilleur Ouvrier de France (MOF) peers as the King of Praline, you'll understand what they mean if you've gone into the charming boutique in Paris's 16th arrondissement and tasted just one of his pralines. See my article on Pascal Caffet.
This Christmas, one new bûche (yule log) takes the spotlight, surrounded by a team of other festive treats in store.
New Festive Yule Log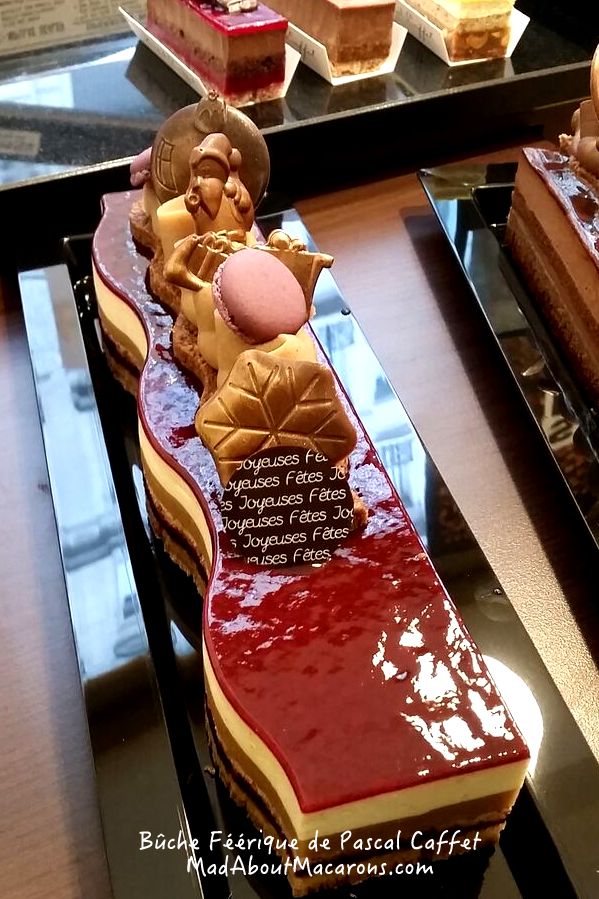 The new sublime Bûche Féérique is indeed magical with layered waves of intense praline, a perfectly balanced compote of blackcurrant from Burgundy and smooth chestnut from Naples. It's topped with an airy Madagascan vanilla mousse then glazed with blackcurrant.
Personally, this was one of my favourites of all bûches I've tasted for this season, as the play of textures with the chestnut and fruit are all harmoniously dosed so that every layer's flavours shine through. The blackcurrant gives that acidic depth, and the whole sensation is surprisingly light.
Four other classic yule logs feature in Pascal Caffet's new festive pastry collection: 70% dark chocolate from Guatemala (Splendide); Venezuela (Etincellante, Merveilleuse); and 40% milk chocolate with lime (Lumineuse). All feature chocolate from La Chocolaterie de l'Opera®.
Splendide (pictured above as a large yule log) is for pure chocolate lovers who love that extra textural crunch of almond praline at the bottom.  The chocolate mousse has almost a hint of smokiness to it which comes from the cacao plantations, with a mix of Guatemala and Madagascar.
Even if you prefer dark chocolate like me, the Lumineuse will be a real family pleaser since although it's made with milk chocolate, the play of flavours create a festive explosion to any meal. How does hazelnut praline with a light vanilla and lime mousse, vanilla caramel, milk chocolate lime mousse and grilled hazelnuts sound?
Life is a Box of Chocolates
I spied a selection of chocolates - what do you think about an edible chocolate box?  As Pascal Caffet says:
The best chocolate is the one that we love.
A Piece of Christmas Cake
I'm not such a cake fan - unless it's like this: syrupy moist and full of flavour.Also part of Pascal Caffet's new festive pastry collection is the Spiced Christmas cake. It's his take on the traditional gingerbread with star anise, cinnamon, orange and candied Corsican clementines.
The cherry on the cake for praline lovers is Pascal Caffet's new cookery book, simply called "Praliné", which  came out 21 October. Most of the 100 praline recipes are easy enough for us home bakers while there's a section dedicated to the more challenging recipes if you feel like taking the plunge as a pro.
The festive collection is available in any of his boutiques in and outside Paris as of end November.
Pascal Caffet
13 Rue Duban, 75016 Paris
Metro: La Muette
---
Disclosure: I was invited by Pascal Caffet's team to simply taste the new season's yule logs in store.  I was not compensated and was not obliged to write a positive post.  As always, opinions are entirely my own.