Thank Hévin for chocolate! Jean-Paul Hévin demonstrates stylish savoir-faire with his new French Touch chocolate collection for this holiday season 2016-2017.
New French Touch Chocolate Collection
Seven main ingredients are used by Hévin to give us that festive French Touch this year: fashion, joie de vivre, style, creativity, humour, terroir, and tradition – all illustrated in the following seven pure chocolate creations for Christmas and New Year. With FOUR new bûches in the collection, Hévin designs his chocolate yule log pastries around the quality of his chocolate first.
Bûche Fashion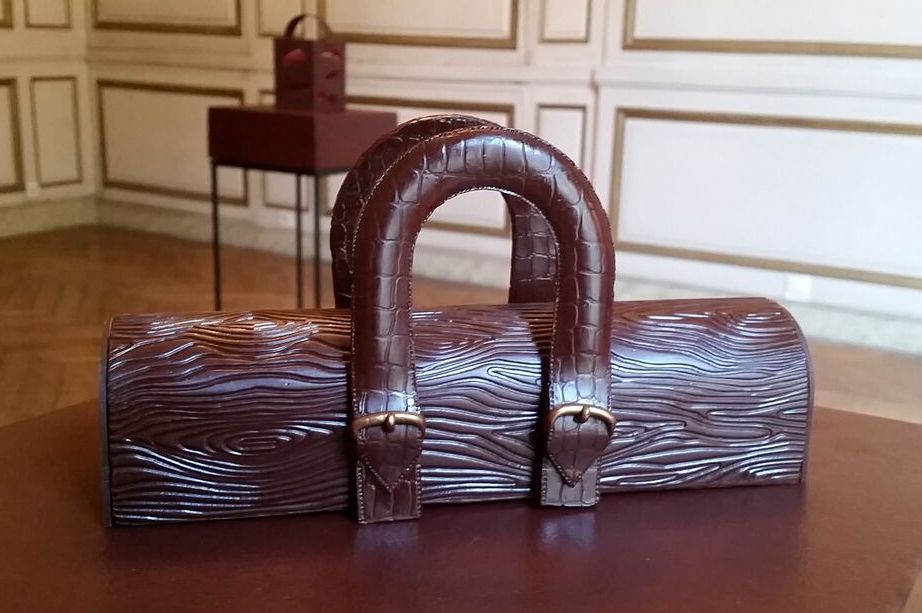 Hévin has always had an fashionable element of la mode in his chocolate and this Bûche Fashion firmly puts it in the bag, as the saying goes (same in French: l'affaire est dans le sac). Not quite a "trunk", this is a rather compact handbag for any chocoholic who appreciates a pure intense Venezuelan chocolate sensation. Could our hands be too hot to handle this chocolate handbag? You could also show you're "well heeled" with his famous chocolate stiletto sculptures!
Bûche Cancan
A festive Bûche Cancan represents the French Joie de vivre party spirit. Like the Cancan dancers, the Tonka base has an exciting crunch, topped with frilly layers of chocolate and almond sponge, with a gutsy Peruvian Grand Cru chocolate mousse. A dark cherry jelly adds a suggestive lingering aftertaste.
Bûche Grand Style
Be transported to the regal gardens of Versailles with the Bûche Grand Style, especially designed to be easily transportable abroad for any stylish party, even if it's next day to the USA. Based around a chocolate mousse (Grand Cru from the Equator), its subtle aftertaste brings out the pistachio in the chocolate gianduja base.
Bûche Rève or Dream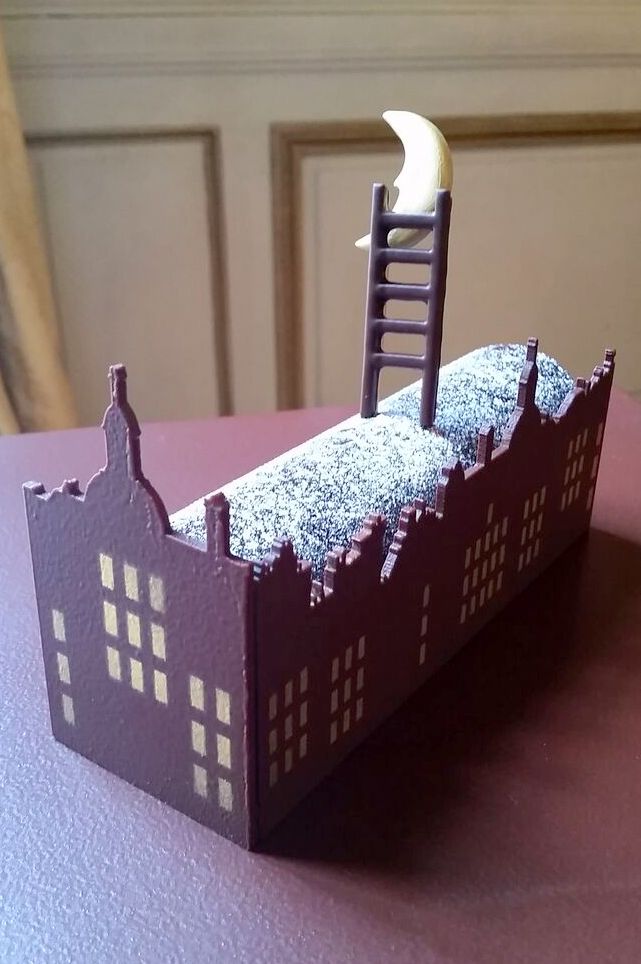 Creativity is given to Jean-Paul Hévin's personal favourite Bûche Rêve – with dreams of a child being able to reach for the moon at Christmas. It's the most complex: an orange crème brûlée is subtle but just enough to distinguish some balancing acidity and I loved the texture with the crunchy almond chocolate base. Although candied ginger is in there, it's just a suggestive hint, all billowing around a Brazilian Grand Cru chocolate mousse.
Table Centre, Lumière
His French Touch continues with an ingredient of humour, demonstrated by a table centre-piece Lumière, as a chocolate candle – of course, not to be lit!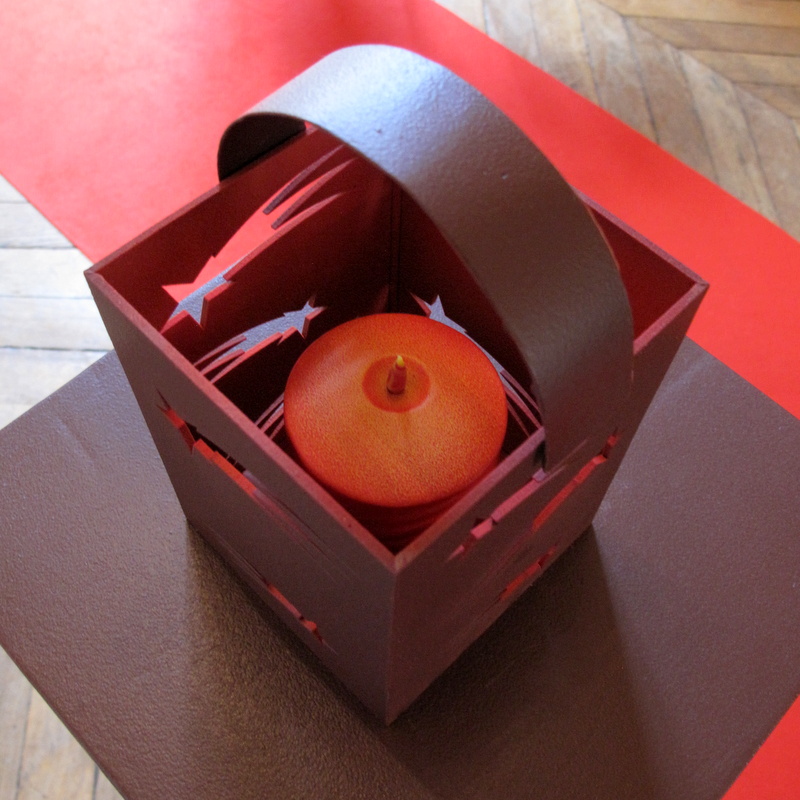 New Bordeaux chocolates put terroir (soil, climate etc. that distinguishes chocolate like wine) in the limelight with a Grand Cru from the Equator.

The same chocolate is highlighted in a new festive macaron range, Cocorico. Hévin pays homage to the traditional French sporting cockerel mascot, Cocorico (Cock-a-doodle-do!), symbolising the French pride of their country and culture.
This image of Jean-Paul Hévin to present the new French Touch chocolate collection sums up his quirky humour. I wonder what Renoir would have preferred for a festive dessert at this rather famous lively lunch on the Seine or Déjeuner des Canotiers?
Incidentally, for a walk along the Seine near Paris, read more in my post on Renoir in Chatou with details of the restaurant where this most famous luncheon was painted.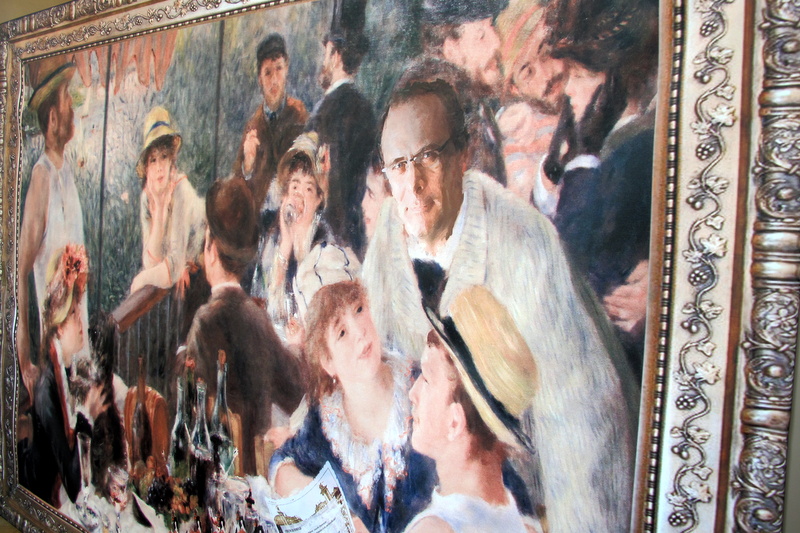 Jean-Paul Hévin
Avenue de la Motte Piquet (now also on rue du Bac)
75007 Paris