The classic French lemon tart, la Tarte au citron, is the most popular pastry sold in France. With just a few simple but best quality ingredients, make yours similar to one from the patisseries in Paris.
This is a typically easy French recipe in which the glossy filling isn't baked and without cream. The freshest lemon curd is poured into a pre-baked buttery shell and chilled. The result is easy to slice with just enough sugar to tantalise the tastebuds.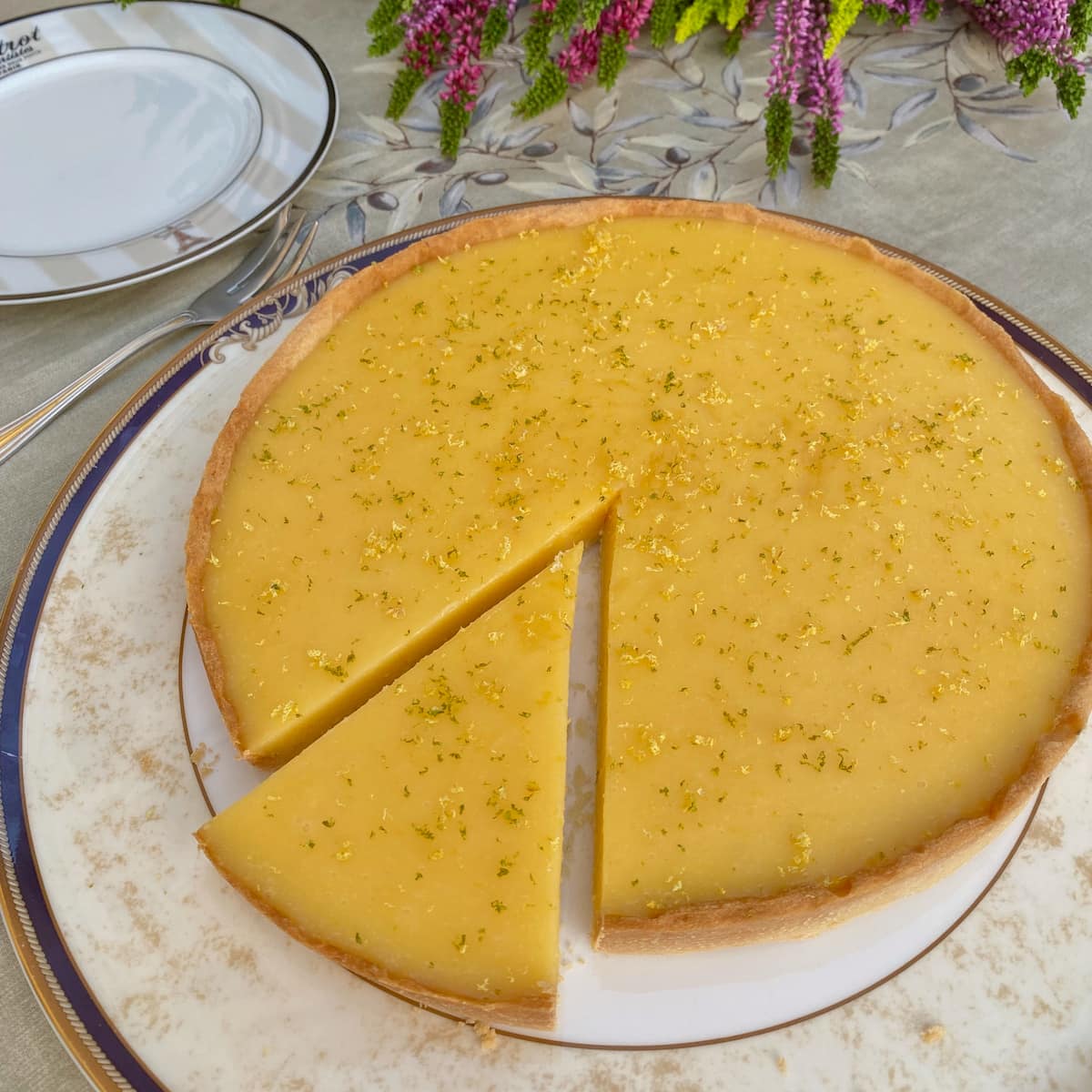 French Tarts: The Most Popular Pastry in France
Who would know just how popular the lemon tart is in France. To learn about the French's particular love for la tarte au citron (pronounced: 'tart oh cee-trong) and pastry, they're exhibited at the Pâtisserie Exhibition at the Cité Gastronomique in Dijon. Here we discovered that: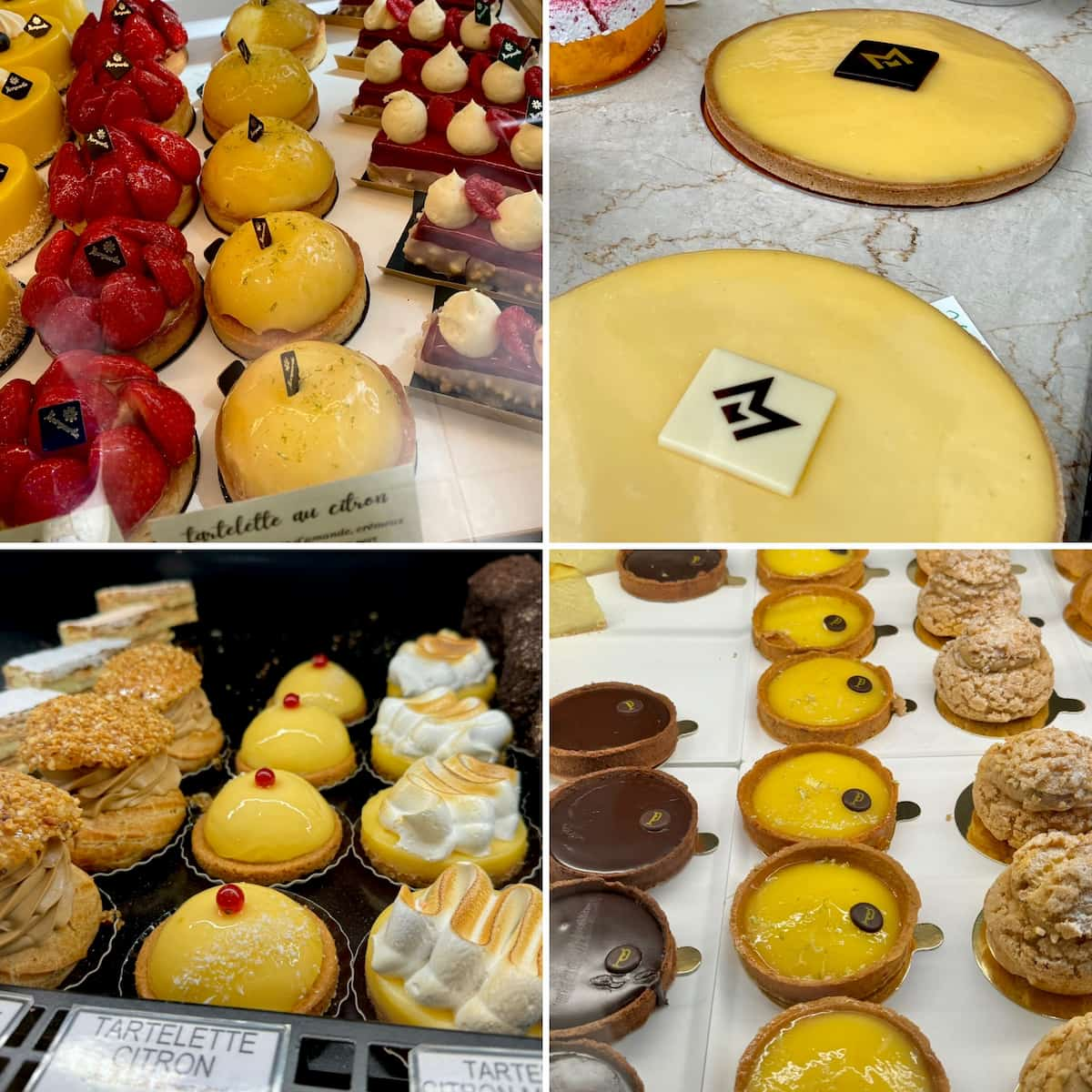 Best Lemon Tarts in Paris
The best plain lemon tarts and tartlets are sought after at many top Parisian pastry shops. All of them are French-style like this recipe - with a filling without cream on a pâte sucrée base or palet breton. The tarte au citron is so popular, there's now even a cuddly toy version in Paris! Here are just a few of the top:
There are more (Pierre Hermé, Carette, Gerard Mulot) but before I digress further, let's return to the recipe. Un, deux, trois - on y va !
Lemon Tart Filling Ingredients
This easy recipe is based on the lemon and passion tartlets in my second recipe book, Teatime in Paris. Except this one is naked without the meringue so I've increased the filling's quantity. Instead of adding passion fruit juice, this is made with fresh lemons and lime.
So the filling is just made of the juice of 2 fresh lemons and a lime, lemon zest, whole eggs, unsalted butter, sugar and a little gelatine. To make this as close as possible to our French lemon tarts, use European style butter with 82% fat.
Also ensure that your lemons and lime are the best quality possible. Choose unwaxed, organic produce that have not been treated or sprayed. This is especially important as we are grating lemon zest into the filling.
Best is to make this tart during the Menton or Meyer lemon season, for the most fragrant taste sensation.
My Best Baking Tips
Here are my top tips for making the lemon filling. See separate tips for baking the sweet pastry base:
If your lemons are not that great and not unwaxed, then I'd say don't make it! Although, if it absolutely has to be on your dessert menu, adding the juice of a lime helps make it extra special.
Juicing lemons are easier if left out at room temperature.
Weigh out your ingredients precisely using kitchen scales in either grams or ounces.
Grate only the unwaxed outer yellow zest - never the underlying bitter white pith.
Pre-bake the tart shell first and leave to cool completely so that the filling cools and sets well.
Keep the tart in the fridge for at least an hour to ensure the filling is perfectly set. This makes it easy to cut slices at the table.
Easy Recipe Steps to the Lemon Tart Filling
Pre-bake the tart shell by following my easy step-by-step pâte sucrée recipe below. Like in French shops, the pastry isn't thick. It's height is also relatively small (about 2cm/1inch) with the glossy filling right to the top.
Prepare all your ingredients in advance.
Finely zest one of the lemons directly into a saucepan and, if using gelatine sheets, soak them for 10 minutes.
Squeeze the juice of both the lemons and lime then strain to remove any pips. Weigh to reach the exact amount of liquid.
In the saucepan off the heat, whisk together the lemon/lime juice with the zest, sugar and eggs. On a medium heat, continue to whisk until the sauce bubbles and thickens.
Take off the heat (optional: strain to remove the zest).
Whisk in the cubed butter and gelatine (sheets squeezed of excess water or add powder).
Continue to whisk until melted and smooth.
Pour directly into the tart shell. Cool and place in the fridge for at least an hour to set.
Why is My Lemon Tart Filling Not Setting?
If you follow this recipe to the letter - i.e. weigh out the ingredients exactly as in the printed recipe below, and give it the recommended chilling times, this will not be a problem. The eggs, butter and gelatine help to set the filling well.
However, if your filling isn't setting properly, it's probably due to not weighing out the ingredients precisely. For this kind of French pastry, the lemon/lime juice can't be eye-balled; it has to be weighed precisely.
Here's how your lemon tart filling could be too thin:
Not enough gelatine or butter - weigh them precisely.
Too much liquid - weigh the precise amount of lemon/lime juice in the recipe.
Not chilled enough in the fridge - chilling is really important to completely set the filling.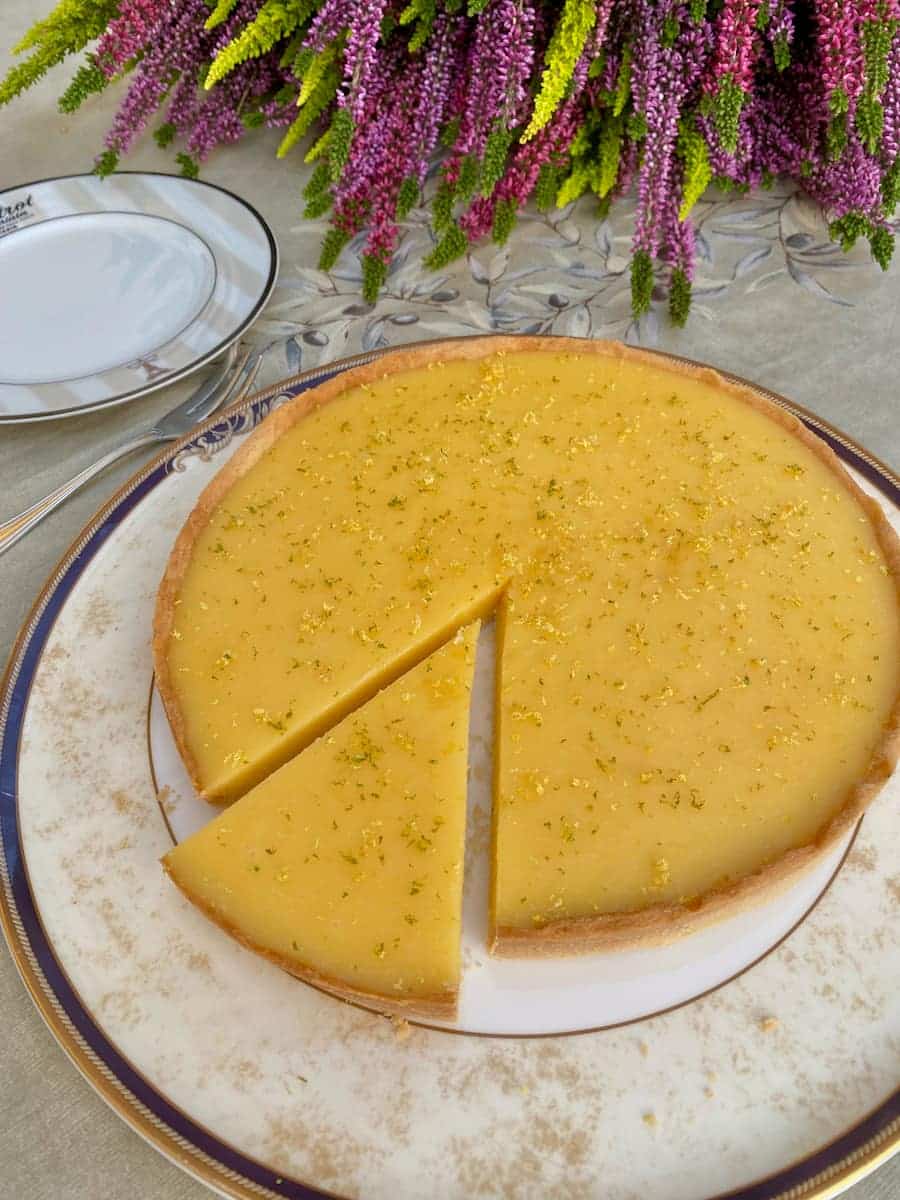 Decoration Ideas
It's funny. For such a popular dessert in French pastry shops, most lemon tarts are pretty naked, barely decorated or served with anything at all.
Jacques Genin, the French pastry chef renowned for his tarte au citron, decorates his with just a light dusting of lime zest. Many pastry shops have followed suit - and so I finely grate on both lemon and lime zest.
However, if you prefer decor, then here are some creative and seasonal topping ideas:
seasonal berries: strawberries, raspberries or blueberries or cape gooseberries;
mint leaves
edible flowers : e.g. pansies, borage, even strawberry flowers - ensure they are from an organic source, not sprayed;
candied Easter eggs - as Menton lemon season falls around Spring and Easter this is a fun Easter dessert;
mini French macaron shells - these are so handy to have in stock in the freezer.
How to Serve French Lemon Tart - Some Pairings
As lemon tart needs to be refrigerated to set properly, most people think it should be served really chilled.
Like most French tarts or pastries we enjoy from our pâtisseries, it's best to take it out of the fridge about 15 minutes before serving. This helps bring out the natural citrus flavours and it will taste much better than extra chilled. In France we serve as is without any cream or coulis sauce to enjoy its simplicity.
Serve with Champagne or a light tea to compliment the fragrant lemon: Russian Caravan or Darjeeling, the Champagne of teas.
Lemon Tart (Tarte au citron)
Authentic French tarte au citron recipe. Recipe adapted from my book, Teatime in Paris (2015) with a zingy lemon and lime filling. Fills a pre-baked sweet tart pastry base (recipe linked below) or pre-bought 24x2cm/9x1inch shortcrust pastry. As this filling is not custard based or baked, no film forms on the surface and leaves a beautiful glossy finish while setting in the fridge.
Ingredients
1 quantity sweet pastry (pâte sucrée) - see recipe below
Lemon Tart Filling
1

zest of one lemon

finely grated (without white pith)

150

g (5½ oz/ ⅔ cup)

juice of 2 lemons and 1 lime

150

g (5½ oz/ ¾ cup)

sugar

3

large

eggs

organic

2

@2g

gelatine sheets

or 1 teaspoon powdered gelatine*

140

g (5oz/10 tbsp)

unsalted butter

cold and cubed
Instructions
Sweet Tart Pastry
Follow the recipe for the pâte sucrée sweet tart base using a 24x2cm/9x1inch tart ring or loose-bottomed tart tin.

Blind bake the pastry for 20 minutes as per the recipe. Remove the beans and return to the oven for 10 minutes. Leave to cool, remove from the tart tin or ring and continue to cool completely on a wire rack.
Lemon Tart Filling
Finely zest one of the lemons directly into a saucepan and, if using gelatine sheets, soak them in a bowl of cold water for 10 minutes.

Squeeze the juice of both the lemons and lime then strain to remove any pips. Weigh to reach the exact amount of liquid.

In the saucepan, whisk together the lemon/lime juice with the zest, sugar and eggs. Once mixed together, put on a medium heat while continuing to whisk until the sauce bubbles and thickens. This should take 10 minutes max.

Take off the heat and strain to remove the zest (only if you prefer it smooth - I often keep it in). Whisk in the cubed butter and gelatine (sheets squeezed of excess water or add powder).

Pour directly into the tart shell. Cool and place in the fridge for at least an hour to set.
Notes
To Serve
Remove from the fridge 15 minutes before serving to appreciate the citrus flavours at their best. Pair with Darjeeling or Russian Caravan teas or Champagne.
Storage
Keeps up to 5 days chilled in the fridge in a closed airtight tin, box or in aluminium foil without the pastry becoming soggy.
Baking Notes
Note on gelatine: I don't recommend Agar-Agar as an alternative for this recipe. However, if you are vegetarian and prefer, then use just ½ teaspoon of Agar-Agar powder.
Measures: Please note that this recipe is best made using digital kitchen scales in precise metric grams or ounces. Cups are given as an approximate guide only. 
Nutrition per 62g serving (filling only): 16g carbohydrates, 3g protein, 14g lipids, glycemic index: 11.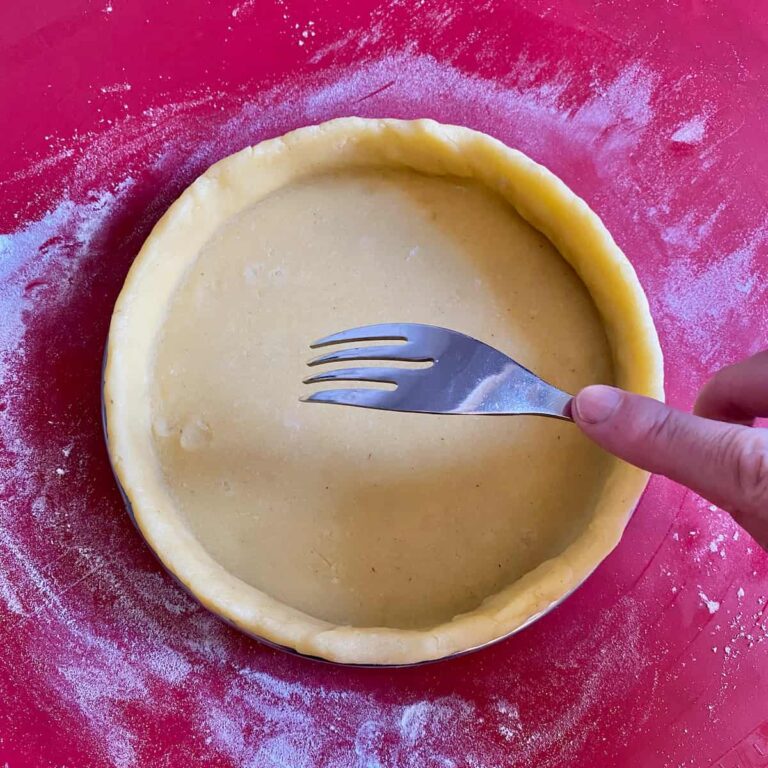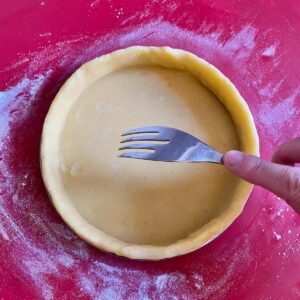 Pâte Sucrée Recipe (Sweet Pastry Dough)
French Pâte sucrée is the best all-round sweet pastry dough for tarts. This is the most basic and easiest recipe to work with - taken from my book's tart chapter in Teatime in Paris (2015).
The result means no soggy tart bottoms, just a delicious tart pastry base with a touch of vanilla. It's perfect as a base for fruit tarts, chocolate and almond tarts. Makes 500g pastry dough for 1 large tart or 8 tartlets.
Equipment
loose-bottomed tart tin or tart ring (27-28cm/11" diameter x 3cm)

stand mixer with paddle attachment

optional as dough can be mixed by hand

Rolling Pin

with optional end rings to roll out evenly

baking beans

or washed coins, rice or dried beans
Ingredients
125

g (4.5oz/½ cup)

unsalted butter

at room temperature (not melted), cut into cubes. Chilled if mixing by hand.

75

g (2.75oz/½ cup)

icing/powdered/confectioner's sugar

½

teaspoon

sea salt

fleur de sel

1

medium

egg

organic (room temperature)

¼

teaspoon

vanilla powder

or extract

240

g (8.5oz /1.9 cups)

T45 French all-purpose/cake flour

or plain (all-purpose) flour, sifted
Instructions
Using a stand mixer with a paddle beater (otherwise mix by hand with cold butter), mix the butter, sugar, vanilla and salt until pale and creamy.

On low speed, gradually add the egg and flour and mix until combined. Half way during mixing, push the dough down the sides of the bowl and paddle with a spatula. Continue mixing just until the dough comes away from the sides of the bowl and stop.

Form the dough into a ball. Wrap in cling film and chill in the fridge for an hour. Normally you will only need ⅔ of this dough quantity - either freeze the rest or keep it chilled for up to 3 days.

Remove from the fridge and after 5 minutes (as easier to work with), roll out the pastry to 3-4mm (⅛ inch) thickness on a lightly floured surface.

When completely rolled out about 3cm (about an inch) bigger than the tart tin/ring, transfer the dough by rolling around the pastry roller and cover the tart tin. If using a tart ring, place the ring on baking paper or a silicone mat.

Press well into the tart tin or ring, leaving no air holes around the edges. Trim off excess pastry by rolling over the edges with the rolling pin. Prick evenly with a fork.

Leave to set in the fridge uncovered in the tin/ring for at least 20 minutes. Preheat the oven to 180°C/160°C fan/Gas 4/360°F.

Blind bake (top with baking parchment and baking beans - see NOTES) for 15 minutes. Remove baking paper and beans.

Bake uncovered for a further 5-10 minutes or until the pastry is golden. This step may be optional, depending on the recipe filling's instructions (such as this almond rum tart, which stays in the tin and is baked further with the filling in it).

Leave to cool for about 5 minutes then remove from the tart tin/ring. Set aside on a wire rack to cool completely before filling.
Notes
For the original detailed step-by-step recipe, see the tart chapter in my book, 'Teatime in Paris' (2015) along with many more tart recipes.
Storage: although this dough can be prepared on the day of baking, it can be made 1-2 days in advance. Keep chilled rolled in cling film until ready to roll or prepare the tart shell and keep covered in the fridge. Otherwise freezes well - either the raw dough or the baked tart shell. Just defrost thoroughly before use.
Flour: Although all-purpose flour is good, I generally prefer a finer T45 (French all-purpose) cake flour for tarts. For more, see FAQs
For chocolate pastry, add 1 tablespoon unsweetened cocoa powder to the flour in step 2.
The original recipe with meringue and passion fruit was published in my 2nd cookbook, Teatime in Paris (May 2015).