Dijon is perhaps best known for its mustard but there's much more to this gastronomic city. Capital of France's Bourgogne Franche-Comté region, in July 2015 it was named a UNESCO world heritage site - and in May 2022, opened its International Cité de la Gastronomie et du Vin.
Together with my husband, Antoine, a 3-day visit in Dijon was well worth it. So let me sum it up with a taste of its food and wine culture and discover what makes it so special.
What is Special About Dijon?
Dijon produces four major specialities. Above all, it is known for its mustard, crème de cassis (blackcurrant liqueur), pain d'épices (gingerbread) and wine.
While truffles (la Maison aux Mille Truffes between Dijon and Beaune) and snails (escargots) are also popular, they're not a particularity of the city itself. Nevertheless, you'll find them in many regional dishes of Burgundy in the restaurants here.
Traditional pretty oval boxes of candies called les Anis de Flavigny, is another local Burgundy speciality ("un bien bon bonbon"). You'll find them in town but as of the 16th century have been made directly in Flavigny.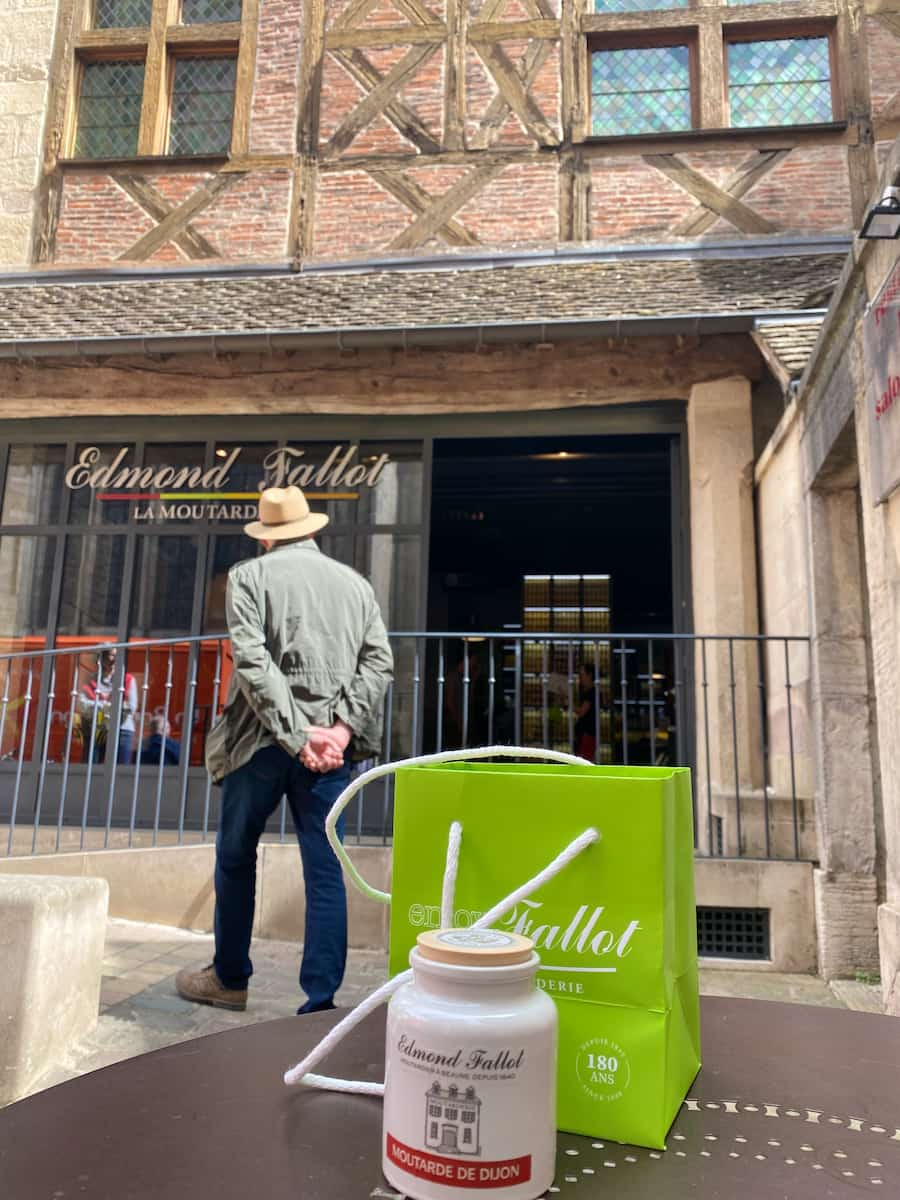 Dijon Mustard
Ever since the 13th Century, mustard has been a popular condiment here - and I'd say became just as powerful as the Dukes of Burgundy! Mustard (moutarde) got its name from the Dukes' motto "Moult me tarde" (many await me) and mustard makers honoured them by adding the motto to their pots.
Although we call it 'Dijon Mustard', its now protected geographical indication is 'Moutarde de Bourgogne'. The latter guarantees only locally sourced ingredients. Since 1840, La Moutarderie of Edmond Fallot makes the local mustard (Maille mustard is historically Paris based) and, for the last 30 years, has been ensuring that the ingredients are 100% sourced from Burgundy, using local mustard seeds, as previously they had been sourced from Canada.
The range of flavours are impressive: from plain, with cassis, honey and figs, Pinot Noir, walnuts, and a variety of fresh aromatic herbs.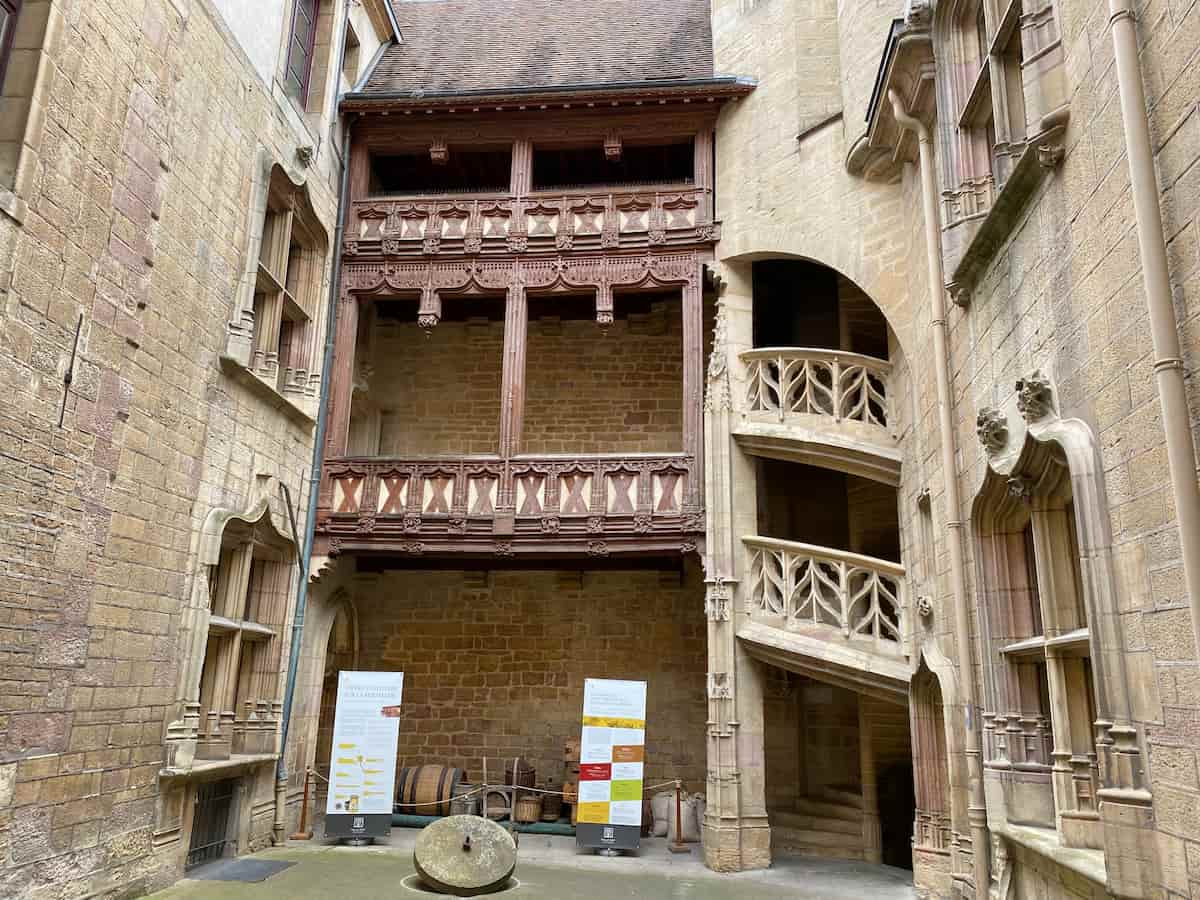 How to Make Your Own Dijon Mustard
For much more, see Fallot's workshops how to make your own mustard. Apparently it's a simple mixture of brown mustard seeds, dry white wine, white wine vinegar and rock salt but it's all in the grinding and ingredients.
As you can see from the photos, there are plenty of information cards around the historical centre to understand more about Dijon mustard's history and how it's made. Did you know that mustard is part of the cruciferae family, which also includes cabbage, colza, radish and turnip?
Crème de Cassis
Dijon's sweet blackcurrant liqueur or crème de cassis was created in the 19th century when the vines around France were ravaged and wiped out by phylloxera. As a result, blackcurrant bushes were planted locally and the liqueur was made to replace the local ratafia.
Crème de cassis was later made famous around France in the 1960s thanks to Dijon's mayor, Le Chanoine Kir, who gave his name to the French apéritif. The Kir is a mixture of the liqueur with white (Bourgogne Aligoté) wine or a royal version with either Champagne or local Crémant de Bourgogne bubbly. For much more, see my post and recipe for the Kir Royal.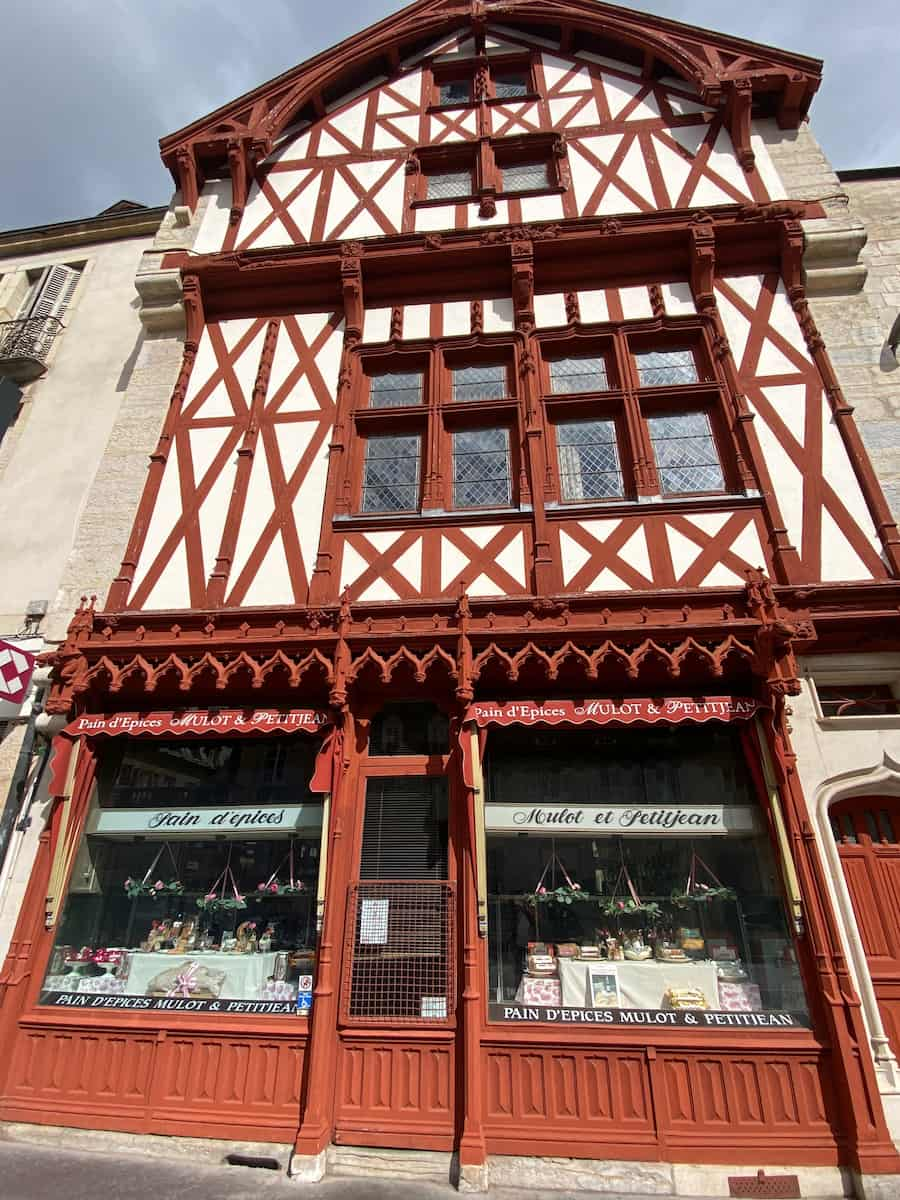 Dijon Gingerbread
Don't miss the historical 15th century half-timbered shop of Mulot et Petitjean on rue Bossuet with its gothic revival style inside, restored in 1919. They are the oldest gingerbread maker today in Dijon (1796). Local pain d'épices de Dijon was brought after the Crusades via Flanders by the Dukes of Burgundy. Unlike other French gingerbread, theirs doesn't include rye flour (seigle) but wheat flour (farine de froment), honey and only one spice, aniseed (anis).
For a typical gingerbread recipe, see my French pain d'épices.
Try their famous round iced gingerbread cakes, Nonnettes, filled with jam (especially with local cassis/blackcurrant). Their name derives from Nonne, thank to nuns who originally made them. Made with egg yolks, I'm supposing the egg whites were used to clarify the Burgundy wines - much like the story for Canelés (Cannelés de Bordeaux.)
Burgundy Wine and Climats
Here is a land of top wines. Since July 2015, The Climats, plot-based terroirs of Burgundy (stretching from Dijon to Les Maranges south of Baune) are inscribed on the UNESCO World Heritage List as a "cultural landscape (...) of Outstanding Universal Value".
There are 1247 Climats on this list because of their unique geographical features, plus geology, hydrometry and exposure. Oof! That's a mouthful but it associates each wine with a specific locality, only one grape variety - or one Climat as one wine. For much more on this, head to the Cité de la Gastronomie's Chapelle for a well-explained exhibition.
If you become 'punch drunk' (can't resist that one) with reading, head to the great wineries out of the city. For example, visit and taste at the legendary Château du Clos de Vougeot (see my article on the annual Fête de Saint-Vincent Burgundy wine festival), Château de Marsannay, Caveau Moillard, Château de Meursault.
International Cité de la Gastronomie et du Vin
Opened in May 2022, la Cité International de la Gastronomie et du Vin is an immersive tour de force of French gastronomy: from exhibitions, films, interactive learning tasting/cooking games - to tastings, a gourmet bookshop (Librairie Gourmande), restaurants and food shops (the 'Village'). As if that's not enough, the prestigious cooking/patisserie school, Ferrandi now has another base here too. In a nutshell, it's fabulous.
Entry tickets range from free (access to shops and cinemas), €9 (including the exhibitions), to others including tastings and workshops. We did the exhibitions, starting with the world of pâtisserie, where we learn some history from the USA, Japan, Austria and France with the world of Carême to Hermé, Michalak, Felder, Conticini to choux, brioche and travel cakes. Like the giant macaron, many exhibits are interactive to learn more sweet gems. I particularly love a guessing game on weights vs volume to prove that pâtisserie has to be made using digital scales.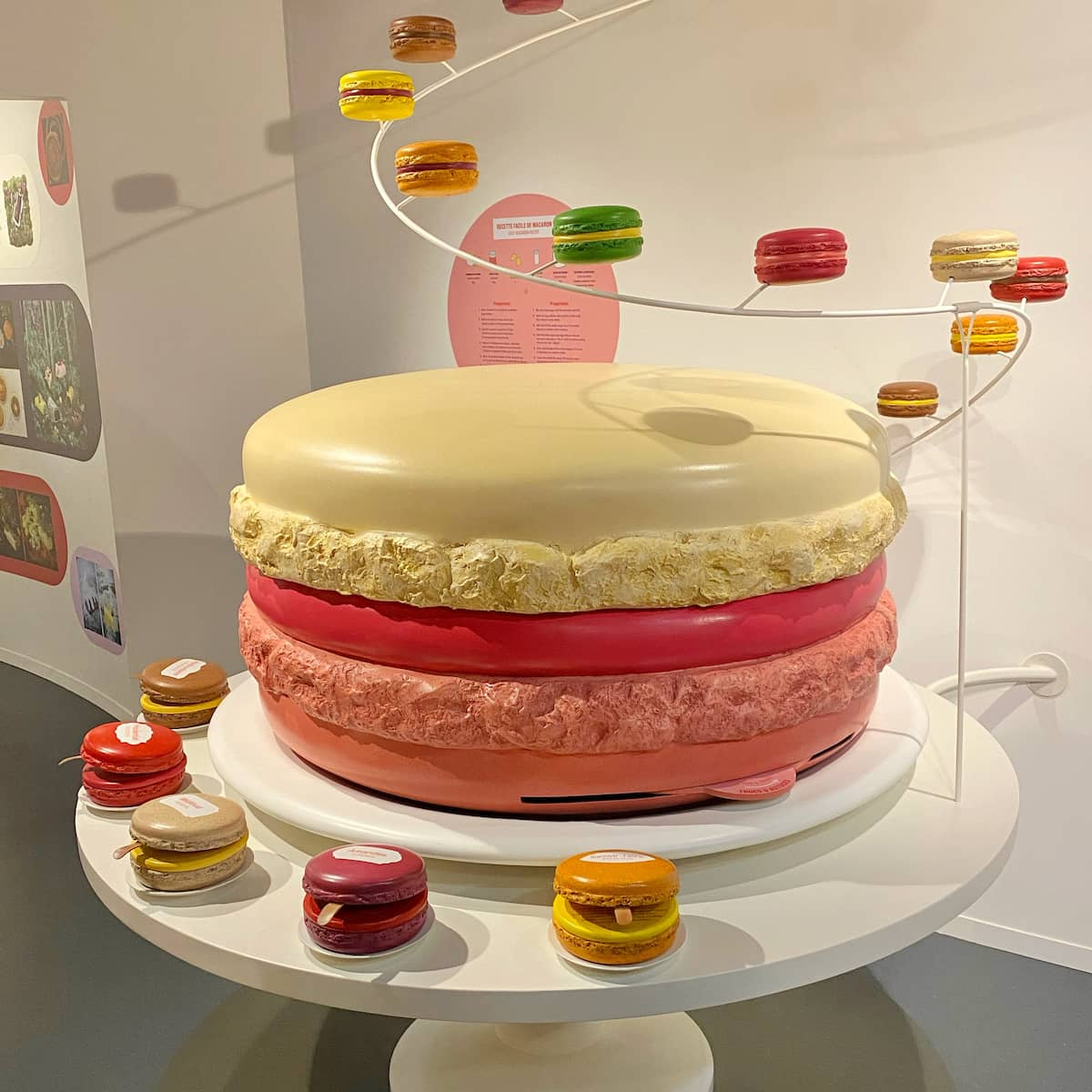 Upstairs, at the exhibition, 'La Cuisine', we learn about the first restaurant at the Palais Royal in 1765, then after the revolution to today's 175 000 restaurants in France. We're reminded of the chef's obsession with seasons and fresh produce for seasonal dishes, textures and how to spot the colour of a Sauvignon Blanc wine. Then on to the history of culinary science from Menon in 1742 - via Carême and Escoffier - to Raphaël Haumont and Thierry Marx's French Centre for Culinary Innovation since 2013.
The Cité de la Gastronomie's Village has a huge selection of food to try from all over France, made by the top craftsmen (Meilleur Ouvriers de France). From pastries, chocolate and macarons (Nicolas Bernardé, Olivier Menard), ice creams (Une Glace à Paris - see the best ice creams in Montmartre), more on local mustard - plus cheese, fish/seafood (l'Ecaille), plus meat and charcuterie (Billot) platters.
Alternatively, there are plenty of sit-down restaurants to enjoy lunch or dinner. From a tasting dinner by Eric Pras (3 star Michelin from Burgundy) to more informal menus.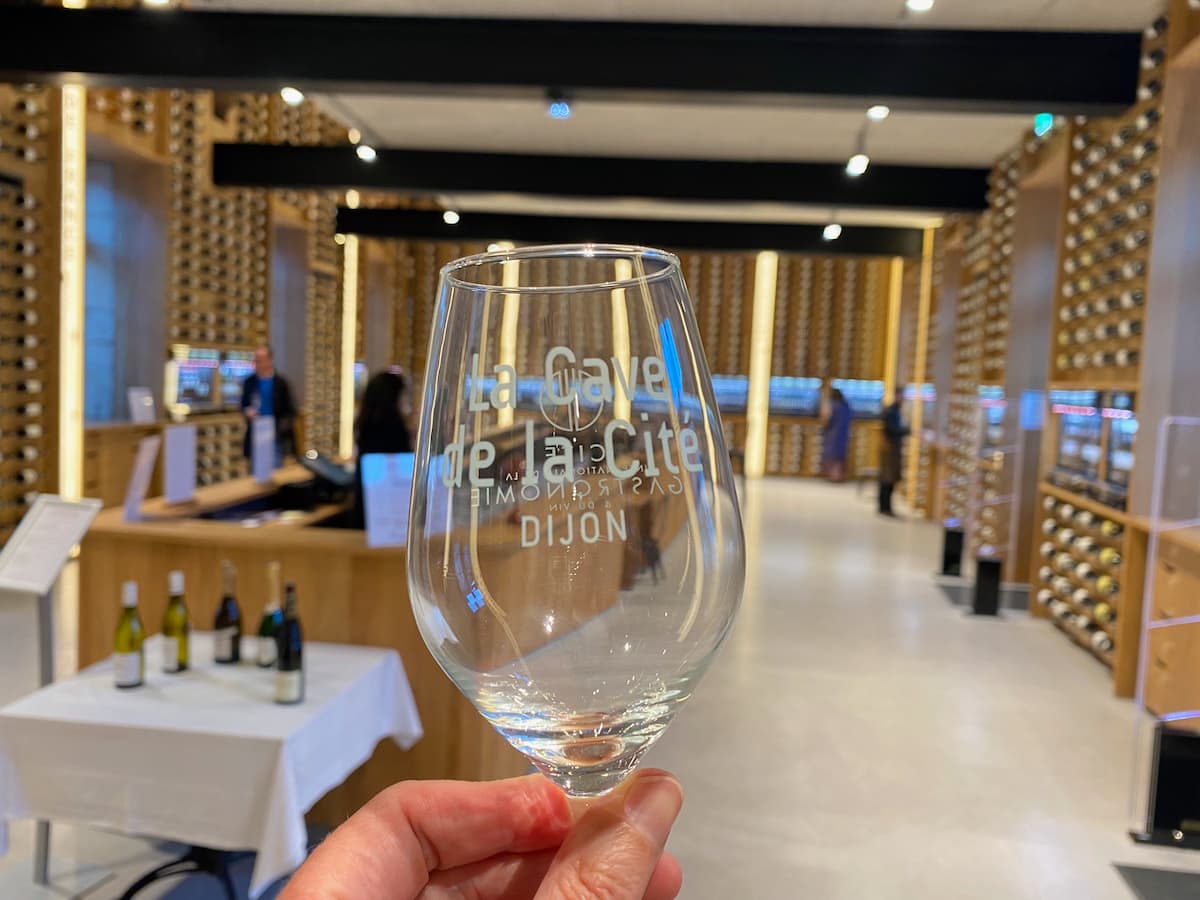 Wine Tastings at La Cave
At La Cave de la Cité, Grand Cru tastings are possible via 3 different sizes for various budgets - from €3 (Pommard 2017) to around €350. Cards start at €20, so either use it up to taste in one moderate sitting or come back for more. We used it up easily - and we'll also have to return, even if we're not going to taste that insanely prized nectar. Imagine spilling a drop of their most expensive Grand Cru?
There is a daily choice of 250 wines by the glass from 3000 bottles (of which a thousand are from Burgundy), including some top wines from around the World. The cité also organises wine tasting workshops.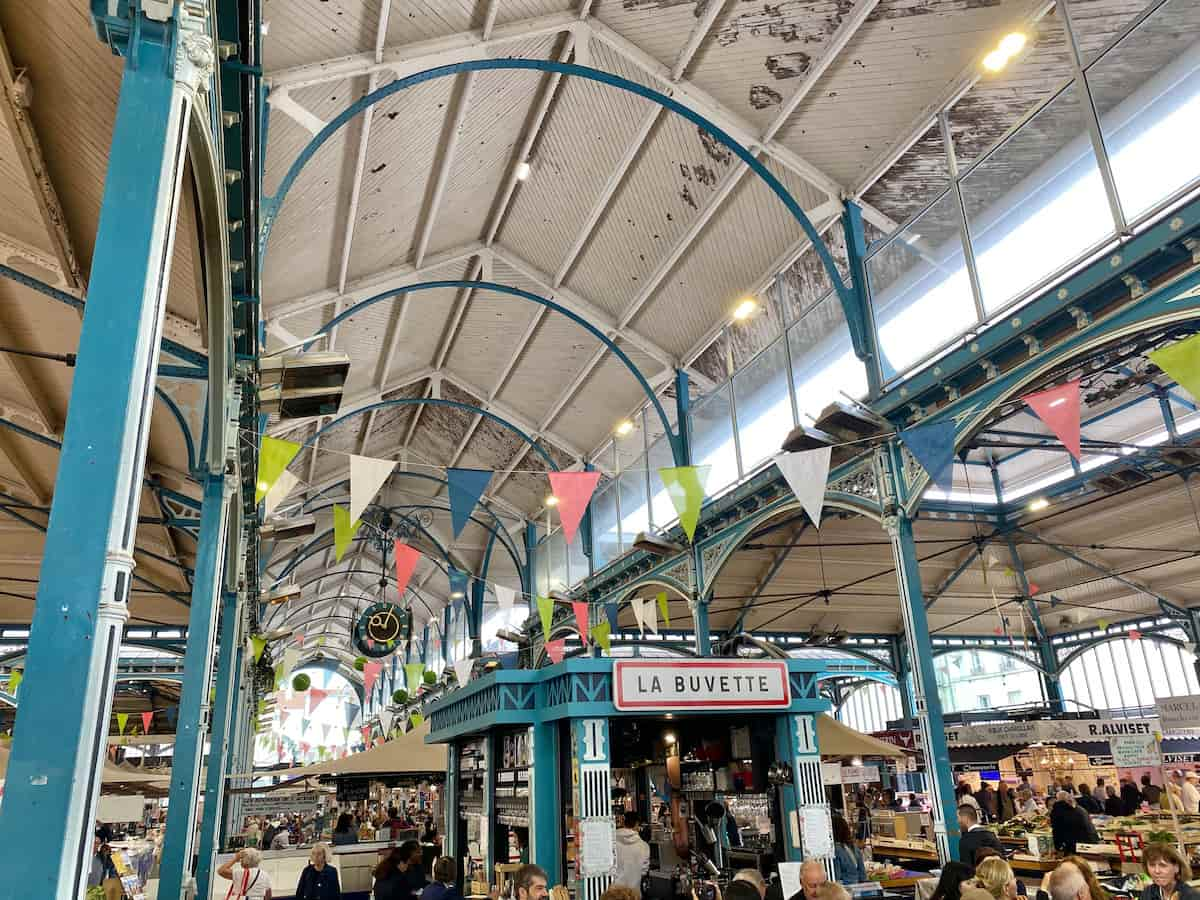 Dijon Market at Les Halles
This is where the locals buzz around the incredible food stalls at les Halles on Tuesday, Friday and Saturday with a mini market also on Thursday mornings. It's a gourmet's paradise from fresh fruit and vegetables, cheese, meats, fish, seafood and wines. The buvette is central to market life (just like ours around Paris too), as locals meet for coffee or a glass at lunchtime to discuss, well, recipes or gossip? On Sundays, a guest chef serves a weekly brunch.
Contrary to popular belief, the market's building was not designed by Gustave Eiffel, who was born here. According to Simon, our local tour guide, its ironwork resembles something that Eiffel could have designed but he didn't.
What Else to Do?
Based on our experience, walking in the historical centre will help to work up an appetite!
Start with a 2h guided tour from the Tourist Office. It's a great introduction to the city with its history and culture well explained. We took tours in French but English is easily available.
As the historical centre is pedestrian, it's a pleasurable way walk and discover the many churches, cathedral, museums and shops. However, the city offers free Eco-friendly electric buses (navettes) to transport around the outskirts if you have limited time;
Climb up the Tower of Philippe le Bon, named after one of the four powerful dukes of Burgundy. The 15th century tower has a fabulous panoramic view of the Place de la Libération. Although up 316 steps, guides stop on the way up to explain history and architecture, so there's time to rest in between;
Follow the Route de Chouette, marked by 22 pavement plaques to the most important landmarks. Head to rue de la Chouette (next to Fallot mustard) and rub the famous owl (with left hand) to bring good luck;
Visit the Musée des Beaux-Arts (Fine art museum). It's free and one of the oldest and largest in France, after Paris. Housed in the Palais des Ducs, it's also where the 4 Dukes of Burgundy rest. The museum includes much art from the Middle Ages and Renaissance plus artworks by the French greats;
Mansion houses (hôtels particuliers) are dotted all around the city's historical centre. During the day most courtyards are open. Don't be afraid to push open the big doors and see what's behind them. There are also guided tours available;
A quick visit (it's free) to the Musée Rudé. Thanks to our guide, Cynthia, for the recommendation. It's easy to miss this gem as housed in a church. Discover the main works of sculptor, François Rudé, who sculpted the Arc de Triomphe in Paris.

What & Where to Eat
Restaurants: Spica. We loved this no-frills bistronomic restau where everything was happening on the plate.  Memorable seasonal dishes of local asparagus, cured ham and perfect egg (oeuf parfait) and veal stew.
More upmarket is the Michelin 2-starred William Frachot at l'Hostellerie du Chapeau Rouge (was fully booked when we arrived - so book ahead) and Loiseau des Ducs.

Many more possibilities at the Cité de la Gastronomie, such as Le Comptoir de la Cité. We adored this relaxed style, seated at the bar and frankly, great value for both lunch or dinner. Watch the chefs in swift action, preparing local specialities with a twist. Try dishes such as oeufs en Meurette (eggs poached in a Burgundy wine sauce with bacon), Boeuf Bourguignon, Coq au Vin. Excellent choice of matching wines by the glass. Reservations necessary as popular;
Bakeries/Pâtisseries: Aux Délices de la Chouette for gougères au fromage, Jonathan Pautet for his Craquant Café Noisettes, raspberry St Honoré and macarons, Franck Pourrier (Aurélien Duvoie) also for macarons - to be continued.
Ice Cream: It's not difficult to find great ice cream in Dijon - the best according to locals is from Simone et Maurice (we confirmed!) and Franck Pourrier.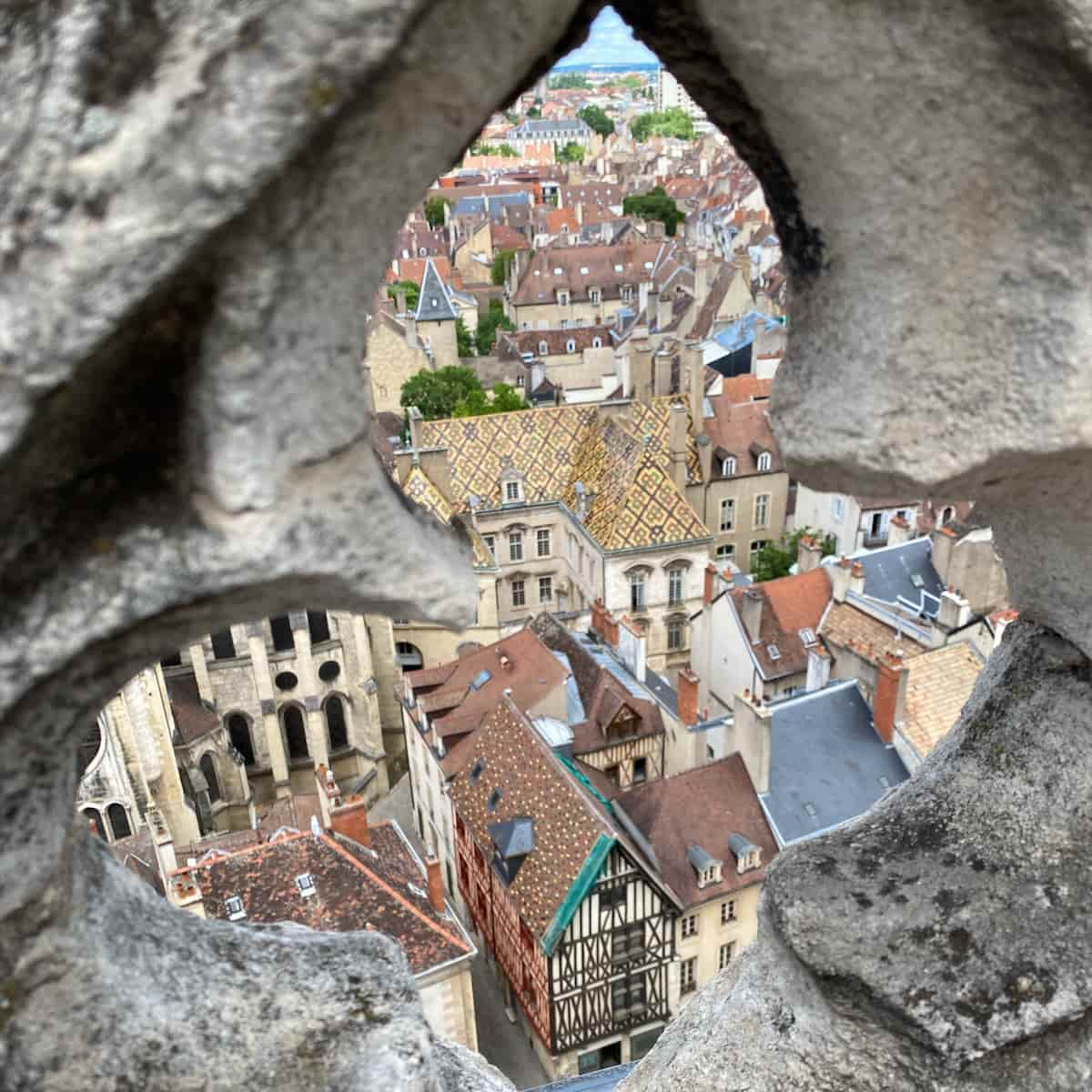 Visit Dijon or Lyon?
I say both! They are both so different but if you're interested in food, then they are both France's main gastronomic centres, along with Paris.
Lyon, 200km (2 hours' drive) south of Dijon is also worth visiting. Known for its Bouchons (silk-worker eateries) and traditional regional cooking, see more in my article on Gourmet Lyon in 3 Days.
For those with a more sweet tooth, see my article on Lyon's pâtisseries and chocolateries, with emphasis on the pralines roses, a Lyonnais speciality. However, no time for Lyon? Head to Pralus in Dijon for their pink praline brioche.
Practical Information
We highly recommend getting a Dijon City Pass from the Office de Tourisme. Available for 24h, 48h, or 72h, it's the best value way of covering the city's main attractions, including guided tours at a discount. We opted for the 48h pass and discovered that we still didn't manage to cover everything we wanted to see in that time - so gives us an excuse to return!
Although available from the tourist office, a digital pass comes at a discount directly online.
For more on the new International Gastronomic Centre, exhibitions and restaurants, see La Cité de la Gastronomie et du Vin.
How to Get There: Dijon has easy access with only 1h30 from Paris by high-speed train (TGV, Gare de Lyon). If driving by car, it takes under 3h30 from Paris, so it's an ideal location for a few days away or weekend break.
***
NOTE: This post is not sponsored in any way.
All activities were paid for by ourselves.