The classic French Kir Royal cocktail. Too often misspelled Kir Royale, it's the fizzy version of a classic French Kir.
What's the difference between a Royal, a Kir, a Kir Normand or Breton and why is called Kir? Let me explain how we make it in France with its history.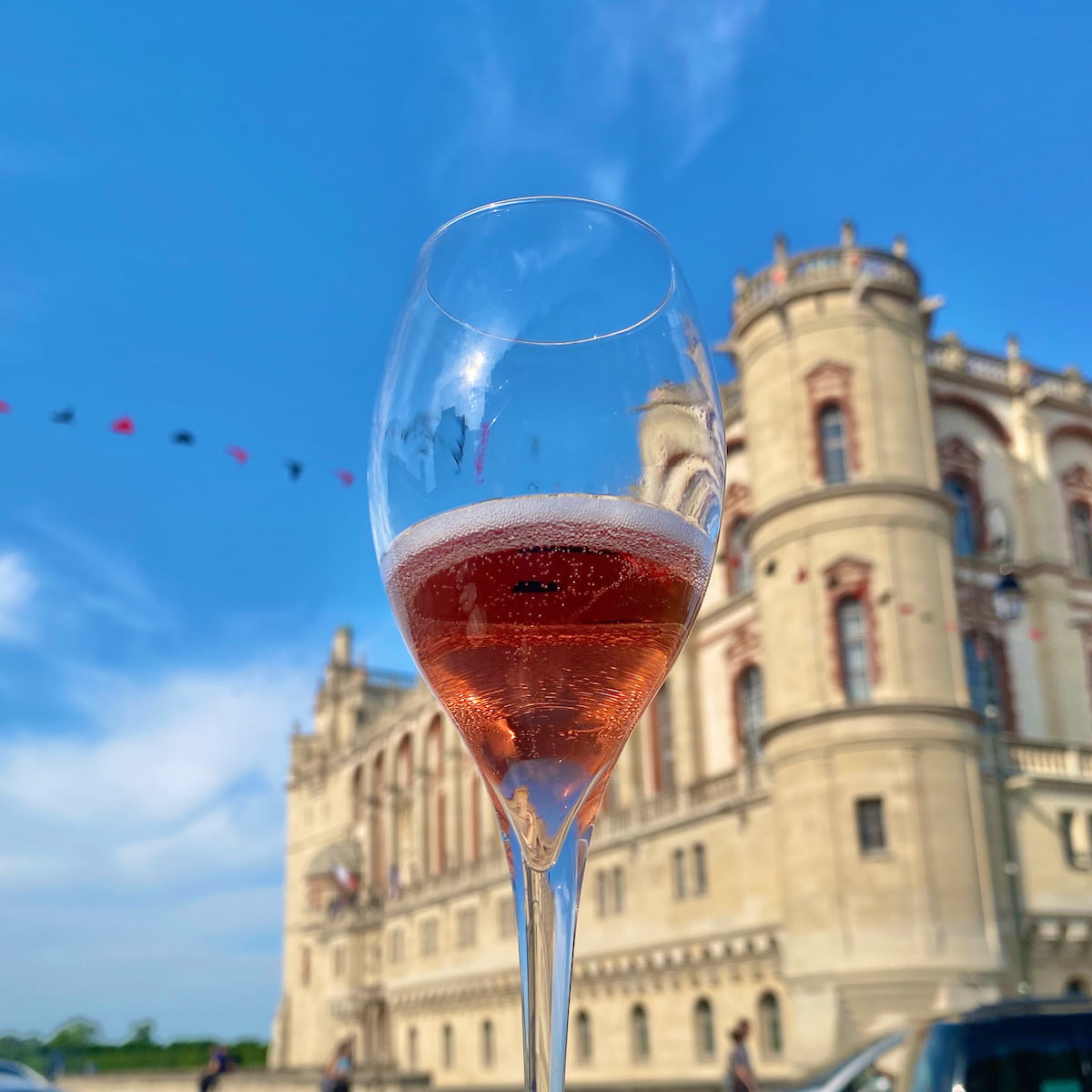 What is a Kir in France?
First, let's look at our traditional Kir in France with the history of this cocktail.
According to Larousse Gastronomique, the Kir apéritif was given its name in the 1960s by le chanoine Kir (1876-1968), then mayor of Dijon in Bourgogne. He took the already popular local "blanc cassis" (white wine with blackcurrant liqueur) to new heights by serving his exclusive drink at town hall receptions.
His idea was a great bit of marketing, supporting the local specialities of Burgundy. Monsieur Kir used the local crème de cassis liqueur from Dijon as the base for the drink - then traditionally topped up with Bourgogne Aligoté, an extra dry (still) Burgundy white wine.
Other white wines to use: ideally dry wines such as a simple Chablis, a Bourgogne Chardonnay or other dry white of your choice.
Did you know that there's a Lake Kir on the outskirts of Dijon? It's also thanks to the mayor, le Chanoine Kir, who had this artificial lake created in 1964 with 30 hectares of park. Hm. Imagine a whole lake filled with Kir.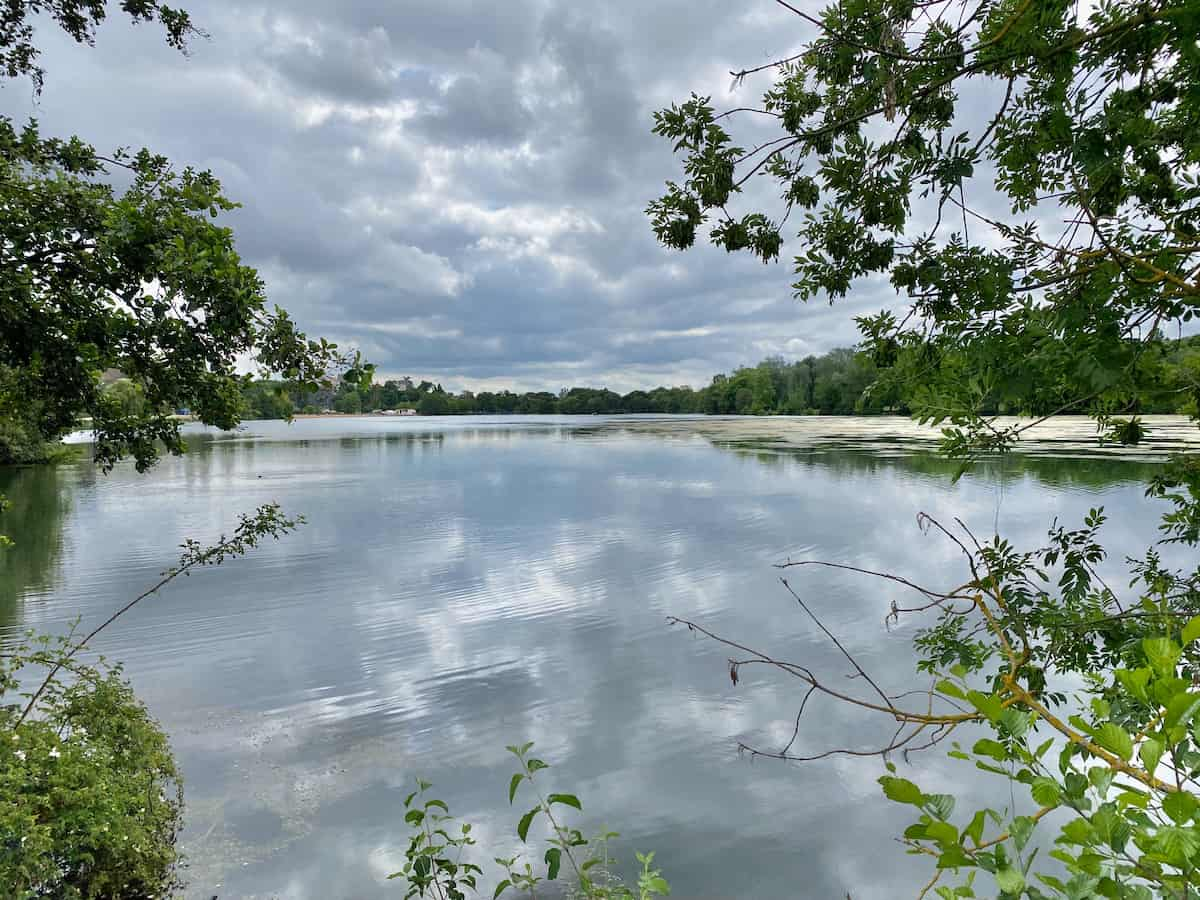 Best Ratio of Wine to Crème de Cassis
Cassis is not consumed on its own, as it's quite powerful and rather sweet. The best ratio of crème de cassis to white wine in a kir is about 1:9, as it's just enough to give a hint of blackcurrant fruit without overpowering the flavour of the wine. Let's face it: you don't want something overly sweet for an apéritif before a meal.
In Burgundy, I was surprised to be served double the dose by our friends from Dijon making it extra fruity - so it's just a matter of personal taste.
Kir Royal vs Kir
So what's the difference between a Kir and a Kir Royal? Unlike a normal Kir without the bubbles, the Kir Royal is also made with crème de cassis but topped up with Champagne, hence the name, Royal (not Royale, as too often misspelled).
When I followed Georges Lepré's wine conferences in Le Vésinet near Paris, he had a lovely anecdote on Kir Royal. While he was Chef Sommelier at the Ritz until 1993, he was asked by the actress, Joan Collins for a Kir Royal with Roederer Champagne. OK Pourquoi pas - why not?
Well, it's shocking to a French person to mix a top Champagne with crème de Cassis - how can you taste the Champagne's qualities? Perhaps she should have asked for a John Collins instead and found her own twist to it rather than ruin fabulous Champagne.
So the lesson learned by this top French sommelier: enjoy a Kir Royal with a good dry brut Champagne without too much character - unless your character is stronger than the wine.
Otherwise use a good Crémant de Bourgogne or other French sparkling wine (there are a few: from Vouvray, Saumur, Clairette de Die).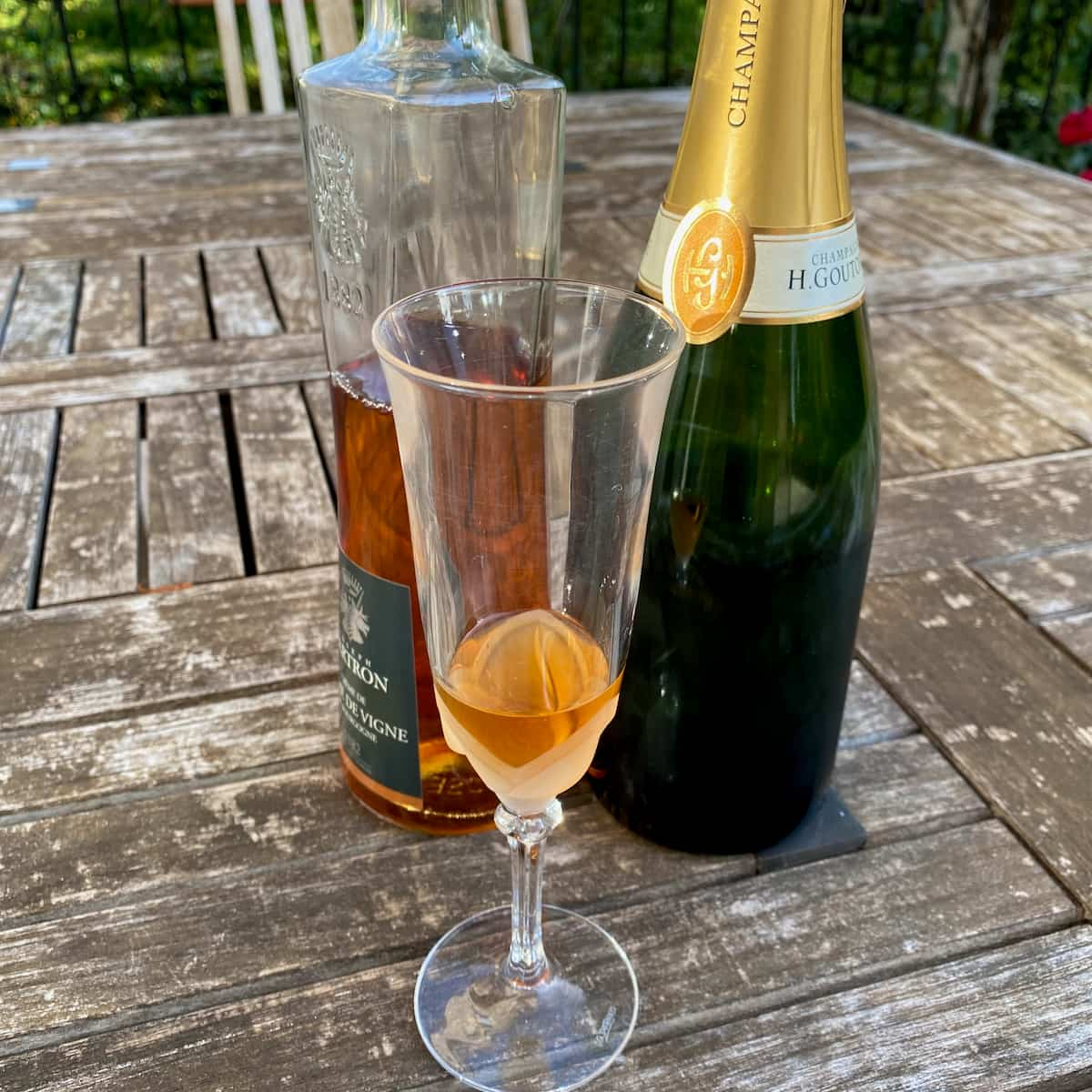 Kir Royal Ingredients
Served as a French apéritif before dinner, it's a fruity drink made with a little blackcurrant liqueur (crème de cassis) and topped with Champagne or other French fizz like Crémant de Bourgogne.
With its origin from Burgundy, Monsieur Kir used the famous local crème de cassis liqueur from Dijon. As cassis isn't consumed straight (it's too sweet and strong on its own), either plain white wine is added to make the Kir or bubbly Kir Royal with Champagne or effervescent white wine.
So, unless stated, ask for a Kir Royal or a Kir and it is served with blackcurrant (cassis). However, other fruit liqueurs are made from the same region.
As a result, other varieties such as peach (crème de pêche de vigne), raspberry (framboise) and blackberry (mûre) are also offered in many French bars and restaurants.
Fancy a Kir Royal with peach in France? Ensure you tell the barman that you'd prefer "un kir avec pêche, s'il vous plaît."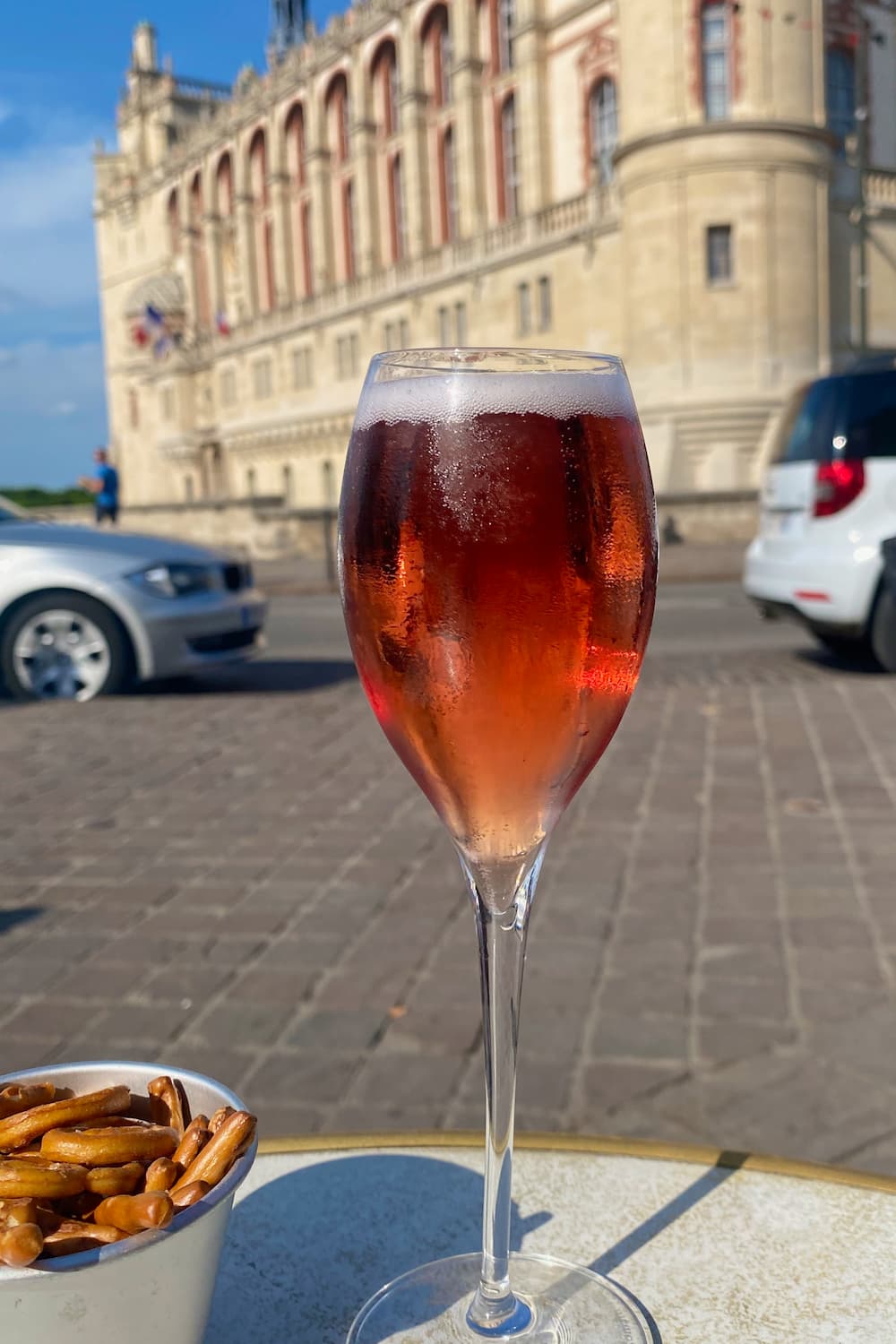 Is Crème de Cassis the Same as Chambord?
Chambord is a raspberry liqueur and not the same as Crème de Cassis, as its flavour is based around blackcurrants. Crème de Cassis is a blackcurrant liqueur and not liquorice (or Anis/aniseed like in a Pastis).
However, can Chambord liqueur be used for a Kir? Absolutely. It will also be a good raspberry alternative to a classic Kir or a Kir Royal as, although it's traditionally a cocktail made with blackcurrant, many other versions are often given in bars too.
What is a Kir Normand or Breton?
If you're sitting out at a summer terrasse in the likes of Honfleur, Normandy it's more than likely you'll see on the drinks' menu the popular aperitif, the Kir Normand. It's the local Normandy version of a Kir Royal with sparkling cider instead of sparkling wine.
It's the equivalent of a Kir Royal but made with local Normandy brut cider mixed with the traditional crème de cassis (blackcurrant liqueur). In some restaurants or bars they also add a touch of Calvados liqueur .
The same principle is used for a Kir Breton. In Brittany they top crème de cassis with local Brittany cider.
While I enjoy both the Normand or Breton cocktails, I prefer drinking cidre on its own, to let the flavour of the apples shine through.
Le Cardinal vs Kir Royal
Ever seen Le Cardinal listed on a bar list of cocktails for apéritif? It's not bubbly like the Kir Royal. It's made instead with crème de cassis mixed with red wine with the same ratios for the classic.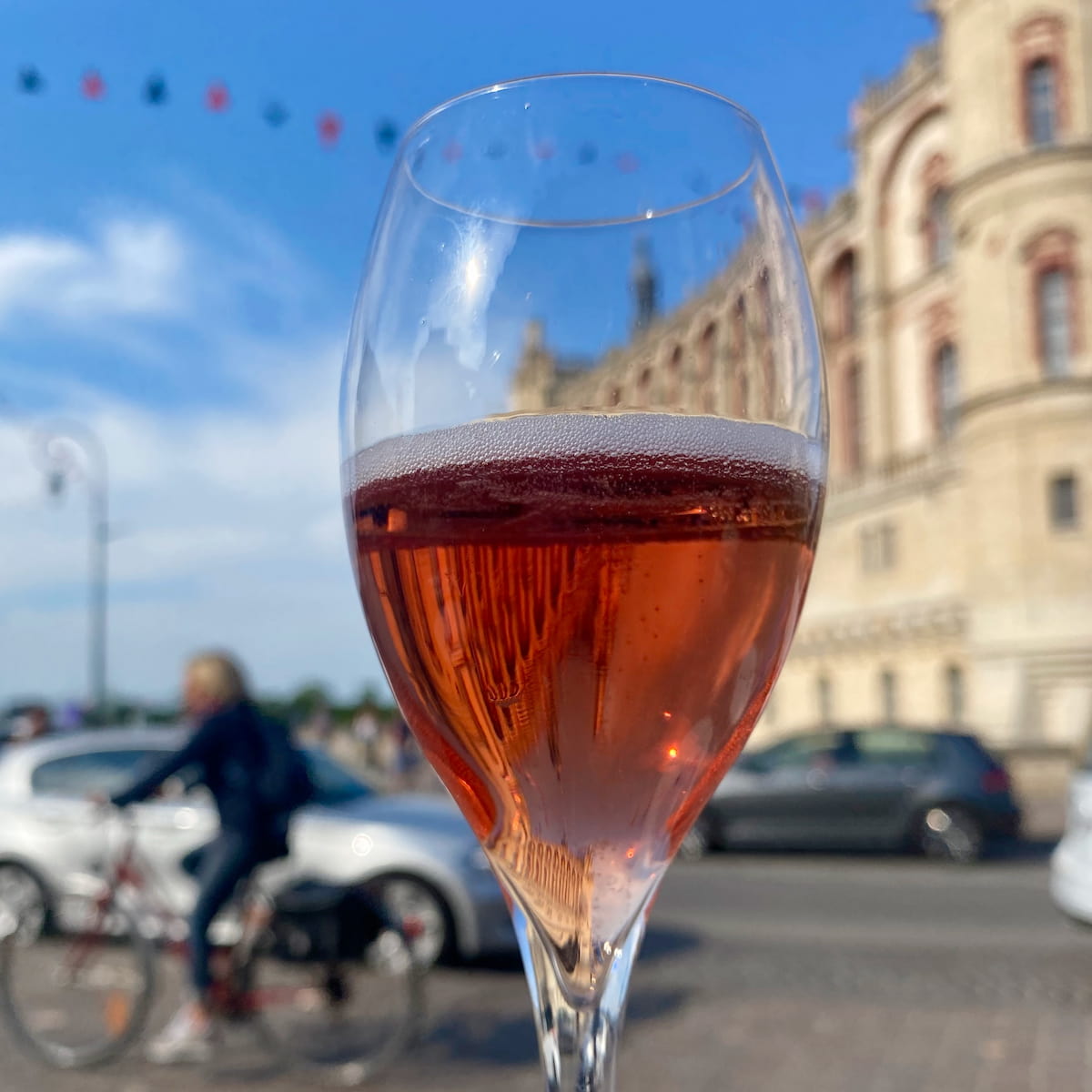 Kir Royal Recipe
A popular French apéritif drink served before dinner. Made with blackcurrant liqueur (crème de cassis) and topped with Champagne or other French fizz like Crémant de Bourgogne.
Ingredients
10

ml (1 dessertspoon/½oz

crème de cassis (blackcurrant liqueur)

* (see variations below)

75

ml (3fl oz)

Champagne or sparkling French wine
Instructions
Fill a Champagne flute with the crème de cassis liqueur and top with Champagne or French sparkling wine.
Notes
* The Kir Royal is traditionally made with crème de cassis (blackcurrant liqueur) although variations are possible in most French bars and restaurants with crème de pêche (peach), framboise (raspberry) or crème de mûre (blackberry).
To make a traditional Kir apéritif, top crème de cassis with still white wine (ideally Bourgogne Aligoté) from Burgundy. Normally served straight up in a wine glass.
As the French say, 'À consommer avec modération', to be consumed with moderation.
This post was first published 10 January 2014 but is now completely updated.