A unique recipe for real pistachio ice cream with vanilla, coconut milk and optional wasabi, which makes the best flavour combination. Not too sweet, this is light and creamy and naturally coloured using toasted pistachios.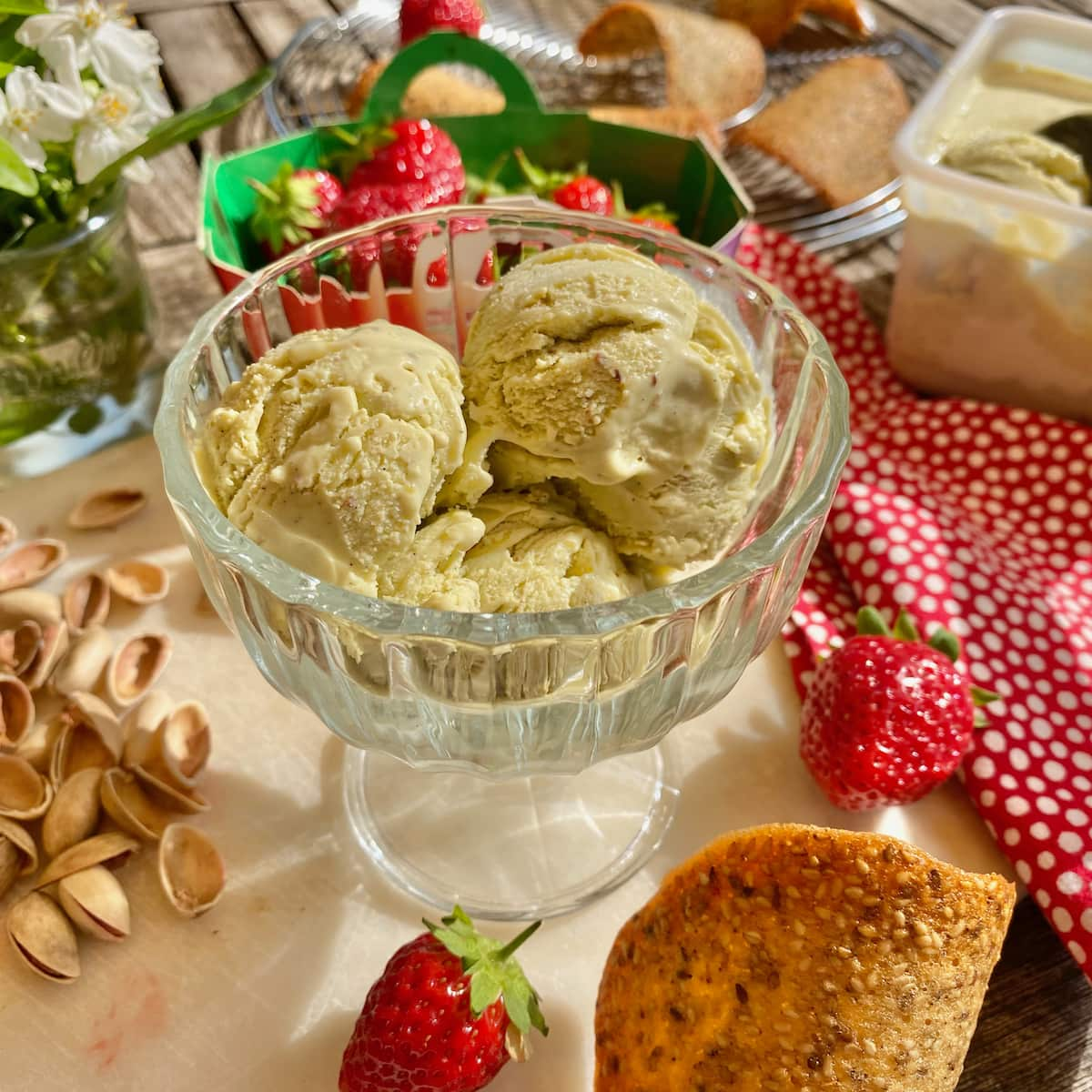 What Flavour is Pistachio Ice Cream Really?
The problem with buying many popular brands of pistachio ice cream these days is that they don't actually include real pistachios in the ingredients. Instead, as pistachios are expensive, they tend to replace them with bitter almond extract (even worse, with synthetic aromas) to make their recipe cheaper.
The result isn't at all the same flavour as you'd get with the real thing made at home. In fact, more than likely you're tasting almond rather than pistachio. What's more, they need to add lots of green colouring to give the impression of eating pistachios!
What is the Green Stuff in Pistachio Ice Cream?
So, depending on where you buy pistachio ice cream, the green stuff could be a number of things. If it's a good quality brand, then the green should be bits of naturally green pistachios.
Otherwise, as brands try to cut costs in production, they'll add just pistachio paste - which is still really good - but there won't be any pistachios!
The worst on the spectrum of green would be uniquely colouring, added to almond flavouring to trick the mind into thinking we're enjoying pistachio ice cream.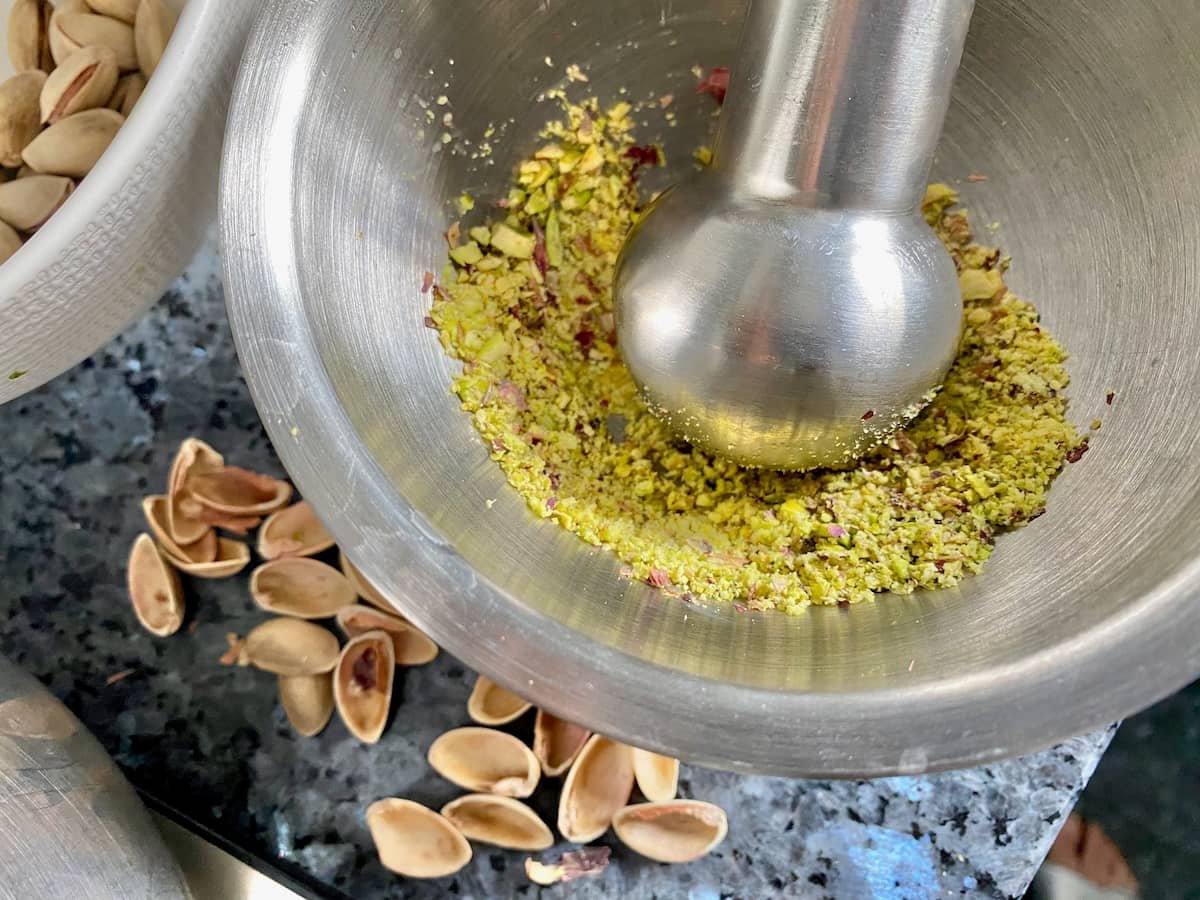 Is Pistachio Ice Cream Actually That Good?
That's why we love to make our own, homemade pistachio ice cream - with real pistachios, which naturally colour it a beautiful yet subtle green. With an added boost of pistachio paste or extract, this is all it needs to make the best flavour. Please avoid using synthetic pistachio aromas or flavourings, as this is not the same thing.
You could keep the ice cream ingredients at that. However, with the added flavours in my unique recipe, you'll find that it takes pistachio ice cream to a completely new level.
Is There Such a Thing as Wasabi Ice Cream?
I first tasted wasabi ice cream in Paris and couldn't believe this actually exists. Except it was combined with more pistachio than wasabi - and it, thankfully, wasn't a joke.
One of my favourite French chefs is William Ledeuil, Michelin-starred chef of Ze Kitchen Galérie in Paris. He makes the most incredible dessert consisting of a white chocolate and wasabi ice cream served with a rich pistachio sauce, wasabi meringue and fresh strawberries.
The flavour combination is simply stunning. If you haven't yet tried it and are even a bit sceptical, then please try this first before judging. I'll explain below what I did to change the recipe and make it more pistachio.
So back home, I put the flavours together into just one ice cream to make it simpler to make without all the extra restaurant-style Michelin-starred frills. I'm a bit lazy! So I developed this recipe to try and recreate these incredible flavours in one.
I replaced the white chocolate with egg yolks (as macaronivores, we need the egg whites for macarons!) The result is an extra creamy ice cream without the cream.
What Does It Taste Like?
With wasabi, is it spicy? Not much, as there's not enough wasabi paste to give too much heat - but the beauty of serving as part of creamy ice cream with other ingredients of pistachios, vanilla and coconut is that you get all the flavours in one. It adds a delicious intrigue.
The ultimate taste sensation has the spicy wasabi initially last for a couple of seconds with the intrigue of the other flavours. The result is a delightful surprise, tasting each individual ingredient.
Ingredients for the Best Pistachio Ice Cream
The beauty of homemade ice cream is that you control the flavours - and the sugar. Not only does it contain pistachio nuts but it's not overloaded with sugar. It's not just easy to make at home but only requires the following few ingredients:
Pistachios: use raw pistachios that are ideally toasted. I just dry fry them for about 5 minutes in a non-stick frying pan. The result gives a lovely natural green colour.
Whole milk & Coconut milk: used to replace heavy cream which lightens it up and adds a lovely flavour combination.
Vanilla bean/pod: this may sound extravagant but if you want the best, use a bean or pod or good quality vanilla powder. We want to see these vanilla specks.
Pistachio paste or extract: please use this over synthetic aromas or flavouring. The taste is far superior.
Sugar: this is reduced as much as possible, making it just sweet enough without sugar overload.
Egg yolks: 5 yolks give the custardy creaminess mouth feel without all the cream.
Wasabi (optional): the extra ingredient that, if used, does take it to another level. Use a reputable brand. (I get mine from the Japanese supermarket, Kioko on rue des Petits Champs in Paris). Don't judge without trying it first, as it's perfectly balanced in this recipe.
Top Tips How to Make the Perfect Homemade Ice Cream
Just follow the simple recipe steps below and you'll have your own delicious homemade ice cream in under 3 hours!
Most important tips:
Weigh out your ingredients using a digital scale and follow the recipe to the letter. Prepare all the ingredients in advance.
Toast the whole pistachio nuts in their shells in a non-stick frying pan or for a minute under the grill. Shell, then crush them in a food processor or in a mortar and pestle.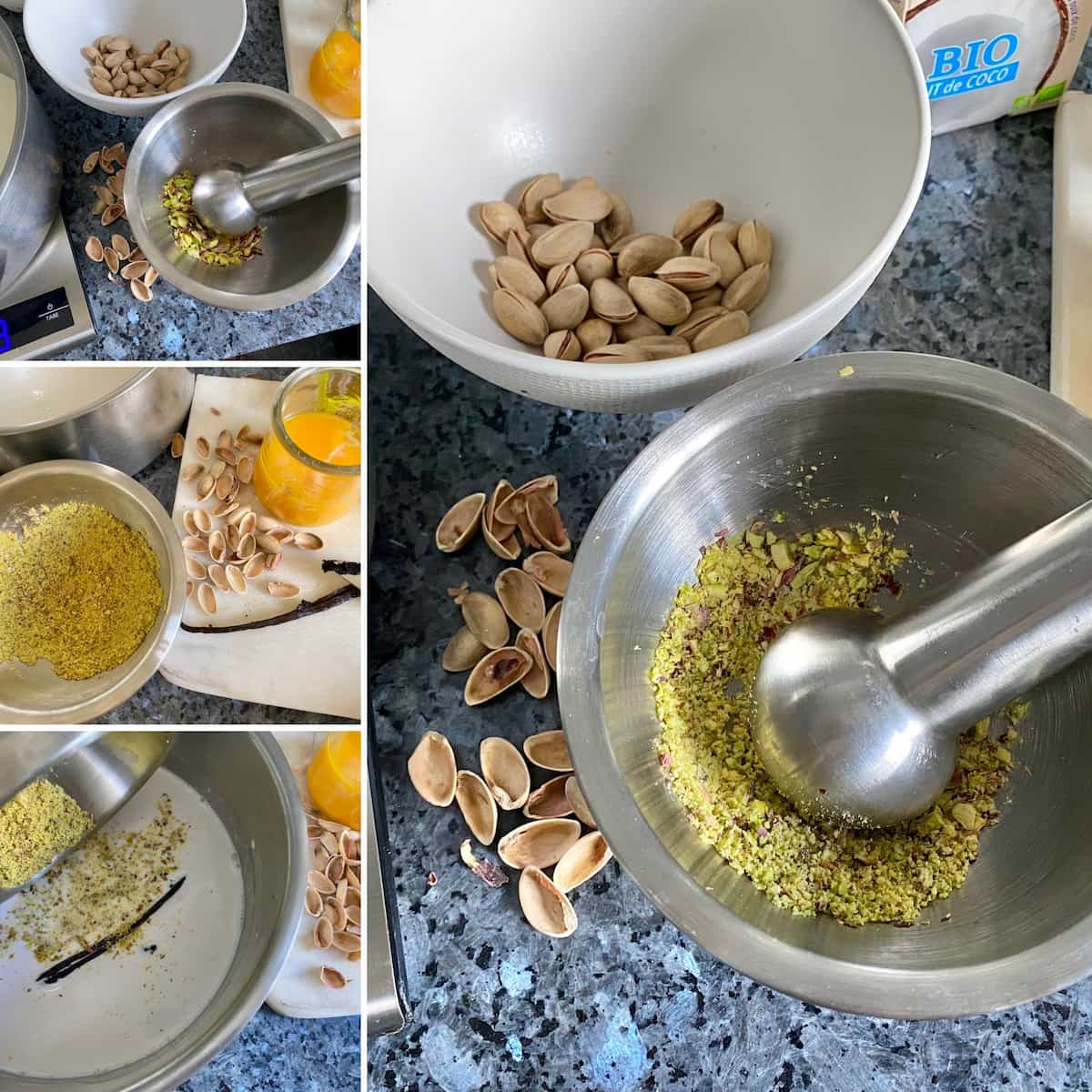 Meanwhile, the hot milk (not cream) infuses with the whole vanilla pod/bean for full flavour. Add the pistachio paste or extract to the creamed yolks and sugar.
Gradually add the hot milk and whisk little by little into the yolk mixture to temper off the heat. Tempering this way will ensure that the eggs don't cook or curdle.
Back on the heat, whisk the pistachio custard vigorously until it starts to thicken.
Top tip to know it's ready: the custard should easily coat a spoon.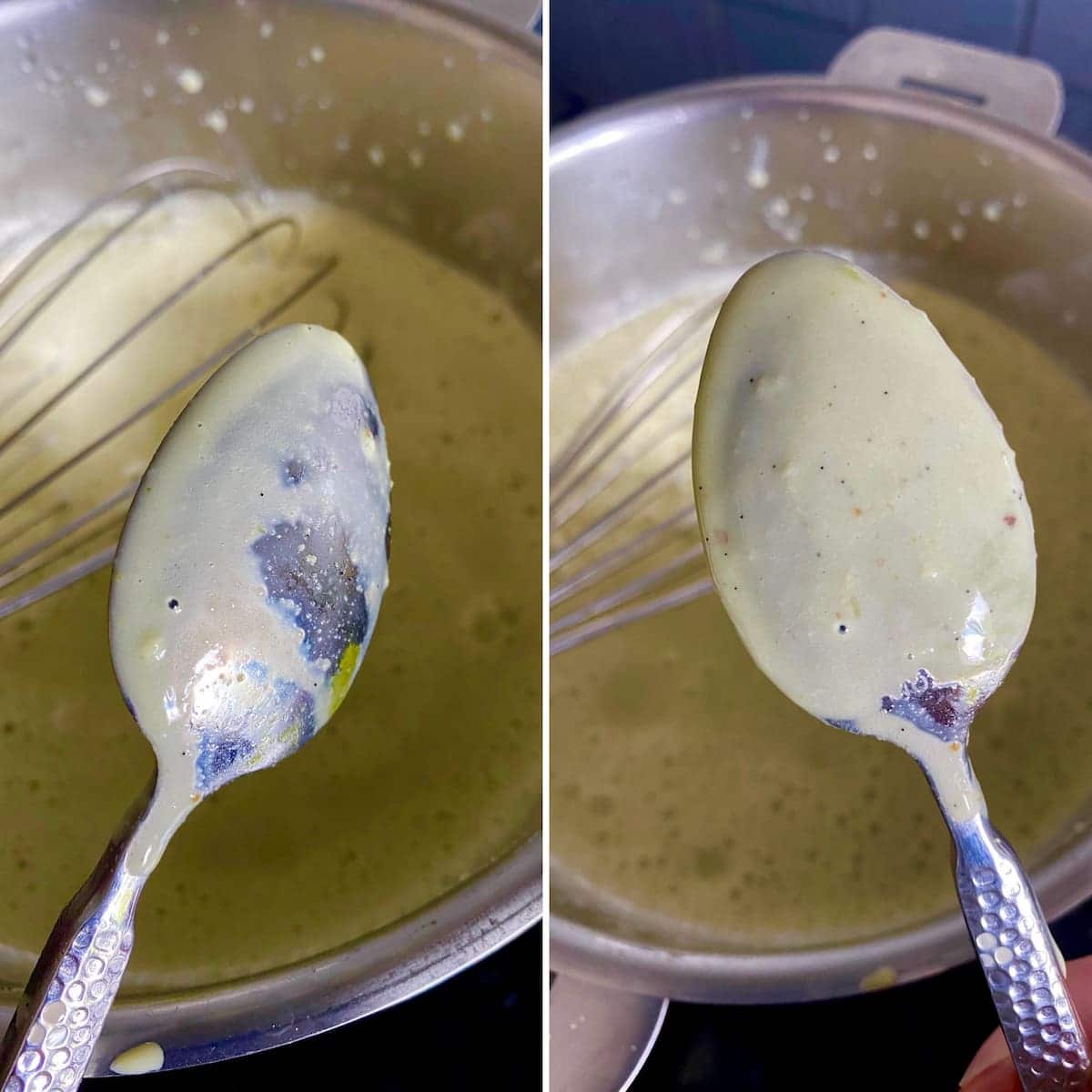 Leave the custard to cool on the counter then chill for about an hour before churning /freezing.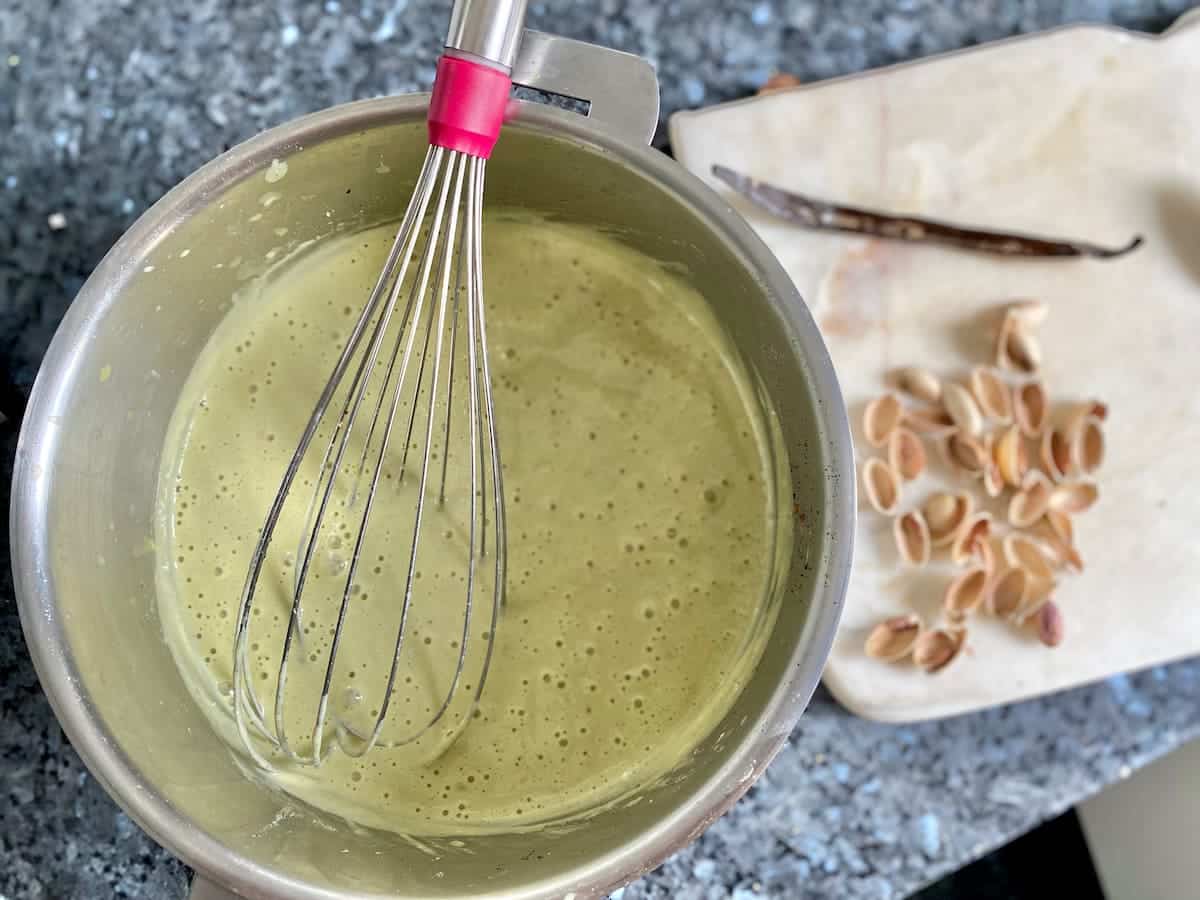 What to Serve with it?
Like with all ice creams, we also love to serve pistachio ice cream with French almond or sesame tuiles for a bit of crunch. Also good with financier cakes.
Otherwise, the ultimate treat is a scoop served on top of fresh strawberries, just as chef Ledeuil does in his Michelin-starred Parisian restaurant with a white chocolate and wasabi ice cream with pistachio sauce. It's bliss.
If you feel like a double intriguing wasabi wham - this is absolutely delicious with my Pistachio, White Chocolate and Wasabi macarons (recipe on p65 of Mad About Macarons.)
Pistachio Ice Cream with Vanilla and Wasabi
Unique recipe for pistachio ice cream made with ground, toasted pistachios for its natural green colour. Made without cream, the milk and coconut milk make this both light and creamy. Although optional, do try with the wasabi paste, as the flavour combination is so good.
Equipment
ice cream maker or attachement
Ingredients
200

ml (7 floz/0.8 cup)

coconut milk

small carton

300

ml (11 floz/1.2 cups)

whole milk

50

g (1.75 oz/½ cup)

ground pistachios

shelled from unsalted, toasted pistachios

1

vanilla pod/bean

1

teaspoon

pistachio paste/extract

5

egg yolks

organic

100

g (3.5 oz/½ cup)

caster / fine sugar

15

g (0.5 oz/1 level tbsp)

wasabi paste

optional
Instructions
Heat the milk, coconut milk and pistachios in a heavy-based pan. Scape out the seeds from the vanilla pod and add with the vanilla pod. Bring to the boil, then turn off the heat for the vanilla to infuse for 5-10 minutes with the pan covered.

Cream together the egg yolks and sugar in a large bowl until light and fluffy using a balloon whisk. Add the pistachio paste (or extract), and wasabi paste if using, and whisk well.

Discard the pod from the warmed milk. Gradually pour onto the egg mixture, off the heat to temper the mix, whisking continuously. Return the mixture to the pan on a medium heat, whisking constantly for about 5-10 minutes until the custard thickens and coats the back of a spoon. Set the mixture aside to cool.

Once cool, chill in the fridge for an hour before pouring into an ice cream maker. Churn according to your ice cream maker's instructions. Freeze for at least an hour.
Notes
Without an ice cream maker, this recipe can be made no churn by freezing the mixture. Remove from the freezer every 30 minutes and stir and repeat about 4 times until the ice cream is the perfect consistency.
Vanilla and pistachio extract: please avoid synthetic pistachio aromas or flavourings. If possible use a vanilla bean/pod or ¼ teaspoon of vanilla powder. To make your own pistachio paste, see my recipe for pistachio pastry cream tarts.
Colouring: the ground pistachios already give this ice cream a natural green colour (as used in my photos) but if you prefer it darker green, add a tiny amount only of powdered colouring.
Serve on its own, with fresh strawberries or with almond or sesame tuiles. Even better, with pistachio macarons with vanilla and wasabi from Jill's recipe book, Mad About Macarons!
Makes 1 litre tub of pistachio ice cream, so at least 6 servings.
Check out the recipe index, including more recipes using egg yolks and ice cream recipes
This recipe was first published July 21, 2012 but is now completely updated. Now it's possible to leave a starred review so please hit the stars!