Celebrate Spring with this quick and easy puff pastry tart to enjoy asparagus season at its best. Just top with cream, yolks, parmesan and sprinkle with nuts for a delicious toasted texture. Great for a light family lunch or as a starter.
For much more about this Spring vegetable, how to prepare, roast and seasonal recipes, see the new asparagus page.
Quick Spring Asparagus Recipes
Ever rustle up a family lunch so fast that it doesn't even seem like a recipe?  This is my best example and the reason why I haven't even posted it on le blog. I have been making this for years without a recipe as a guide, nor have I thought much about the proportions! Until now, so to share this.
As soon as our French asparagus season arrives at the local markets, we love all the varieties – from white, purple and green to the little bundles of wild spears. All kinds work well on this tart.
Perhaps the quickest method is roasting them (my daughters were amazed recently that it only takes about 15 minutes in the oven). However, take it one step further and have roasted spears nestled in a creamy parmesan base with a hint of lemon and herbs.
Add a French Touch with Nuts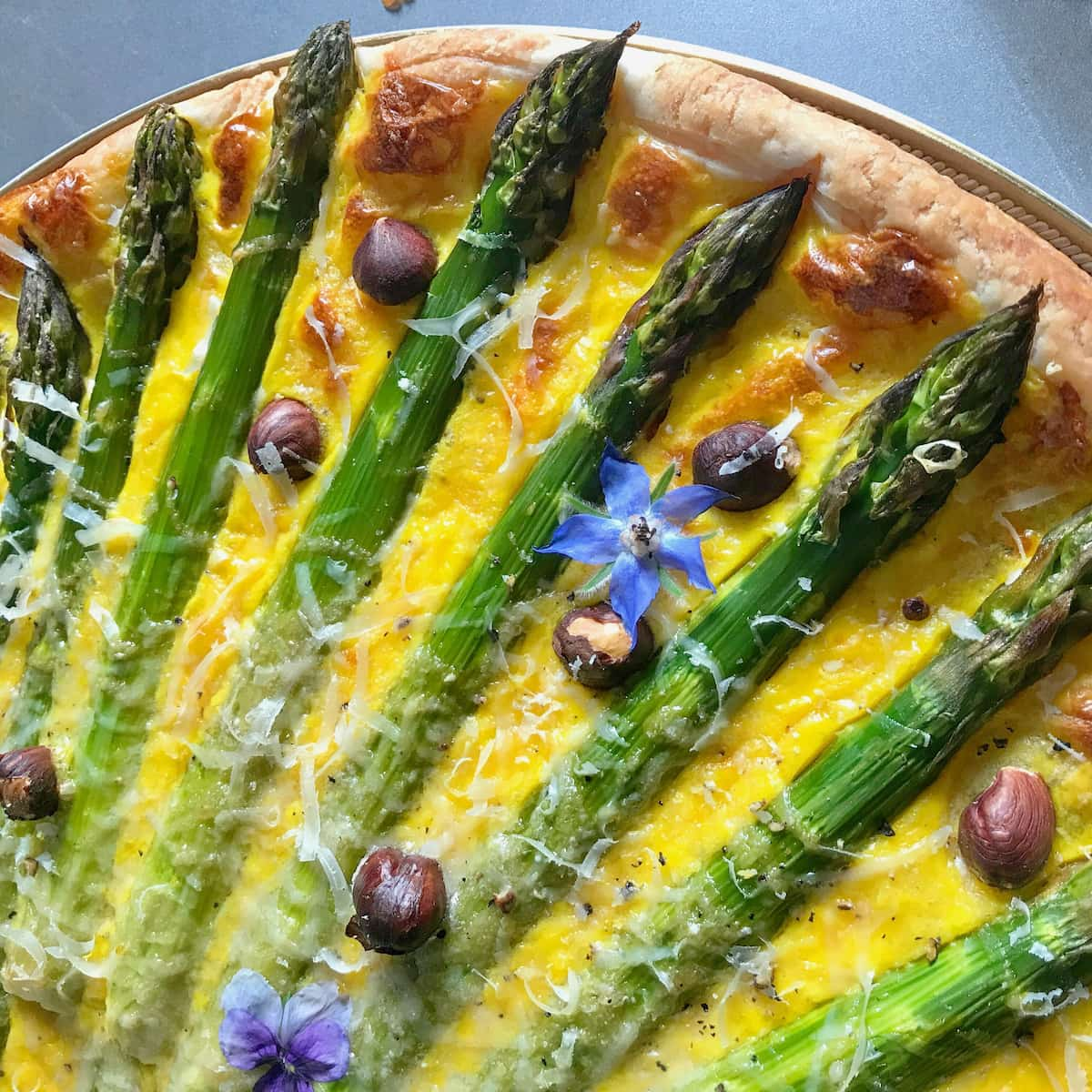 What's more, top the tart with a handful of slivered nuts or hazelnuts and the taste is taken to another level.  Ever tried them together? So simple yet so elegant, it adds that little bit crunchy texture that makes it all the more French.
Step-by-Step Asparagus Puff Pastry Tart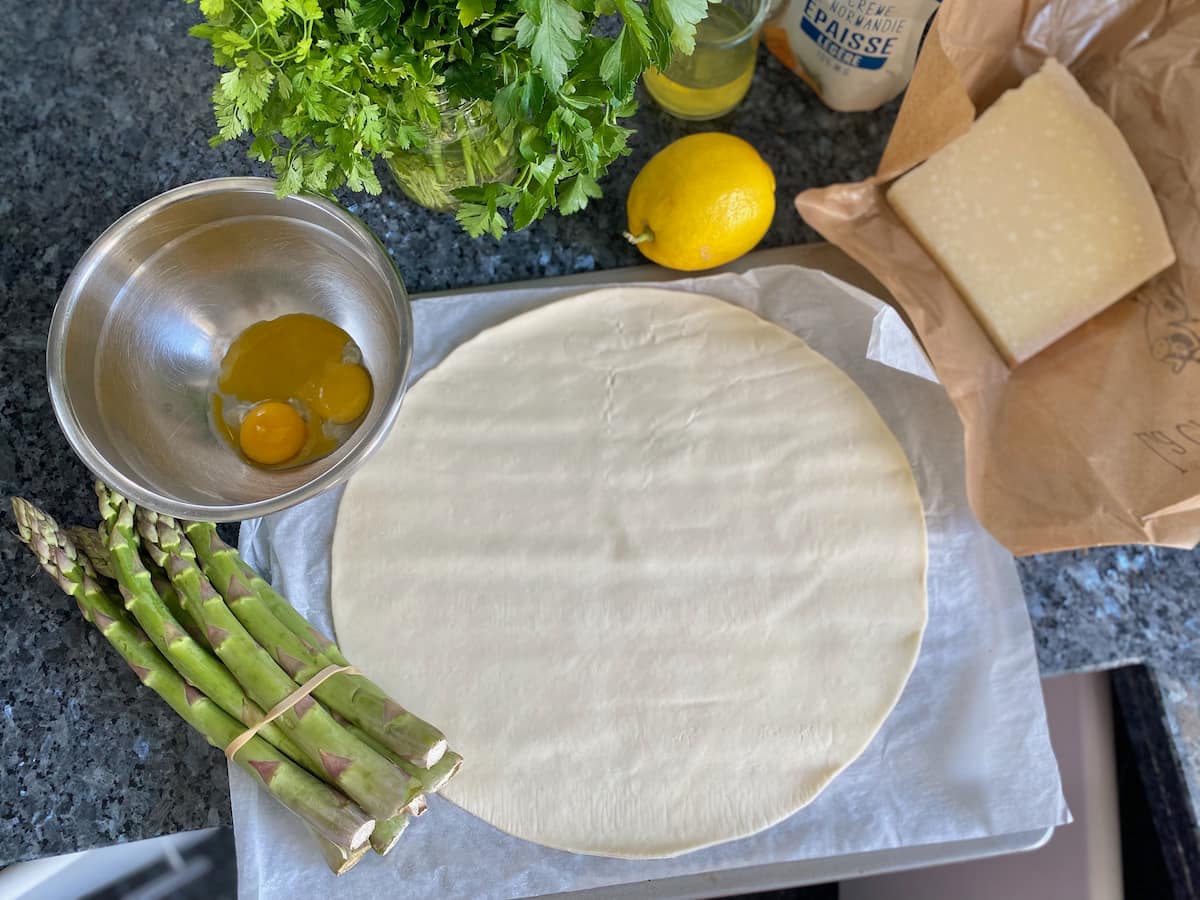 First roll out a sheet of ready-made puff pastry.  This almost feels like cheating but, as ready-rolled puff (pâte feuillétée) is such a regular item to be found in the supermarkets' chilled sections, why not make use of our 'fast food' à la française. Ensure you buy 'pure beurre' – the butter version of puff pastry is so much better.
Puff pastry is also so easy to find these days outside of France – if not in your fridge section in the supermarket, you'll find it in the frozen section.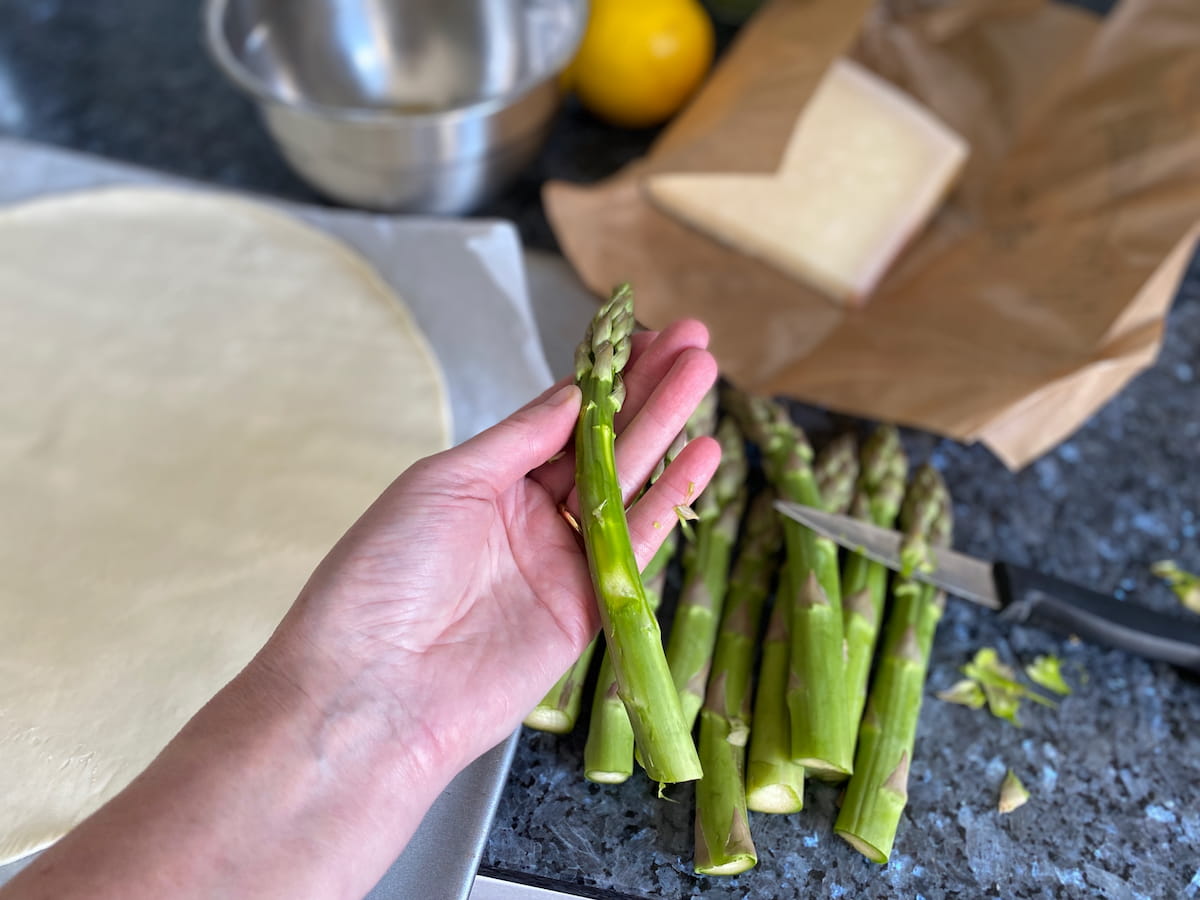 Prepare the asparagus spears by snapping off the bottoms about a quarter up, where they snap naturally.  If green asparagus, trim off the triangular pedoncules (this makes it easier to digest). If white or purple asparagus, thinly peel of the tougher, outer skin.
Asparagus Tart with Parmesan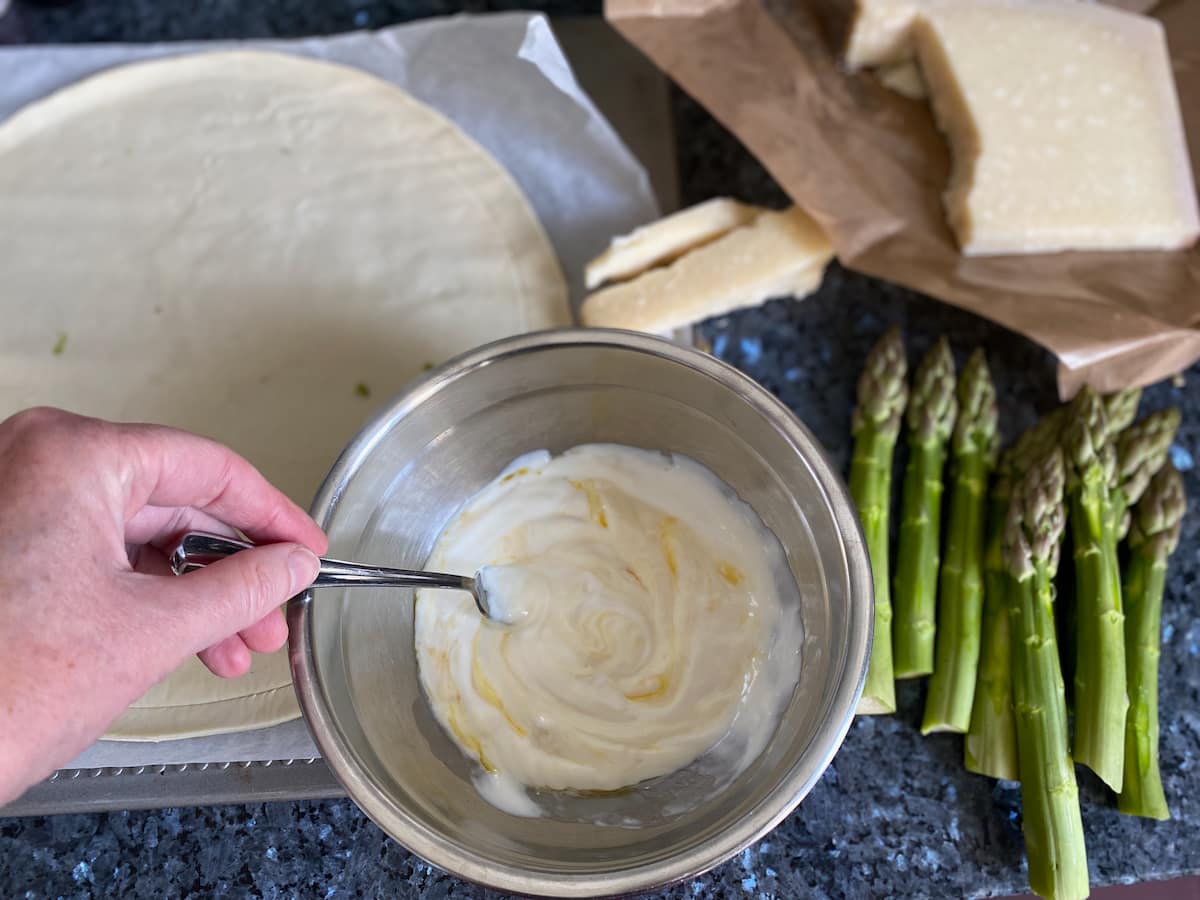 To make a quick sauce, just stir together a couple of egg yolks, crème fraîche, lemon zest and add some freshly grated parmesan. Please don't use the ready prepared sachets of grated parmesan.  For the full flavour to make this tart extra special, grate from a block of parmesan (even better, Reggiano).
We have tried this on many occasions using grated Gruyère or Emmental (these are also easy to find ready-grated in the French supermarkets).  While the latter is also good, as it's lighter than the others, anything like Gruyère or Comté are a little too overwhelming for asparagus, in my humble opinion.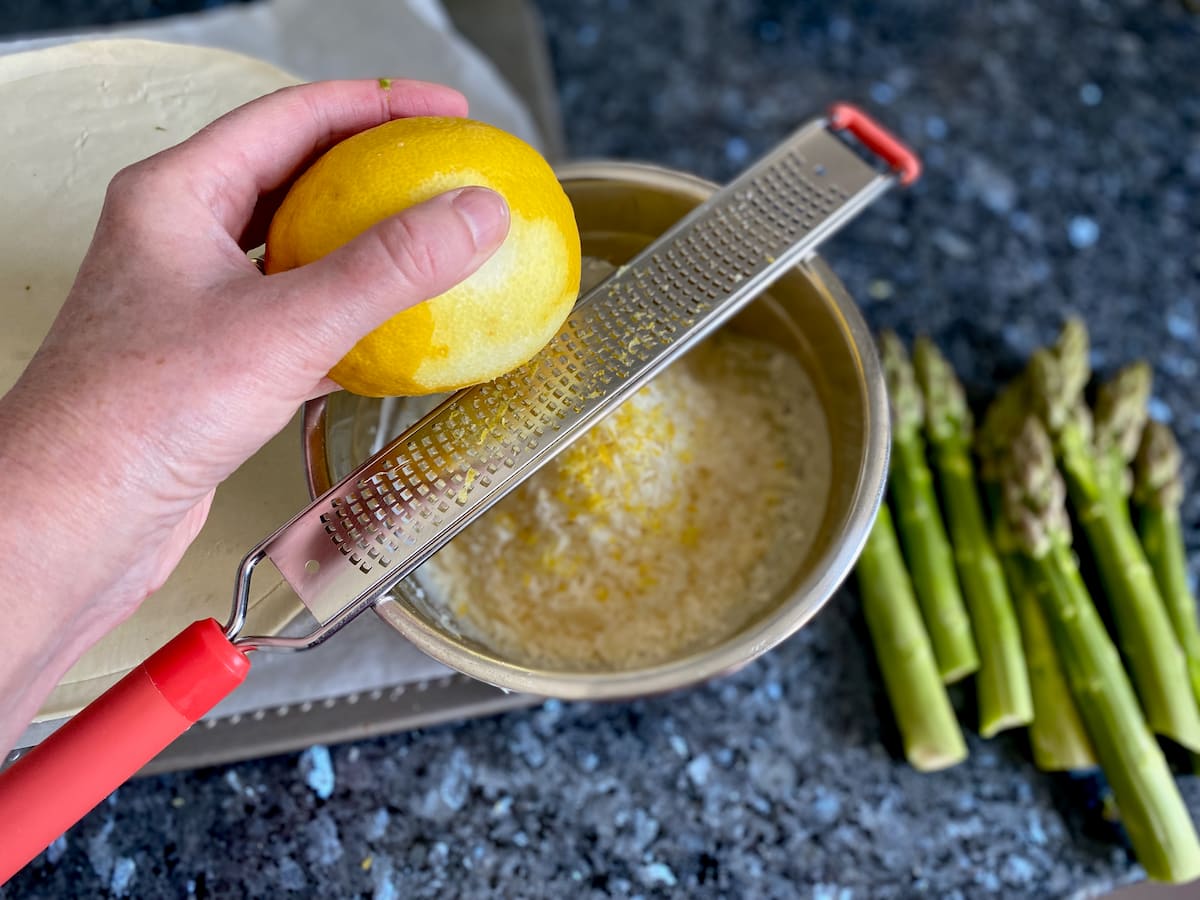 As well as the lemon zest, I like to add a touch of turmeric. It's not only a cheaper version of saffron, but it's also healthy too and an excellent match with lemon.
My husband, Antoine, has been adding it to so many dishes to help naturally rebuild knee cartilage (don't get me started!)  The addition is totally optional but it's such a subtle touch that adds that je ne sais quoi too.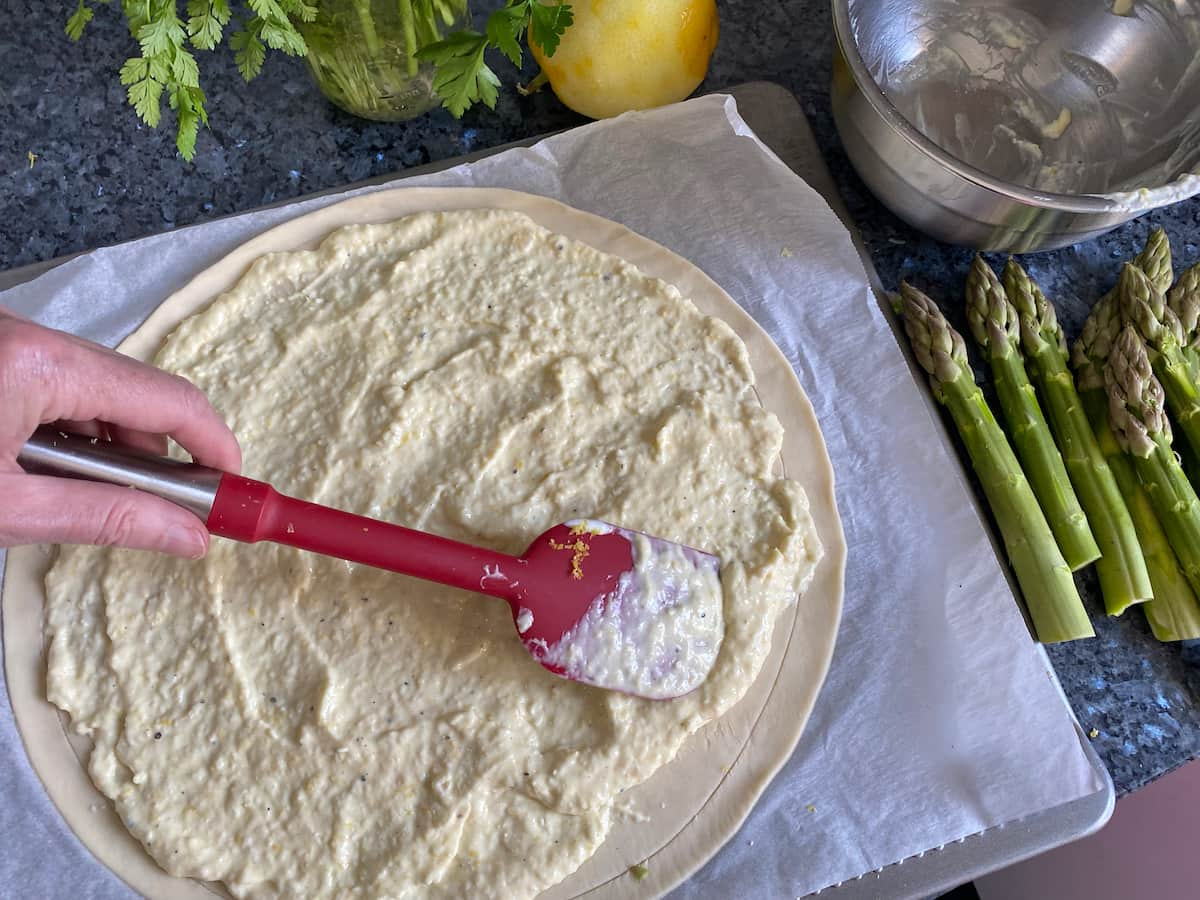 Season with a grinding of a little salt and pepper and spread the lemon parmesan cream on the puff pastry. Push it towards the scored border.  Scoring the border just puffs up the pastry on the sides.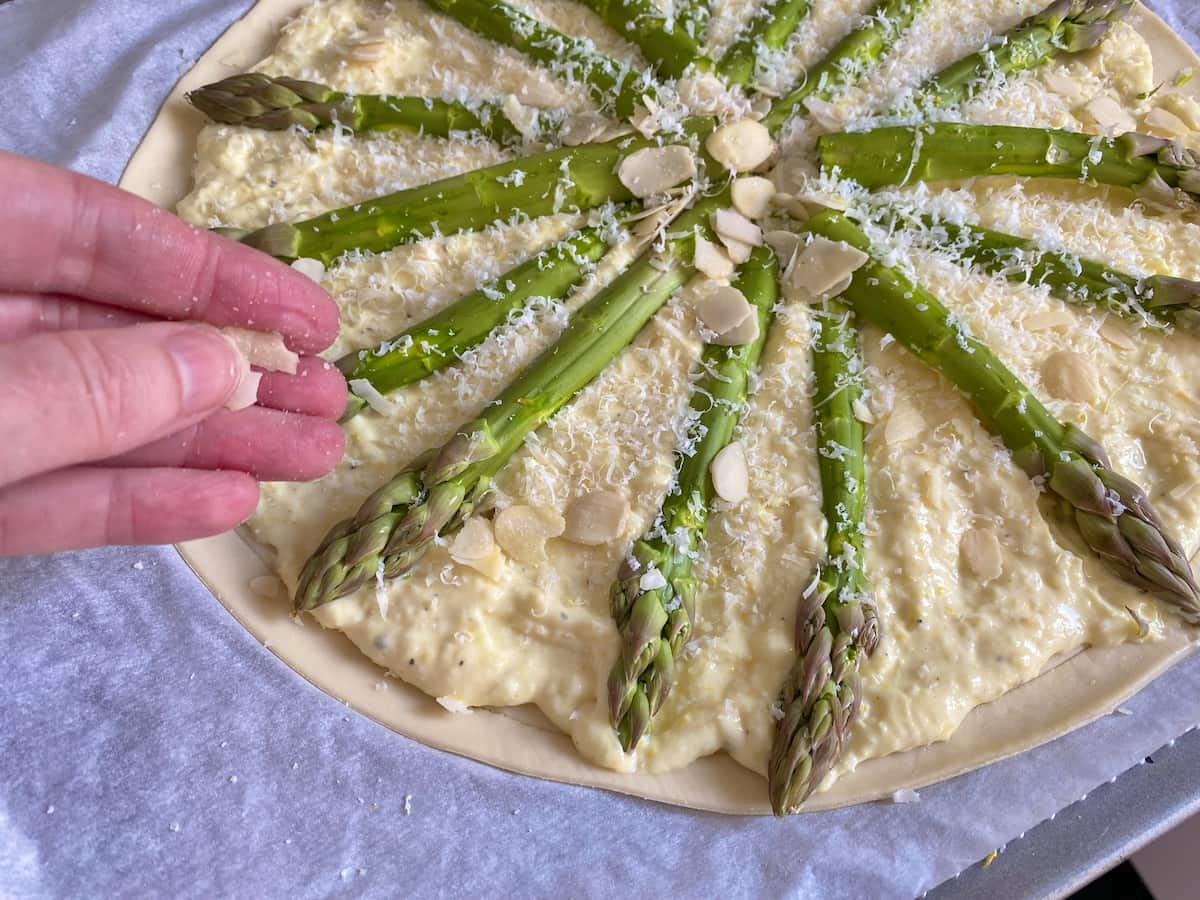 Just sprinkle with a little more grated parmesan, some nuts and then bake in the hot oven for 20-25 minutes.
It's as easy as an Asparagus Tart! Serve hot or warm for either a starter if entertaining or as a light lunch.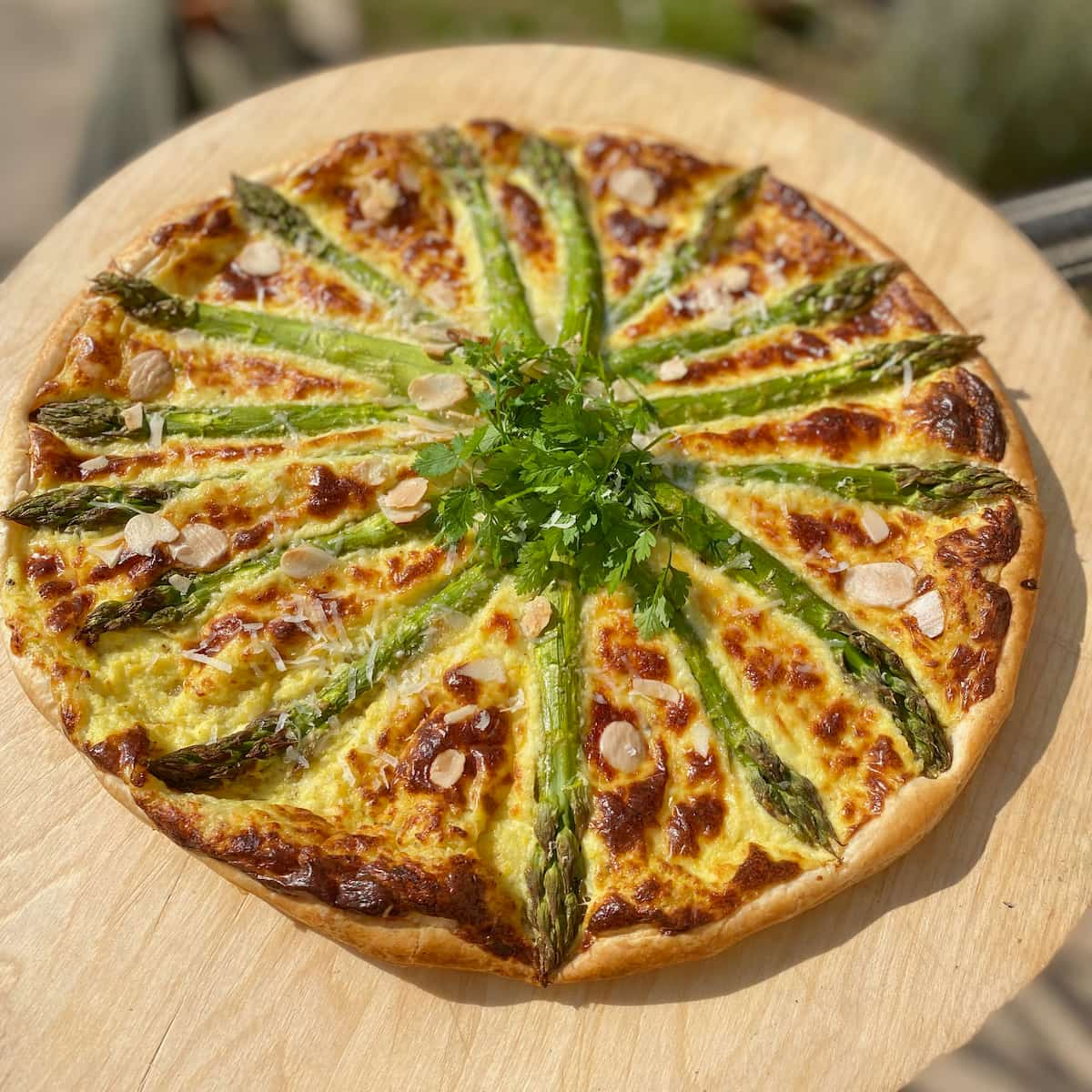 For another easy recipe using ready-made puff pastry, make this French Onion Tarte Tatin.
Asparagus Puff Pastry Tart
---
Description
Quick and easy recipe for a creamy parmesan tart with fresh asparagus using ready made puff pastry
Ingredients
8

Asparagus spears

230-280g

(17oz) pack

ready-rolled puff pastry

(or defrosted if frozen)

2

egg yolks

organic *

200

g (7oz/¾ cup)

crème fraîche

(or Greek yogurt if unable to find)

100

g (3.5oz)

parmesan

grated

1

lemon, grated zest only

unwaxed, organic

1/2

tsp

ground turmeric

1

tbsp

slivered almonds or hazelnuts

1

tbsp

chervil or other fresh herbs to garnish

(optional)
Instructions
Preheat oven to 200°C/180°C fan/400°F/Gas 6.

Roll out the sheet of puff pastry (either if ready rolled or roll out) and, using the back of a sharp knife, score a border 1cm from the edge.

Snap off the bottoms of the asparagus, where they break naturally about 1/4 up from the bottom and trim off the pendoncules. Cut the spears in half horizontally to make 16 halves.

In a bowl, mix together the yolks, crème fraîche, turmeric, grated parmesan (leave some for later) and lemon. Season with a few turns of the salt and peppermill to your taste. Spread evenly over the tart pushing to the scored edge. Top with the asparagus and top with remaining parmesan and sprinkle over the almonds or hazelnuts.

Bake in the oven for 20-25 minutes until golden. Before serving, top with a crowning bundle of fresh chervil or any other of your favourite fresh herbs.
Notes
For more details on how to prepare them, see the Asparagus page.
* Save the egg whites (can keep for up to a week in a covered jar in the fridge - otherwise freeze for later) to make French tuiles or financiers from my book, Teatime in Paris. 
Have you enjoyed this recipe? Please do hit the stars by leaving a review below. Thank you so much for all your support.