Asparagus Clafoutis, an elegant yet simple starter or light summer supper served with creamy parmesan sauce. Just add the French baguette.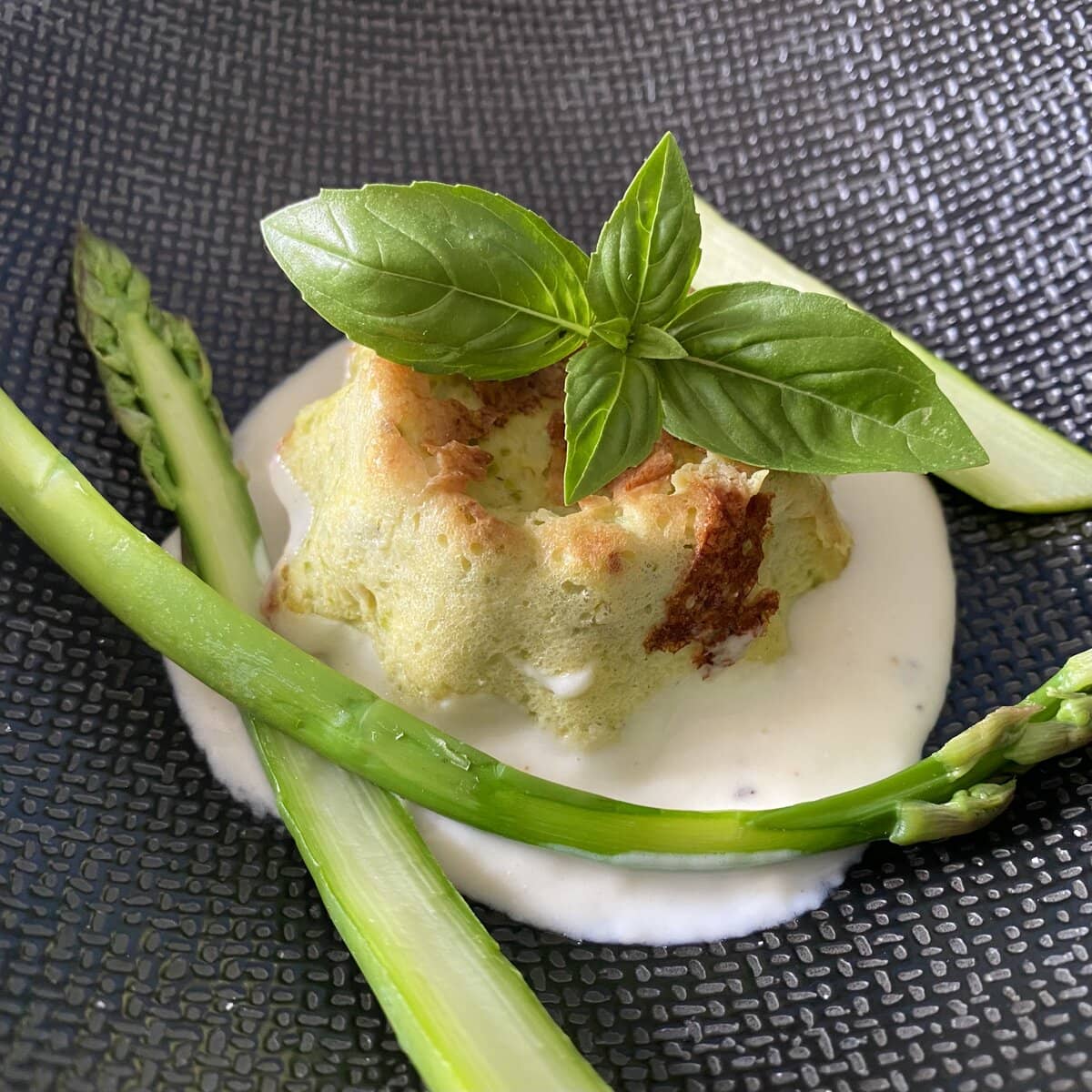 Savoury French Clafoutis
Our family is totally mad about French Clafoutis every summer. It's also my Corsican mother-in-law's go-to classic dark cherry dessert – and just as delicious made with fresh raspberries – or my latest fruity craze, a versatile gluten free version with strawberries, blueberries & lemon, or with apricots and lavender. Made with apples or pears, however, it's called a flaugnarde, as it has a different texture. But I digress.
A savoury clafoutis is so tendance: it's becoming increasingly popular in French traiteurs (delicatessens) – even our local boucherie (butcher shop) has a clafoutis with cherry tomatoes and courgettes. It's like a quiche without the pastry.
This savoury clafoutis is an interesting way to serve asparagus; it's so light as a starter (appetizer) or for a light lunch.
Asparagus Clafoutis Inspiration
You may recall I tried out this gorgeous custardy White Asparagus & Lemon Clafoutis recipe, adapted and inspired by Chef Eric Frechon from the Bristol in Paris.  Served in one big dish, I added lemon to it. The association of lemon with the parmesan (inside the Clafoutis) and asparagus is a match in heaven.
Then I made individual clafoutis, serving them out of muffin moulds. Oh so chic!
A Must with Parmesan Sauce
The recipe below is different. This asparagus clafoutis is without the lemon and served in a pool of the most silky, creamy parmesan sauce. It's perfect for mopping up with a crusty baguette. Did you know there's a French phrase for that? It's called 'saucer', the French verb to mop up delicious sauces with bread.
The addition of a parmesan sauce with an asparagus clafoutis just takes it to another level! It's so good, you may decide to double the quantity!
How to Prepare & Cook Asparagus
This time last year, I was kindly invited to take part in a pilot run for Parisian cookery classes with Chef Philippe Excoffier in Paris's 7th arrondissement, where I wrote up an article about the delicious experience. It's where the chef serves his legendary cheese soufflés, Soufflés Suissesse. I strongly recommend trying out this signature dish in his restaurant in rue de l'Exposition, near the Eiffel Tower.
Chef Excoffier showed us how to prepare asparagus and how long to cook it:
First snap off the asparagus bottoms (about 1/4 of the way up, where they break naturally) – this is the part of asparagus we do no eat;
Remove the pedoncules or spikes to make digestion easier;
Bring well-salted water to a rolling boil and cook the asparagus only 3-4 minutes;
Immediately remove with a slotted spoon and plunge into cold water (ideally with ice) to stop the cooking process.
Difference Between A Soufflé and a Clafoutis
Both classic French recipes are eggy. While the Clafoutis is not exactly the most stylish looking dish when served, it's not to be confused with the soufflé.
Made with a béchamel and mounted egg whites, the soufflé stays upright and puffy.
The much easier clafoutis doesn't need the same kind of rigorous preparation. However, it falls back down after cooling from the oven – but there's nothing to worry about when that happens: it's totally normal and as it should be! The taste is just as delicious.
Chef Excoffier added a parmesan sauce to his Parisian soufflés and served them with asparagus on the side.  The flavours together are divine! So this recipe is a mixture of admiration of ideas from both chefs, by adding a parmesan sauce.
French Asparagus Clafoutis with Parmesan Sauce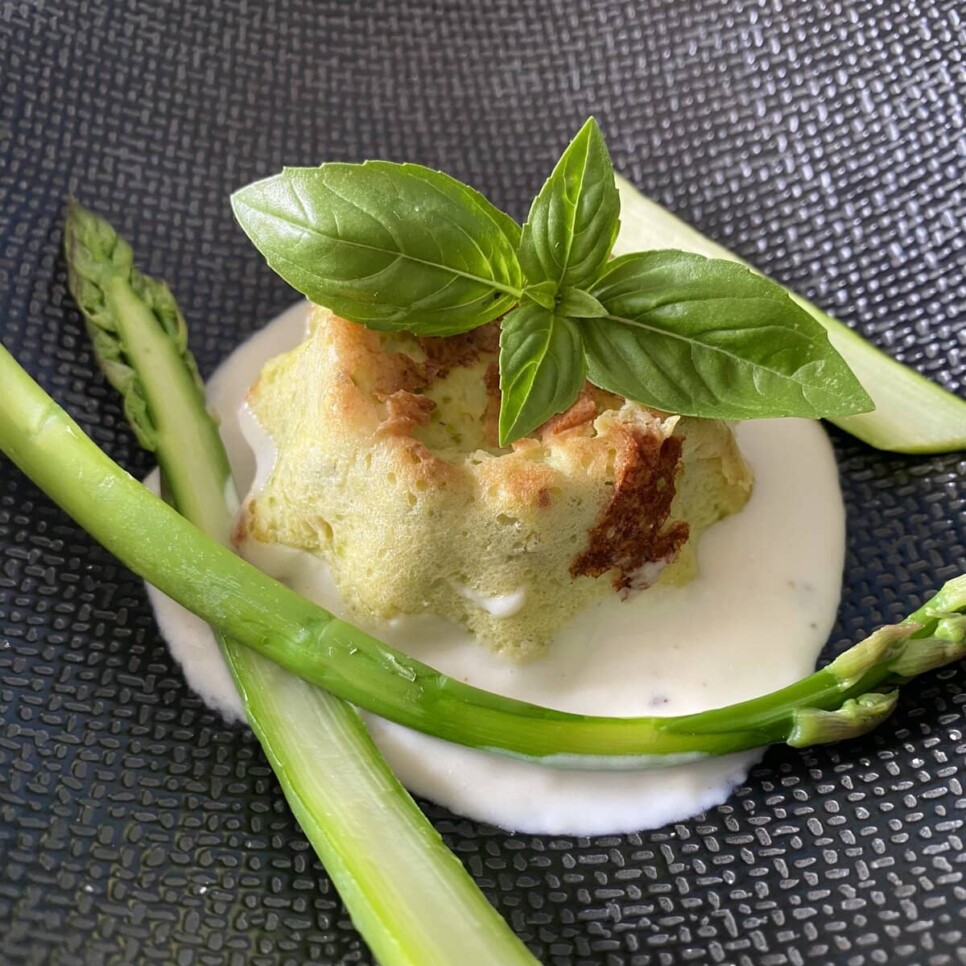 Asparagus Clafoutis with Parmesan Sauce
---
Description
A perfect elegant yet simple dinner starter or light summer lunch. Serve with a crusty baguette to mop up the most silky creamy parmesan sauce. The sauce quantity is good for individual portions but if making this as one big family size, I'd double the sauce quantity.
Ingredients
500

g (1 lb)

fresh asparagus

(2 bunches)

3

eggs

organic

2

egg yolks

organic

15

g (1 tbsp)

all-purpose flour

(or 1/2 tbsp cornflour to make this gluten-free)

115

ml (4fl oz)

half-fat single cream

(I use 12% fat cream)

55

g (2oz)

matured parmesan cheese

finely grated (about 2/3 cup)

good pinch each

salt and pepper

to taste
Parmesan Sauce
55

g (2oz)

matured parmesan cheese

finely grated

140

ml (5 fl oz)

half-fat single cream

(1/4 pint)

good pinch each

ground nutmeg, salt & pepper
Instructions
Preheat the oven to 180°C/360°F/160°C fan/Gas 4.  Prepare 4 ramekin oven dishes (or 6 muffin moulds) by greasing them well with softened butter. 
Snap the asparagus spears about 1/4 off the bottom, where they break naturally. Peel or scrape them as close as possible to the spear heads then cut the spears into 3.

Fill a large pan with water and bring to a rolling boil. Add a generous heaped teaspoon of salt to the cooking water. Prepare a large bowl of (preferably iced) cold water.

Cook the asparagus for 3 minutes (no more than 4 minutes if they're more chunky). Remove with a slotted spoon and immediately transfer to the cold water to stop the cooking process. 

Prepare the clafoutis batter: beat the eggs, yolks, grated parmesan, flour and season with salt and pepper.

Drain the asparagus, setting aside a spear top per person for the decor and one spear top each for the clafoutis. Place the rest of the asparagus in a food processor and mix to a purée with some of the batter. 

Stir in the puréed asparagus to the rest of the batter. Pour into the individual buttered ramekin dishes/muffin moulds, placing a spear top in each. Alternatively, pour into one buttered ovenproof dish, throwing in the rest of the spears. Bake in the oven for about 25-30 minutes (35 mins for a large clafoutis).

Remove from the oven and leave to cool for 10-15 minutes, then using a sharp knife, release the clafoutis from around the edges and place directly on the serving plates.
For the Parmesan Sauce:
Bring the cream to the boil, adding some salt, pepper and a pinch of ground nutmeg. Add the parmesan then beat together well until smooth with a balloon whisk. Serve immediately around each clafoutis.
Notes
Decorate with an asparagus spear, a basil top or edible flowers.  Also delicious with smoked salmon. Serve with a crusty French baguette.
I used 4 ramekin dishes but regular muffin moulds also work well, including briochette silicone moulds (makes 6 generous portions).
Wine Suggestions: Serve with a fruity white wine - such as a Voignier (Condrieu a real treat!), a dry Muscat or Riesling from Alsace, or Chenin from the Loire (Savennières).