When the asparagus season cheekily pokes its head out to say bonjour, it's time to get totally asparagus-ed with this White Asparagus Clafoutis with Lemon.
Hearing the calls of 'Aspergez-vous!' at our local market just outside Paris, I do what I'm told and end up buying so much asparagus that I could open a shop with all the elastic bands they're bound in.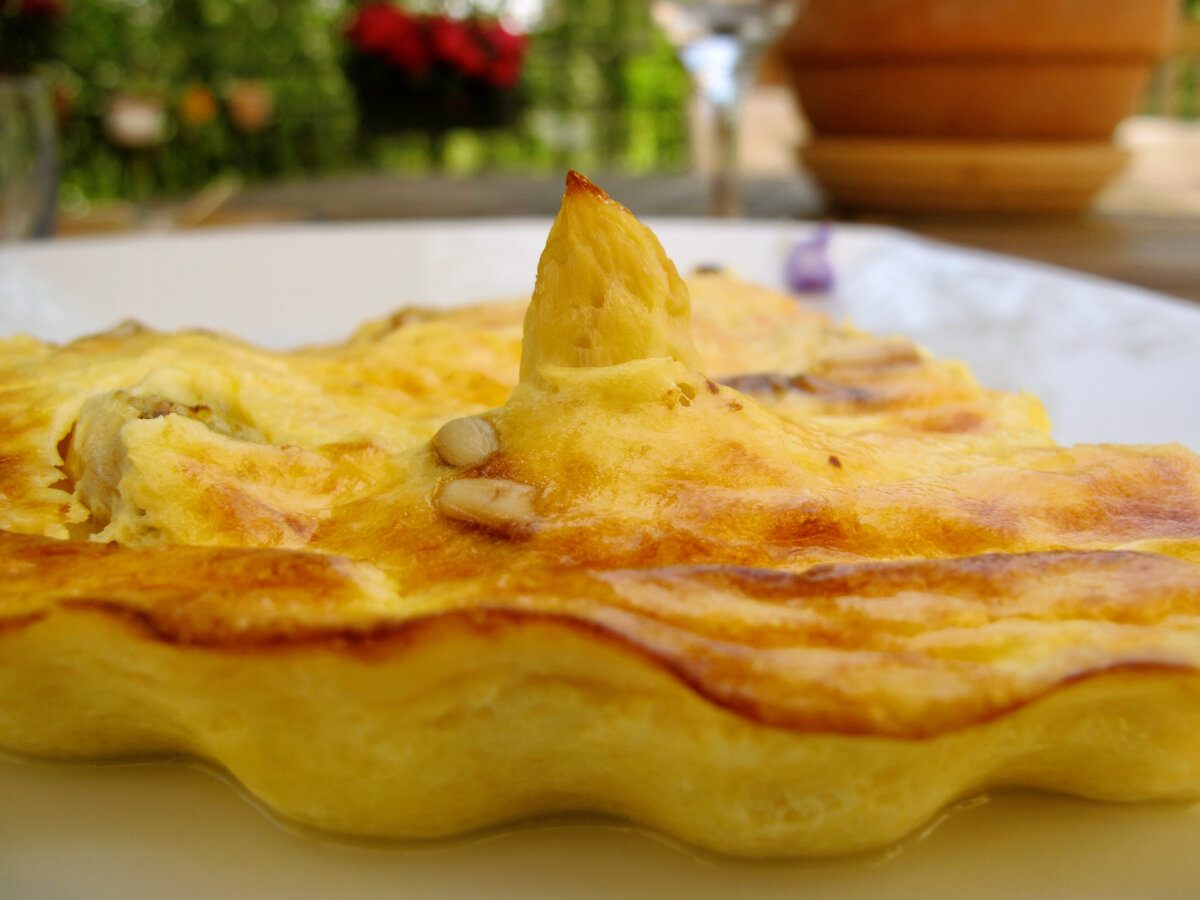 Weigh-laden with our usual favourites from the market, I couldn't help swooning over impressively fat, fresh white asparagus spears which are first to arrive pride of place from sun-kissed Provence.
It's time to snap these asparagus stems. Snapping asparagus is easy when they're fresh: they should be firm, have compact heads and not look dry at the stems. Just snap them where they break naturally, about ⅓ from the bottom. Ideally, eat asparagus fresh on the day, otherwise store white asparagus in the fridge for up to 4 days in a humid kitchen towel, heads upwards.
Serve as Individual Portions for a Touch of French Elegance
I also love to serve them as INDIVIDUAL PORTIONS - it's perfect for entertaining or wanting to show that you've made that little bit extra effort for a dinner party or special occasion.
This turns a simple family dish into a wowzer summery lunch or light starter.
A Perfect Light Lunch for Asparagus Season
Just before serving, dribble a little olive oil and some lemon juice over the asparagus. While the clafoutis are creamy enough on their own, you can add some lemon zest to the batter, and forget the parmesan sauce for a lighter version - great for those on a summer diet!
Paris Chef Inspiration for White Asparagus
I love tossing fresh white asparagus in sage butter and serving it cold with a crunchy baguette - but this is a warm starter to welcome this chilly Spring. I discovered the recipe in a magazine last year featuring Eric Fréchon, chef at Le Bristol, Paris. But could I find the magazine that I'd painstakingly placed in a 'safe place' for this season? No (don't laugh, Mum - I'm turning out like you more every day!) Luckily, I jotted it down and see he's written a book on Clafoutis.
I love how the recipe is "chefy" in that he cooks the asparagus spears with the peelings.  However, I've added a touch of lemon zest to it which I personally adore with parmesan and white asparagus.  Try it and see!
Perfect Yolk Recipe for Macaron Lovers Who Need Egg Whites
Macaron lovers will be glad to note that it uses up FOUR egg yolks, but don't be fooled: this is such a light way to start a meal - and it's gluten free, too.
White Asparagus French Clafoutis with Lemon
Recipe Adapted by Eric Frechon, Author of Clafoutis. Here I've added the zest of a lemon as, added to parmesan and white asparagus, is a match in Spring heaven. For a richer recipe, see my asparagus clafoutis with parmesan sauce - also on video!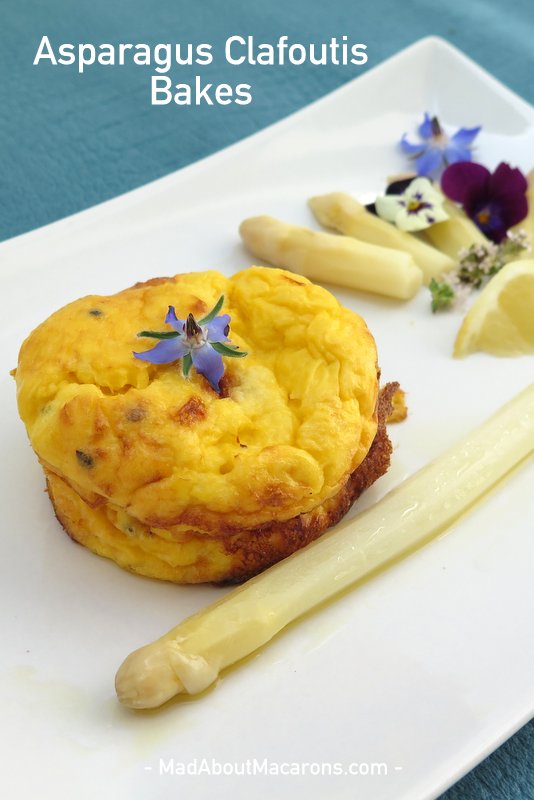 White Asparagus Clafoutis with Lemon
A deliciously light starter to celebrate the asparagus season this spring. Recipe Adapted by Eric Frechon, author of "Clafoutis" and executive chef at the Bristol in Paris. I've added lemon zest, delicious with both parmesan and white asparagus.
Ingredients
500

g (1 lb)

bundle white asparagus

3

eggs

organic

4

egg yolks

organic

10

g (4 tsp)

cornflour

300

ml (10 fl oz)

single cream

100

g (3 oz)

fresh parmesan

grated

1

organic lemon, zest only

(unwaxed)

Seasoning

Handful of pine nuts

optional
Instructions
Preheat the oven to 160°C/320°F/140°C fan/gas 3. Wash the asparagus spears and snap them ⅔rds of the way down, where they break naturally. Peel them as close as possible to the spear heads. Keep the peelings!

Cut the asparagus in 3, reserving the spear heads.

Fill a large pan with water and bring to the boil with the asparagus peelings, adding a tablespoon of sugar (to reduce the bitterness).

When bubbling, remove the peelings and cook only the spears for 3 minutes. Remove with a slotted spoon.

Using the same cooking water, drop in the rest of the asparagus chunks and cook for 7 minutes.

Meanwhile, prepare the clafoutis batter: mix the eggs, cornflour, cream, grated parmesan, lemon zest and season with a little salt and pepper.

Drain the asparagus chunks and, using a hand blender or food processor, mix the asparagus and cream together.

Pour into a non-stick tart dish and decorate with the asparagus spears. I like to sprinkle over some lightly toasted pine nuts for a crunchy texture.

Bake in the oven for 40 minutes until golden.
Notes
If making individual versions, pour into 6 silicone briochette moulds and bake for only 25 minutes. Turn them out directly on guests' plates for an elegant but simple starter (or prepare in advance and reheat before serving).
Enjoy this asparagus clafoutis either warm from the oven and serve with a glass of chilled Pinot Blanc from the Alsace or Chenin Blanc.