Creamy lemon pasta sauce is an easy, healthy recipe using 3 egg yolks and no butter. My kind of fast food, which can easily be adapted to all kinds of seasonal vegetables, such as asparagus, courgettes, peas, artichokes and roasted pumpkin. Although vegetarian, it's also good with prawns, roasted chicken or leftover cooked turkey.
Save the egg whites for plenty more recipes below.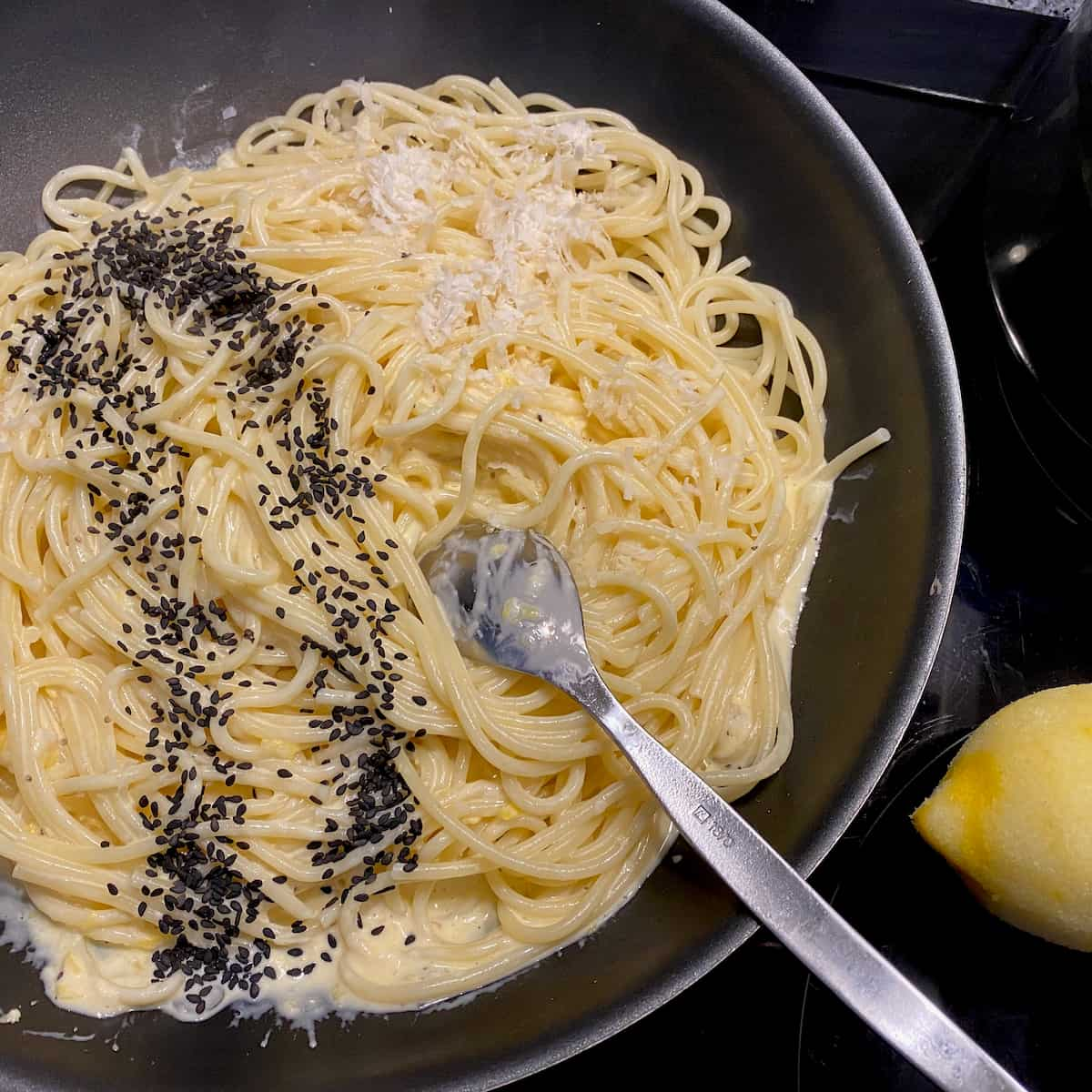 Creamy Lemon Pasta Sauce Uses 3 Egg Yolks
Looking for a quick dinner recipe that use 3 egg yolks?
Lemon pasta sauce is such a handy recipe if you're planning on making macarons or other cakes that need the whites! I mentioned this recipe briefly in the annex on egg yolks in my book, Mad About Macarons, but here it is in full.
So save the egg whites and store in a jam jar in the fridge for about 3-5 days and the whites will be ready for making macarons, financiers, coconut macaroons or crispy sesame tuiles.
Don't forget egg whites freeze well too.

How do I Spice up My Simple Spaghetti?
This recipe has just evolved over the years of making macarons. I've always loved the mix of lemon in pasta - Antoinio Carluccio had a wonderful recipe in his book, "Passion for Pasta" served with Angel's Hair pasta but I digressed and served it with spaghetti. Life in the fast lane, eh?
So when Nigella Lawson came on the scene with her similar Creamy Lemon Linguine using 2 yolks, I was smitten. Instead I omitted the butter and full fat cream and increased it to 3 yolks with a small tub of half fat crème fraîche. However, you can use light or heavy cream if you prefer. It's perhaps not a classic Italian pasta dish, but it's a fast-food family favourite when I need egg whites to bake.
To spice it up, add a little saffron to the sauce, to bring out the lemon flavours.

What's more, a little kick of heated spice such as a good pinch of cayenne pepper works well too.

Jill's tips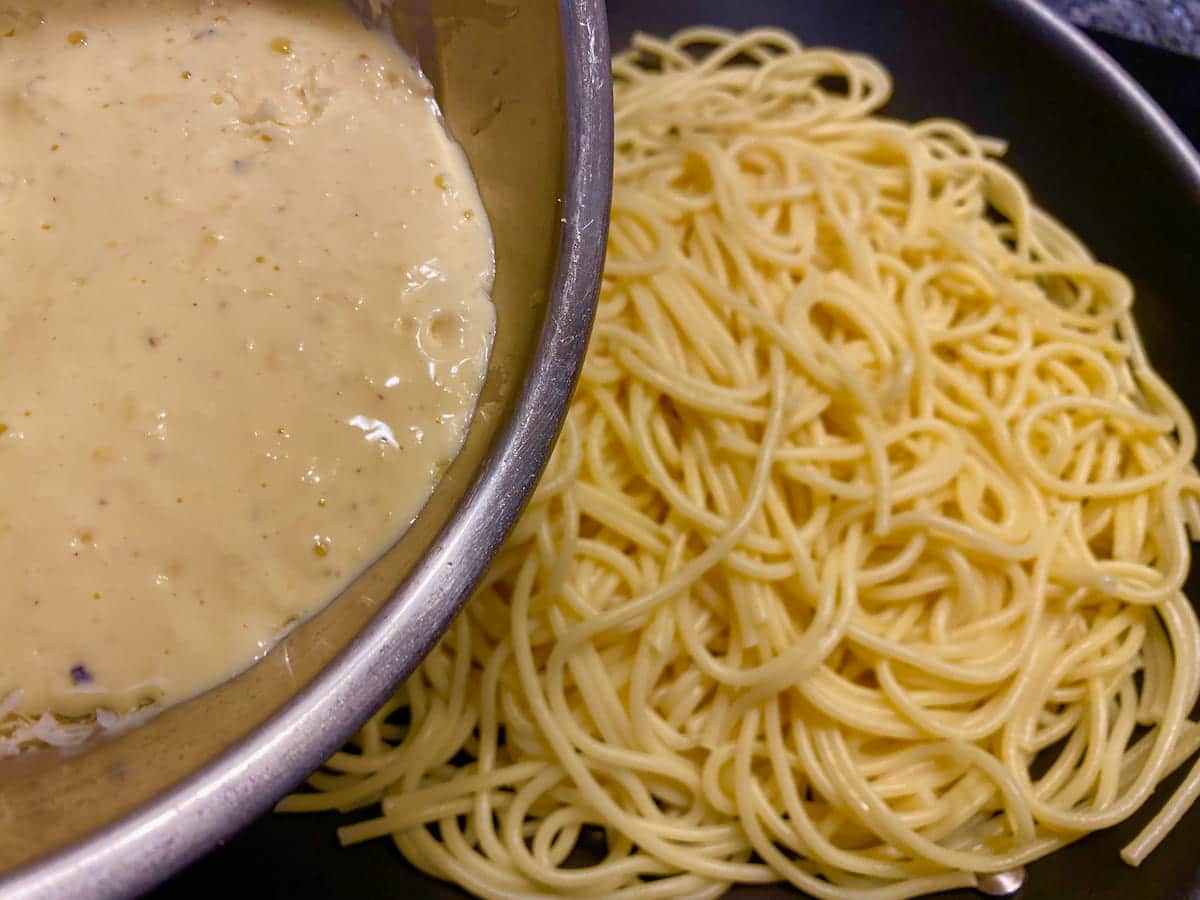 Using Egg Yolks to Thicken Pasta Sauce
Using egg yolks in dishes helps thicken a sauce. I do this at the end of cooking our favourite French veal stew, Blanquette de Veau and in this French rice pudding. They act as an emulsifier and give that extra glossy appeal.
However, adding egg yolks to a sauce has to be done at the end of cooking and just heated through. Too much cooking and the sauce will end up like messy scrambled eggs.
So to avoid this for a pasta sauce, reserve a little of the hot pasta water when draining the spaghetti (about 3-4 tablespoons) and pour into the sauce.
This is tempering the yolk to the creamy pasta sauce. It raises the yolks' temperature by gently cooking before it goes in to the pan. Just heat through the sauce on a gentle to medium heat for no more than a couple of minutes, turning and tossing the spaghetti around to coat the pasta completely in it.
Creamy Lemon Pasta Sauce with Vegetables
This lemony cream sauce goes so well with asparagus. However, when asparagus isn't in season, toss in cooked peas (fresh or frozen) instead. It's also delicious served with fried artichoke hearts, courgettes or chunks of roasted butternut or pumpkin in Autumn.
Scatter over some rocket (arugula) leaves or fresh watercress in Winter. I love to add some black sesame seeds too.
Add freshly chopped parsley at the end of cooking, or chopped fresh basil or chives. This way it not only keeps the herbs' flavours but their vitamin content too. Even top with edible herb flowers.
Quick Recipe For Leftover Turkey
This is also delicious served with prawns or roasted chicken. It's ideal during the festive season, as it goes so well with any leftover cooked turkey.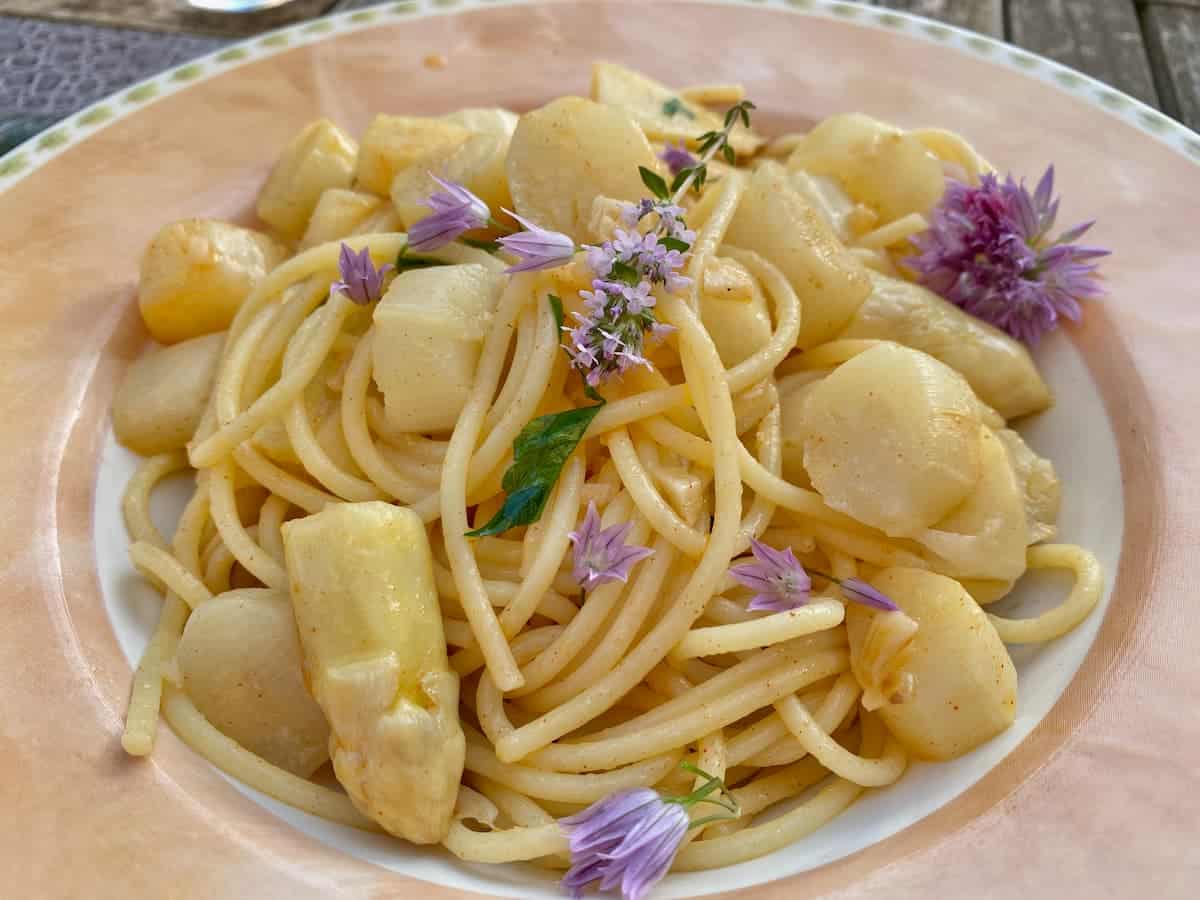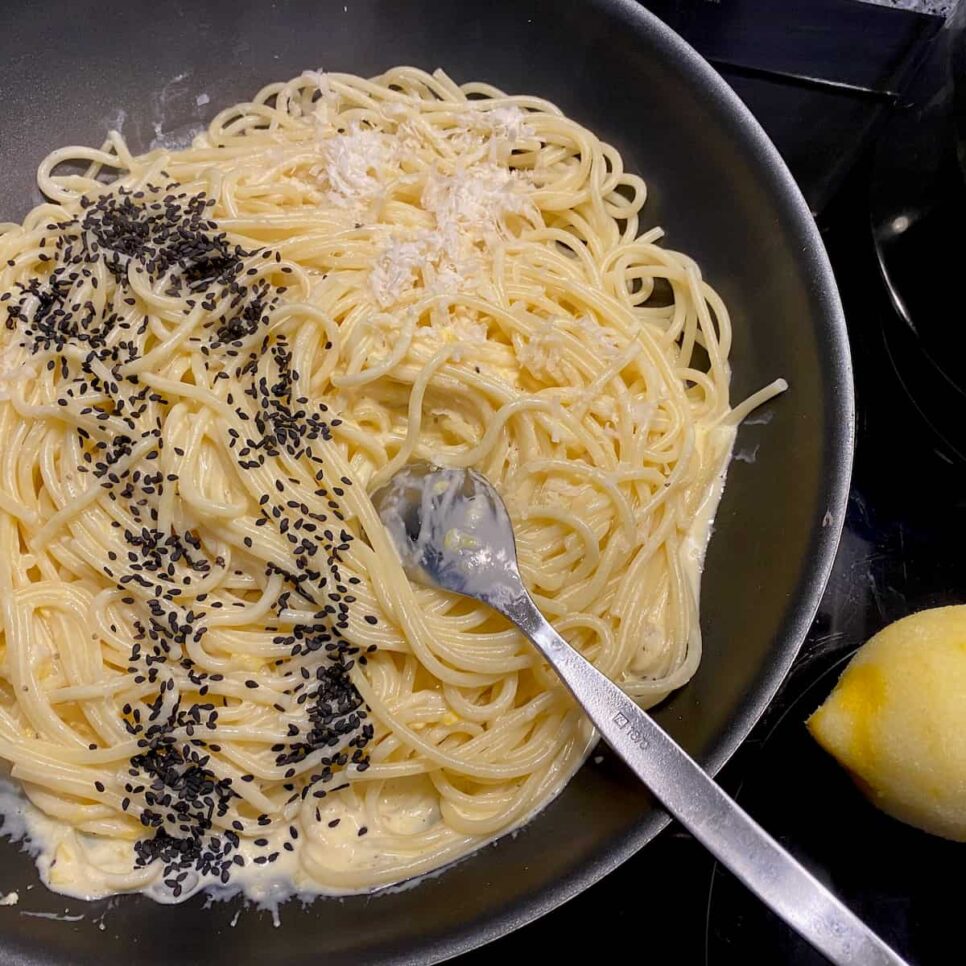 Lemon Pasta Sauce
Creamy lemon sauce is great with spaghetti and all kinds of pasta. Quick and delicious recipe uses 3 egg yolks - good with cooked prawns, roasted chicken, leftover turkey, or other vegetables like asparagus, artichokes, courgettes or peas.
Ingredients
1

unwaxed lemon (juice and zest)

organic

3

egg yolks

20

cl (small tub/ ¾ cup)

half fat crème fraîche (12-15% fat)

or single/heavy cream

1

sprig

fresh lemon thyme

(optional)

50

g (2oz/½ cup)

fresh parmesan

finely grated

400

g (14oz)

dried spaghetti

200

gr (7oz/1 cup)

fresh asparagus or peas

optional

1

tablespoon

fresh parsley (chives or basil)

finely chopped
Instructions
Pasta
If using with fresh vegetables, cook them for about the last 5 minutes until al dente in the boiling water with the pasta.

Prepare the pasta. Cook dried spaghetti or linguine in boiling salted water for about 10 minutes or until al dente, according to packet instructions.
Lemon Pasta Sauce
In a separate bowl, mix the yolks, the lemon juice and zest, crème fraîche (or cream), lemon thyme if using, and the parmesan.

Drain the pasta and asparagus and keep a little of the hot pasta water. Pour the hot cooking water (about 3-4 tbsp) into the sauce and stir together to temper it. In the same (drained) pasta pan, quickly add in the uncooked sauce and toss the pasta (and optional vegetables) in it.

Gently heat for no more than a minute, as overheating and cooking will cook the eggs. Add the fresh chopped herbs and serve.
Notes
Serve immediately and add more fresh herbs (finely chopped). Good with a glass of chilled Chenin Blanc, Chardonnay or Pinot Grigio white wine to bring out the lemon flavours.
Variations: when asparagus not in season, good with artichokes, peas, prawns, roasted chicken or turkey.
Reserve the remaining 3 egg whites in a jam jar and keep in the fridge for up to a week or freeze. Great for making macarons, coconut macaroons, financiers or tuiles.
Nutritional Information: 572 calories for 250g serving with 35g protein and 80g carbohydrates.
Measures: Please note that all my recipes are best made using digital kitchen scales in precise metric grams. Both ounces (and cups) are given as a guide. 
This recipe was first published 22 June 2011 but has now been completely updated - and it's now possible to leave a rated review.