How to make a creamy French rice pudding with reduced sugar, some sultana raisins - without the cream. Either serve on its own chilled or at room temperature with fresh fruits or compote for breakfast or for a more decadent dessert, serve with salted caramel sauce and toasted nougatine.

French Baked Rice Pudding
When my Frenchman asked me to make a typical riz au lait (pronounced: Ree-olay) years ago, I thought it was a no-brainer. Riz au lait in English is just a French rice pudding. I remembered what my Scottish Granny and Mum had done: rained in some rice into a pint of milk, added sugar, cinnamon, sultanas and nutmeg, dotted it with butter and baked it slowly until a caramelised rice pudding emerged with a film of buttery, bubbled skin.
We ate it warm from the oven as the reassuring aromas of cinnamon wafted around the kitchen. This was comfort food at its best, my Madeleine de Proust; that feeling of drifting back for a fleeting moment. I remembering Grandpa supping his rice pudding using an oversized spoon, as my Granny, Agnes poured him more of the coveted extra cream from the top of the milk around the enormous bowl's rim.
My bubble burst. "Your rice pudding is so different to my Mum's. She didn't have skin on it; I remember vanilla rather than cinnamon, and we didn't eat it warm like this," gently prodded my Frenchman. My baked rice pudding needed to be more French.
My Scottish Baked Rice Pudding Recipe: In a buttered gratin dish, rain in 100g short grain rice into 1 litre whole milk, add 50g sugar, a cinnamon stick & 50g sultanas. Dot with 25g butter and top with freshly grated nutmeg. Bake uncovered at 110°C fan for 2 hours.
What is La Teurgoule?
It was time to do some homework. I did discover that, in the north, the French also bake their rice pudding. In Normandy they make a slow-baked Terrinée, Beurgoule or Teurgoule not unlike this, although they add more milk, sugar and bake at 80°C for 6 hours. The result is a baked, more caramelised version.

How to Make a Creamy French Rice Pudding
So it was time to make an extra creamy French rice pudding like hubby had described. Known as 'riz au lait' (pronounced reeh-oh-lay), it's bathed in a vanilla milk and eaten chilled. Personally, I prefer it at room temperature and can't resist sneaking a bowl of it before placing the rest in the fridge once it's cool. Who knew that our differences could be simply down to a cold rice pudding dessert?
This is a cross between two French recipes. Initially by Raymond Blanc's recipe (his Mother's recipe in his book, Blanc Mange). He adds sultana raisins like the family loves it and 3 egg yolks at the end of cooking.
The other is Bernard & Dominique Loiseau's recipe (from 'Cuisine en famille') which uses 2 yolks and only half of the milk, making the rice puddings much more compact.
However, if you prefer yours more compact, reduce the milk to about 700ml (1 ¼ pints).
After many years,  here's my riz au lait. Tried, tested and approved over and over by French hubby and our - now adult - baby bears. Enjoy it with a few spoons of homemade apple compote.

Which Type of Rice is Best for Rice Pudding?
The best type is often just sold in supermarkets as 'pudding rice'. In France, you'll find this simply labelled as 'Riz rond' which is best as it's short-grain, round rice.
Otherwise arborio or carnaroli rice (also used for risotto) are good too but if possible, get the round pudding rice. I have found by using the latter risotto rice, it absorbs slightly less than pudding rice. If this is the case, leave to thicken longer.
French Rice Pudding with 2 Yolks
As we have been mad about making macarons and need egg whites, I love using a couple of egg yolks in this recipe.  Added to the hot rice at the end of cooking, the result is an extra creamy version (without using any cream) and nourishing too.
Ensure you temper the yolks first so that the eggs won't coagulate.
Whisk the yolks and sugar together then add a little of the hot rice cream, mix together and stir into the rice pudding.
Once the hot rice pudding is poured into bowls, leave aside to cool then chill covered in the fridge until ready to serve.

French Rice Pudding with Caramel Sauce
If you like French rice pudding to be a bit more decadent for dessert, top with salted caramel sauce. For some extra topping of toasted nuts in caramel, then top with this easy nougatine.
This is inspired by chef Stéphane Jégo's restaurant, l'Ami Jean in Paris, famous for his Parisian riz au lait dessert with all the frills.
Feel free to adapt the recipe using vanilla and replace with the zest of an orange and some nutmeg and cinnamon for something more warming in the winter months. Fan of Spring rhubarb? Enjoy it with this rhubarb compote or top with fresh strawberries.
Rice Pudding Cream Brûlées
Alternatively, for ultimate caramel and rice pudding fans, combine them together to make rice pudding crème brûlées.
Just sprinkle a thin layer of cane sugar (French cassonade) before serving and either blow-torch or grill them to burn the sugar on top.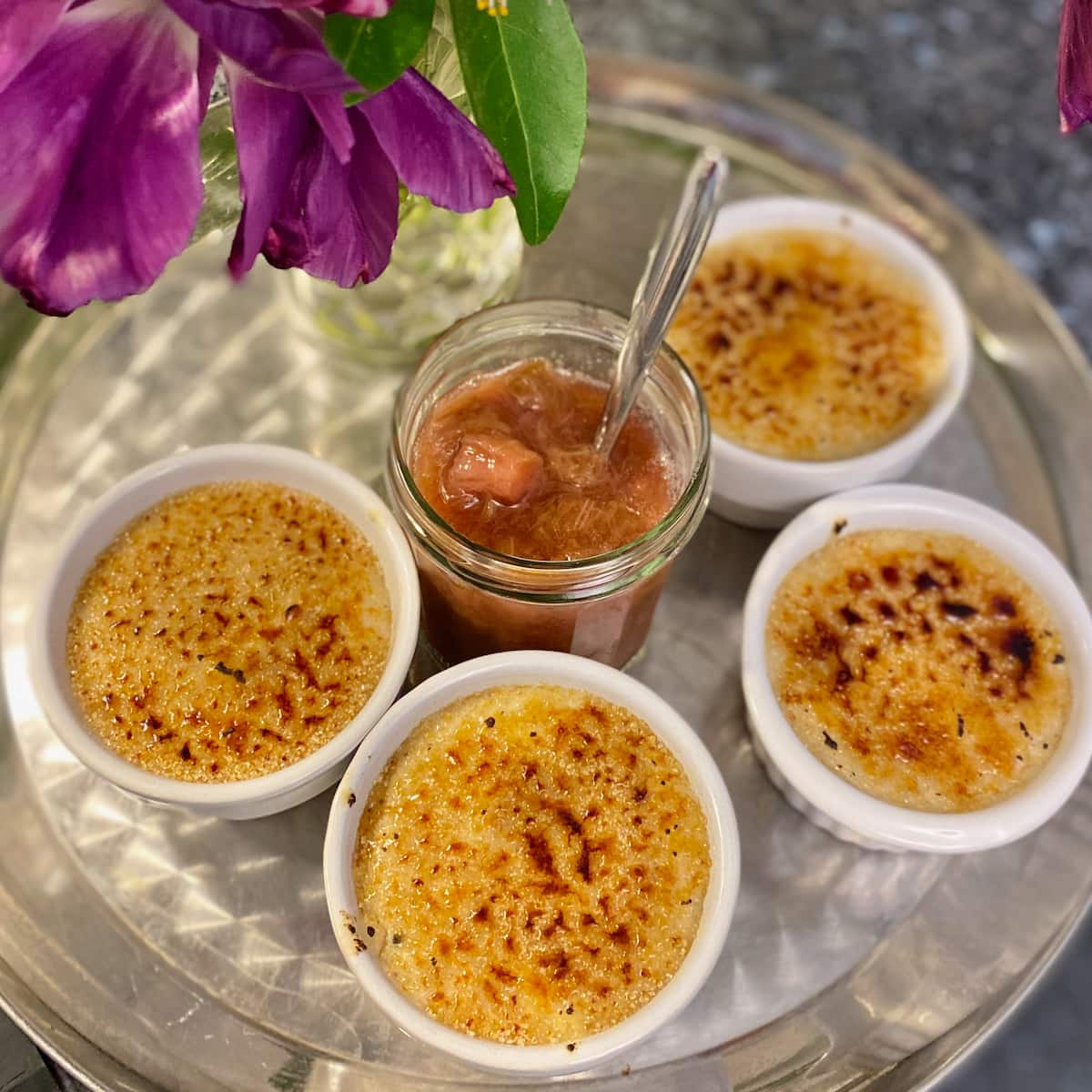 What Can I Make with the 2 Leftover Egg Whites?
Three quick recipes use 2 egg whites:
French Rice Pudding (riz au lait)
How to make a creamy rice pudding with reduced sugar and sultana raisins. Either serve on its own chilled (or at room temperature) with fresh fruits for breakfast or for a more decadent dessert, serve with salted caramel sauce and nougatine.
Ingredients
100

g (3.5oz, ½ cup)

pudding rice

(round, short grain)

½

teaspoon

vanilla powder or extract

(or a vanilla bean/pod) *

50

g (2oz, ¼ cup)

light brown sugar

1

liter (1 ¾ pints, 4 cups)

whole milk

(full cream)

50

g (2oz, ¼ cup)

golden sultana raisins

2

egg yolks

organic
Instructions
Pour the milk into the large saucepan. Add the vanilla powder to the milk (or extract/vanilla bean scraped of seeds) with half/25g of the sugar. Rain in the rice and simmer gently for 15-20 minutes, stirring occasionally to that no skin forms on the milk.

Add the sultana raisins. Continue to stir now and again as it heats gently for about another 10-15 minutes or until the rice swells and it starts to thicken.

In a bowl, whisk together the yolks with the rest of the sugar until it's light and creamy. Add a couple of tablespoons of the hot rice milk and mix well then pour in the yolk mixture into the hot rice. Take off the heat (so not to overheat and curdle the yolks) and stir until well combined.

Pour into bowls and set aside to cool - then cover and chill for at least 30 minutes.
Notes
*  Variations: Replace vanilla with the zest of an orange and add a pinch of nutmeg and cinnamon for something more warming and spicy in the winter months.
Prefer rice pudding more compact and less creamy? Reduce the milk to 700ml (1 ¼ pints).
Serve either on its own chilled or topped with fruit for breakfast. For a more decadent dessert, serve with salted caramel sauce and/or with our favourite nutty caramel nougatine.
Nutrition Information: 4g protein and 212 calories based on 4 portions.
Measures: Please note that all my recipes are best made using digital kitchen scales in precise metric grams. Both ounces (and cups) are given as a guide. 
This recipe post was first published 17 January 2013 but is now completely updated with additional text and new images.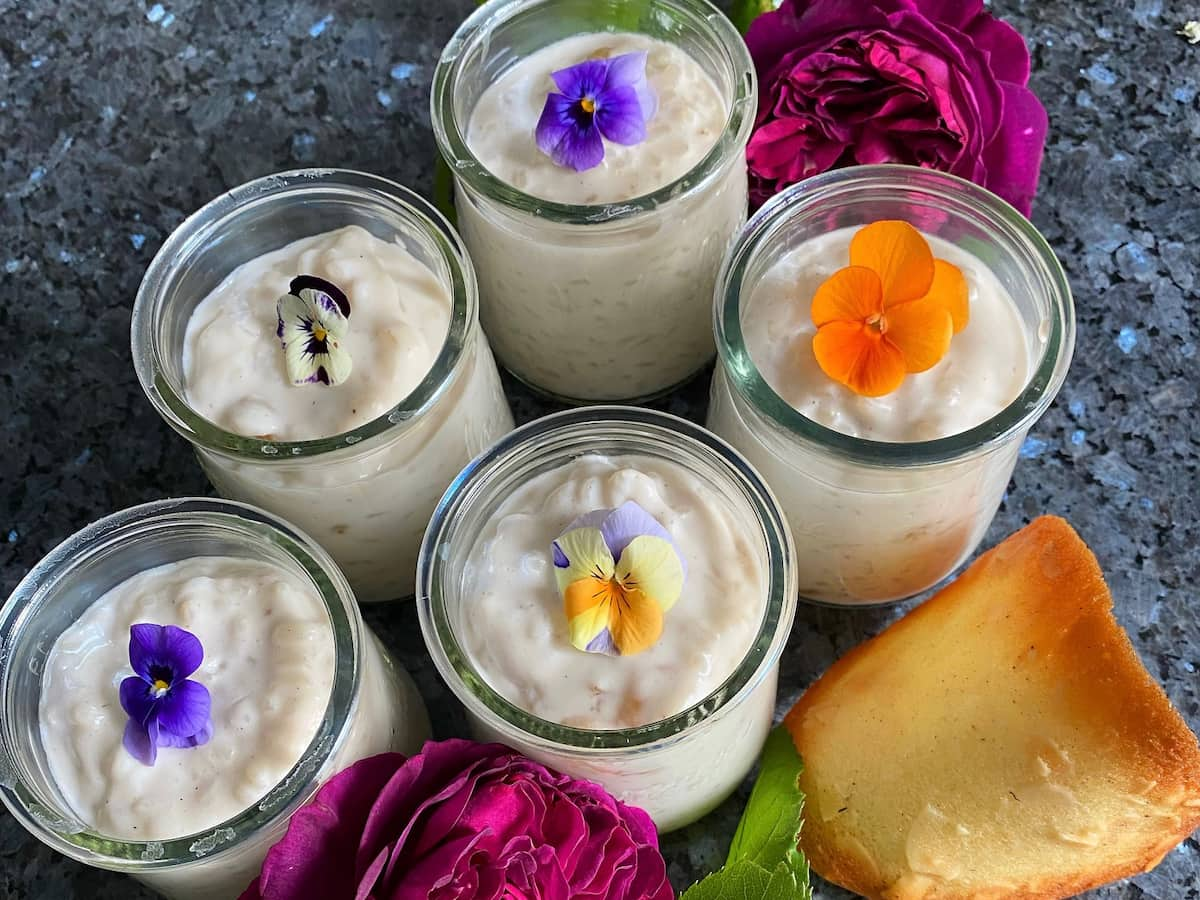 Vegan Rice Puddings
This recipe is vegetarian, but if you're looking for a vegan rice pudding recipe, try these Almond Milk Rice Puddings. Top with fresh fruits like blueberries, raspberries or strawberries.