One of the best ways to prepare rhubarb is this healthy rhubarb compote. It's much lower in sugar than jam, freezes well and is perfect for a vegan breakfast or spooned on ice cream. Plus if your rhubarb is green, then use my delicious trick to make this compote red.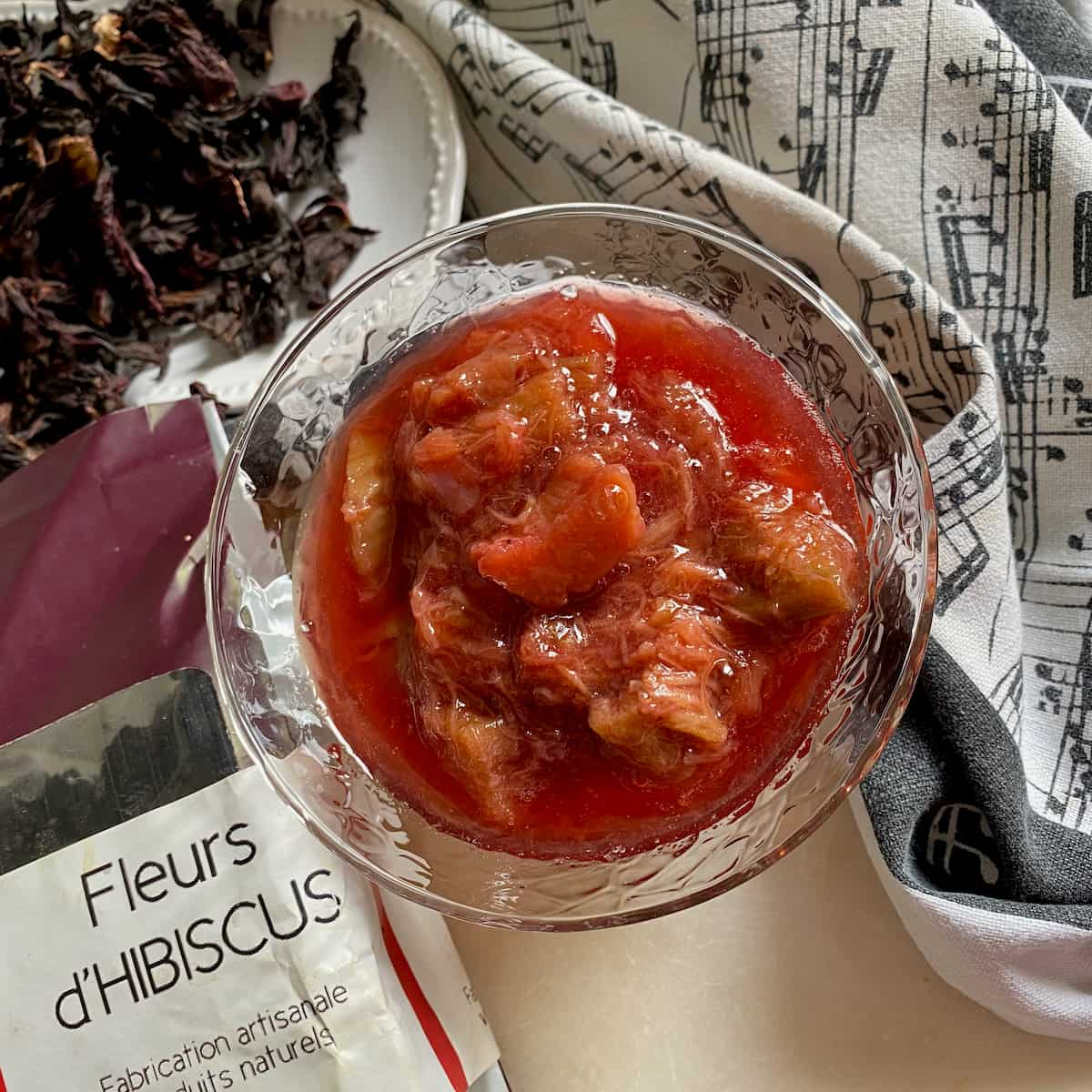 What is Compote?
Compote is like a fruit purée and quite thin like a sauce. It's a way to preserve fruit by cooking it in syrup.
Fruit compote goes back to medieval Europe when a mix of puréed fruits was both healthy and cheap to make.
Today, I feel that the humble compote is so underrated: it's low in sugar, a fruity accompaniment to loads of desserts and it's a healthy (and vegan) way to start the day, spooned on morning cereal or yoghurt. In this recipe I use a quarter of sugar to the weight of rhubarb.
What is Rhubarb Compote Made Of?
Rhubarb compote is simply made of rhubarb and a little sugar. Just two ingredients.
As rhubarb already contains a lot of water, by macerating it first in some sugar, the rhubarb juices combine to make a natural syrup.
However, as we often only get greenish rhubarb, I like to add the third, optional ingredient: the dried hibiscus flowers. Otherwise, it also goes well mixed with strawberries.
Is Green Rhubarb as Good as Red?
Ever wondered why your rhubarb stalks are green and not red? Funnily enough, there's no flavour difference between green or red but somehow the blushing red colour of rhubarb looks far more appetising and less sour.
I'm always excited during French rhubarb season and love making rhubarb compote. It reminds me of all the lovely pink rhubarb we had in Scotland (I grew up there until I was 24) - especially when it found its way into comforting fruit crumbles with a cheeky hint of stem ginger. We had the forced, lovely pink rhubarb in winter, followed by the still pinkish rhubarb in Spring to Summer.
However, in France we have to wait until rhubarb season, between April and June. I'm always a bit disappointed; somehow the rhubarb we find in most Parisian markets tends to be so green.

What Brings out the Flavour of Rhubarb?
Our family loves rhubarb - our sweet neighbours like it less and give away much of their garden's crop. Probably because it's particularly green and they haven't tried this trick to bring out its flavour.
If your rhubarb is green, turn it a beautiful pinkish red colour naturally.
So while cooking your rhubarb, infuse it with dried hibiscus flowers (Carcadet), or a hibiscus red fruit teabag.
First obtain a syrup. Macerate the rhubarb chunks in sugar for 2-3 hours (or overnight). As rhubarb contains so much water, there's no need to add any water.
Sieve the natural syrup from the rhubarb, infuse with dried hibiscus or a teabag infusion while reducing, then cook the rhubarb in the reduced syrup for 10 minutes.
Teabags come in so many choices these days - many in the form of detox infusions, usually with the addition of rose or rosehip and berries. It's a perfect flavour match with rhubarb!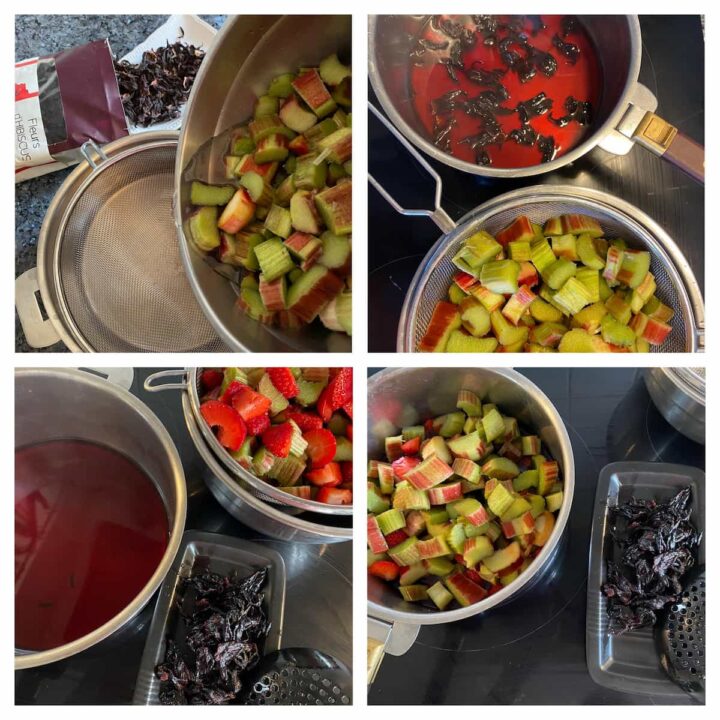 Should I Peel Rhubarb Before Stewing?
There's no need to peel rhubarb. It all depends on the quality and size of your stalks. If they are thin, then just chop up and use as is.
If your rhubarb is thick and as you cut into chunks, it has loose strings, then go ahead and peel these bits off.
How Long Does Rhubarb Compote Last?
This compote keeps well in the fridge, sealed in jam jars and lasts for up to 10 days.
Otherwise compote freezes well too. Freezing compote is perfect for that luxury winter moment when you need a dose of rhubarb or berries with that extra touch of hibiscus and rose.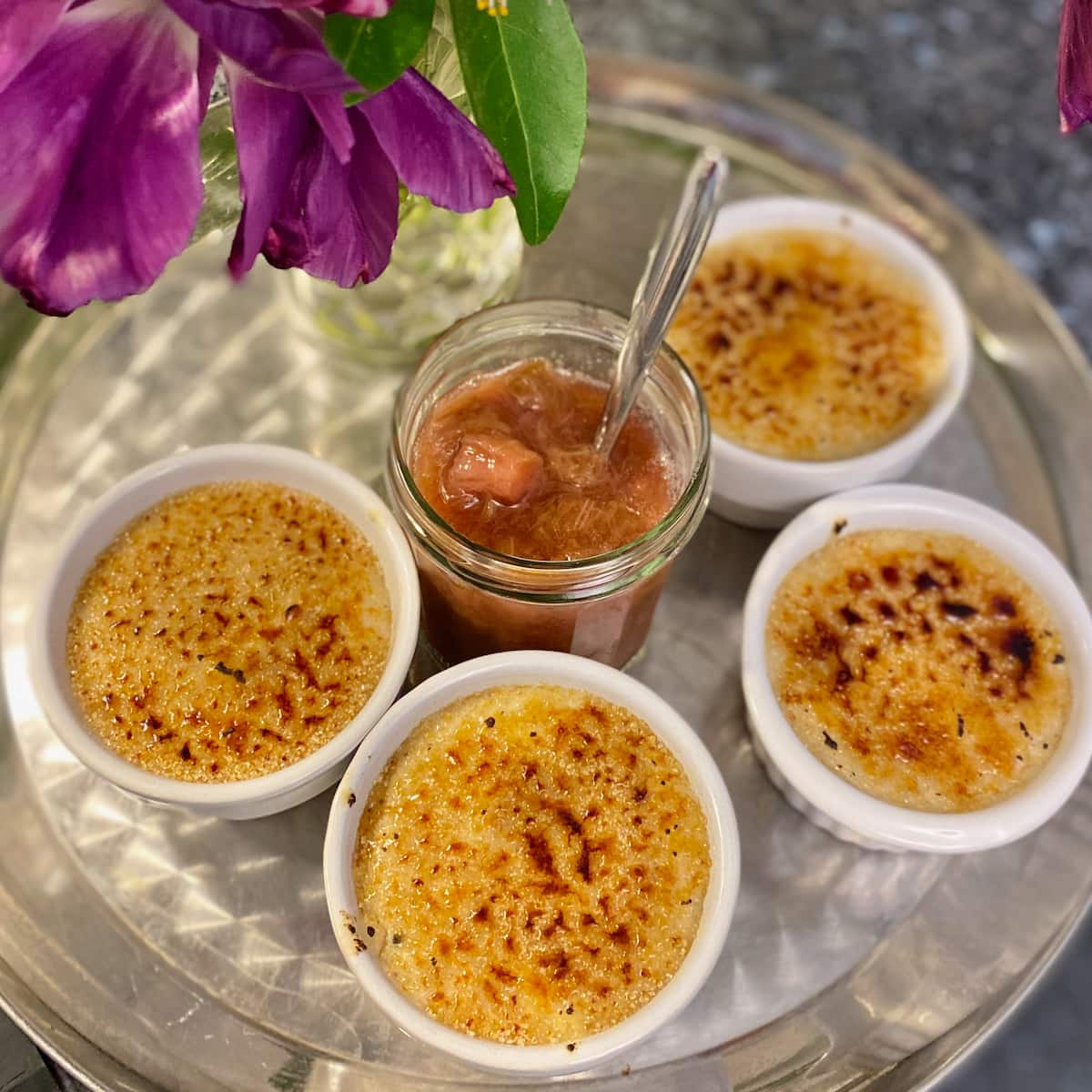 How to Serve Rhubarb Compote
We love rhubarb compote served chilled - from breakfast, to teatime, to desserts.
Either enjoy on its own chilled or dollop on top of vanilla ice cream. It's so useful served with cakes and delicious with rice pudding. Use it as a base for strawberry tarts too.
Here are some ideas how best to serve your rhubarb compote: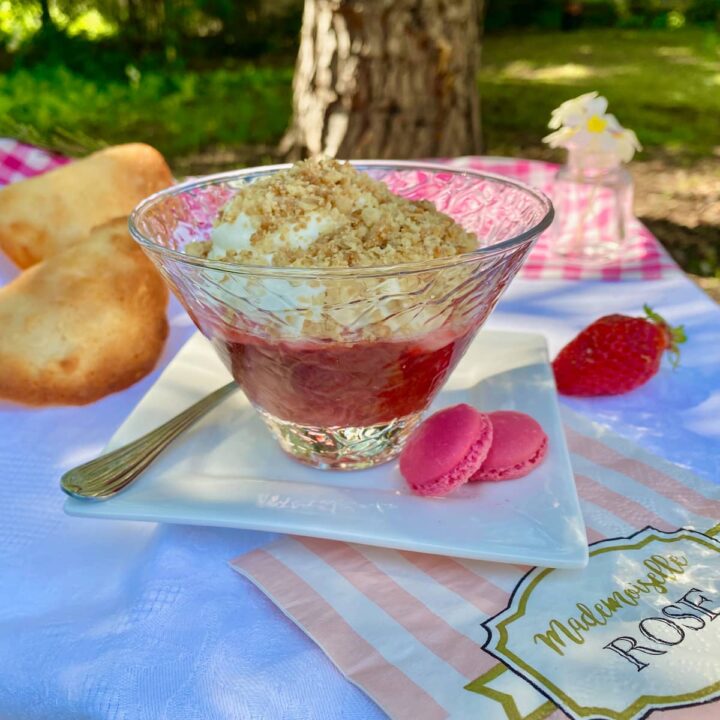 Spiced Compote
The dried hibiscus flowers or teabag, however, is entirely optional! If your rhubarb is already very pinkish red, then just make it without. It's even easier.
Another option is to add some candied ginger to the compote. We had this a lot in Scotland, ginger with rhubarb is a fabulous combination too.
Rhubarb Compote with Strawberries
The beauty with this rhubarb compote is that it's versatile and vegan.
Make with half rhubarb and strawberries for a rhubarb and strawberry compote.
What's more, enjoy the same recipe using a mix of any summer berries. It's a great, healthy alternative to rhubarb jam (jam needs more sugar) using just a quarter ratio of sugar to fruit.
Healthy Rhubarb Compote
Rhubarb Compote with an optional natural ingredient, hibiscus tea. So healthy, compote only uses a quarter of sugar, so far healthier than jam. Can keep in the fridge up to a week and freezes well. Also good made with strawberries.
Ingredients
400

g (14oz)

Rhubarb

about 4 medium sticks

100

g (3.5oz/½ cup)

Sugar

(sugar ratio is ¼ to rhubarb weight)

1

tablespoon

dried hibiscus flowers (Carcardet)

or hibiscus teabag (OPTIONAL)
Instructions
Wash and cut the rhubarb at both ends and discard the inedible leaves (these are toxic). There's no need to peel unless the skin is particularly thick and stringy. If so, peel these parts off.

Weigh your rhubarb in order to calculate how much sugar to use: the ratio is a quarter of sugar to fruit.

Cut into chunks about 3cm and place in a bowl with the sugar. Leave to stand for 2-3 hours (or overnight).

Sieve off the rhubarb juices into a saucepan.

OPTIONAL - add the hibiscus/red fruit tea and bring to the boil. Reduce the liquid slightly for no more than 10 minutes. Remove the tea then add the rhubarb.

Bring to the boil, then simmer over a gentle heat for about 15 minutes until the fruit is soft and collapses into a purée. Remove from the heat and leave to cool. Refrigerate until needed.
Notes
How to Keep: Refrigerate and keep in the fridge in sealed jam jars for up to 10 days.  Compote also freezes so well - perfect for a dose of summer fruit in the winter months.
How to Use: Delicious served on top of homemade maple syrup granola for a healthy vegan breakfast or spooned over vanilla ice cream for dessert.  
Berry Compote: This recipe is also delicious made with half rhubarb, half strawberries - or a mix of soft summer berries. Again, the ratio is a quarter of sugar to fruit.
Spicy Compote: Don't want the hibiscus/red fruit tea? Add candied ginger to make a slightly spicy compote - the combination is fabulous.
A ginger version of this rhubarb hibiscus compote recipe was first published on 27 April 2016. This post is now completely updated with an accompanying video.