A fluffy light white chocolate mousse with whipped cream and an egg white. Rose and orange blossom are added for that extra French touch. Healthy with no added sugar, this is great on its own or as part of a bigger dessert. Serve with macaron shells for something special.
What is White Chocolate Mousse Made Of?
This mousse is extremely simple with 3 main ingredients.
It's just made with good quality white chocolate, whipping cream and only one egg white to thicken it. The added touch of a little rose and orange blossom water simply takes it to another sphere.
There is no sugar in this recipe - the sugar in the white chocolate is enough. For the cream, half fat cream doesn't work, so no less than 30% fat to be able to whip it up easily. At about 200 calories, it's a white chocolate mousse that's light too.
What to Serve White Chocolate Mousse with?
These footprints in the snow makes me think of this light mousse.  It's brilliant in winter time, topped with just a simple wedge of orange to echo the orange blossom inside - and with a rose macaron.
If making this around Valentine's Day, see how to pipe out macaron hearts. It's easy peasy. Just imagine you're making a 'V' shape in 2 lines. Do it quite quickly: push down a bit more mixture at first at the top of each line and taper off coming down.  As the mixture spreads out slightly on the baking sheet you'll see it come together.
This mousse is delicious served on its own for a light dessert.  However, it's also great served as a bigger layered dessert.
Try it with these rhubarb and strawberry crumbles topped with this white chocolate mousse. It is a delicious combination with the touch of rose that shines through with the rhubarb and strawberries.
What's more, this mousse is fabulous served with a few fresh strawberries or a little rhubarb compote.
Healthy White Chocolate Mousse with No Added Sugar
With the snow initially as inspiration, I remembered a Merveilleux pâtisserie from Un Dimanche à Paris in Saint Germain des Prés. It was basically the classic meringue coated with cream, but infused with rose and orange flower water, and rolled in white chocolate. I remember thinking I wanted to taste the orange blossom just a bit more. What's more, I honestly find meringue desserts just too sweet.
So with all this in mind, I've come up with a light, fragrant, snowy mousse for you that's not too sweet. There is no added sugar in this recipe, making it healthy. Moreover, it's a quick and easy gluten free dessert.
What is it about rose that makes it so Valentine friendly?  I adore this addition of the orange blossom. Heating the white chocolate in the pan with a little of the cream makes melting it so much easier - especially if you're unsure of the quality of your chocolate. The meringue crunch comes from the macaron heart and the dosage of orange blossom and rose counteracts the sweetness of the chocolate and is just enough to send your Valentine into a billowy, romantic cloud. Accompany this with glass of chilled Muscat.
Best Chocolate Mousse Marathon
I was so thrilled to see my recipe tried, tested and approved by Gourmantine's Blog in her marathon to find the best chocolate mousse. Here is her lovely review of my white chocolate mousse recipe:
"Well, I think anyone thinking this way should be sent a pot of this white chocolate treat by wonderful Jill Colonna, and I am most certain they will have an epiphany.

When I first saw this recipe posted on her fabulous blog "Mad about Macarons" (and I tell you, her macarons are truly to die for..), I couldn't wait to make it, and chocolate mousse marathon seemed more than appropriate for it.

To be honest, the dark chocolate loving judge panel put the final fight for the best of the best title between recipes essentially out of dark chocolate, but this wonder was considered a champion in it's own category and does deserve a special mention...

Just for the record, it tastes better than it looks...this one is definitely going to the top of my all time favorites."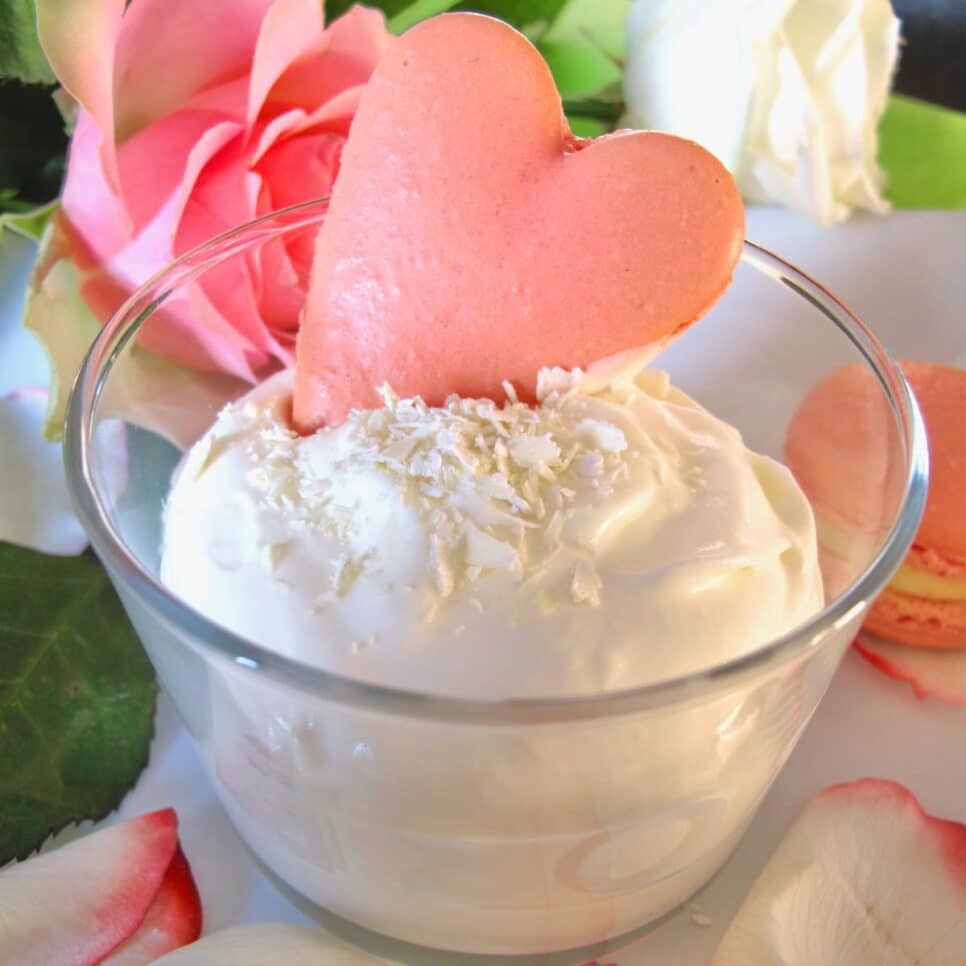 White Chocolate Mousse
The lightest white chocolate mousse recipe with a touch of rose and orange blossom water to make even those who don't like white chocolate love this mousse!
Ingredients
300

ml (10fl oz)

whipping cream

(at least 30% fat)

125

g (4½oz)

white chocolate

+ 20g grated for decoration

1

tablespoon

rose water

½

tablespoon

orange flower water

1

egg white
Instructions
Place a mixing bowl in the freezer for 10 minutes (I just put it outside - brrr!)

Meanwhile, break 120g of the white chocolate into a saucepan and heat very  gently together with 50ml of the cream, rose and orange flower waters. As soon as it's melted (after about 5 minutes), set aside to cool slightly.

Using an electric beater, whisk the rest of the cream with the egg white to medium-firm peaks. Gradually pour in the melted chocolate mixture and continue whisking until completely mixed together.

Pour into individual serving glasses and sprinkle on the grated white chocolate. Set aside in the fridge until needed.
Notes
Halve the quantities if you're serving just for a romantic couple but this does keep easily chilled until the next day in the fridge. Excellent served as part of these rhubarb and strawberry oat crumbles.
Love mousse? See my 2 other recipes: