Vacherin, the popular French Ice Cream Cake is a celebratory dessert (gluten free). Just add a tub of sorbet, meringue and whipped cream.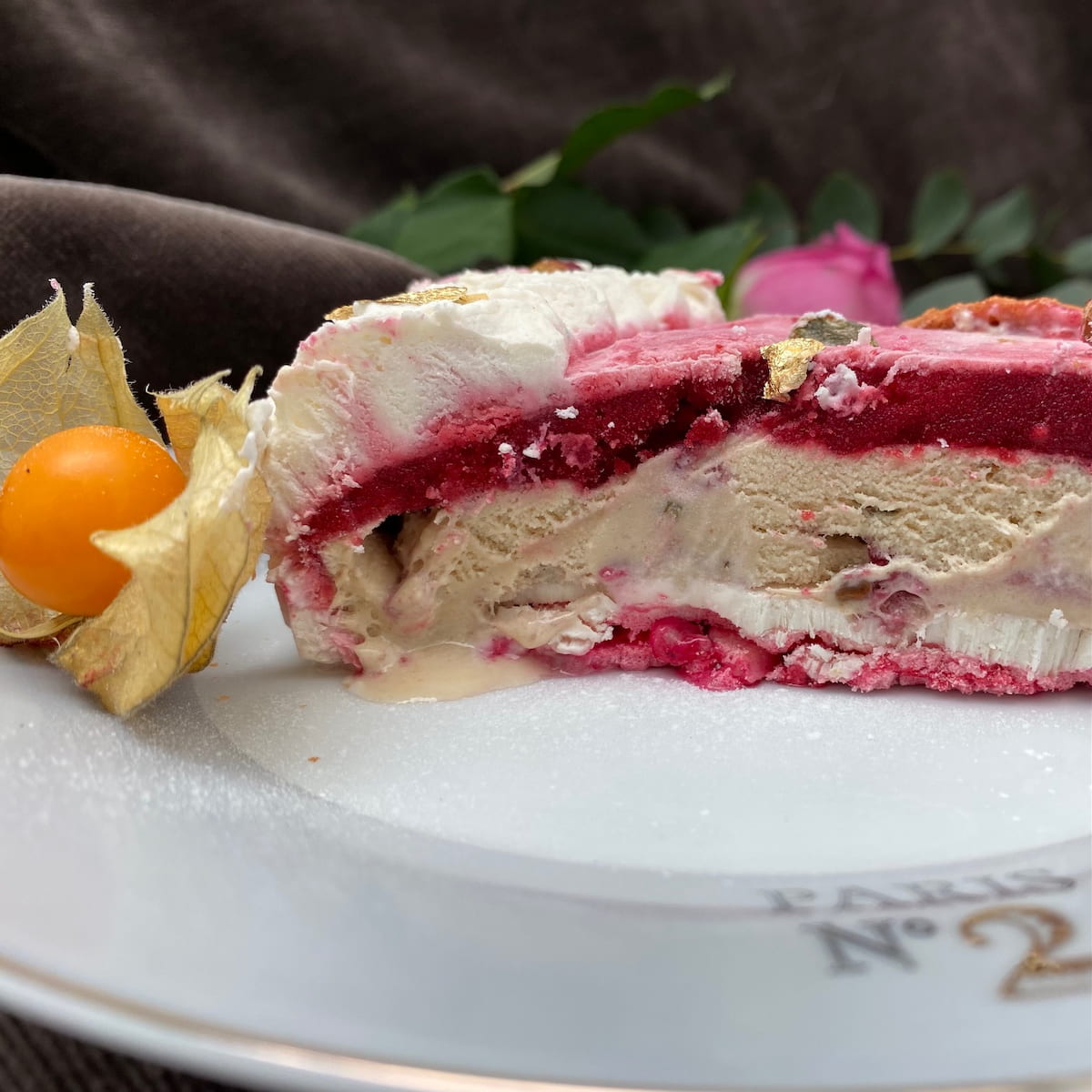 What is a Vacherin Dessert?
Not to be confused with the round Vacherin cheese made of cow's milk, this dessert is also round in shape but basically composed of ice cream. I've seen some Vacherins on the web that are confusing, as they look more like a pavlova just with meringue, cream and fruit. A French Vacherin is an iced celebration dessert.
It couldn't be easier: a Vacherin is made up of a layer or two of meringue, topped with vanilla ice cream then raspberry sorbet and finished off with a Chantilly cream, often laced with a little festive tipple.
Vacherin Dessert vs Pavlova
So a French Vacherin dessert is an iced celebration cake made with layers of ice cream, sorbet, meringue and cream.
Conversely, a Pavlova is also made of meringue and whipped cream but it's topped with fruit and no ice cream or sorbet is added.
A French Vacherin Ice Cream Birthday Cake
My French father-in-law, Jean-Pierre, adores a Vacherin cake. Each time we have a family reunion or party of some sort - whether it's a birthday or an excuse for a special dessert, he always orders a Vacherin Glacé from the local patisserie. It's such a French classic, that most patisseries sell them in the freezer, opposite the counter.
So, when Jean-Pierre ('le Toucan') was visiting recently, I decided to make my own homemade Vacherin to surprise him for his 80th birthday.
La Vache! Pink Boobies...
Surprise, Jean-Pierre! I really did create an element of surprise, n'est-ce pas?
So much so, I shocked even myself by a last-minute mind-blowing idea of adding some pink colouring to the meringue. Not exactly a great idea for a very traditional Corsican father-in-law male - but let's just say it continued the raspberry sorbet theme? I loved how he totally ignored my pink boobies all around the cake, though. Luckily I had a few macaron shells handy to disguise them!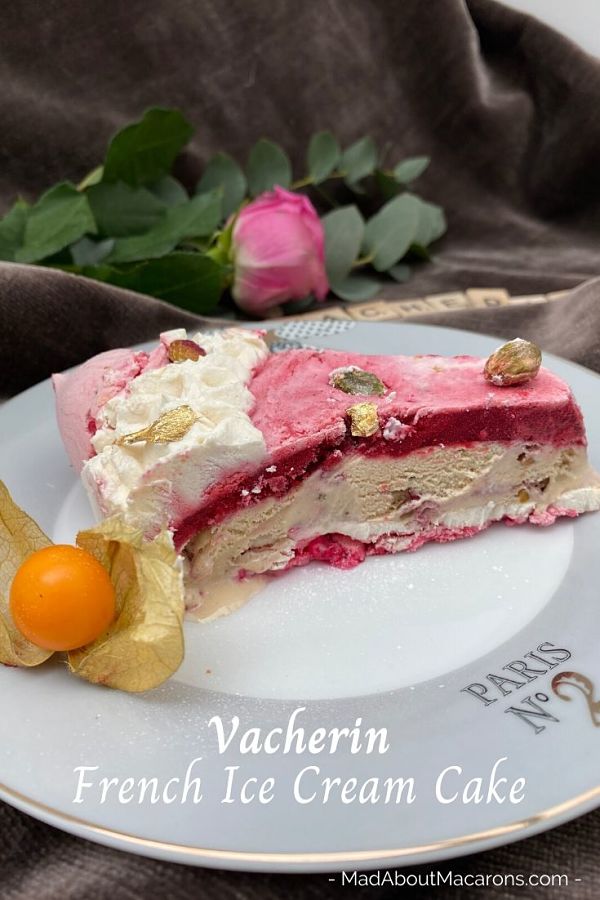 Easy Dessert to Prepare in Advance
Moreover, a Vacherin is a perfect dessert made in advance. Just prepare the day before, the morning itself - or even a few days before.
If you prefer the Chantilly cream fresh and unfrozen, then add this at the last minute and enjoy adding your own personal decorations. I added gold leaf, some pistachios and served cape gooseberries on the side, just as an excuse for some winter fruit, otherwise fresh raspberries are great.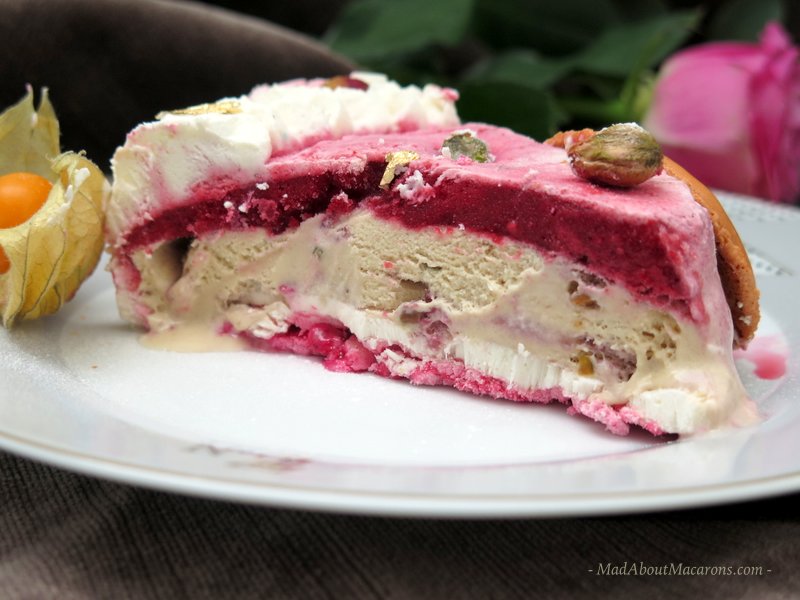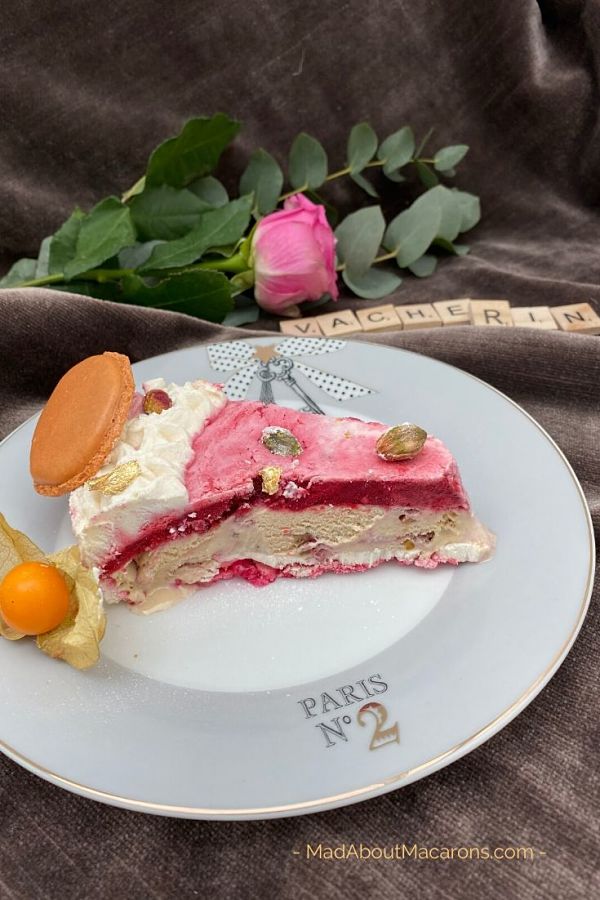 How to Prepare a Vacherin Cake from Scratch
A Vacherin is more about organising the presentation of ice cream than an actual recipe, to be honest. Traditionally it's made with vanilla ice cream and raspberry sorbet, but I used nougat ice cream with extra raspberry ripple in it. Pistachio ice cream would be wonderful too.
I make my own meringue as a base but you could buy yours or even make a macaron base out of it and stick macaron shells or whole macarons all around the cake. Just follow the macaron recipe instructions in either of my books.
Warning: If you do buy macarons from a store, ensure they have not been frozen first - otherwise do not freeze and serve at the last minute.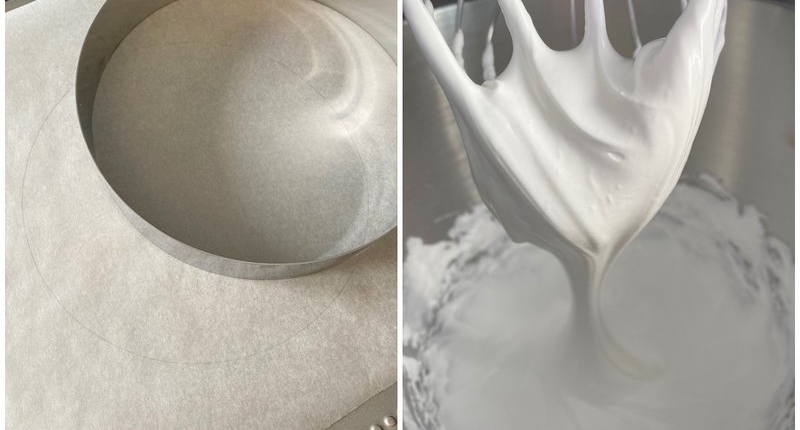 First take an 18cm cake ring. Trace a circle on parchment paper. Whip the meringue until stiff peaks are easy to work with a piping bag and pipe it as a spiral in the ring (no need to add colouring - keep it white!)
With the remaining meringue, pipe out little kisses. These will be stuck around the cake at the end.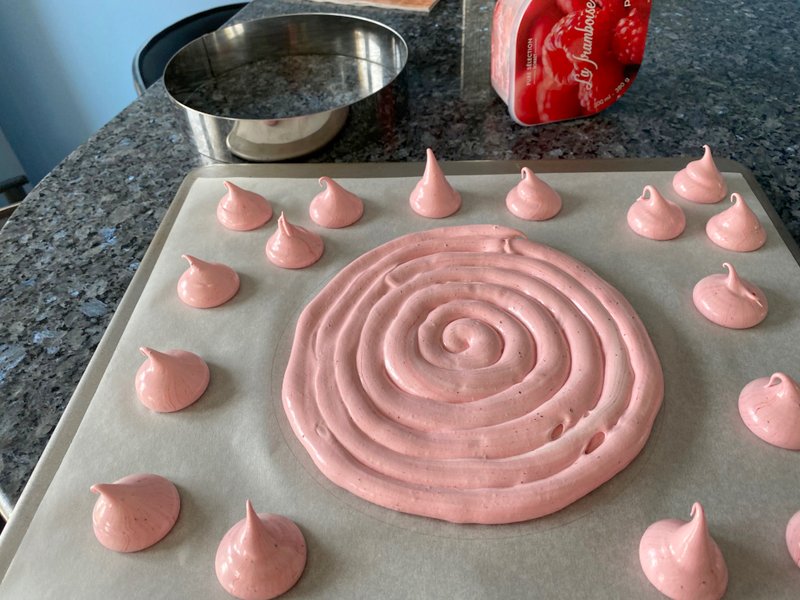 Raspberry Vacherin
While the meringue is baking in a coolish oven, use the cake ring to mould out both ice cream layers. The ice cream shouldn't be too hard, making it easy to spread it into the ring. For this part, you will need to act fast so that the ice cream is easy to work with (still frozen, not melted!).
Start with vanilla ice cream (or try this lemon verbena ice cream), then with raspberry or rhubarb sorbet. Leave each layer to harden in the freezer for 30 minutes.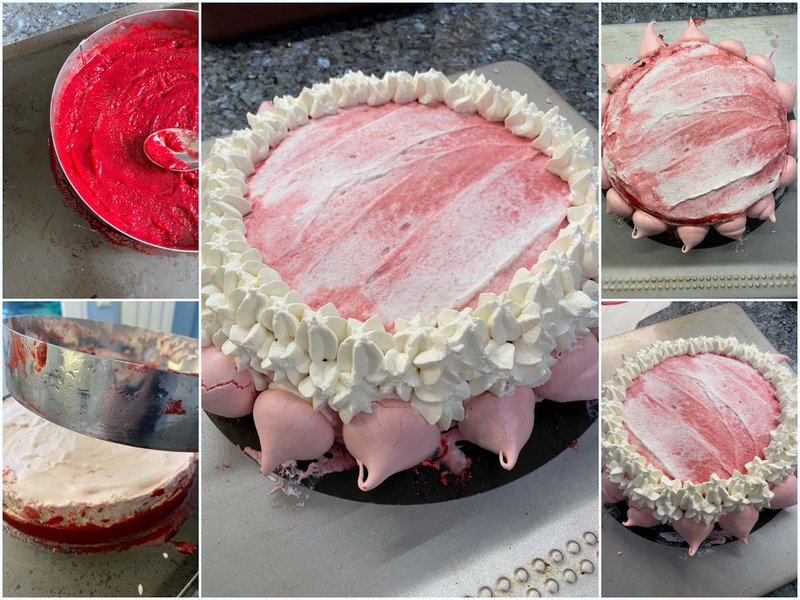 Top the vanilla ice cream with the meringue base, turn upside down and top with Chantilly Cream. To finish off, stick on the meringue kisses around the sides using more cream.
NOTE: I don't add any sugar to the Chantilly cream, as there's enough sugar in the meringue and ice cream.
Place in the freezer until dessert! This dessert is gluten free.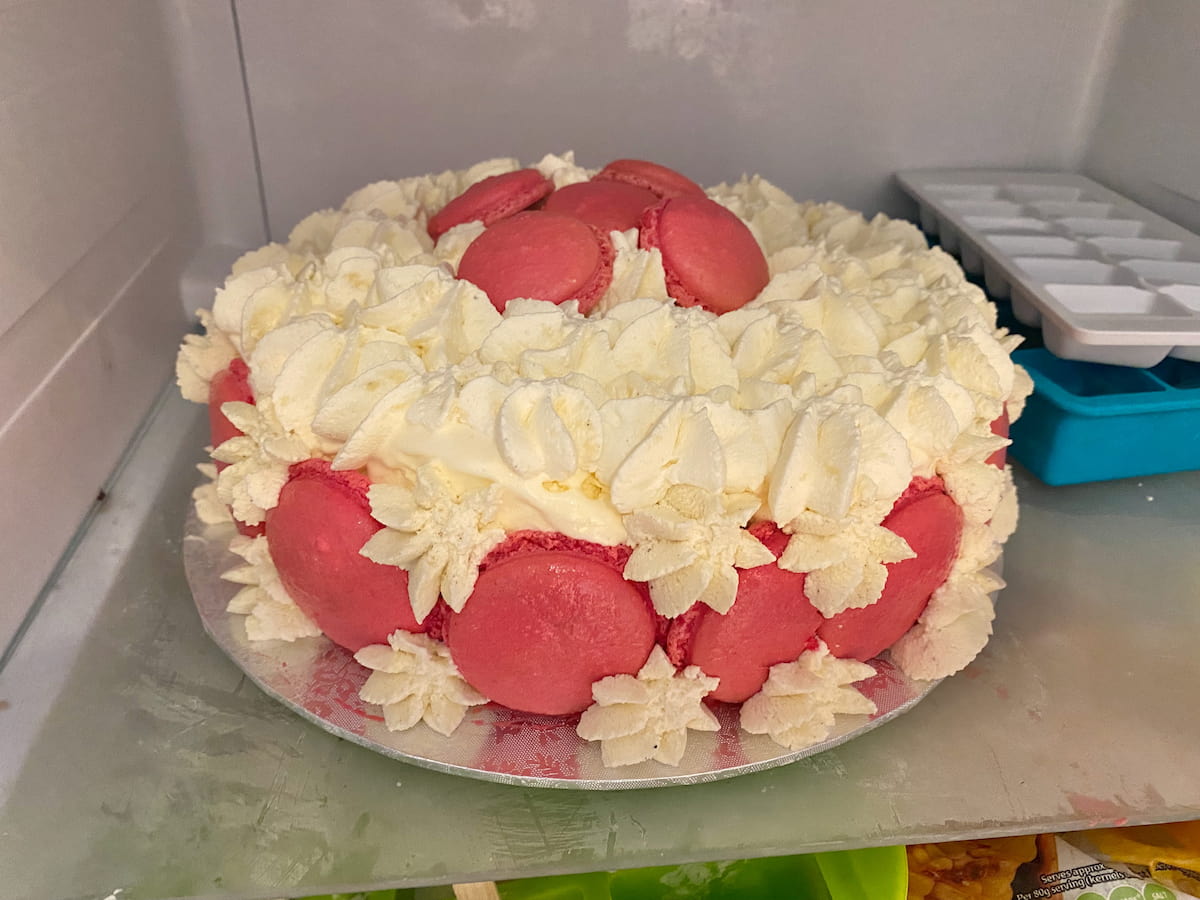 Ice Cream and Sorbets Ideal for a Vacherin
Here are a few ice creams that will be delicious as an alternative to the classic vanilla ice cream and raspberry sorbet combination: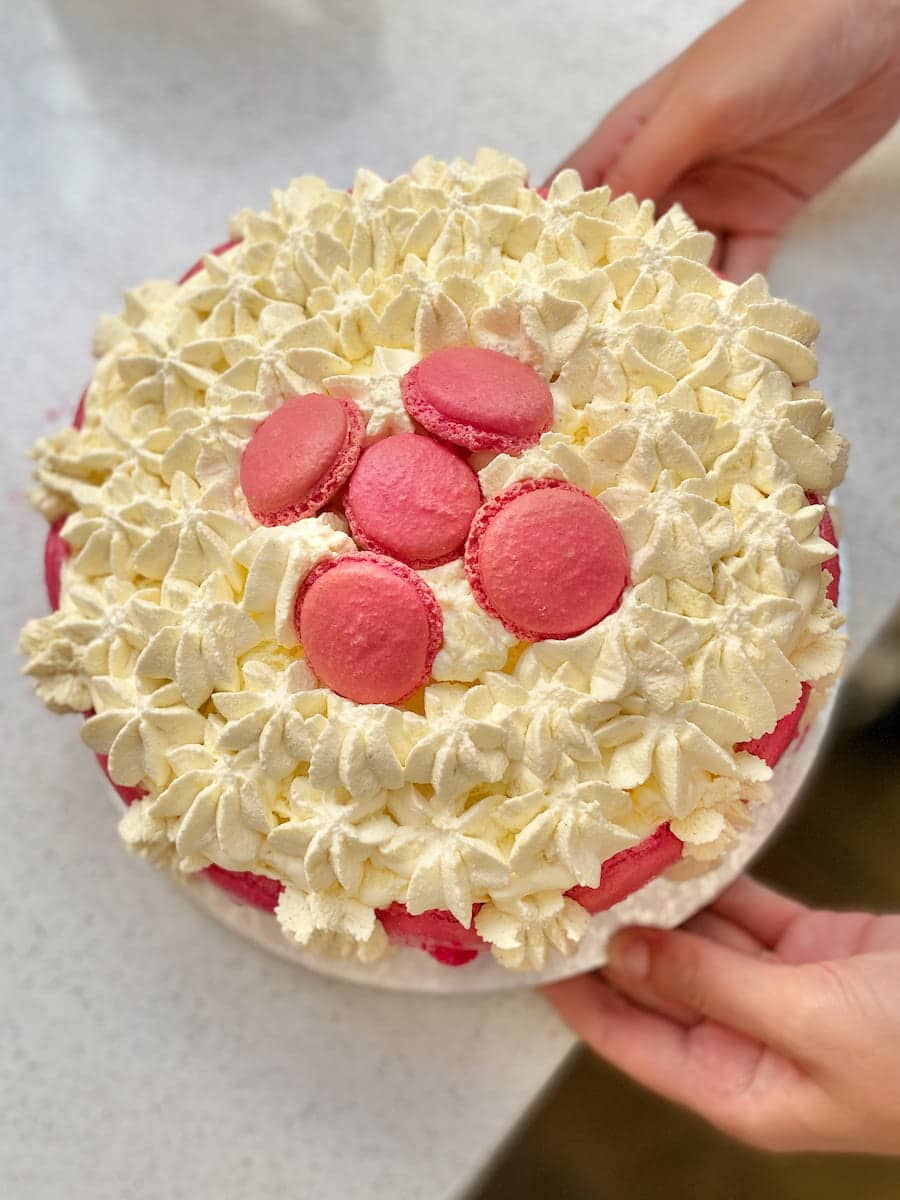 French Ice Cream Cake (Vacherin Glacé)
Vacherin Ice Cream Cake
A French iced celebration cake that's easy to prepare in advance. Just add meringue to a layer of vanilla ice cream and raspberry sorbet and top with unsugared Chantilly cream, laced with Chambord raspberry liqueur (gluten free).
Equipment
Electric whisk

Piping bag

18cm / 7 inch cake ring
Ingredients
Meringue
3

egg whites

100

g (3.5oz)

sugar

100

g (3.5oz)

icing sugar

(powdered/confectioner's sugar)
Ice Cream
500

g (18oz)

vanilla ice cream

or other creamy, soft ice cream

400

g (14oz)

raspberry sorbet
Chantilly Cream
300

g (10.5oz

whipping cream

(crème fleurette 30% fat)

¼

teaspoon

vanilla powder

or few drops vanilla extract

1

tablespoon

Chambord Liqueur (or Kirsch)

(optional)
Decor (optional)
pistachios

dusting of icing/confectioner's sugar

fresh raspberries
Instructions
Meringue
Take an 18cm cake ring and trace the circle on to parchment paper as a guide for the spiral. Preheat the oven to 130°C/110°C fan/250°F/Gas ½

Using an electric whisk (hand or stand mixer) whip up the egg whites until foaming, then gradually add a third of the normal sugar until it starts to look brilliant. Then add the rest until the meringue has stiff peaks. Stop the whisk and fold in the icing sugar.

Transfer the meringue to a piping bag with a regular, straight tip and pipe out into a spiral on to the parchment paper.

Using the rest of the meringue, either pipe out another spiral or pipe out small kisses. Bake in the cool oven for an hour.
Ice Cream
Using ice cream that's a little soft for ease of use, place the cake ring on to a rimmed baking sheet and spread the ice cream into an even layer. Place in the freezer for 30 minutes. Then repeat the process by topping with the sorbet. Freeze for another 30 minutes.
Chantilly Cream and Preparation
Whip the whipping cream for about 5 minutes until thickened. There's no need to add any sugar as there's enough sugar in the ice cream and meringue. Once whipped into peaks, add the liqueur, if using. Transfer the cream to a piping bag with a star tip.

It needs quick work during this stage so that the ice cream doesn't melt. Remove the ice cream mould, placing the meringue spiral underneath. Spread a third of the cream all around the surface and stick on the meringue kisses around the sides, sticking on a little extra cream for each meringue. Finish off the rest of the cream by piping it out in a circle around the edges.

Either serve immediately or freeze for at least another 30 minutes until ready to serve. Decorate as desired with pistachios, flaked almonds, raspberries and icing sugar.
Notes
Serve with a rosé Champagne or demi-sec Champagne.
I would recommend enjoying this dessert in one go and not re-freezing this dessert if leftovers (who needs an excuse to eat the whole lot, anyway?). Ideally, make using shop-bought ice cream - although this is delicious with homemade lemon verbena ice cream and rhubarb sorbet. 
This iced celebration dessert is gluten free.