Served with the classic aperitif time in Provence is the classic Poichichade. Rather like hummus, it's an extra garlicky French chickpea spread from the south. Spread on baguette slices or dip with raw vegetables such as radishes, carrots or cauliflower florets with some chilled rosé wine.
The Apéritif in Provence
We're going savoury for a change and thinking of the French's favourite time before dinner: the apéritif. As we're heading to Provence this weekend to see good friends, I'm "spreading" the holiday mood and opening the rosé wine with the Provençal equivalent of hummus, Poichichade - with plenty of garlic!
This view is from my parents-in-law's house in the Luberon, the heart of Provence. It has always been special, whatever time of year. As in this picture, even if the pretty lavender from the fields has been harvested in August, watching the smoke rise from the distillery's chimney down below conjures up all sorts of ideas as to what uses we have with lavender oil.
This winding road takes us from Saignon to Apt, a popular Provençal market town. On summer Saturdays it transforms from sleepy town into a giant beehive of swarming tourists amongst the locals in every street and hidden nook and cranny, as we dodge past the buskers and look for the best olives, tapenade, honey, vegetables, cheeses and garlic, to name a few. For a stop at the vanilla stand, check out my post on how to store vanilla beans.
When we shop at the market, my Corsican mother-in-law and I have very different items in our shopping baskets. One of them is she doesn't use much garlic and heaven forbid if I add any raw garlic if she is to join us. That's just the way the cookie crumbles at her place. So I make this at home 'dans le nord'.
How to Buy Good French Olive Oil at the Market
I also love stocking up on good olive oil in Provence. Here is one of the popular olive market stalls.  Just be aware of scams!
There are stands that exist that don't sell the genuine article so ensure that you look for the quality label, AOC (Appellation d'origine contrôlée) on decanted 3-5 litre plastic containers.
On the other hand, our good friends adore garlic and the local specialities. So when they invited us for lunch "up the road" from my parents-in-law in Saignon, we knew it would be a Provençal treat.
Valérie is the most wonderful cook. Her recipes are not only eleven out of ten on the tasty scale but they are above all simple, using the freshest of good quality local ingredients. She makes a mean Poichichade, the French garlicky equivalent of hummus or chickpea spread.
Poichichade, The French Chickpea Spread from Provence
Poichichade (pron: pwah-sheesh-ad) is like Lebanese-style Hummus.  In France's Provence it's served as an apéritif accompanied by fresh toasted thin slices of baguette and fresh crudités (a mixture of raw vegetables).
Not only is it rather addictive, but it contains a lot of garlic. It is made with both cooked garlic and just one fresh clove at the end to give it that extra touch of Provence!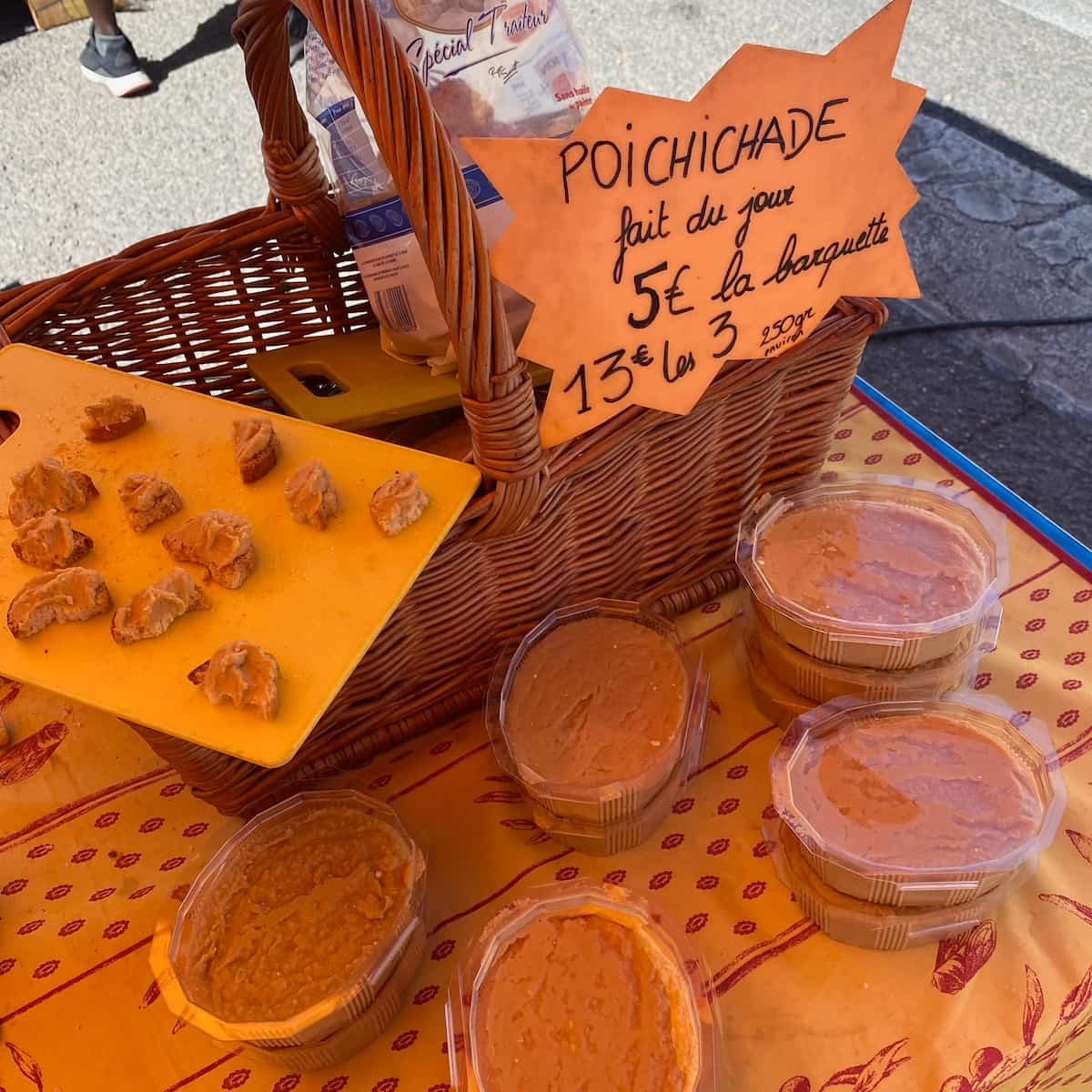 Hummus - Don't Use Tinned Chickpeas if Possible
Julie and Lucie were itching to make it so much as soon as our return last time, I didn't even have time to run out and get dried chick peas!  We used handy tinned/canned chick peas (pois chiches).
Although it was good (and yellower), it wasn't a patch on Valérie's fresh one, which took longer to make.  I added some parsley to make up for the different texture, even if the garlic packed a punch.  What was wrong?  We should have taken the time to soak dried chick peas.  It's far creamier and smoother.
Looking for another kind of healthy hummus without chickpeas? Then enjoy this broccoli hummus.
Don't Throw Out Tinned Chickpea Brine
However, if you do prefer to use tinned chickpeas, don't throw out the brine, known as Aquafaba.
Use this chickpea brine to make these Vegan Raspberry Macarons.
La Poichichade - Provençal Chickpea Spread
Thanks to my friend, Valérie Cortade, for the recipe. Please do use dried chickpeas and not the ones in tins: believe me, the taste is completely different.  The longest part is just soaking them in advance! Serve with toasts, on baguette slices or with raw veg (crudités) like radishes, cauliflower florets or carrots.
Poichichade - Provençal Chickpea Spread or Hummus
Provençal aperitif recipe for Poichichade, or garlic chickpea hummus, served with a good baguette, raw vegetables and chilled rosé wine.
Ingredients
250

g (9oz)

dried chickpeas

1

teaspoon

bicarbonate of soda

4

cloves

garlic

(3+1)

1

lemon, juice only

1

teaspoon

tahini paste

(or 2 teaspoon sesame oil)

3

tablespoon

olive oil

extra virgin

salt & pepper

to taste
Instructions
Leave the dried chickpeas to soak overnight in water.

Next day, rinse well. Rub them between your hands to release the skins, discard the skins and rinse again using a sieve.

Transfer the sieved chickpeas to a heavy based pan.  Add enough water just to cover the chickpeas and add a teaspoon of  bicarbonate of soda (this makes them easy to digest).  Add 3 large cloves of garlic and the bay leaf.  Cover and cook over a low-medium heat for 45 minutes. After the first 10 minutes, skim off any impurities that rise to the top and also discard of any more chickpea skins.

When cooked, drain the chickpeas and garlic, discard the bay leaf plus any more skins left, and leave to cool for 15 minutes.

Mix the chickpeas using a hand blender or mixer with the rest of the ingredients (adding the extra clove of garlic - or even more to your taste but beware - could be potent!), dribbling in the olive oil gradually until you have a good dipping consistency.  Chill for about 15 minutes.
Notes
Spoon into a bowl and drizzle with more olive oil.  Add some sesame seeds, smoked paprika or fresh parsley.  Serve with slices of good baguette, radishes, raw cauliflower florets, cucumber and/or carrot sticks.