When I heard the Veganuary challenge making its annual rounds, I realised I hadn't tried to make a vegan macaron yet. Now I've made this Raspberry Vegan Macaron Recipe and learned from the experience, I'm happy I have cracked the challenge of making macarons without egg whites.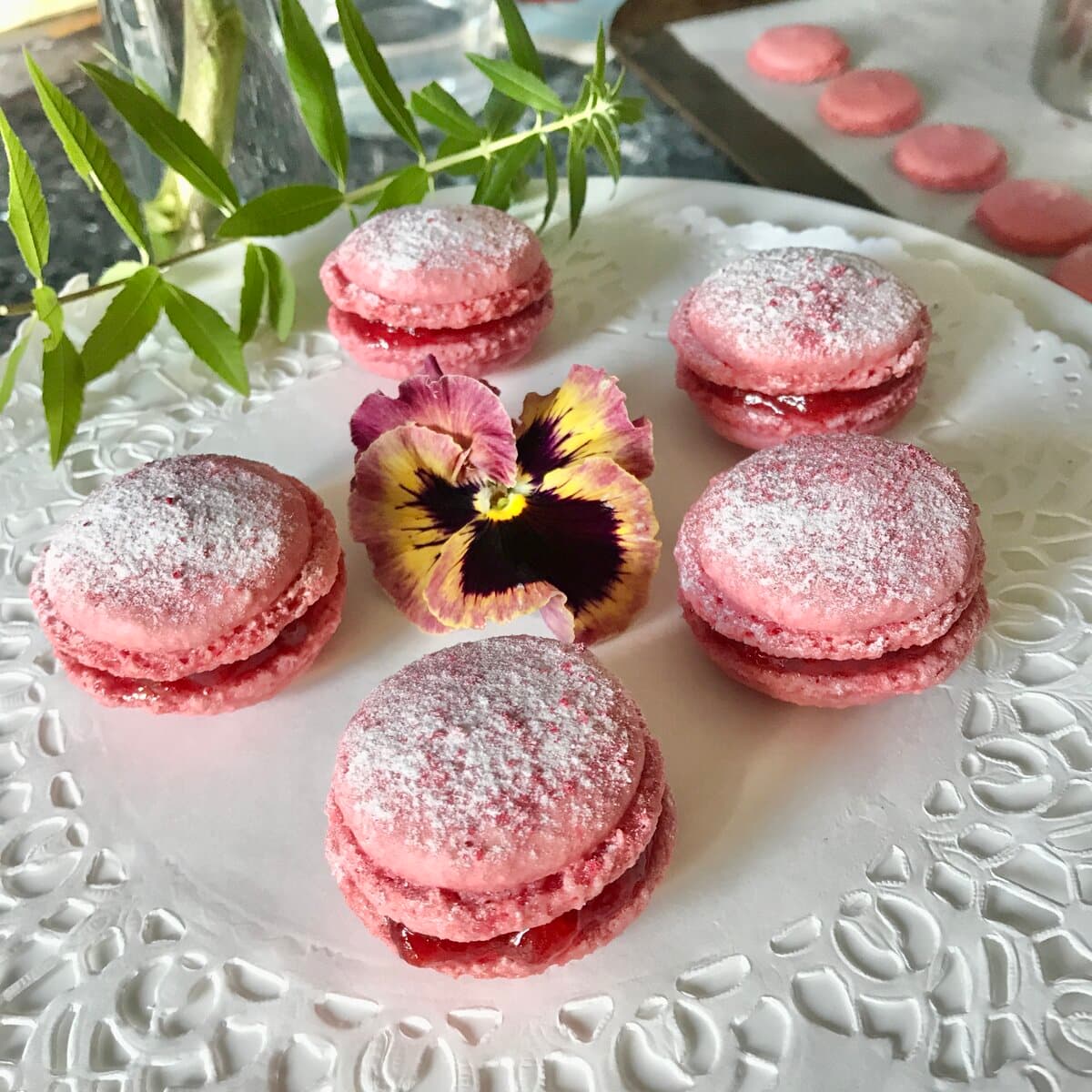 Are Macarons Vegan?
Lately I've heard people ask if macarons are vegan.  Classic Parisian macarons are made using egg whites so, while they are gluten free, they are not vegan. You'll find all of these recipes in both of my books.  However, the recipe below is for vegan macarons.
Flexitarian is my name: I rarely eat red meat, stick to poultry, fish and seafood as much as possible - in between at least a few vegetarian weekly meals. To be a vegan means carrying on eating a deliciously crispy French baguette but cutting out all that gorgeous unpasteurised French cheese, butter, milk and organic eggs I see so often at our local markets.
I'm simply not ready to give them up yet - even although I know I want to make the change eventually.  However, I do enjoy my healthy maple oat granola or spiced granola in the mornings with almond milk and, for vegan party food, make these energy bites in the form of no-bake chocolate and fruit snowballs and salted toffee cherry tomatoes, great with a glass of rosé. That's it, really - for now.
So why am I making these Raspberry Vegan Macarons so late in the day? I love a challenge and besides, I want to see if I can make eggless macarons using aquafaba.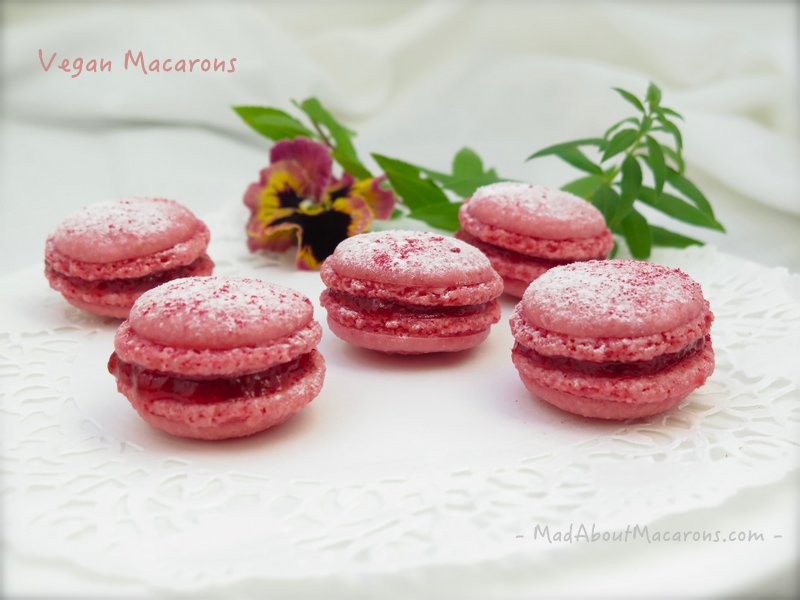 Raspberry Vegan Macaron Recipe (with Aquafaba French Meringue)
Aquafaba - it is miraculous to watch how this fancy name for the brine of tinned chickpeas or beans can go from a simple thick brown reduced liquid to a whipped up, shiny, regular-looking meringue. It looks like it's made from egg whites but it's easy to be fooled in the looks department: it's entirely vegan with no eggs used!
As with my regular macaron recipes in my books using egg whites, I use the French meringue method - so no candy thermometers are needed. It's a lot easier, producing just as good results.
All was going well, just as I would be making regular gluten-free French meringue macarons by both my books. Once I'd completed the macaronnage (basically the mixing of the batter to eliminate air bubbles and produce a shiny texture) it looked ready to pipe out the shells, even if a bit thicker than I'm used to.
Piping out the vegan macarons mixture, the batter was indeed thicker and a bit grainier than for my regular macarons and, therefore, susceptible to having pointy tops (I shall refrain here from what I normally call them!). Apart from that, no problem.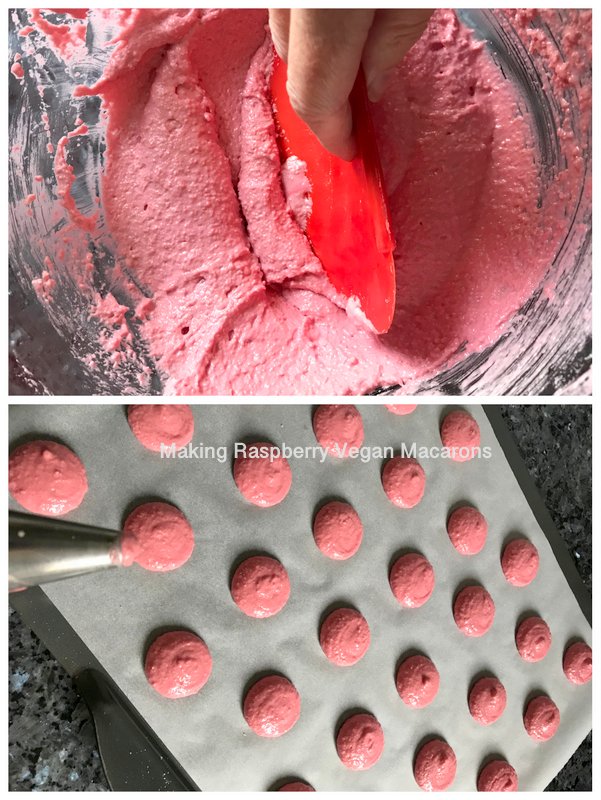 Making Vegan Macarons - Do I need to Air Them?
As for regular macarons, leave vegan macarons to sit out and air for at least 30 minutes before baking. Even using aquafaba for vegan macarons, the effect is the same: the outer layer becomes quite hard to the touch.
Once this happens, they're ready to bake.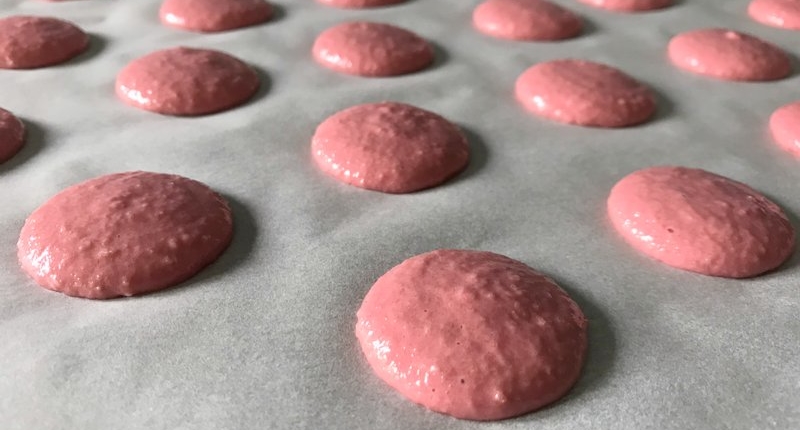 Oven Temperature for Making Vegan Macarons
I knew that Aquafaba doesn't like high temperatures and for making aquafaba meringue, it prefers lower temperatures much like for normal meringues. So, I reduced the oven slightly from my usual macaron temperature to 140°C fan just to try out the first batch.
Oh-oh. A totally maca-wrong move.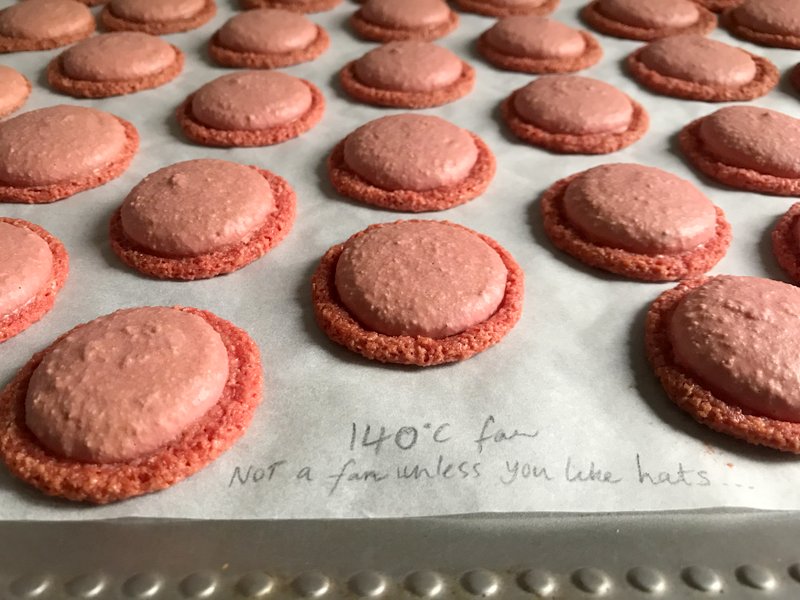 Clearly that first batch wasn't right!  The temperature was still FAR TOO HIGH.  As with making regular macarons, I bake the trays one at a time; just as well, as at least I didn't ruin the rest of the batter! I could easily correct it by reducing the oven temperature to 110°C fan (130°C) for the next batch.
Bingo!  It worked.  For the vegan macarons filling, I personally find it's not that easy to find tasty vegan ideas to sandwich the shells together, as I can't use normal chocolate ganaches or buttercream. I still need time to work on this part! The easiest to hand was homemade raspberry jam - or try it with rhubarb, hibiscus & rose jam. Another easy vegan macaron filling is classic peanut butter but that would look strange with pink.
When ready to eat next day, I sprinkled them with some freeze-dried raspberry powder for that extra raspberry flavour.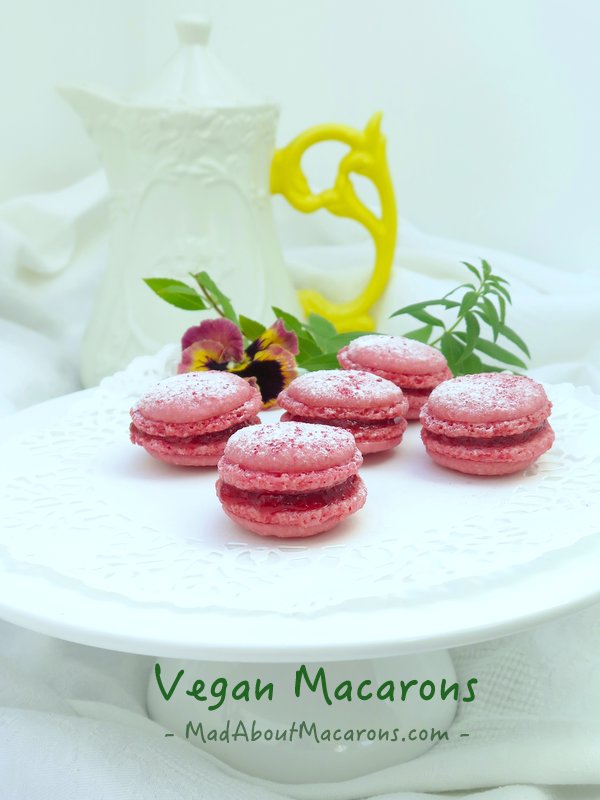 Vegan Macarons - My Conclusion
At first glance, these vegan macarons look like regular macarons using egg whites. However, they're not quite as picture perfect compared to my classic Parisian macarons. I'm happy these vegan macarons had feet and no hollows, even if they were slightly sticky - there's still room for improvement! I feel that the most important element in French patisserie is taste before looks. So, for vegan macarons I need to work on that part first before really working on the perfectly smooth appearance.
Their taste, however, is nothing like regular macaron shells - no matter how much you hear, "Don't worry; it will taste better in the end". I added vanilla powder and some natural raspberry powder, just to help it along the way for flavour points. The eventual taste of the vegan macarons shell is strange, especially with raspberry: definitely sweet but there is the "weird" sensation with the aftertaste of, well, chick peas.
Although it's good to know we can produce vegan macarons, I'm sticking to my own traditional French-meringue macarons using egg whites for now.  That's at least until I can work on perfecting the same kind of taste we're used to from all these wonderful classic Parisian patisseries.
Mad About Macarons - Macaron Recipe
For my classic Parisian macaron recipes, you'll find most of them in Mad About Macarons! , along with detailed step-by-step instructions with tips on troubleshooting, decorating them, making for weddings etc. - and in the chapter devoted to macarons in my latest book, Teatime in Paris.
Don't forget that regular Parisian macarons are made with egg whites but are gluten free.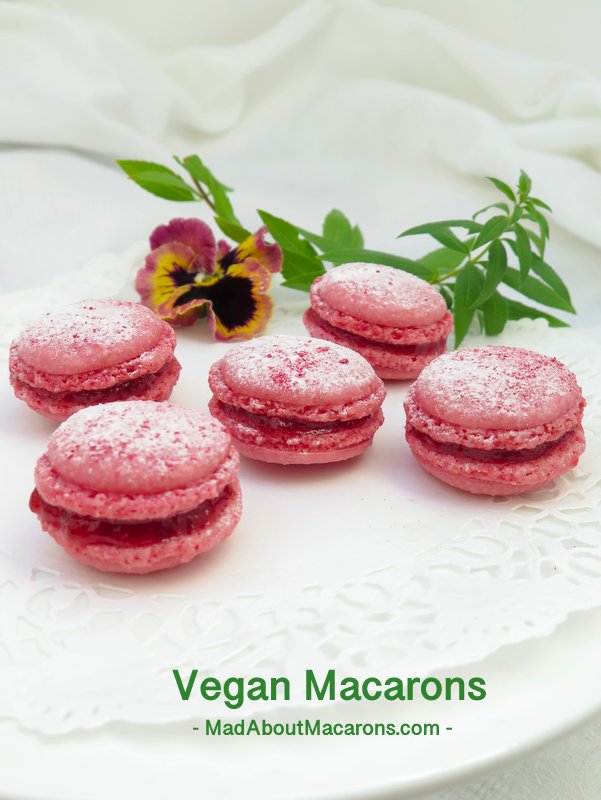 Troubleshooting Vegan Macarons
Like regular Parisian macarons, ensure you weigh your ingredients by the gram or ounce using a digital scale (this article link explains why) and follow the recipe to the letter.  Although not difficult to make, following the recipe through exactly will achieve the right result, although the only other culprits could be your ingredients and oven, as all ovens behave differently. For this, I'd suggest an oven thermometer, just to ensure your oven is doing what it says it's doing;
As with regular Parisian macarons, avoid using liquid colouring as it waters down the meringue, making it difficult to work with.  I use powdered colouring where only a quarter teaspoon, for example, is needed. For stockists, see baking chat for more information;
Like regular Parisian macarons, bake each tray one at a time.  It's more time consuming - and even more so for vegan macarons - but worth it as home kitchen ovens normally just don't like dealing with it. Leaving the vegan macarons in the oven with the door open for 15 minutes at the end of baking proved to work so much better;
When baking vegan macarons, it's totally different to baking regular Parisian macarons: the vegan aquafaba meringue prefers a lower oven temperature and baked (much like meringues) for longer.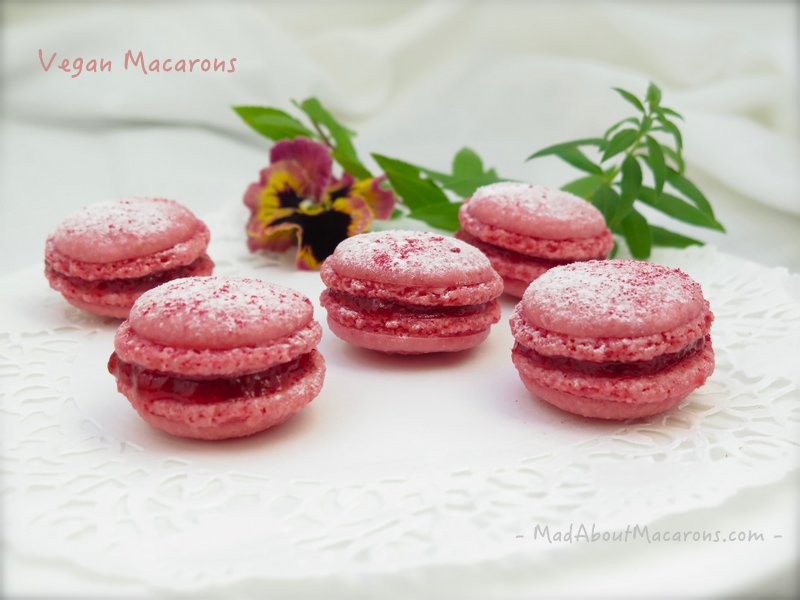 Vegan Macaron Recipe
Raspberry Vegan Macarons
Picture perfect raspberry vegan macaron recipe. Eggless macarons made with Aquafaba (brine from tinned chickpeas) French meringue and filled with lemon verbena infused raspberry jam.
Ingredients
100

g (3.5oz)

Aquafaba, chickpea brine

(reduced from a 400g tin)

75

g (3oz)

caster sugar

½

teaspoon

cream of tartar

150

g (5.5oz)

finely ground almonds

(almond flour)

150

g (5.5oz)

icing/confectioner's sugar

pinch

powdered pink colouring

or beetroot colouring (optional)
Instructions
Drain the brine/liquid from a 400g tin of chickpeas into a saucepan. Reduce the liquid (uncovered) on low-medium heat for about 10 minutes until reduced to about ⅔. Leave to cool then refrigerate overnight.

Using a stand mixer (or with electric hand beaters), whisk the aquafaba and cream of tartare in a large bowl, adding the caster sugar gradually once it starts to foam. Continue to whisk, gradually on high speed for 10 minutes or until the aquafaba starts to form firm, glossy peaks. If using, add a good pinch of pink powdered food colouring.

Sift the ground almonds and icing sugar into a large bowl, putting aside any leftover bits of almonds for decorating desserts later. Add the whipped aquafaba and, using a good flexible spatula, mix the ingredients together until combined. Beat out any air using pastry scraper, continuing back and forward until the batter is glossy and falls off the scraper. Transfer the batter to a piping bag with a plain tip (8mm).

Line 2 flat baking trays with baking parchment (I prefer this to a silicone mat, as it's easier to produce feet). Pipe out small rounds, leaving enough space between each (they will spread in the oven slightly) .

Leave the trays out to air for about 30 minutes until they are quite hard to the touch. If still too soft, leave out for longer. Preheat the oven to 130°C/110°C fan/250°F/Gas ½.

Bake each tray separately for 15 minutes. Turn the oven off and leave the tray in the oven with the door open for a further 15 minutes (this sounds cumbersome but after experimenting was the best way for this recipe). Leave to cool.

For the filling: Arrange the macaron shells into pairs and marry each couple together by piping out one half with raspberry jam, top with the other shell then set aside in the fridge for 24 hours. (I heated up a quarter of a jar of raspberry jam with a few lemon verbena leaves and left the jam to cool).