Easy Christmas granola makes the best healthy gifts with no added sugar. Conjure up festive flavours for breakfast with its warming gingerbread spices, orange, cranberries, crunchy pecans, seeds and toasted oats.
Is there a Healthy Granola?
Not all granolas are good for you - particularly as supermarket granolas receive some pretty bad publicity in the news. Not only have many commercial granolas been found to contain too many pesticides but they also contain far too much sugar.
So to enjoy a really healthy granola, make your own homemade version. This way you can control the sugar content and add your favourite healthy combinations. This recipe is a healthy granola as it contains no added sugar whatsoever. For the maple syrup, oats, seeds etc, please use organic ingredients if possible.
Another reason why granola has a reputation of being bad for you is on the calorie count with the amount of nuts it contains. Moderation is key (modération is such a popular word in France, referring to eating!).
Just follow the quantities I give below in the recipe. In any case, after a bowl in the morning, you'll probably find that it's pretty filling to set you up until lunchtime. This granola also makes a healthy dessert around Christmas time.
Healthy Granola - Sugar Free
As with all my recipes at home, I always taste-test until I've reduced the sugar to a minimum. As with my homemade maple granola, no sugar is needed at all. The natural sugars from the dried fruits (cranberries and apples) are also sweet enough to start the day, coming from the maple syrup and the dried fruits.
It's also vegan as it doesn't contain honey.
How do you Package Christmas Granola as Gifts?
This Christmas granola makes the best edible gifts. Not only is it delicious but it's sharing something a bit healthy with festive spices.
Just wrap into cellophane bags and tie up with a ribbon and the granola keeps well in a cool, dry place for a month.
How to Make Christmas Granola
First, watch my video how to make the basic homemade granola.
Although this video is for chocolate granola, the recipe base is the same, whether with or without chocolate.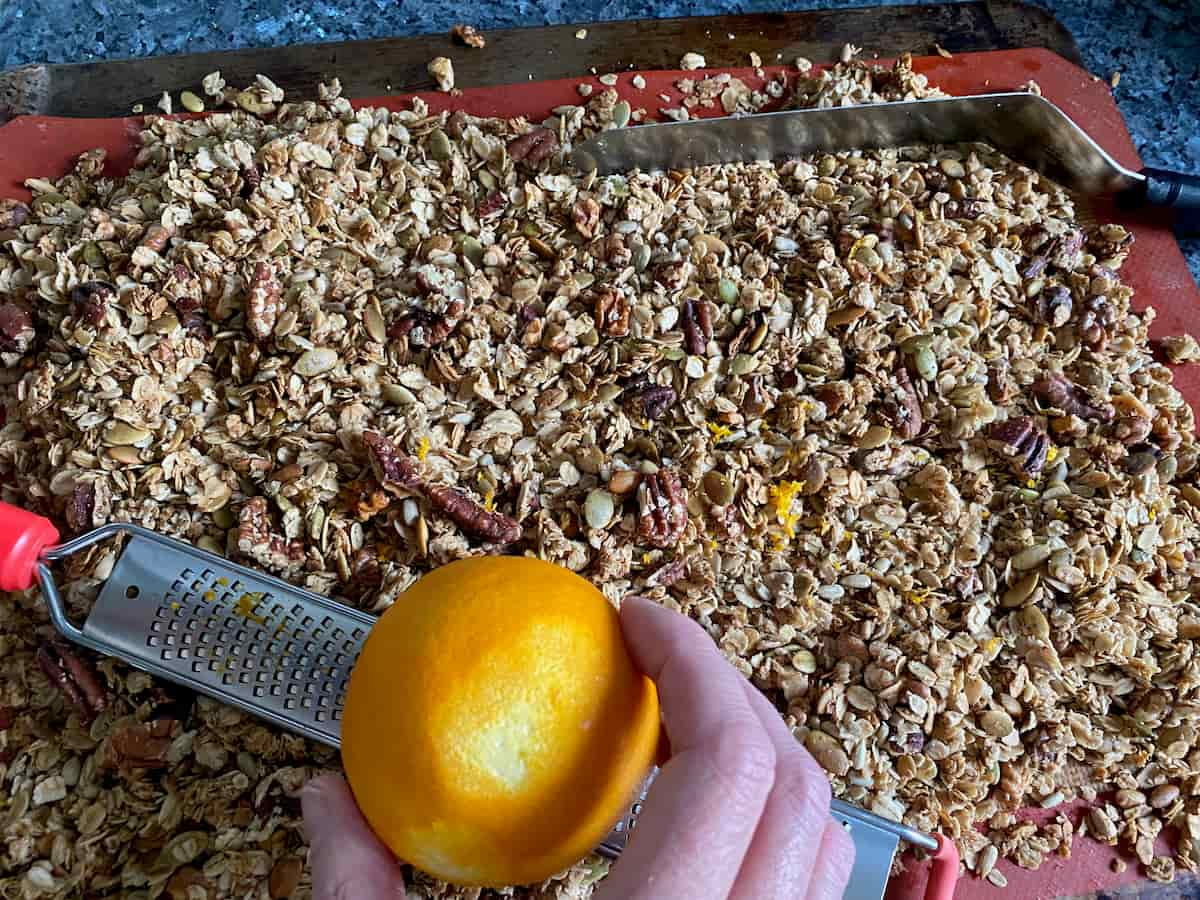 To conjure up festive flavours, add warming spices, orange zest and special Christmassy nuts such as brazil and pecan nuts, plus healthy walnuts, which are great for lowering cholesterol.
For festive red and green colours, add dried cranberries or goji berries, to add a touch of festive natural red, along with the green pepitas.
The orange zest is what adds the extra Christmas flavour. The amount of zest may seem a lot, but the flavour reduces as it toasts in the oven. The result leaves just the right amount for a cosy, Christmas hint at breakfast time. If you prefer more orange, then add more zest after baking.
In France, classic French gingerbread (pain d'épices) is particularly popular at Christmas. The spices used for it is actually just called pain d'épices or gingerbread spice, which is best to use in this festive granola. If you can't find it, use apple spice which is closest or make your own.
How to Make your Own Gingerbread Spice
If you can't find gingerbread spice (French pain d'épices), make your own gingerbread spice. It's easy to make - just combine the following:
1½ teaspoon ground cinnamon
¼ teaspoon ground nutmeg
¼ teaspoon ground ginger
¼ teaspoon ground cloves
What's more, ça va sans dire (it goes without saying) that you can enjoy this at ANY time of year!
How to Serve Christmas Granola
Serve Christmas granola with clementine oranges or berries: fresh raspberries, blueberries, strawberries or other available berries. However, it's not always easy to find the best tasting ones out of season.
So enjoy with the season's apple compote. We also love to serve this with rhubarb compote - it is easily adaptable using berries (even frozen during winter) instead of rhubarb.
Also delicious with roasted spiced plums (see the recipe on the plum page). Made in advance and frozen, serve defrosted for an extra special Christmas treat.
Healthy Christmas Granola
Easy Christmas granola makes the best healthy gifts with no added sugar, festive gingerbread spices, orange, cranberries and crunchy pecans.
Ingredients
300

g (11oz/3 ¾ cups)

medium porridge oats

100

g (3.5oz/¾ cup)

pepitas

(unsalted pumpkin seeds)

50

g (1.75oz/ ⅓ cup)

sunflower seeds

50

g (1.75oz)

pecan nuts

broken

50

g (1.75oz)

brazil nuts (or hazelnuts/walnuts)

roughly chopped

good

pinch

good quality salt

(fleur de sel, Maldon or Celtic salt)

2

teaspoon

gingerbread spice (pain d'épices)

SEE NOTES*

1

unwaxed orange

grated zest only

3

tablespoon

sunflower oil

(or other neutral oil)

5

tablespoon

maple syrup

80

g (3oz/½ cup)

dried cranberries

30

g (1oz/2 tbsp)

dried goji berries

(or dried apple slices)
Instructions
Preheat the oven to 170°C/150°C fan/340°F/Gas 3.

Measure all the ingredients (except the dried fruits) and grate the zest of the orange in a large bowl. Stir to mix them all well together and bind with the oil and maple syrup.

Grease a large rimmed baking tray with more oil or use a baking tray covered with baking paper (or silicone mat). Spread out the oat mixture by shaking the tray gently from side to side.

Bake in the oven for about 10-15 minutes, turn over the mixture to ensure the mixture is toasted evenly, and bake for a further 10 minutes or until lightly toasted brown.

Leave to cool completely for about 30 minutes then add the dried fruits.

Tip into a cookie jar or airtight tin or into Christmas gift bags tied with ribbons.
Notes
Serve with the milk of your choice and fresh berries, rhubarb compote or apple compote.
Storage: in an airtight container at room temperature. Enjoy at its best and consume within 10 days.
*Spice: If you can't find gingerbread or apple spice, make your own blend:
1½ teaspoon ground cinnamon; ¼ teaspoon ground nutmeg; ¼ teaspoon ground ginger; ¼ teaspoon ground cloves.
Although I've indexed this under gluten-free recipes, please note that Coeliac sufferers may not be able to include oats in their diet. Please ensure that oats are marked gluten free if you're following a strict gluten free diet.
Measures: Please note that all my recipes are best made using digital kitchen scales in precise metric grams. Both ounces (and cups) are given as an approximate guide. 
This recipe was first published 9 December 2017 but is now completely updated.