What's the best apple compote? Simply homemade. Quick and easy French apple compote recipe without sugar. Serve as dessert on its own, dollop on pancakes or discover many more uses for it.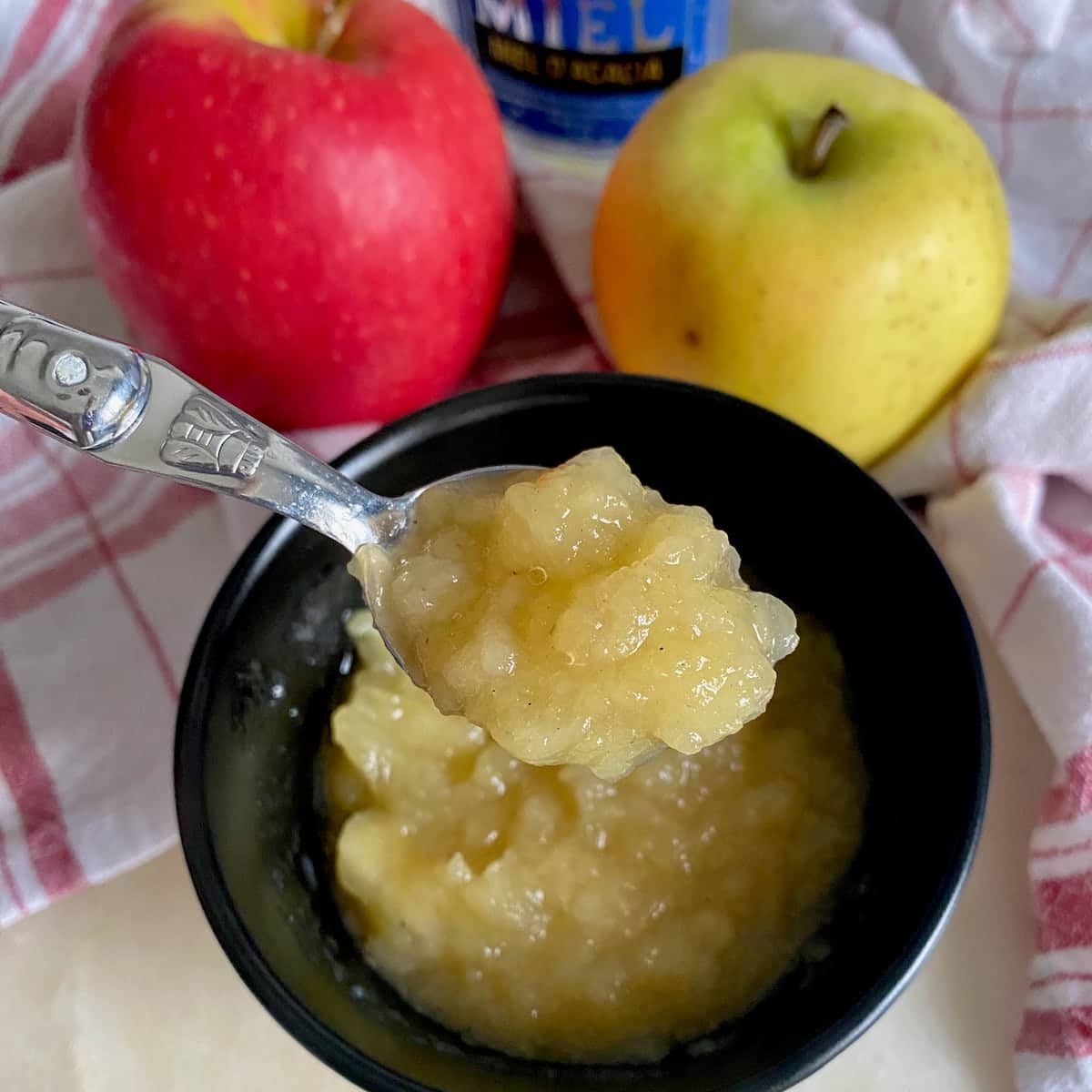 What is Compote?
According to both Larousse Gastronomique and Auguste Escoffier's Guide Culinaire (1907), compote (pronounced Kom-pot) is a
"...preparation of fruits, fresh or dried, cooked (either whole or chopped) in a sugar syrup. With fresh fruits, they are poached either on slow or high heat."
In France, compote is so popular as it's eaten on its own for breakfast, dessert, as baby food or as a children's goûter or teatime snack after school. What's more, it's used to accompany all kinds of foods and form the basis of a few cakes and pastries. Unlike outside of France, we tend to eat it as a dessert rather than accompany savoury dishes - generally speaking that is - as below, there are a couple of exceptions.
What's the Difference with Jam?
As compote is made with much less sugar than jam, the difference is the shelf life. Homemade compote lasts only a few days in the fridge whereas jams can keep for 2-3 years well sealed in jars.
The amount of sugar in jam helps to preserve it. As I say in my recipe for Corsican fig jam, by law, French confiture or jam can only be considered and labelled as jam if it has 55% of sugar ratio to fruit. However, in my jam recipes, I am constantly going against the tide and lowering sugar as much as possible.
How Long Does Apple Compote Keep?
Commercial compotes last so much longer than homemade. Our popular French compotes sold in the fridge sections last about 6 months. Although there are those long-life over-sugared compotes for those unfortunate to taste in hospital or stranded for hours on a broken-down TGV train in the middle of France with a long-life UHT urgency picnic. It's as close as you'll get to a piece of fresh fruit and they have a sell-by date of 2-3 years away.
Many of them come in fancy packaging from little plastic pots to large glass jars - to individual plastic 'gourdes' so that children can enjoy them directly on the way home from school by sucking it out of the top.
However, think of all the packaging you're saving by making homemade. It will last for up to a week if stored sealed in the fridge. It also freezes well for up to 3 months.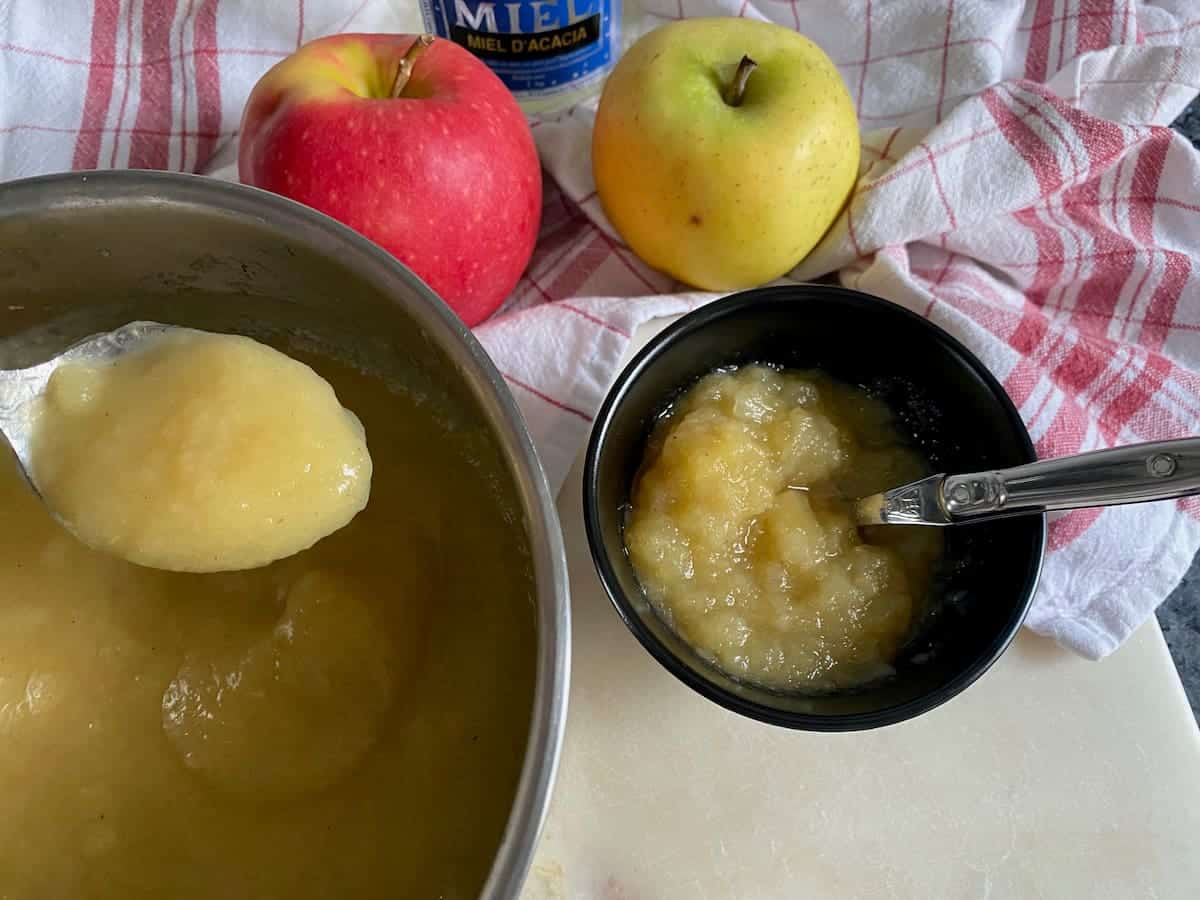 Is Apple Compote the Same As Apple Sauce?
Blended, it resembles more a sauce as it's more liquid but it's the same thing. It's what babies start out on as a sauce then, as they get older, they're introduced to the 'bits in it'. That is unless you have all 4 Wisdom teeth removed like my daughter last week - I needed to blend it as liquid food to help with her recovery.
Our compotes sold in French supermarkets are all sold as compote - even if it's well blended like a sauce. Compote with bits in it is just labelled as 'compote avec morceaux'.
So, in my humble opinion, there's no difference between compote and sauce. As it's exactly the same recipe, it's either served with bits in it or blended into a smooth sauce.
Why is it Called Compote?
Growing up in Scotland, we just called this 'stewed apples' but in French, the word comes from the verb, compoter which means to cook slowly over a low heat to obtain a consistency of compote or stewed fruit. ('Dictionnaire culturel de la langue française', Alain Rey). Thanks to belle-maman for that one, as she's a French literature professor.

Compote as a familiar French expression: Antoine's uncle (tonton Claude), not just adores it but I've heard him use the expression 'j'ai mes jambes en compote' when his legs are aching after a long walk. If it's emotional, the same expression can mean that your legs feel like jelly.
Writer Zola also referred to having a 'compote eye' in l'Oeuvre, meaning bruised.
A Compote (or Compotier) is also a stemmed glass bowl, usually made of crystal, to serve stewed fruits or poached fruits - ideal for these poached pears in coffee and vanilla.
What Kind of Apples are Best?
To make compote, the kind of apples doesn't really matter too much but it's best to choose the sweeter varieties as they tend to turn more mushy. Granny Smith are harder apples and much tarter, so are not as good. The best are all-rounders such as Golden Delicious, Cox's Pippins, Pink Lady, Braeburn etc.
The best way to make compote, is to vary the kinds of apples. For example, for 2 kilos, I'll use mainly Golden with a Braeburn and 2-3 Chantecler.
Tip: At the end of cooking, taste test first.
Add a little more sugar or honey to your own preference if the apples end up being rather tart. 
For much more, see the French market page on apples.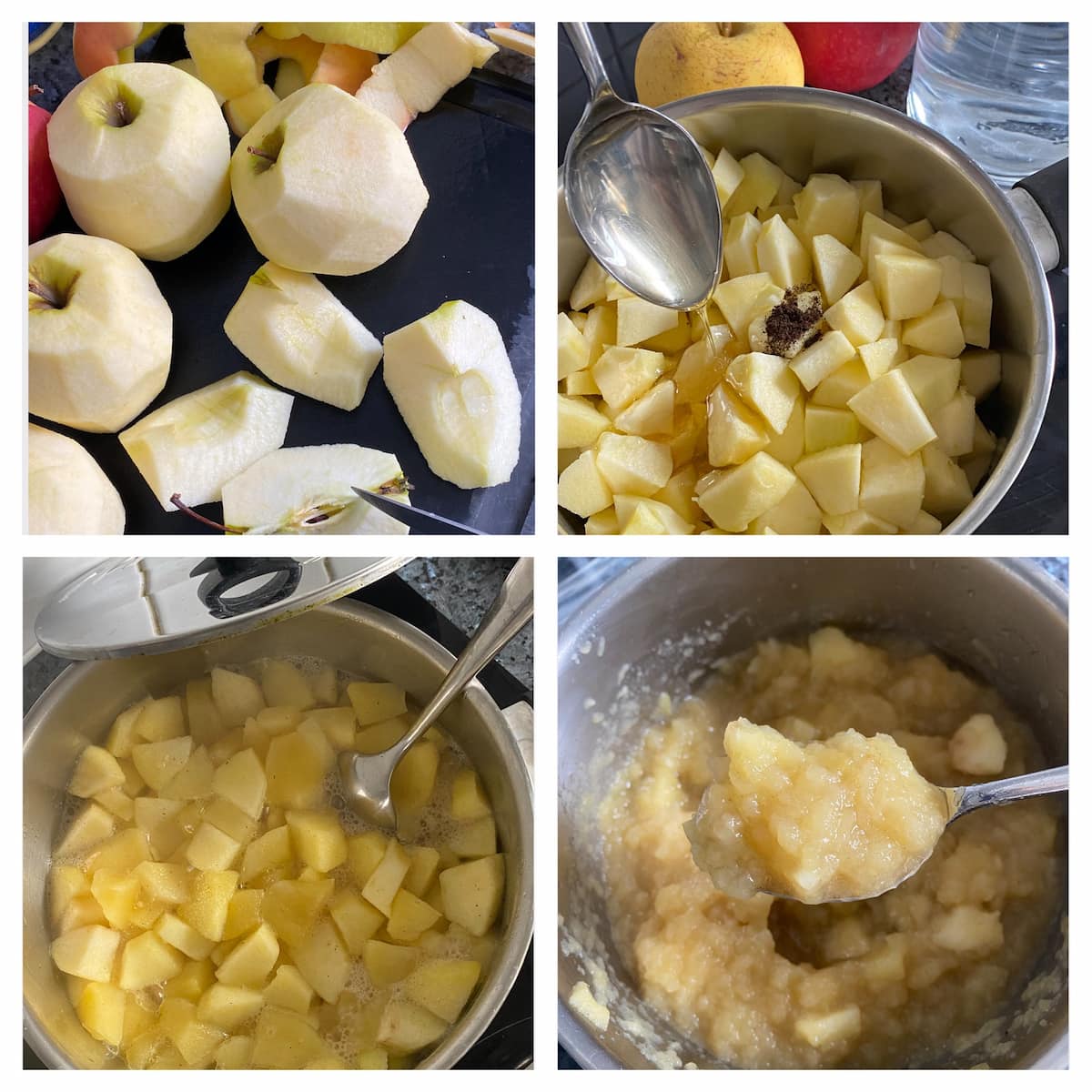 How to Serve Apple Compote
Serve as an accompaniment on top of all kinds of breakfasts, desserts and even savoury - such as:
Served on its own, or as an accompaniment to more desserts and cakes: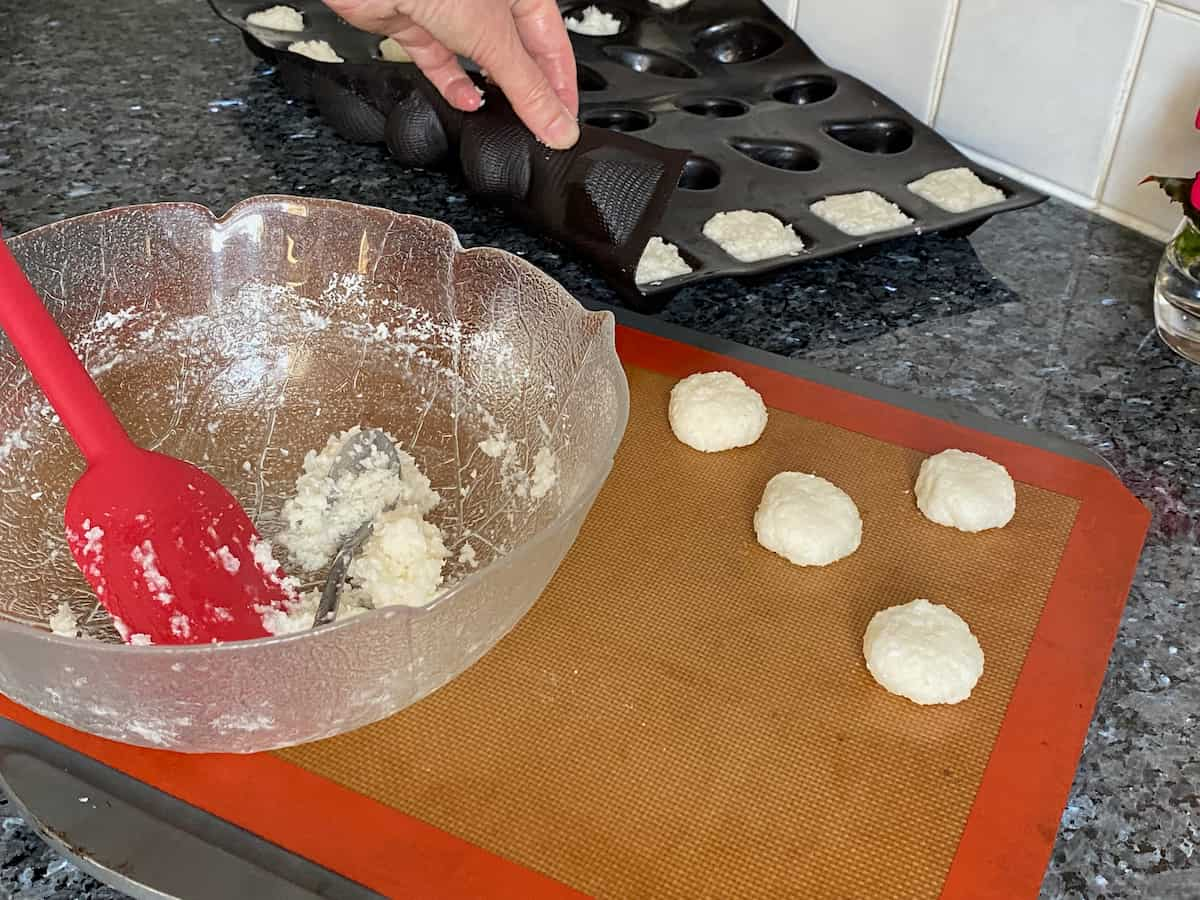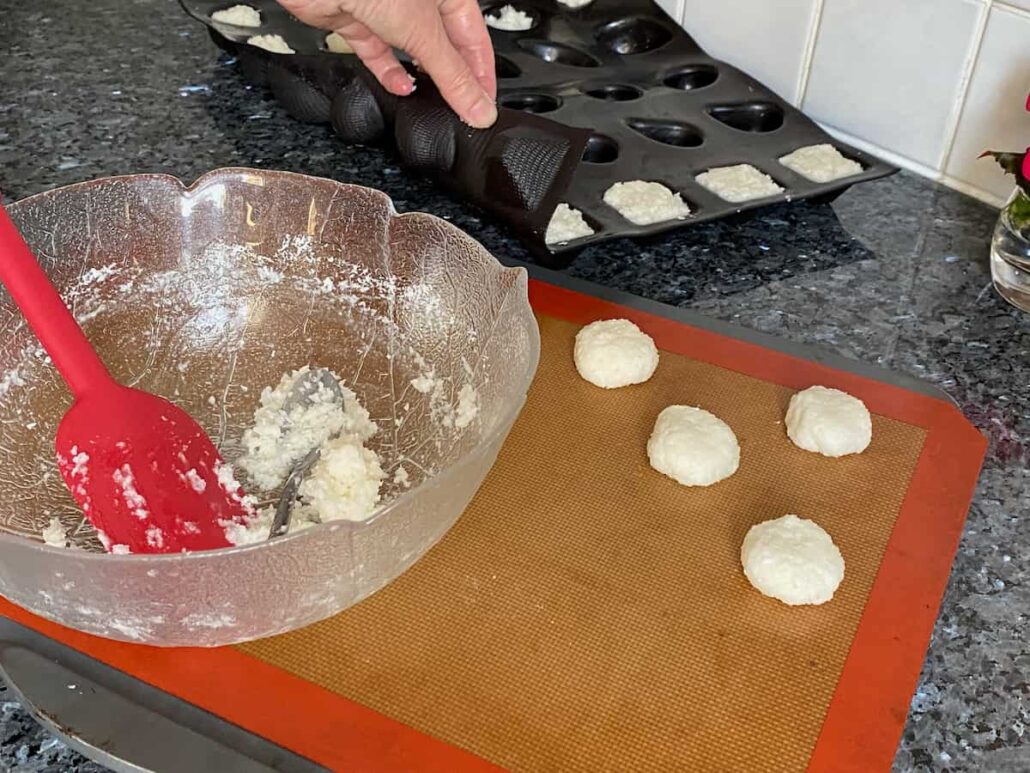 What is an 'Compote de Pomme' Used For?
It's sounds funny, doesn't it? What exactly is it used for in French cuisine? Well, as I have discovered with many French chef friends, it's used as a natural thickener to certain cakes or pastries as apples contain pectin.
For example, when I filmed my friend Laurent at his bakery in Saint-Germain-en-Laye, he uses his own compote de pommes to help naturally thicken the mixture to make les Rochers Coco - otherwise known as Coconut Macaroons.
After Laurent telling me his tip of adding honey instead of sugar at the boulangerie (you can see him talk about it in the  recipe video for coconut macaroons), I tried it and this is how I now make mine too! Ok - I also add a little vanilla...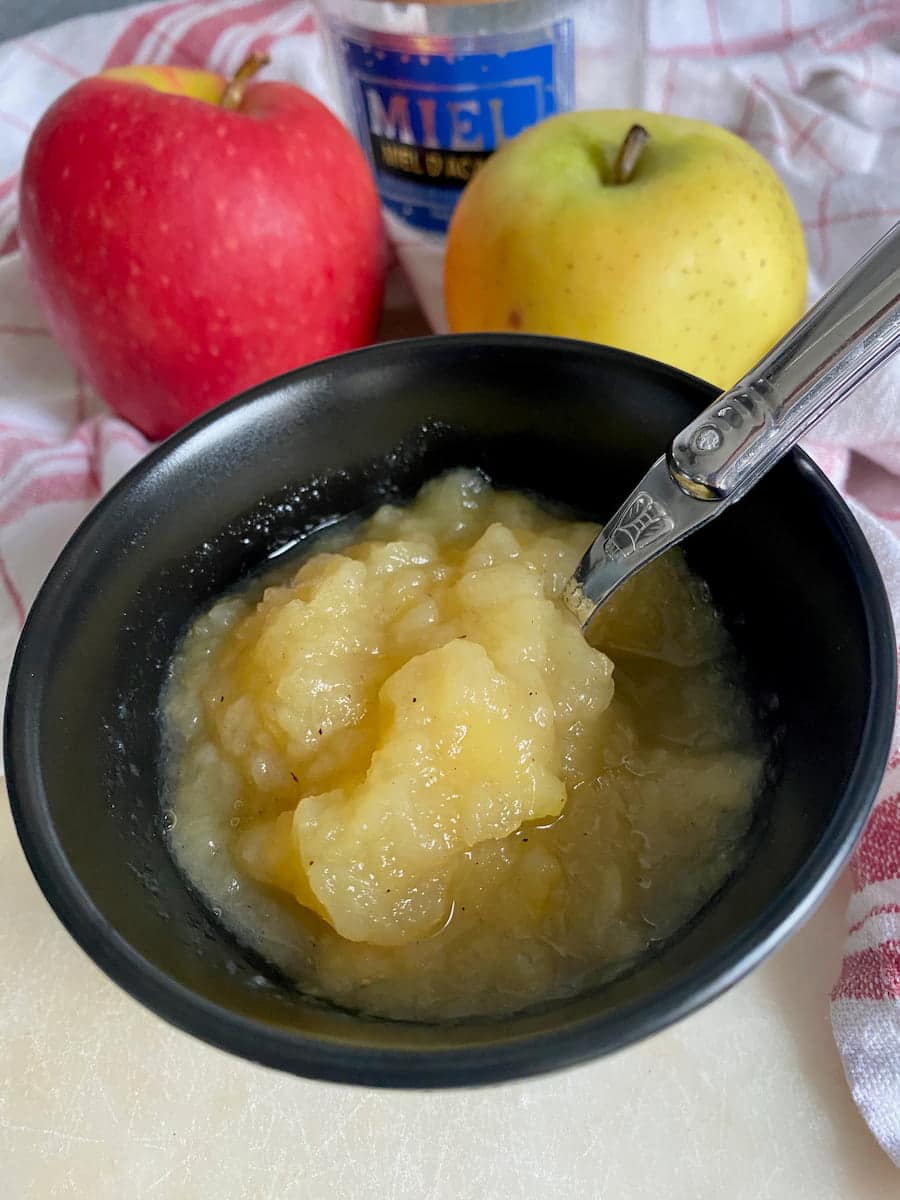 Easy Apple Compote Recipe
Which leads me to what inspired me for this French recipe. Antoine's Tonton Claude had the most amazing garden with many apple trees near Troyes (in Champagne country) and always made this compote. So much so, we call it Tonton Claude's compote.
Normally compote is made first with a syrup - just like in this rhubarb compote infused in a syrup with tea.
This is far easier and quicker. It has no added sugar, just the natural sugars and honey. If you prefer it slightly sweeter, then add a little sugar to your taste. If you prefer to make this in the oven, leave it for 30 minutes or cook quickly in the microwave.
Apple Compote
Quick and easy French apple compote recipe without sugar. Serve as dessert on its own, dollop on pancakes or enjoy with many other desserts or savouries.
Ingredients
2

kg (4½lb)

apples

peeled and cored (weight with peel etc.)

½

teaspoon

vanilla powder

or 1 teaspoon vanilla extract/1 vanilla pod or bean

1

tablespoon

runny honey

Acacia

100

ml (½ cup)

water
Instructions
Peel and core the apples, discard the pips and chop them up roughly. Place them in a saucepan with the vanilla, honey and water.

Stew the fruit over a low-medium heat covered. Stir occasionally and after about 15-20 minutes, the apples will collapse into a purée.

Either stir a bit more to keep a compote with bits. If you prefer a smooth sauce, then blitz it with a hand blender or in a processor.
Notes
Storage: keep in a sealed glass jar in the fridge for up to 5 days or freeze.
If you're worried about the apples browning while chopping them, add a little lemon juice, although it's not necessary.
Variations: in place of the vanilla, infuse a cinnamon stick or ½ teaspoon ground cinnamon. Also good made with half pears.
Nutrition: per 336g portion for 6 people: GI 24, 1g protein, 1g lipids.
This compote recipe was first published on 27 April 2016 for rhubarb compote but has been completely updated for a more simple apple version.