When we're looking for satisfying, healthy comfort food using cupboard ingredients, then this Quick Almond Milk Rice Pudding ticks the boxes.
Made the night before, we love it chilled or slightly warm for breakfast. Topped with toasted almonds and served with extra dried fruits, it's all prepared in just 35 minutes (see topping ideas below). What's more, these creamy pots happen to be dairy free, gluten free and vegan.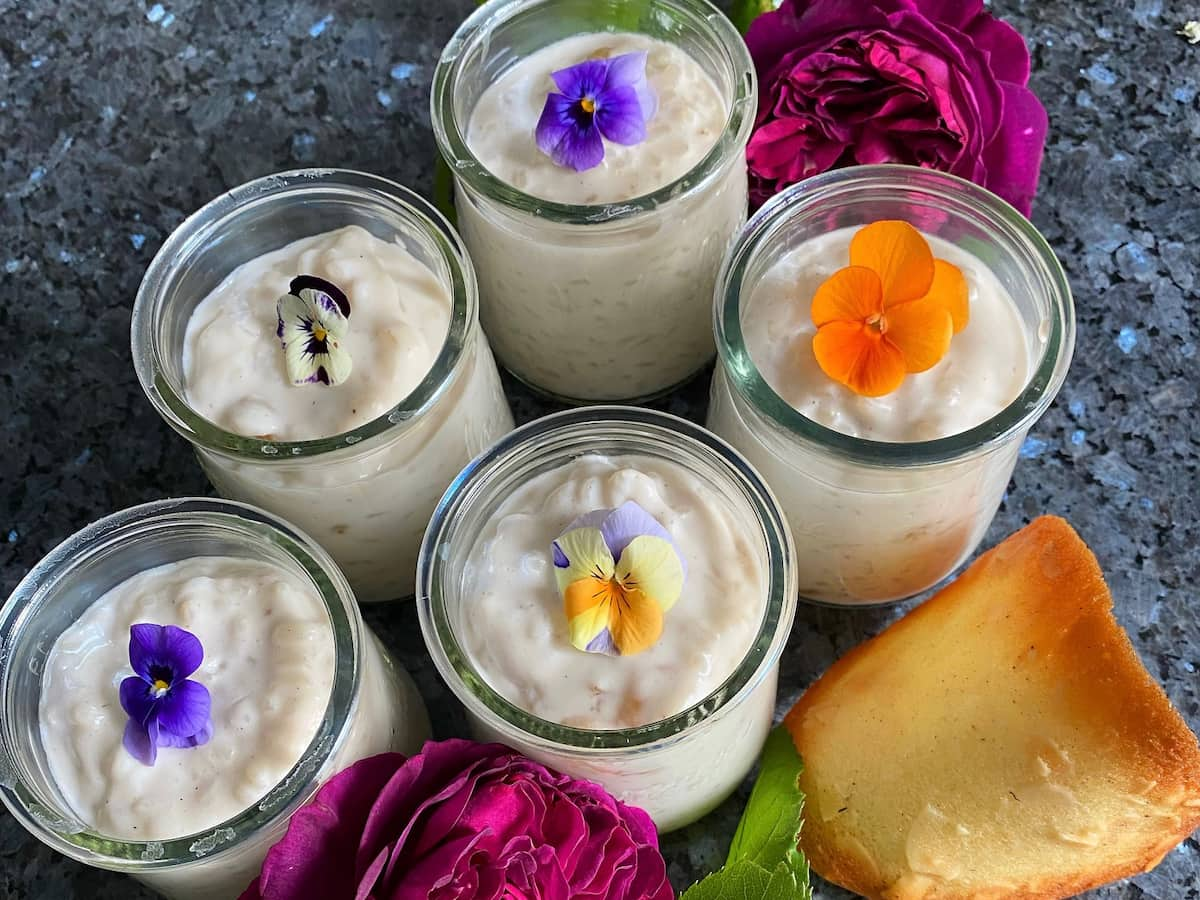 Read on to discover the version of almond milk rice pudding that Alexandre Dumas made, according to his Grand Culinary Dictionary (1873).
Quick Almond Milk Rice Pudding – Make it a Pantry Staple
Only a couple of weeks ago, I found myself reaching for more long-life cupboard ingredients at the supermarket that could come in handy over time. Although I can't find an alternative to fresh cow's milk for my morning bowl of coffee, as a family, we have completely converted to serving almond milk with our breakfast maple & oat granola.  Yippee!  We're making progress on the vegan front, albeit slowly but each step helps, I hope.
Almond milk's shelf life is long, making it an ideal pantry staple. What's more, it is fortified with calcium, is lactose-free and is lower in calories than regular milk.
Note: for those who are allergic to nuts or almonds, replace almond milk with coconut milk.
Moreover, what's more exciting than having a delicious challenge to make gourmet food with simple, easy-to-find ingredients?
Sweetened vs Unsweetened Almond Milk
Normally I spend time checking labels but exceptionally, this time around, in my speed to get organised as quickly as possible, I reached for our local French supermarket's own brand of almond milk.
As Lucie poured it over her coveted dark chocolate & coconut granola the other day, she was shocked at how sweet it was. Reading the label together – to our amazement – the brand had added sugar to the almond milk.
Who adds sugar to milk, I ask you?
Ideal Recipe for Sweetened Almond Milk
Clearly we had to find another use for this sweetened almond milk. So that no food would go to waste, I tried out my favourite French creamy riz au lait recipe, using less rice, much less sugar, no egg yolks and came up with this creamy almond milk version.
I literally added just a couple of tablespoons of raw cane sugar to this rice pudding but if you are using an organic, unsweetened almond milk (like we normally use from the health food store), then use the sugar quantities I've stated in the recipe below.
What Can I Use Instead of Almond Milk?
Don't have almond milk in the pantry? Then rice milk or soya milk are great almond milk substitutes, keeping the rice pudding creamy.
Rice Pudding Topping Ideas
If you like the touch of rose to desserts, then I urge you to add just a little rosewater to this (see recipe below).  Topping the rice puddings just takes it to another level. Here are some ideas, based on what you have at hand:
Toasted almonds (or any other nuts) just adds that perfect crunch and brings out the natural almond flavours too. Either toast them for a few minutes under the grill or dry-fry in a frying pan.
Top with a spoonful of jam – even better if slightly warmed so that it melts on top. I love fig jam, rhubarb & rose jam (or my strawberry & elderflower speedy jam in my book, 'Teatime in Paris') – or serve with this rhubarb and hibiscus compote – it's fabulous.
Oat praline topping. Incidentally, make a batch of it and store it in a jam jar and use to top on ice cream or any dessert.
Bon appétit !
Almond Milk Rice Pudding by Alexandre Dumas
I discovered recently that Alexandre Dumas (author of 'The Three Muskateers' & 'The Count of Monte Cristo') listed Almond Milk Rice Pudding in his impressive 'Grand Dictionnaire de Cuisine' (1873). The recipe he uses is just like the one below but without any dried fruits, vanilla or rose water. Instead he adds just a little lemon zest and a couple of almond leaves if you prefer to make something a bit more historical about your rice pudding!
Quick Almond Milk Rice Pudding
Almond Milk Rice Pudding
---
Description
A Quick French Riz au lait rice pudding made with organic almond milk for a healthy vegan breakfast or dessert and an easy recipe to prepare using long-life cupboard ingredients.
Ingredients
1

litre (4 cups)

organic almond milk (6%)

(unsugared)*

1

vanilla pod/bean

(or 1/2 tsp vanilla powder/extract)

140

g (5oz/¾ cup)

short grain pudding rice

(arborio/risotto rice)

30

g (1oz/2 tbsp)

golden sultanas

(raisins or other dried fruits)

50

g (1.75oz/¼ cup)

sugar

(I use raw cane sugar)

1 tsp

rose water or lemon zest

slivered almonds

(optional, for decor)
Instructions
In a large saucepan, bring the almond milk to the boil with the vanilla pod, if using (or vanilla powder/extract). Remove the vanilla pod, scraping out the seeds with a sharp knife and return the seeds to the pan.

Rain in the rice, sugar, rose water and dried fruits. Using a wooden spoon, stir every 3-4 minutes so that the rice doesn't stick together.

The rice pudding will start to thicken after 25 minutes. Continue to stir gently for another 5 minutes and transfer to individual pots or dishes. Leave to cool and either serve or chill and serve next morning.
Notes
Note:
If you discover your almond milk contains sugar, reduce the sugar by at least a half.
Serve chilled or at slightly warm with toasted almonds (toasted for a few minutes under a grill or dry-fried in a frying pan) and any topping of your choice: e.g. chopped dried apricots, dates, figs, chopped banana, walnuts.
Don't have almond milk? Rice or Soya Milk also works just as well.
See my other recipe here for a more classic (non vegan) French custardy rice pudding, using egg yolks.
Measures: Please note that all my recipes are best made using digital kitchen scales in precise metric grams. Both ounces (and cups) are given as a guide.