The most creamy lemon sauce to serve with roast chicken, turkey or to accompany vegetables. Quick and easy savoury recipe without butter – just chicken stock, cream, lemon and three egg yolks.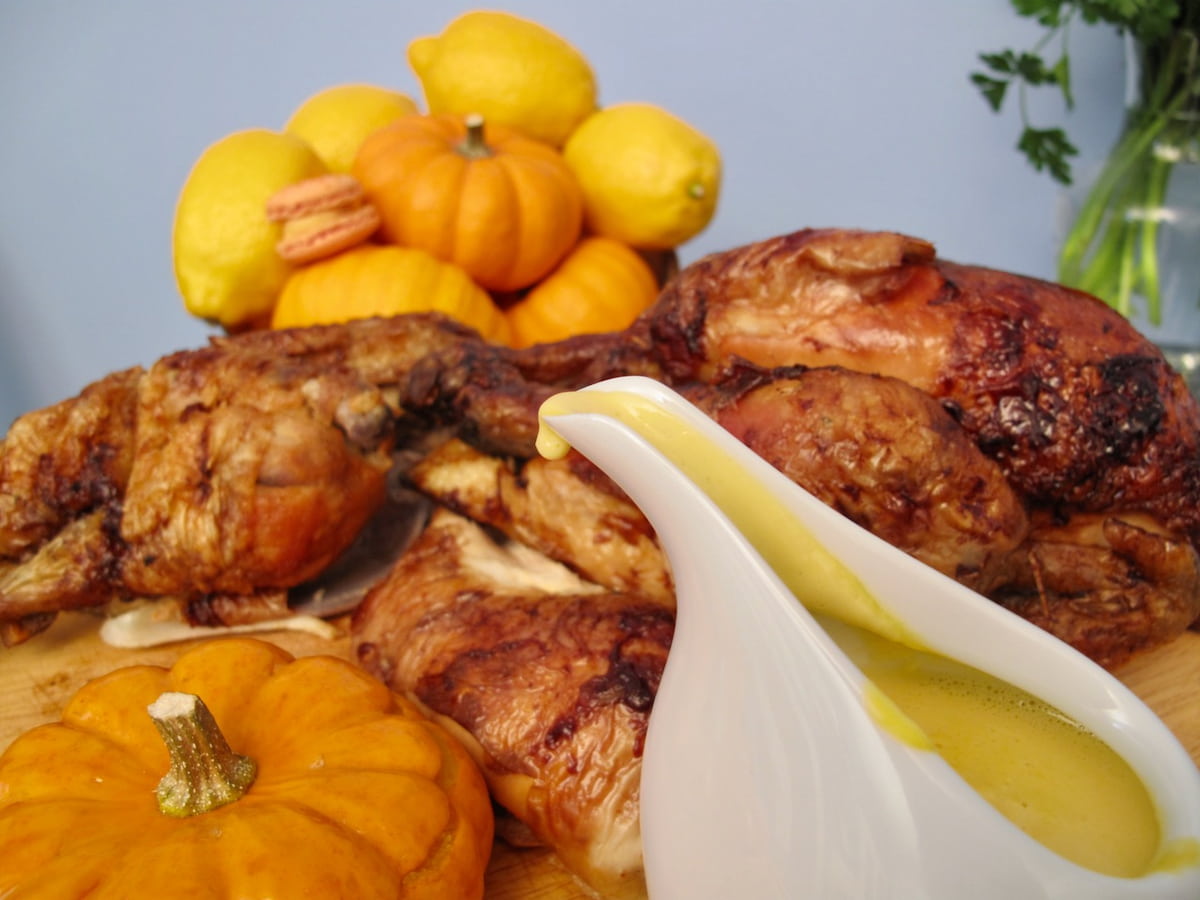 French Rôtisserie Oven Roasted Chickens
This week the Autumnal chill has hit abruptly around Paris. Fumbling for gloves lost since last winter, I now have this awkward new boot walk as my feet are in straight-jacketed shock with thick chaussettes. Clothes shopping can wait. Instead, I gravitate towards the magical sizzling chicken rôtisseries dotted along the street on the way to the market. In France, it's a common sight at the market and outside many butcher shops.
The fragrance of turning poulets rôtis dropping their juices over potatoes at the bottom of the roasting machines lingers all along the street. On top of it, rôtisserie roasted chickens are healthy as they're not deep fried but oven roasted. No wonder roasted chicken is one of the most popular buys at the market!
Easy Savoury Lemon Chicken Sauce – it's French Fast Food
Indeed, as it's my kind of French Fast Food for the quickest, comforting dinner. The homemade part is this simple but divine creamy lemon sauce – made in just 25 minutes!
Mention chicken in St Germain-en-Laye and at the market's central aisle, you'll find the poultry stall of Volaille de St Germain. They're not difficult to find since they normally pull the crowds for their top quality produce: enormous duck filets, paupiette parcels, poultry stuffing (perfect for stuffed cabbage), and saucisses de volaille (poultry sausages.)
Express Lemon Sauce for Chicken
And the family's favourite part to go with the roasted chicken?  This creamy, tart lemon sauce. I've always been surprised that my children would prefer this sauce over ketchup! Plus – dare I even say it – my French husband doesn't like cranberry sauce over the festive season. 'Why do you serve de la confiture avec le dinde?' he always asks. So this is my more savoury alternative.
It's extra quick to make as there's no need to sauté shallots in butter and add wine like you would do with a classic beurre blanc sauce – instead it's just based on good quality chicken stock (I buy mine frozen), adding in a whole lemon (zest and juice) and cream. Voilà!
As a baker, I also love that it uses up 3 egg yolks (see the egg yolk recipe collection) so with 3 egg whites I can make macarons (spot my fizzy Orangina ones in the photo? Recipe in Teatime in Paris).
It's also a lovely sauce to accompany any leftover turkey over the holiday season, and served with stuffed mini pumpkins as a side dish.
How to Make Lemon Chicken Sauce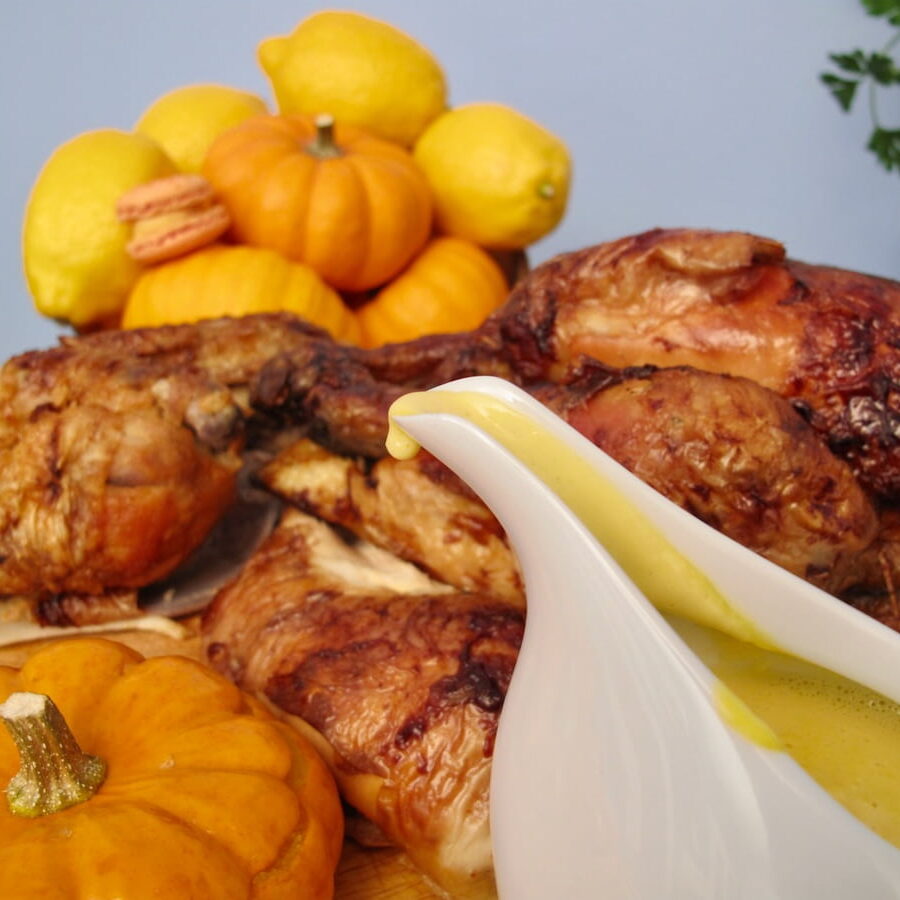 Creamy Lemon Sauce
---
Description
Quick and easy savoury lemon sauce to serve with roast chicken, turkey or to accompany vegetables.
Ingredients
200

ml (7 floz)

Chicken stock

3

Egg yolks

organic

1

lemon, zest and juice

organic (unwaxed)

100

ml (3.5 floz)

whipping cream (crème fleurette)

30% fat
Instructions
Bring the chicken stock to the boil in a saucepan.

Meanwhile, whisk the yolks with the lemon juice, zest and cream in a bowl then gradually whisk the mixture into the hot stock.

Keep whisking over a medium heat until the sauce thickens and bubbles.
Notes
I deliberately don't season the sauce with salt and pepper as the roast chicken is seasoned and I love the plain creamy lemon. However, feel free to season to your own taste.
Also delicious with stuffed mini pumpkins.
Good wine varietals that pair with lemon sauce: any 'creamy' chilled whites such as Chardonnay, Chenin Blanc, Marsanne, Roussane or Viognier are my personal favourites as they are buttery and fruity. So, a Côte du Rhône white to a Burgundy chardonnay to a Condrieu.
This post was originally published 15 November 2012 but has been re-written with fresh images and now has a printable recipe card.