Extra moist financier cakes are perfect for teatime or picnics. This quick and easy recipe uses browned butter (beurre noisette in French), giving them an extra toasted, nutty flavour and are baked in only 15 minutes. More on their history, why they are rectangular or oval, and the difference between a madeleine.
Fantastic recipe, worked on my first try. - Sylvie
What are Financier Cakes?
Financier cakes are moist almond French teacakes, either traditionally rectangular or oval in shape.
They are simple and quick to make as only have a few ingredients: egg whites (no need to whip), butter, ground almonds, icing/powdered sugar and a little plain flour. I like to add a pinch of salt, either vanilla powder or almond extract, and top with slivered almonds.
What's more, in pâtisserie, the financier is used as a base for many fancy bigger layer cakes. So it's an essential French recipe to have up your sleeve.
Where did Financiers Come From?
Financiers started out as 'Visitandines', oval almond cakes made by the Holy Mary Visitandine nuns in Nancy, Lorraine.
There are two stories:
they were either created in the middle ages (ref: Marie-Laure Fréchet 'On Va Déguster la France', Hachette 2017);
or created around the 17th century (first mentioned by Pierre Lacam, 'Le Nouveau Pâtissier-Glacier', 1878).
If they did exist in the middle ages, what happened in between? Any almond cakes (including all kinds of French macarons) fell out of fashion around the Renaissance, as arsenic had the taste of bitter almonds.
After the wave of political poisoning by cakes gradually subsided, these beauties returned. They apparently made up for not eating meat in the convent (less convinced on that one). More importantly, they avoided wasting egg whites as the nuns used the yolks to mix their paint.
Why is a Financier cake called Financier?
In 1890, a pastry chef, Monsieur Lasne, completely re-marketed the Visitandine cakes. As his pâtisserie was just around the corner from la Bourse (Paris's stock exchange), he came up with a delicious, entrepreneurial idea.
He changed the cake's shape to resemble a rectangular gold bar for his local (male) financial clients. Plus he renamed it 'le Financier'.
Moreover, it was the perfect travel cake (gâteau de voyage). It was easy to transport without getting fingers messy - unlike other cakes in 19th century Paris with cream or sticky fruit.
French Teacake Time (le Goûter)
These travel cakes then became fashionable - another reason for Monsieur Lasne to create the financier cake in 1890.
Around this time was the elegant 'l'heure du Pâtissier' or pâtisserie hour. This is when affluent ladies would gather to taste these travel cakes in pâtisserie's tearoom establishments, either standing or seated. As gloves were not removed, it was important for cakes to be easy to handle - so Mr Lasne also got the female market rather than just the French bankers!
This is highlighted by the painting, La Pâtisserie Gloppe by Jean Béraud (1889) at the Musée Carnavalet (rare in Paris, this museum is free!). I love how that gloved lady is eating a madeleine with her little finger in the air!
For more on this (not the pinkie finger part!), I highly recommend a visit to the Pâtisserie exhibition in Dijon.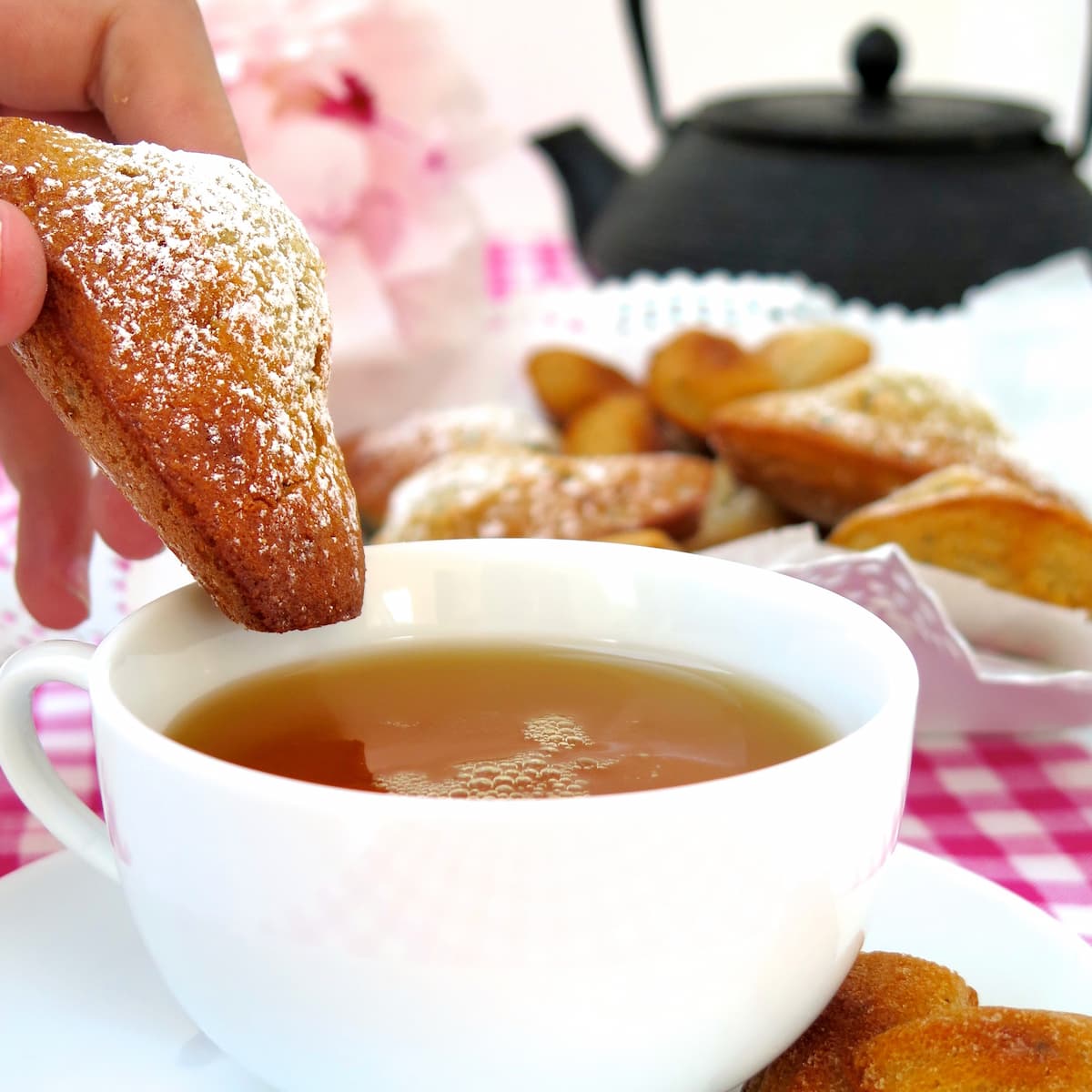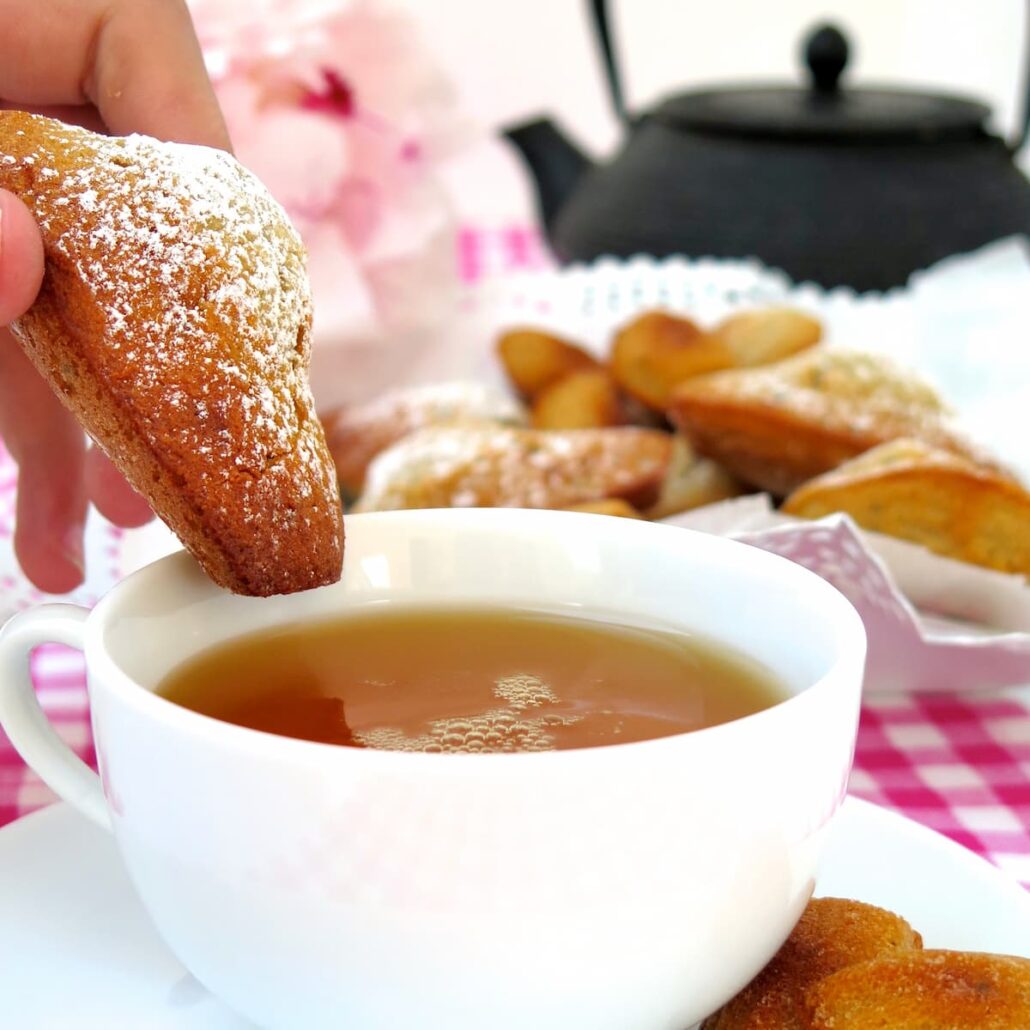 Madeleine vs Financier
Financiers are richer than their more cake-like cousins madeleines.
Financiers are also more moist due to the higher content of butter, whilst madeleines are more dry with much more wheat flour and only a couple of eggs.
Unlike financiers, madeleines also use baking powder. Perhaps the biggest difference is their shape. French madeleines are traditionally baked in scallop-shaped moulds or tins. What's more, a madeleine isn't a madeleine without its characteristic hump.
How to Store and Freeze
Financiers are best eaten fresh on the day of baking. So if you have a large batch, bake only half the amount and keep the rest of the dough covered in the fridge for up to 2 days until ready to use.
Freeze any extra baked cakes for up to a month in a well-sealed container. It's like having money in the bank for teatime!
Financier Cake Tins/Moulds
In France, Financier cake tins are traditionally rectangular and come in regular (small cake) sizes or mini (as shown here). However, oval moulds are also used to continue the French tradition of the original Visitandine cakes.
Can't find the moulds or tins where you live? No worries. Financiers can easily be made using mini muffin moulds or other pretty little cake tins - they still taste as good! However, to be authentic, Financiers are normally recognisable as rectangular gold bar shapes.If you see chocolate chip versions of financiers using savarin moulds, they are called Financiers but Tigrés (see variations below).
Do you need to butter the moulds? As this recipe uses a lot of butter (financiers should be rich - pun intended!) they slip out quite easily from tins without buttering. Even better, they literally fall out from silicone moulds (good since only a short baking time so won't be rubbery tasting). Metallic tins are also very popular in French hypermarkets and speciality baking stores.
Financier Variations
The beauty of financier cakes is that they are quick and easy to vary with different flavours. Here are some variations we love at home:
Add a tablespoon of matcha tea powder for a Japanese touch;
Replace the ground almonds with ground hazelnuts or pistachios;
Replace flaked almonds and top with finely chopped strawberries or a redcurrant/blueberry on each. Beware of adding whole large raspberries or strawberries on mini cakes, as their water content can affect the batter.
The addition of chocolate chips turns financiers into Tigré cakes. Normally baked in French savarin tins (like a doughnut), the cavity is filled with ganache. Same idea if you prefer adding whole berries - fill the cavity with them after the cakes are baked.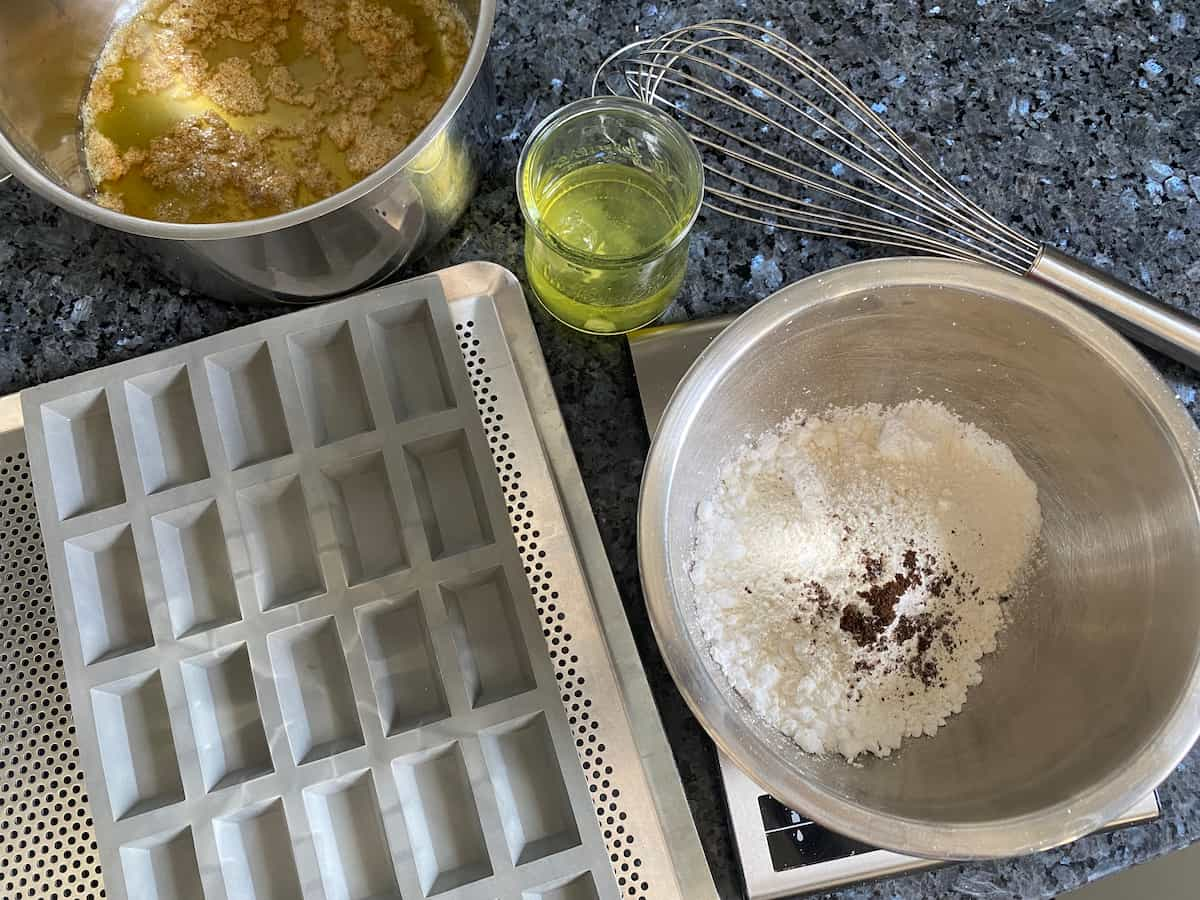 Baking Tips for Making Financiers
Take an extra 10 minutes to brown the butter in a saucepan for that extra nutty flavour. Then add it to the rest of the ingredients, leaving any burned bits of butter at the bottom of the pan;
Before transferring to the moulds or tins, leave the mixture to cool for about 10 minutes. This will make it much easier to spoon or pipe into the moulds;
If making many mini financiers, use a piping bag to pipe out quickly and more uniformly into the moulds. Don't have a piping bag? Simply snip off the corner of a freezer bag;
Don't have any egg whites ready? First make any of these recipes with 2 egg yolks such as French rice pudding or Palets Bretons. Ideally make the yolk recipes first then set aside the leftover egg whites in a jar in the fridge (can keep for about 5 days or freeze) for this recipe.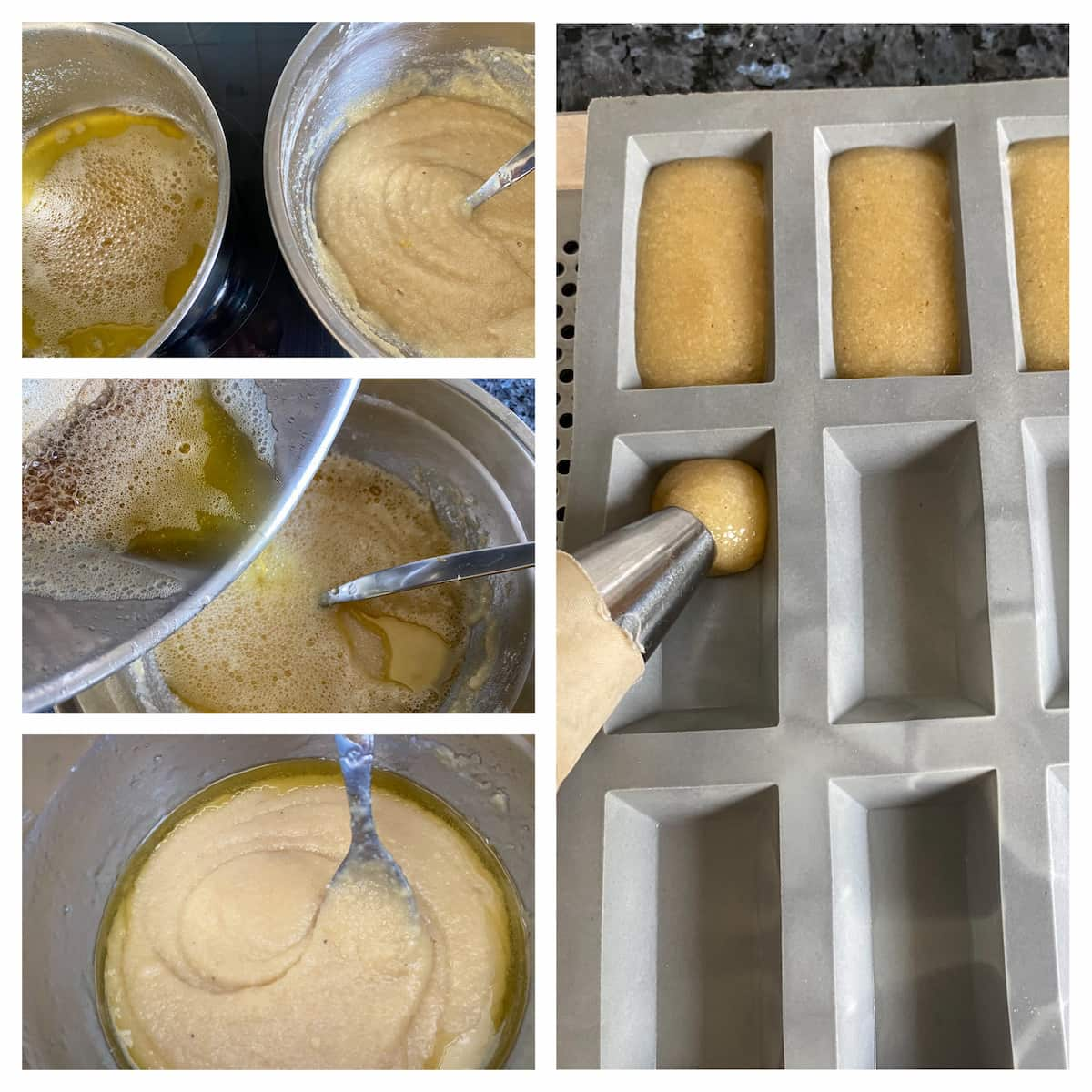 Financier Cake Recipe
This recipe comes from my book, Teatime in Paris: A Walk Through Easy Pâtisserie Recipes (2015), which has two more financier recipes. These include a gluten free version with pear and hazelnut, plus mini tigrés with chocolate chips and filled with a dark chocolate ganache.
With thanks to my book publishers, Waverley Books, for permission to post this on the website.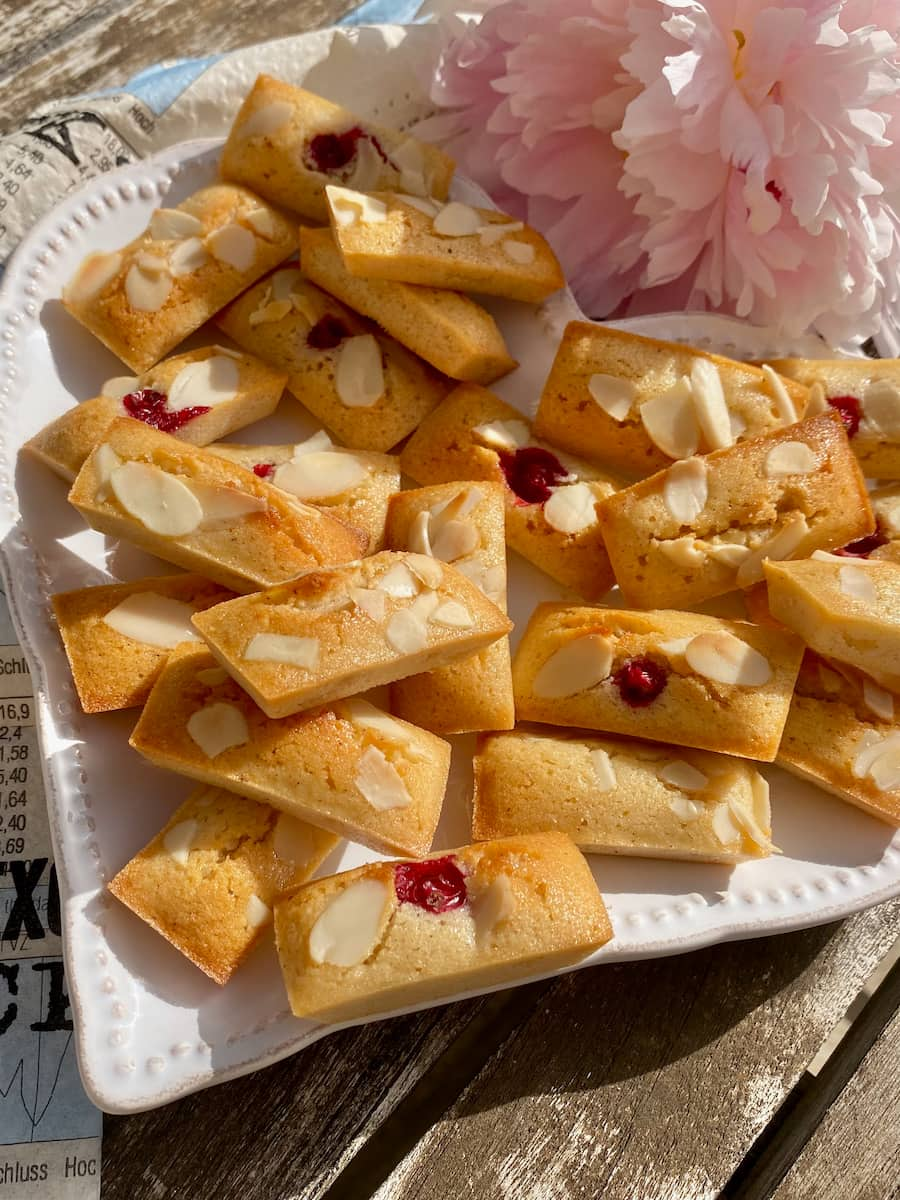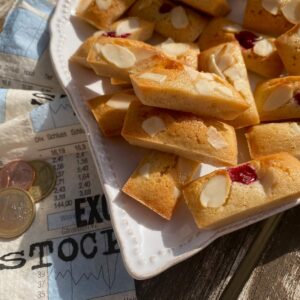 Financier Cakes
Moist buttery almond French teacakes made with egg whites, browned butter, ground almonds, sugar and a little flour. Authentically shaped as a gold bar or oval to reflect the cake's history. Makes 18 classic financier cakes (or 30 mini).
Equipment
financier cake moulds

either rectangular or oval shaped (if not, mini muffin moulds)
Ingredients
140

g (5½oz)

egg whites

from approx 4 medium organic eggs

140

g (5½oz/ 10 tbsp)

unsalted butter

cut into bits

120

g (4½oz/ 1¼ cups)

ground almonds (almond flour)

140

g (5½oz/1 cup)

icing/confectioner's sugar

50

g (2oz/ 6 tbsp)

plain all-purpose flour

pinch

salt (fleur de sel)

3 drops

almond extract

(or vanilla)

1

tablespoon

slivered almonds

(for decor)
Instructions
Preheat the oven to 200°C/180°C fan/400°F/Gas 6. Measure out the egg white and set aside.

Brown the butter: melt the chopped butter in a saucepan over a medium heat. Once the butter starts to foam, continue for another 5 minutes or until it starts to turn light golden brown (like its name 'beurre noisette', it should be the colour of hazelnuts). To tell it's ready, the butter will start to 'chirp' like a bird. Take off the heat and set aside.

Mix all the dry ingredients in a bowl. Add the egg whites and mix in the slightly cooled browned butter. Set aside to cool for about 10 minutes in the fridge.

Place the moulds on a baking sheet. Using a spoon, fill silicone moulds and sprinkle with the flaked almonds.

Bake in the oven for 13-15 minutes (or 10 mins if using mini moulds)
Notes
Serve freshly baked with Darjeeling or jasmine green tea.
Measures: Please note that all my recipes are best made using digital kitchen scales in precise metric grams. Both ounces (and cups) are given as a guide. 
Financier Cake Variations: replace the almond flour with ground hazelnuts or pistachios; add a teaspoon of Matcha green tea powder; or top with a redcurrant or tiny piece of chopped fresh or candied fruits.
Recipe with kind permission from Waverley Books from my book,
'Teatime in Paris; A Walk Through Easy French Pâtisserie Recipes'.
Have you made this recipe either here or from my book?
Please leave a rated review below. It means the world. Thank you.