It happened again.  I recently caught myself wincing at a teatime menu's English version. This time it was in one of Paris's most elegant and prominent tea salons in Place Vendôme.  On their menu, the famously stylish Parisian "macaron" was translated as "macaroon".
I know, it's not one of the world's first problems but please, get it right.
While Macarons and macaroons perhaps sound alike, they are both totally different.
Macarons vs Macaroons
This confusion with an extra "o" is nothing new; it happens frequently, whether it's on a top tearoom menu in Paris or on high-end supermarket packaging around the world.
Even a UK bookshop snootily turned down stocking my first book, Mad About Macarons, simply because the title read "Macarons" and not "Macaroons".
It's a subject that has been raised often, but the same mistake continues like a couple of crêpes on deaf ears.
I'm perhaps mad about macarons, but if you're just as infatuated with Paris's Ambassador of Pastry, with its smooth delicate meringue-like shells sandwiched together with chocolate ganache, jam, curd or buttercream, its name needs to be defended. I'm not being posh or trying to show off I can speak some French after 24 years of living here – it's just that the term, macaron is the right word to use to describe these little filled rainbow-coloured Parisian confections.
Over the last four years of guiding pastry tours in Paris, I'm still surprised by the recurring question: "So what's the difference between macarons and macaroons?"
Food lovers are evidently still puzzled. How on earth can two deliciously dainty confections create such mystery?
The only similarity between the two is their gluten-free mutual ingredients of egg whites and sugar; a macaron includes ground almonds (almond flour), whilst a macaroon is made with coconut.
So let's get it straight with the simplest answer: the macaron is meringue-based and the macaroon is coconut based.
However, there's more to it than that.
What is a Macaron?
Macarons date back to the middle ages but we have a better idea of its history during the Renaissance – first cited by French writer Rabelais – when the Venetian macarone (meaning a fine paste of something crushed) of ground almonds, egg whites and sugar was brought to France by Catherine de Medici and her chefs when she married the future King of France in 1533, Henri II. It was a meringue-like biscuit but a much rougher looking type of confection, predominantly tasting of almonds and looking rather like an amaretti biscuit.
In France, the macaron's super-model upgrade wasn't made famous until the 1900s. This is the modern smooth, coloured macaron as we know it today, that's now creating the confusion, known as the Parisian or Gerbet macaron.
Ernest Ladurée's second cousin, Pierre Desfontaines takes the credit for inventing these sandwiched confections – although this calls for yet more delicious, historical homework. Most importantly, a macaron is not a Parisian macaron unless it has a ruffled, frilly foot underneath that smooth, shiny surface.
French Regional Macaron Varieties
But even the macaron can be a confusing term today, as there are also many French regional varieties using the same ingredients as the Parisian macaron but the proportions are completely different. Each more resemble the original Italian macaron introduced by Catherine de Medici and many date back to around the French Revolution.
Each region adds its own twist and, as a result, they all look so different (check out just some of the variations here).
For example, in Picardy, the Amiens macaron speciality adds marzipan, fruits and honey.
Other prize-winning French regional macarons continue today in Boulay, Chartres, Cormery, Le Dorat, Joyeuse, Montmorillan (more like an round almond cakes – see above. Here there's also a Macaron Museum!), Nancy, Saint-Émilion, Saint-Croix, Saint-Jean-de-Luz (created for Louis XIV's wedding in 1660) and Sault.
What is a Macaroon?
Simpler and quicker to prepare, the coconut macaroon is also known as rocher coco or congolais in French. Sometimes the macaroon confection with shredded or flaked coconut – either star or cone-shaped – is dipped in chocolate. See my recipe for them in my book, Teatime in Paris.
It's not clear when macaroons came on the scene but one thing is for sure: it was added to this gluten-free treat around the 1800s when coconut was brought from the East.
Just pronouncing macaroon makes us want to roll the "r" like we do in Scotland – and it's no coincidence that us Scots are proud of the Scottish Macaroon bar: it's particularly sweet since the fondant inside is primarily sugar and potato (trust the Scots to think of that one!) and coated with a thin layer of chocolate and coconut. I wonder if Catherine de Medici's successor, Mary Queen of Scots as French queen brought it in her year-long reign as Queen of France?
Last Christmas I adapted the large traditional sugary bar to make these mini versions of Scottish Macaroon bar snowballs. If you want to see the more classic size, head over to Christina Conte's recipe at Christina's Cucina.
To puzzle us further, there's yet another exception to the rule of almonds and coconut: there are plenty of macaroon recipes outside of France which use pie crust or pastry as a base and the macaroon reference is a mixture of coconut and/or almond toppings. For example, see this recipe for macaroon jam tarts.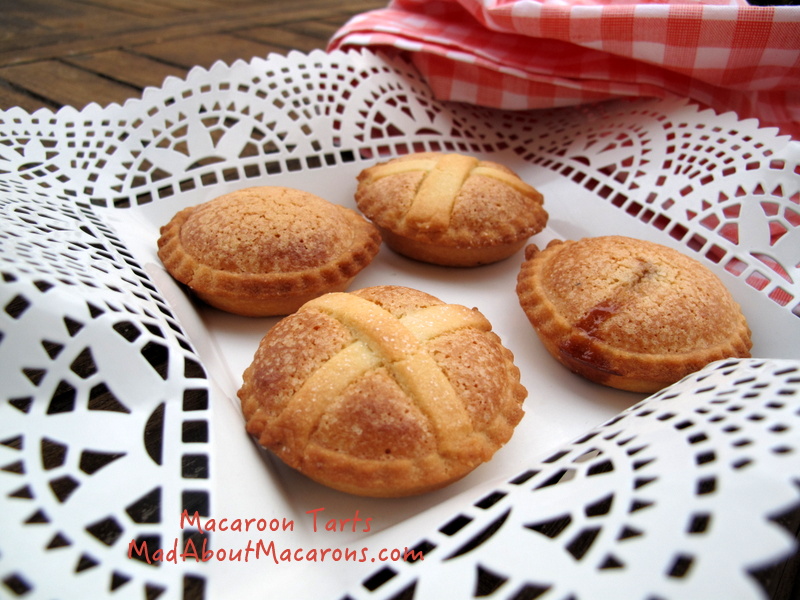 What IS the Difference Between Macarons and Macaroons?
So before the confusion spreads any further between such differences between macarons and macaroons, let's nip it in the bud.
In all their varying forms, the macaroon refers to the coconut confection. The macaron today, unless a French regional version is mentioned, refers to the Parisian or Gerbet macaron – the shiny, dainty version. Just don't forget its frilly foot, otherwise it's not a Parisian macaron.
Now it's over to you to spread the macaron word. Or is that a macaroon?
---
A version of this article was originally published for BonjourParis on 21 December 2015.