What's the real difference between macarons and macaroons? Have you ever found yourself confused? Despite their similar names, history and shared popularity, these two treats have distinct characteristics that set them apart.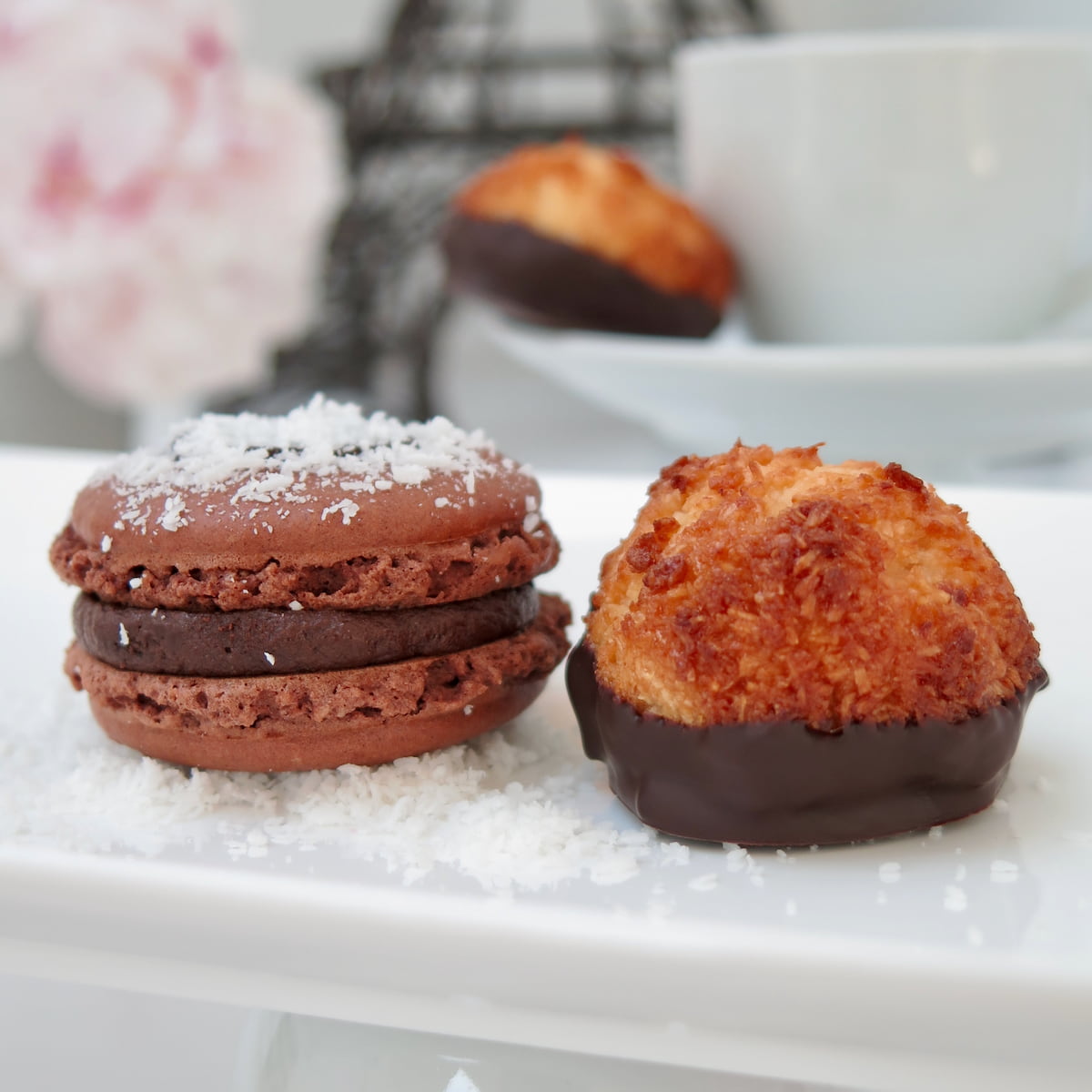 One Extra 'O' Makes a Difference
The mix-up between macarons and macaroons often begins with pronunciation or translation. The extra 'o' in macaroons can be misleading, leading many to mistakenly refer to the delicate Parisian delights as "macaroons."
This happens frequently, whether it's on a top tearoom menu in Paris or on high-end supermarket packaging around the world. Even a top UK bookshop snootily turned down stocking my first book, simply because the title read "Macarons"- not "Macaroons"!
The same mistake continues like a couple of crêpes stuck on deaf ears. OK, I'm perhaps mad about them - they are Paris's Ambassador of Pastry - but its name needs to be defended.
Macarons: Parisian Elegance in Every Bite
The Parisian macaron, characterized by its smooth, delicate meringue-like shells, takes center stage.
Filled with dark or white chocolate ganache, jam, curd,, or Mascarpone and caramel, these treats represent the epitome of refined French pastry.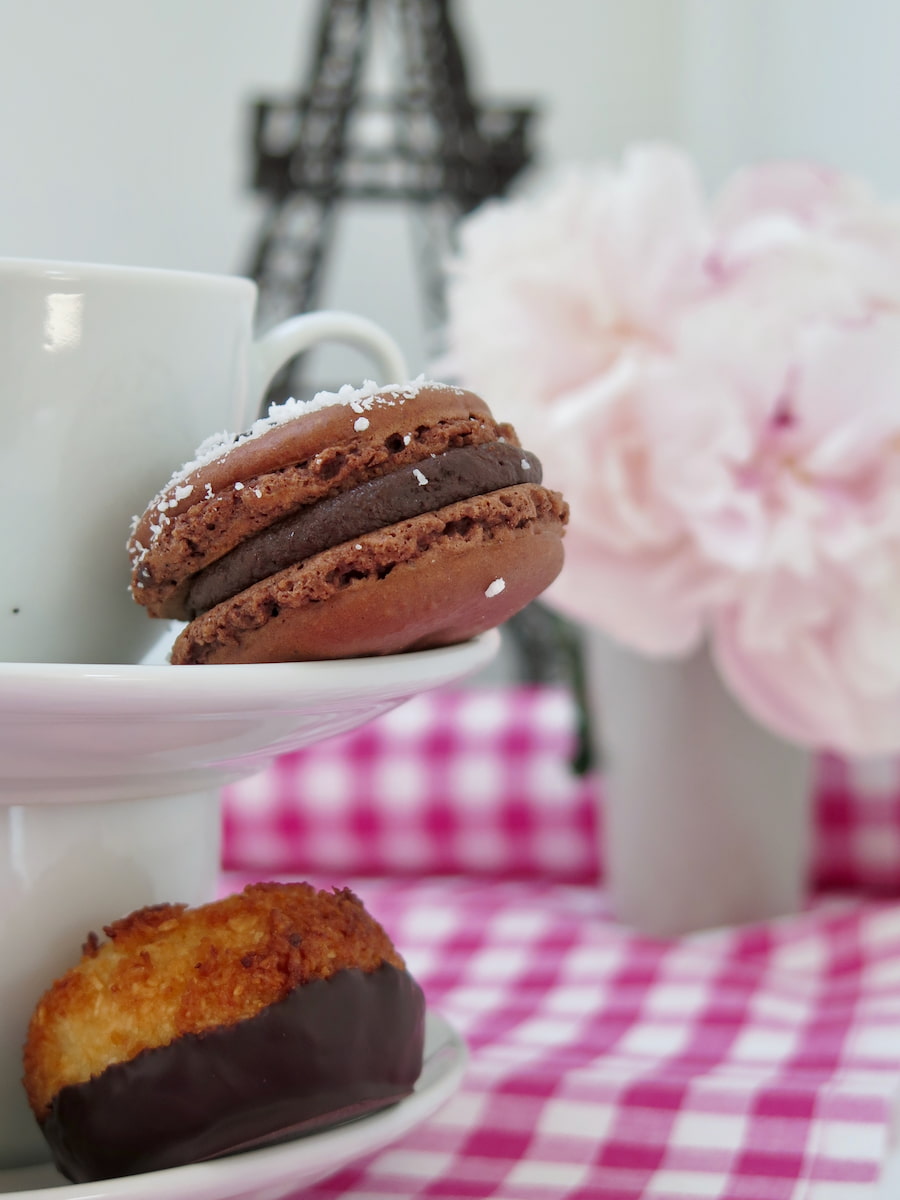 Macaroons: Rustic Coconut Delights
In stark contrast, macaroons exude a more rustic charm. They're simpler and quicker to prepare without fillings and primarily coconut-based. Here's the classic French coconut macaroon recipe, made with coconut, egg whites, honey and sugar.
In France (known as Rochers Coco - previously congolais), they are presented as either a star shape (using a star tip) or pyramid-shaped.
It's not clear when macaroons were created. It makes sense that coconut was only added around the 1800s when coconut was brought from the Far East.
When Macaroons Become Macarons?
However, just when we thought it was that simple. To confuse the saga further, since 1996 in Alsace a popular bakery makes Kokosmakronen, a coconut confection with cane sugar, calling it Le Macaron Coco. They are piped into a star shape, known as le Macaron de Riquewihr. They also make the familiar ruffled sandwiched Parisian macaron, instead calling them Macarons Fins.
For more, see the video above to explain the differences between macarons and macaroons in France.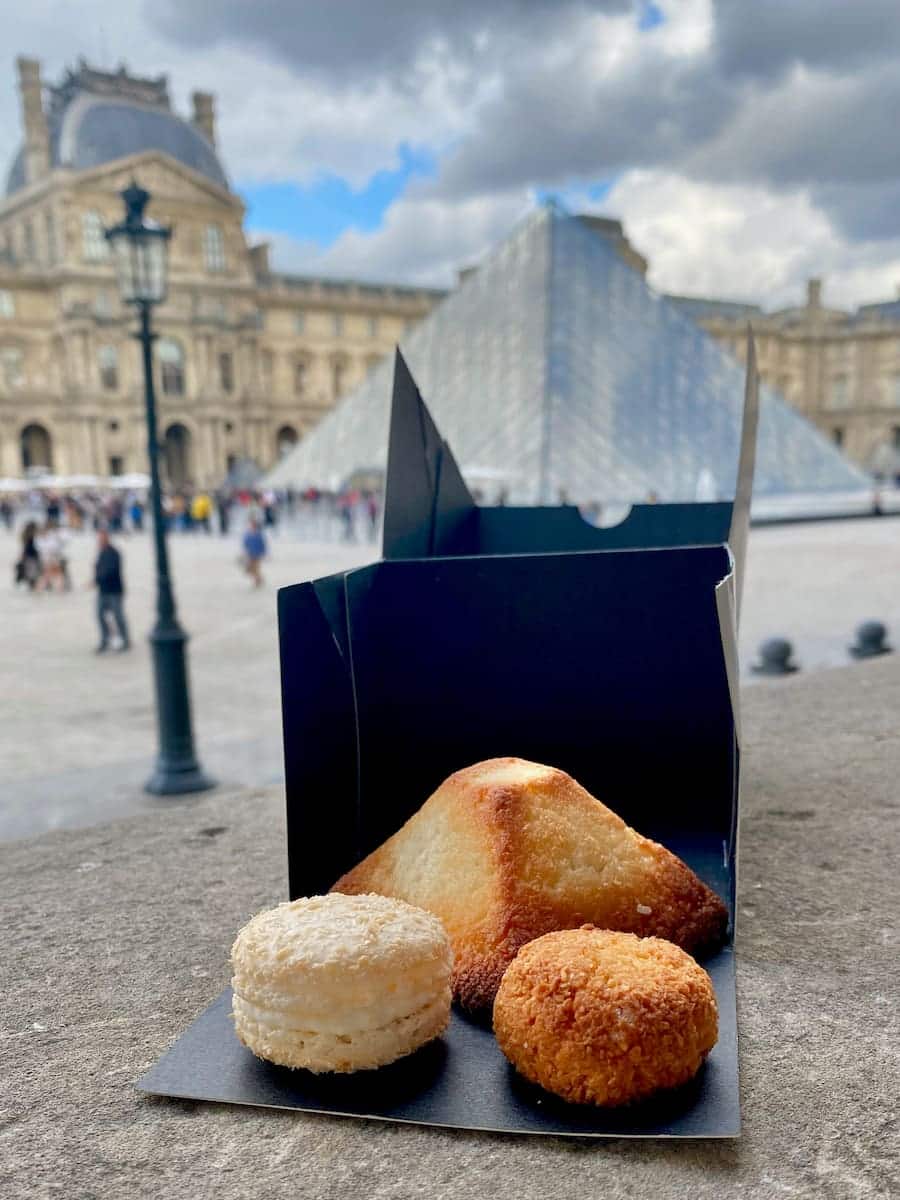 Gluten-Free Commonalities Amidst Differences
Both macarons and macaroons share the distinction of being gluten-free. While they contain common ingredients like egg whites and sugar, macarons incorporate ground almonds (almond flour), setting them apart from the coconut-centric macaroons.
However, some of the more traditional French regional varieties of macaron can contain flour so are not gluten free - more on that on French macaron varieties (page coming!).
Another similarity between the two is that they both measure, on average, between 4-5cm in diameter.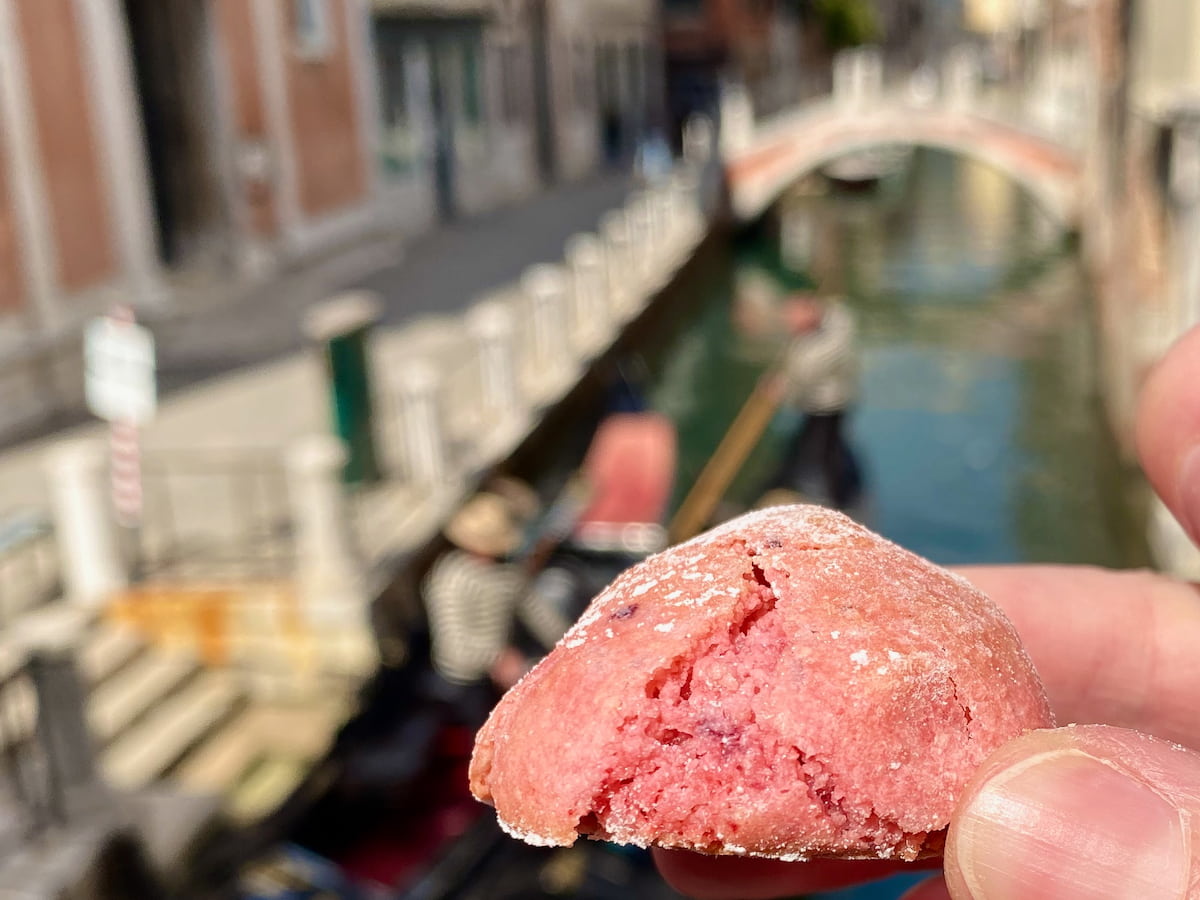 A Brief Journey Through Macaron History
Delve into the rich history of macarons, which dates back to Europe's Middle Ages. The Renaissance witnessed the evolution of these almond-based delicacies, with the Venetian maccherone influencing France in the 16th century.
Macarons were first cited by French writer Rabelais in his "Quart-Livre" in 1552 at the time of the 'macarone'.
The Venetian maccherone (meaning a fine paste of something crushed, a thin pastry) was made of ground almonds, egg whites and sugar - the base which continues today. It was apparently brought to France by Catherine de Medici and her chefs when she married the future King of France in 1533, Henri II.
Almond cakes/cookies then fell out of fashion until the 17th century - as the taste of bitter almonds had the same taste as arsenic. Royalty and the nobility therefore avoided almond tasting 'treats' such as Visitandines, the predecessor to the Financier cake.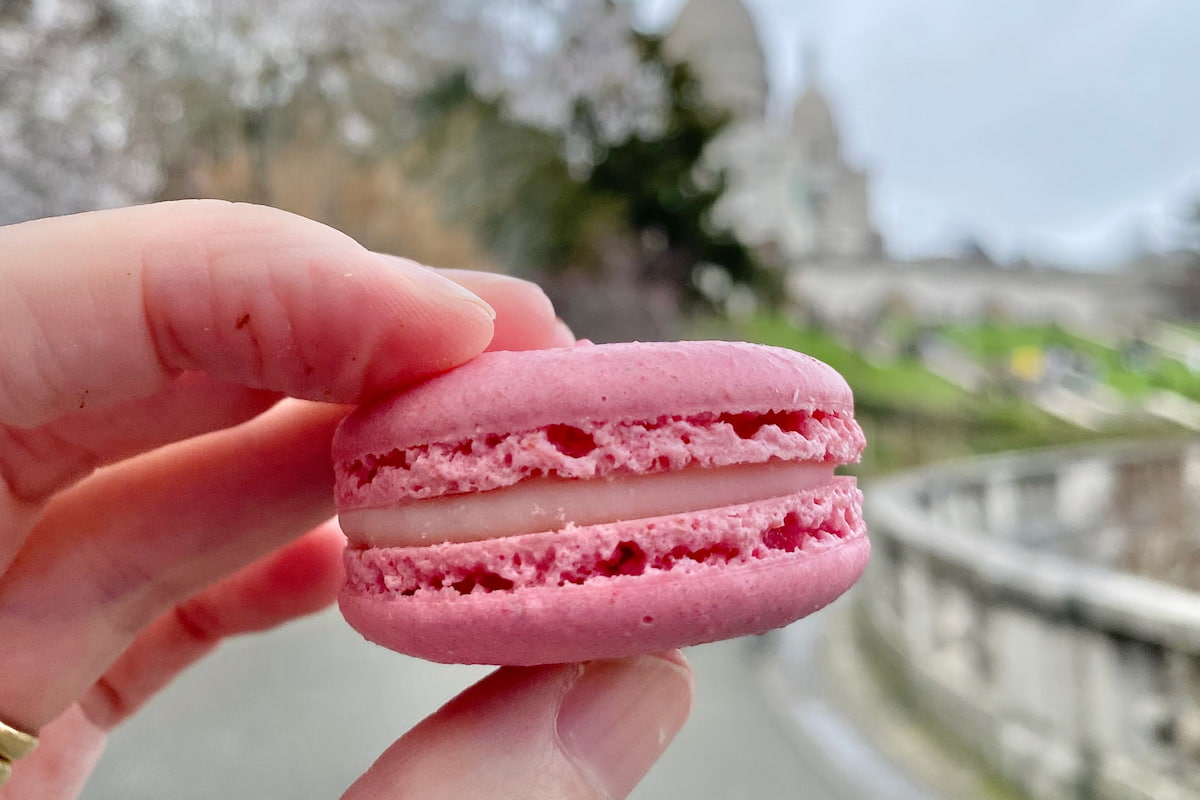 The Modern Parisian Macaron: A 1900s Super-Model Upgrade
The transformation of macarons reached new heights in the 1900s. Pâtissier Claude Gerbet's innovation in the 1860s, combining two almond-meringue shells, paved the way for the modern Parisian or Gerbet macaron.
Luxembourg pastry chef, Camille Studer, then added a buttercream filling between the two shells, calling them Luxemburgerli.
Around 1930, Ernest Ladurée's second cousin, Pierre Desfontaines takes the credit for inventing these sandwiched macaron ruffled foot confections. He added colouring to be assorted with their different flavours.
Fast forward to the 1990s when Pierre Hermé made them popular, while working at Ladurée.
So What's the Macaron vs Macaroon Difference?
In a nutshell, macarons are meringue-based. Unless specified as a traditional regional variation, they refer to the Parisian or Gerbet macaron. Their typical shiny almond meringue shells with a ruffled foot are sandwiched with a ganache, jam or cream filling.
While, in their varying forms, macaroons are coconut confections without any filling.
Spread the joy of macarons and explore the macaron recipes in both my books. Try my most recent extract: salted caramel macarons, an excerpt from Teatime in Paris!
This post was first published in January 2016 but is now more concise and split to cover the regional macaron varieties in France in another post.