Easy recipe from our local French bakery near Paris for perfect coconut macaroons without condensed milk. Quick to make, reduced in sugar and great for holiday gifts, they are gluten free yet not to be confused with French macarons.
This is the recipe I've been waiting for. It is so detailed and my macaroons came out so good after previously failed with another recipe. Love it.

Sasi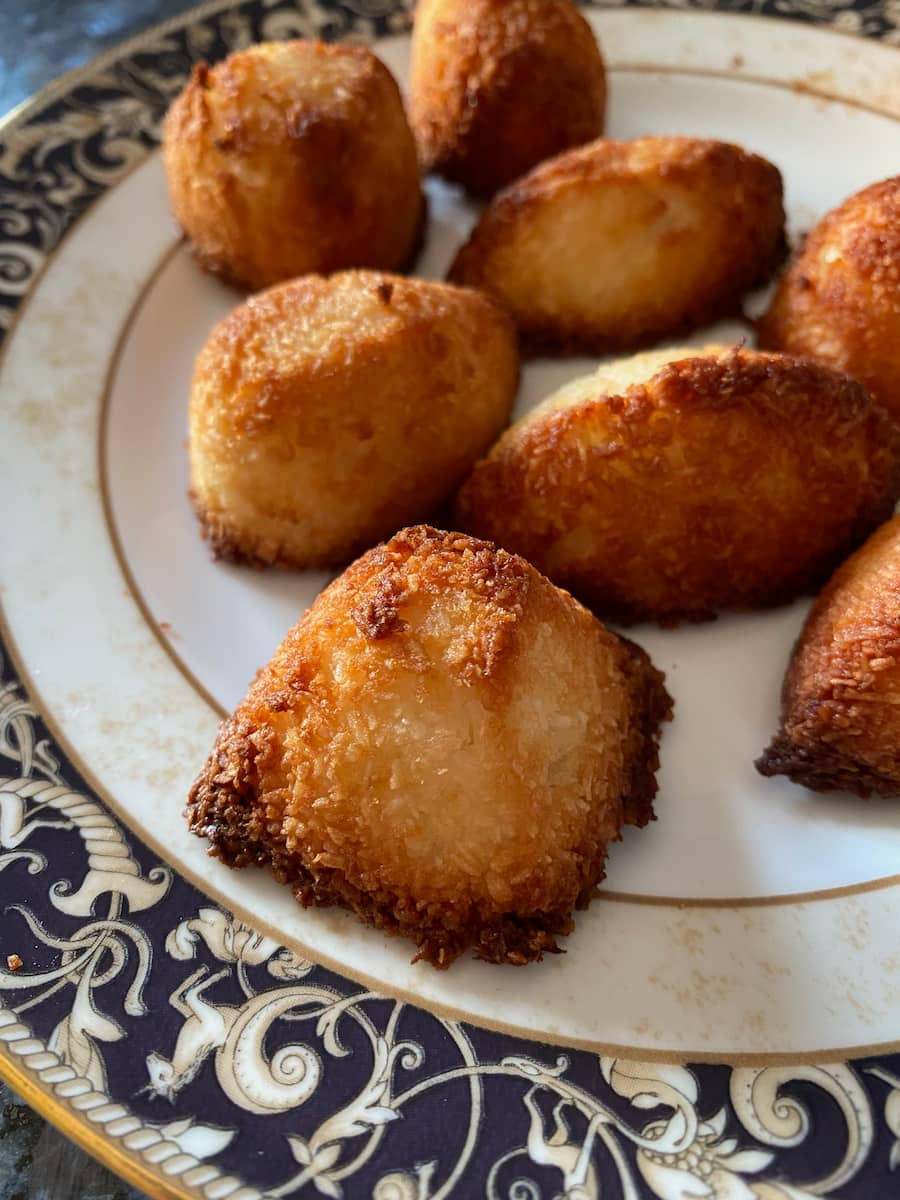 What's the Difference Between French Macarons and Coconut Macaroons?
Coconut macaroons often get confused with French macarons so, as author of two macaron recipe books, this is a question I'm asked all too often!
Coconut macaroons are made with egg whites, sugar and coconut.
Conversely, French - or Parisian - macarons are made with egg whites, sugar and almond flour/ground almonds.
I precise 'Parisian' as French macarons have many old-fashioned traditional varieties. The Parisian - or Gerbet variety - has the classic ruffled pied or foot to easily distinguish them from the others.
The 'o' and the 'oo' often get lost in translation from French to English. Like macarons, these cookies are also gluten free, as there's no wheat flour used.
However, just to confuse the saga further, since 1996 in Alsace a bakery makes Le Macaron Coco, or Kokosmàkrenele. It's basically a coconut macaroon or rocher coco made with cane sugar and coconut, piped into a star shape but called le Macaron de Riquewihr. They also make the ruffled sandwiched Parisian version, calling them Macarons Fins.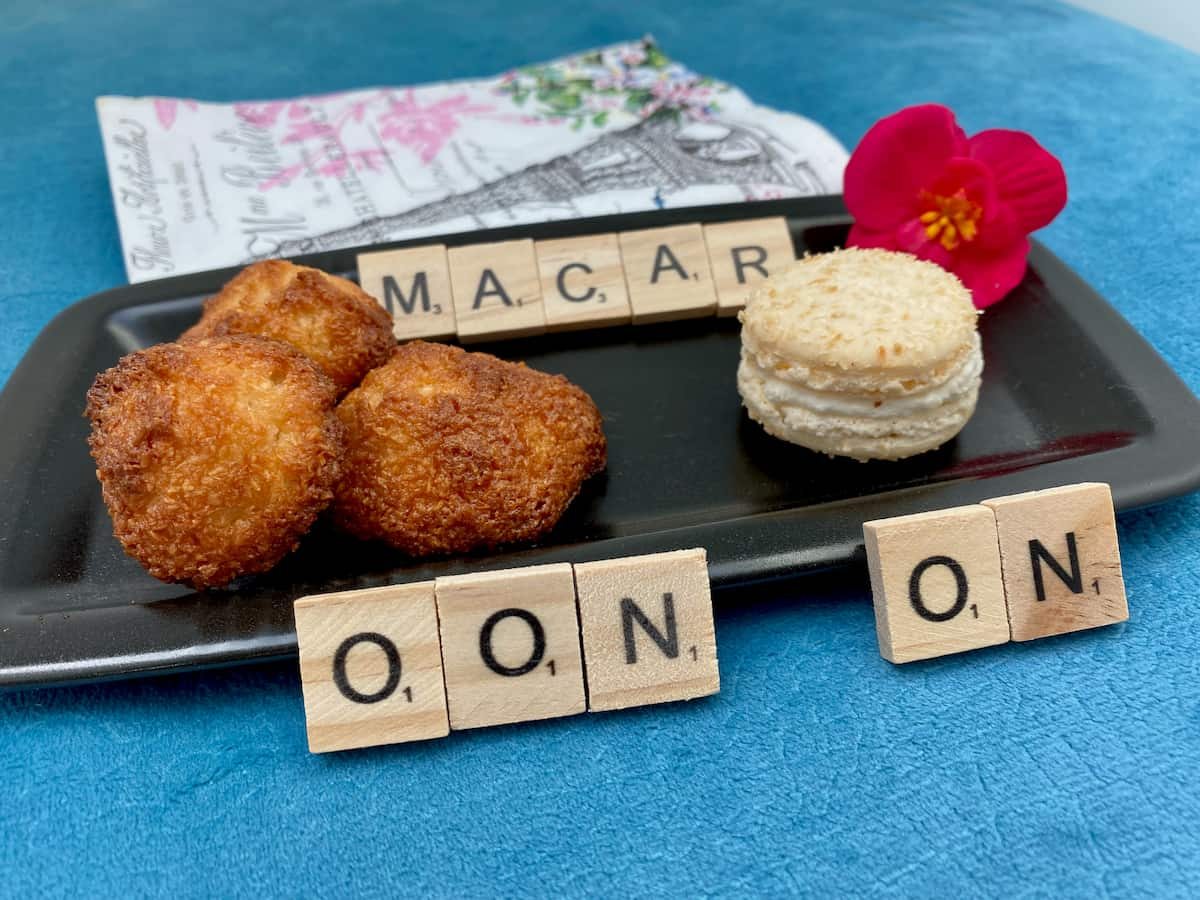 What are Macaroons called in French?
This is when it gets interesting. Ask for a coconut macaroon in any bakery in France and they'll think you're asking for a Parisian macaron. Just watch the reaction on video below, when I visit a typical French chocolate shop!
Instead, macaroons are called Rochers Coco (or Rochers à la Noix de Coco) in French. Previously they were known in France as Congolais, but this is no longer continued or acknowledged for obvious reasons.
So, why the name, Rochers and why are they mostly in the shape of a pyramid? Rocher means rock in French and their pyramid shape resembles little rocks.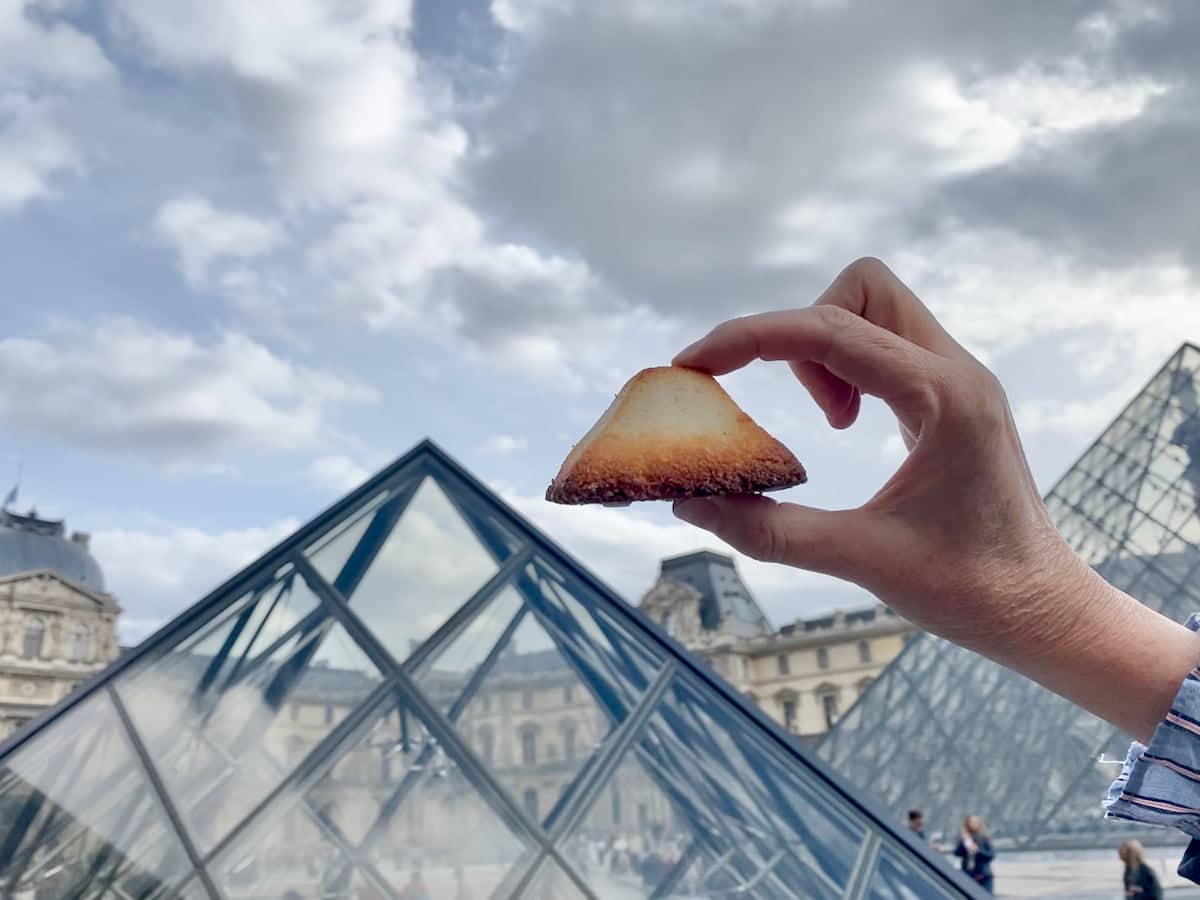 Coconut Macaroon Ingredients
In France, coconut macaroons are made with just 3 basic ingredients:
unsweetened shredded or desiccated coconut
sugar, and
egg whites.
However, French pastry chefs add a fourth ingredient to keep coconut macaroons moist. By adding a little apple compote (or apricot), the pectin absorbs the moisture from the coconut.
Likewise, and to make this even easier, I instead use a little runny (Acacia) honey, since it also absorbs moisture in baking.
(To discover if yours is real honey, try the quick experiment I explain in my recipe for pork in honey sauce.)
There's no need to add any more ingredients. As coconut is already naturally sweet, there's no sweetened coconut, vanilla, or sweetened condensed milk added. Add a little salt at a pinch (fleur de sel, Maldon or Celtic salt), although it's not even needed.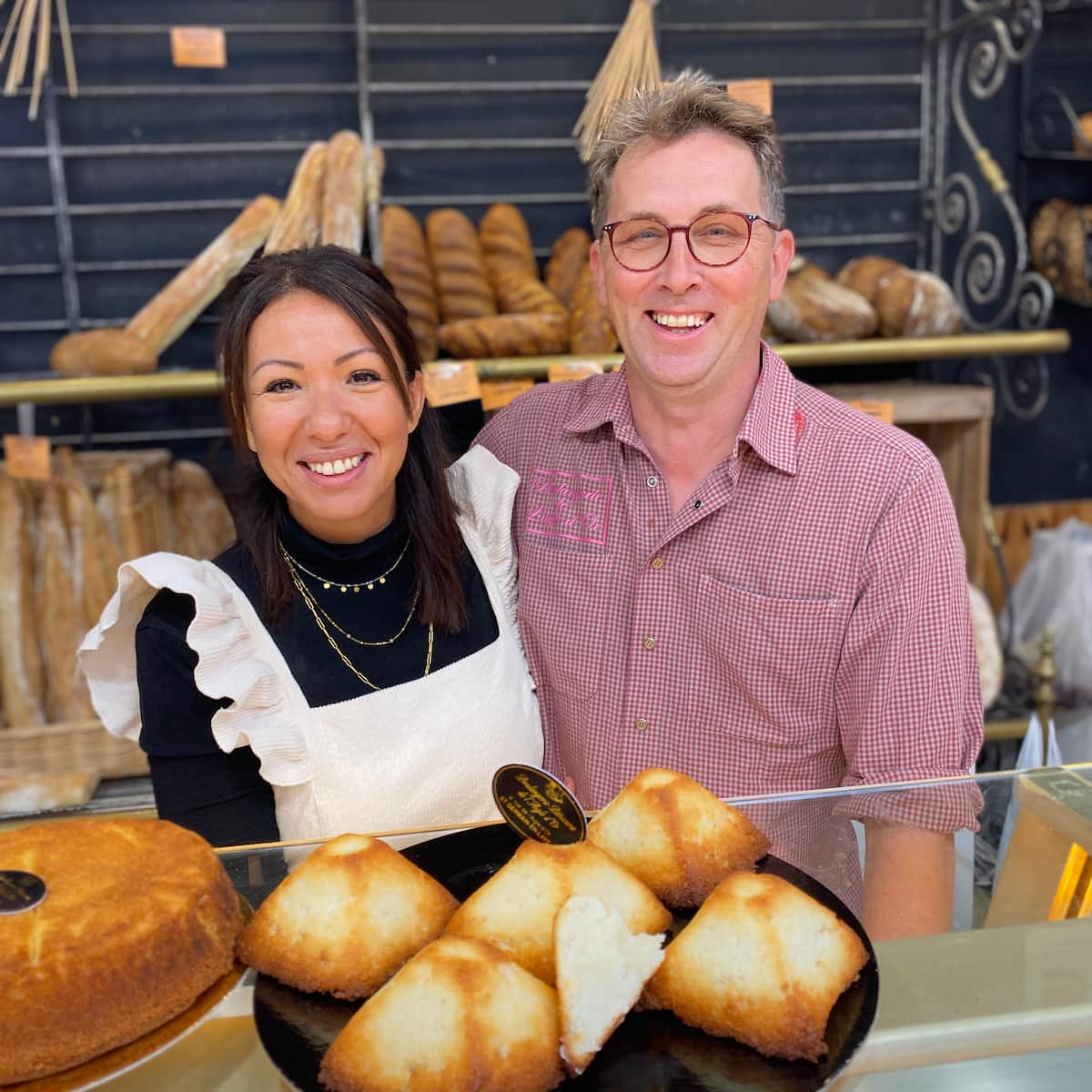 How to Make Coconut Macaroons Like the French
With huge thanks to Laurent Ehmig at the Boulangerie d'Aigle d'Or in Saint-Germain-en-Laye. He took time to explain how he makes his French equivalent, Rochers Coco:
He makes the mix a day in advance to allow it to completely absorb the coconut's moisture;
First, he measures out the egg whites and sugar in a bowl and whisks them over a double boiler (bain-marie) until 40°C using a candy thermometer. Then mixes in shredded coconut and a little homemade apple compote (or apple sauce) that he makes with honey, not sugar;
Instead of rolling in rounds, he leaves them to chill overnight in large sized silicone pyramid moulds;
Next day, they're un-moulded, spaced out on a baking tray and baked in a ventilated oven for about 20 minutes, turning them round half way for even toasting.
Instead, my recipe is a lazy homemade version without the overnight setting time. However, if you have time, leave the mixture to rest longer. Instead of apple compote I use honey, which also absorbs moisture naturally:
I mix all the ingredients together in a double boiler for a few minutes until the egg whites are well mixed (coagulated) then leave to cool for a few minutes;
Using slightly humid hands, roll them into even rounds. Alternatively, press into silicone moulds (mini pyramids or mini muffin moulds) although this means they need to chill in the fridge for at least 20 minutes to de-mould more easily.
As my macaroons are small, I only bake between 10-15 minutes, depending on how toasted golden you prefer them.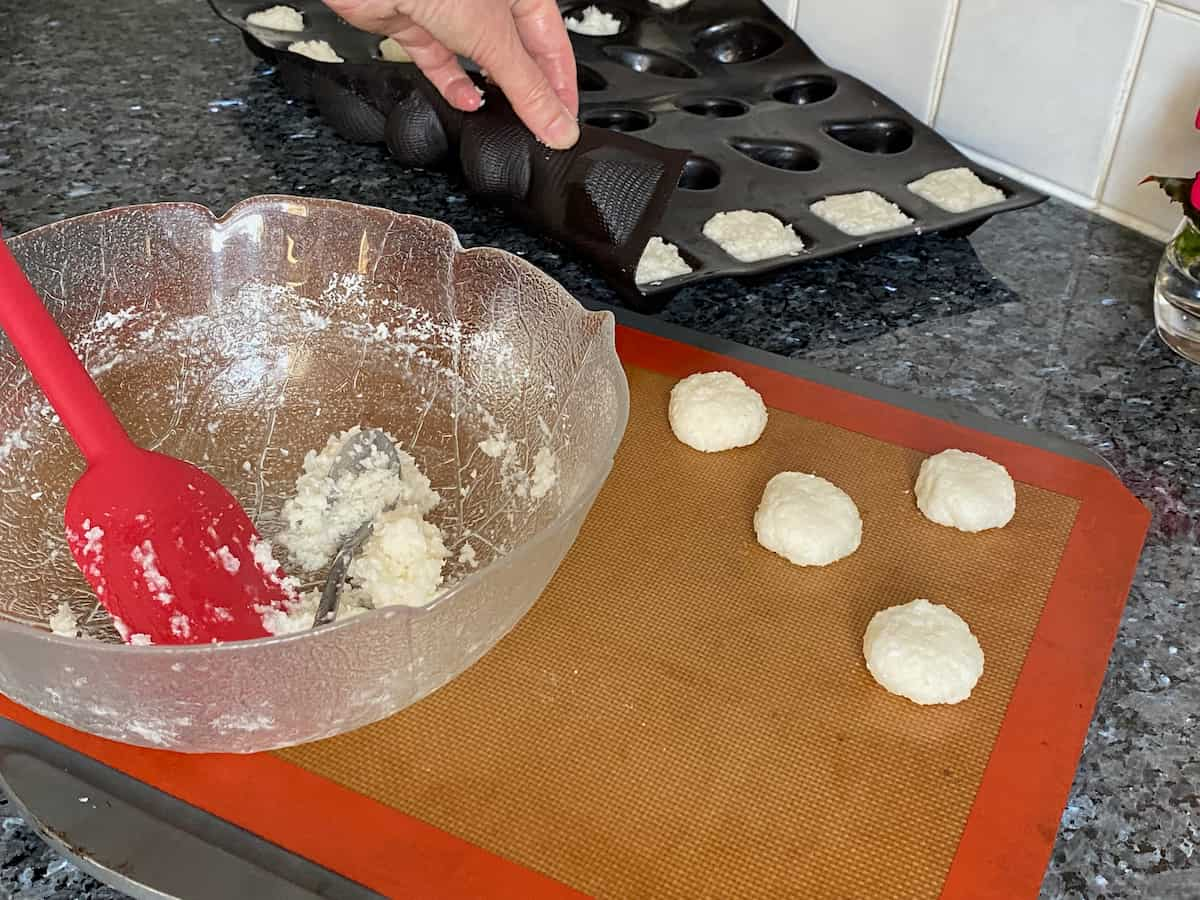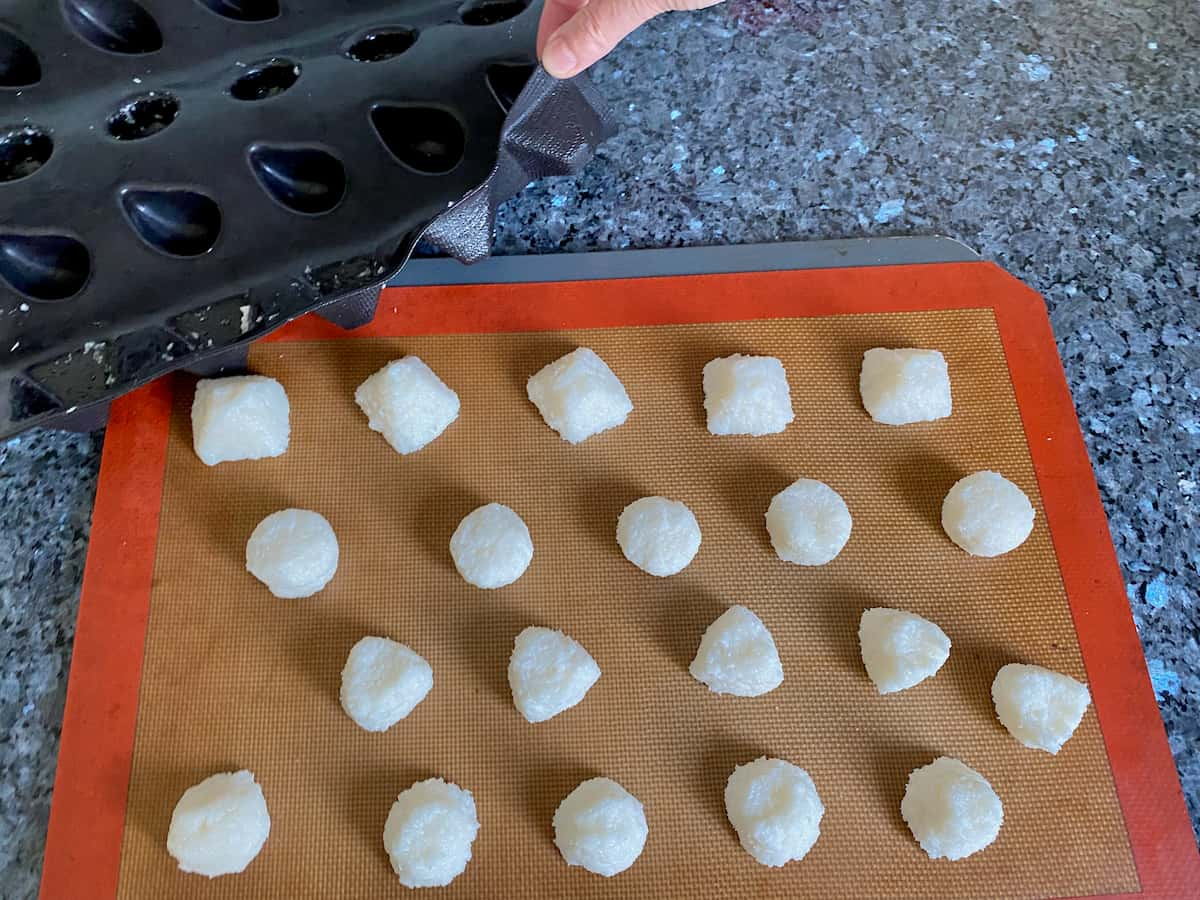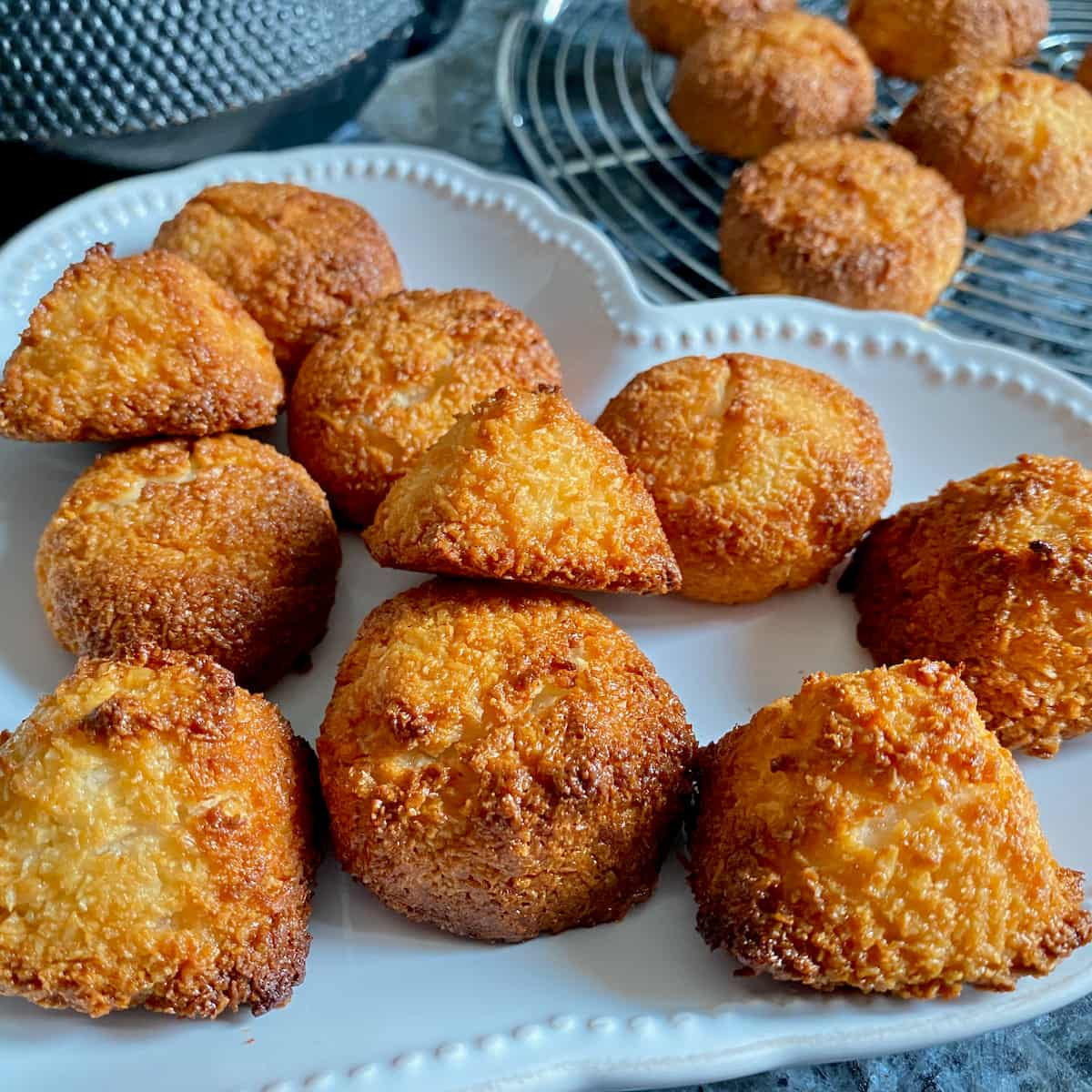 Are Coconut Macaroons Chewy or Crunchy?
Like macarons, they are neither chewy or crunchy as such.
Coconut macaroons have a slightly crispy exterior thanks to the well toasted coconut. We like ours particularly well toasted and shiny golden on the outside. If you prefer yours lighter, then bake for a few minutes less (keep your eye on them in the oven).
If you keep them for a few days, however, the exterior crispiness gradually disappears but they remain soft inside.
The inside remains deliciously soft and fondant rather than chewy.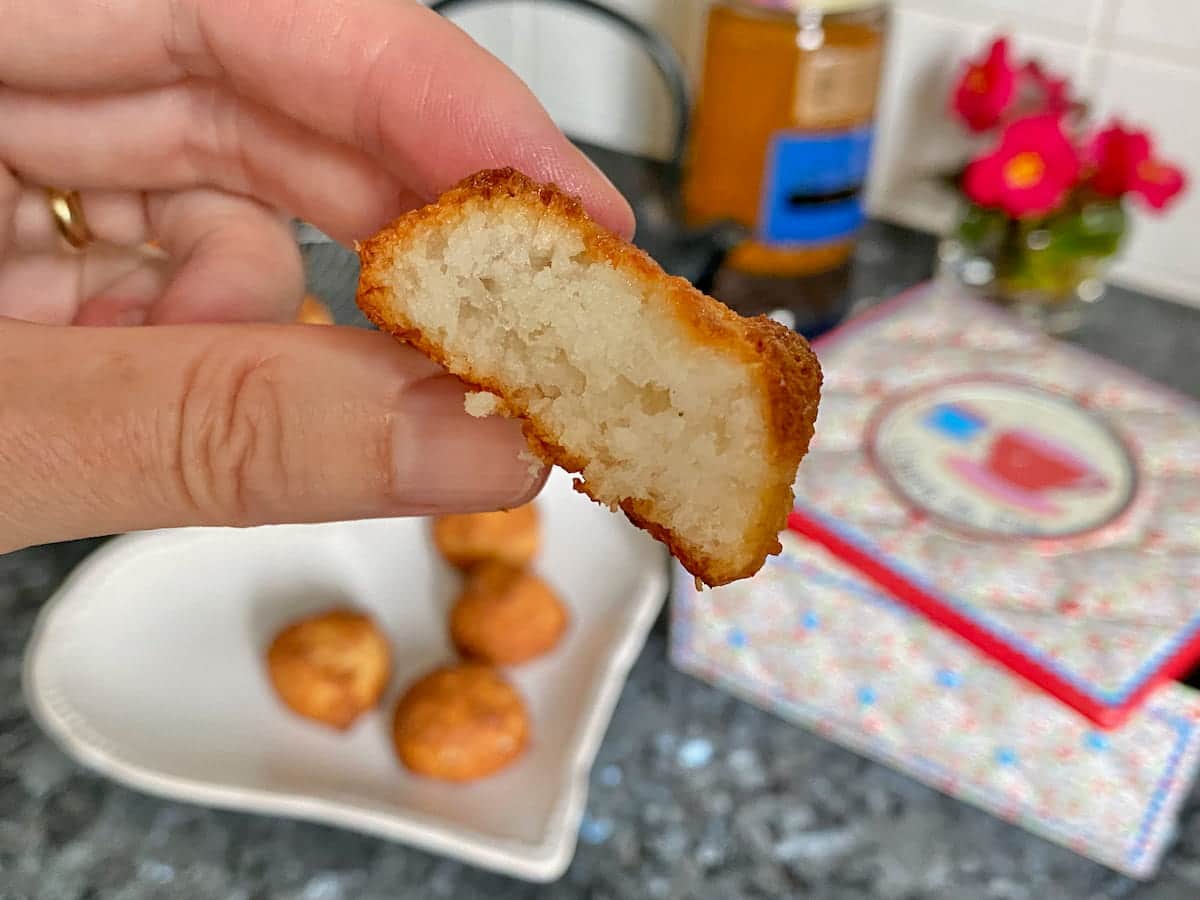 Are Coconut Macaroons a Healthy Snack?
We love this recipe as it's lower in sugar content than many other classic recipes. They're a healthier snack as don't contain sweetened coconut or sweetened condensed milk.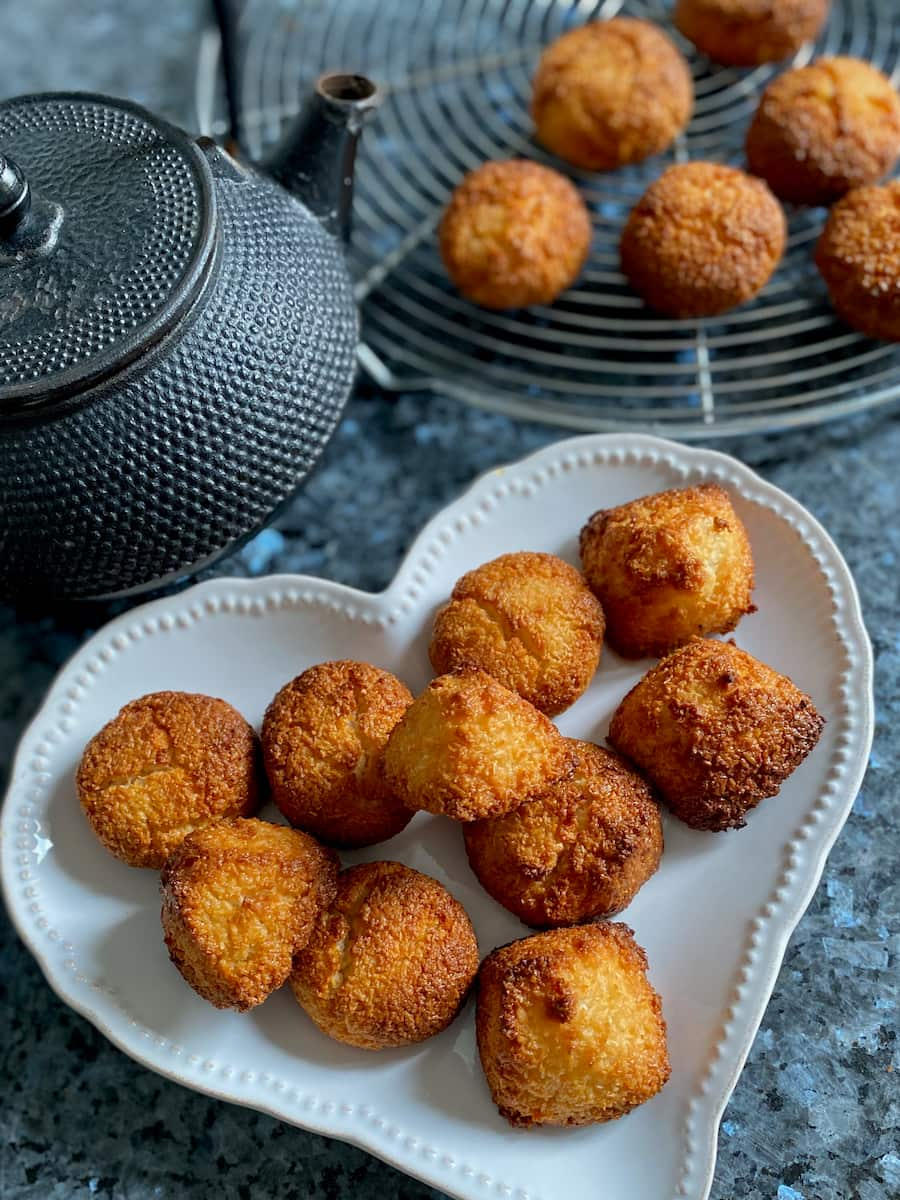 Baking Tips for Coconut Macaroons
What could possibly go wrong with this easy recipe? Nothing much but here are some troubleshooting tips to help:
Why are my macaroons so dry?
Personally I haven't ever had this problem using this recipe, as there is enough liquid in the mixture. By using honey (or apple compote/sauce), which naturally absorbs moisture in baking, your macaroons will remain moist. Also, don't over- bake. Remove them from the oven as soon as they are golden brown.
Why do they spread?
Again, this has never been a problem using this recipe as the quantities are not too liquid to make them spread. Just follow the recipe instructions below and ensure you weigh out your ingredients exactly using a digital kitchen scale.
Why are Mine Sticky?
It's normal they are a bit sticky, as macaroons contain sugar, egg whites and honey. If they are too sticky, I'd suggest leaving the mixture to cool completely in the fridge (many French chefs leave the mixture for 24 hours) and rest before baking. Plus bake them a little longer - say, another 3-5 minutes to toast them;
Any more you'd like me to add?
Let me know in the comments below and I'll do my best to help.

What Can I Make With the Leftover 2 Egg Yolks?
As the two egg whites in this macaroon recipe can last for about 5 days in the fridge (and freeze well), make the egg yolk recipes preferably in advance as they don't last as long.
So, before making these macaroons, use both leftover yolks to make Palets Bretons (salted butter biscuits from Brittany), French rice pudding, savoury lemon sauce or Crème Dubarry (cauliflower cream soup).
How Long Will Coconut Macaroons Last?
Coconut macaroons can last well if kept stored in an airtight container for up to 5 days. To enjoy them at their best, use a metal tin lined with parchment paper. Although they slightly lose their crispiness, they remain beautifully fondant soft inside.
They don't need to be refrigerated.
They also freeze well. Use within 2 months.
However, any leftover mixture unbaked can be kept covered in the fridge for 2-3 days. Just stir well before ready to bake.
Coconut Macaroons
Coconut macaroons made the French way (Rochers coco) as extra toasted and crispy on the outside, soft and fondant inside. Easy recipe made without condensed milk and less sugar.
Ingredients
125

g (4½oz/1½ cups)

shredded coconut

(unsweetened)

90

g (3½oz/½ cup)

sugar

75

g (3oz)

egg whites

(from 2 medium organic eggs)

10

g (1 level tbsp)

runny honey

Acacia best

pinch

salt (optional)

(fleur de sel, Maldon or Celtic salt)
Instructions
Mix together all the ingredients (sugar, coconut, egg whites, honey and salt) until well blended then continue mixing with a spoon over a bain-marie (a double boiler, i.e. a glass bowl over a pot of simmering water. The bowl should not touch the water) for about 5 minutes until the mixture is completely blended together and the egg whites coagulated.

Leave the mix to cool on the counter for about 10 minutes. (At this point, many French chefs chill this mixture overnight to make them easier to shape into large moulds but it's not completely necessary with smaller shapes).

Preheat the oven to 180°C fan/200°C/400°F/Gas 6.

Lightly moisten your hands with a little water and roll the coconut mix into little balls using the palm of your hands. Otherwise use a spoon or small ice cream scoop to shape them into regular mounds.

(Tip for alternative shapes: for a French look, shape into pyramids using special silicone shaped moulds - or use an ice tray/mini muffin moulds and shape the top with fingers. Leave to chill for 15-30 minutes in the fridge to push out the shapes directly on the baking tray. Otherwise pipe out using a large star tip.)

Place them with a space between them on a baking tray covered with either baking paper or a silicone mat (Silpat).

Bake for 10-15 minutes, turning the tray around half way through baking to cook more evenly until golden brown (or more according to taste). Leave to cool.
Notes
YIELD: Makes 15-20 small macaroons. 146 calories based on 3 per person. (Gluten Free) Baking: I like my coconut macaroons well toasted but if you like them less browned on the outside, then reduce the baking time. Storage: best eaten on the day but can be stored in an airtight metallic container in a cool, dry place for 3-5 days. Can be frozen for up to a month. Variation with Chocolate: Also excellent dipped or decorated in dark (bittersweet) chocolate. Melt 75g (3oz) of good quality dark cooking chocolate (64%) in a water bath (bain-marie, which is a bowl over a saucepan of a little simmering water) then dip the cooled macaroons in it (easier to set if macaroons are chilled in the fridge for about 20 minutes). Measures: Please note that all my recipes are best made using digital kitchen scales in precise metric grams. Both ounces (and cups) are given as a guide. 
This recipe was first published in my 2nd recipe book, Teatime in Paris in May 2015.
For more coconut bites, try my Granny's mini no-bake bite-sized snowballs, also reduced in sugar, packed with dried fruits and vegan. Dress them up like little Christmas puddings for the festive season or roll them in more coconut.