Welcome to my self-guided Saint-Germain-en-Laye Chocolate Pastry Tour, the part of my series on delicious Day Trips near Paris.
Following my introduction to Saint-Germain-en-Laye, this is where we live. There are about 400 shops in the royal historical town and, if you tend to look in the sweeter windows, then I have selected my particular favourites in the centre of town for your very own DIY tour, all within easy walk to and from the RER train station, opposite the castle.
As with all my online guides, please check opening times directly from the shops' websites, as they're subject to change.
Patisserie Grandin
Since Grandin opened in 1822, this pastry shop has been an institution on Rue au Pain (Bread Street), the oldest medieval street of Saint-Germain-en-Laye.
Taking over from Michel Pottier in 2019, pastry chef Michael Masset continues a traditional yet modern touch to French pastries from the Opéra cake to a legendary Baba au Rhum, with or without fruit. What's more, Grandin has FOUR house specialities.
Le Debussy, created by Grandin in 1925, pays hommage to the composer – born in the house across the road on rue au Pain. It's the smallest pastry but an oversized chocolate – with a hazelnut sponge, praline mousse, rum and raisins, all coated in dark chocolate.
The Saint Germain Lait chocolates (milk chocolate with rum but also dark chocolate with Cognac) were created for the opening of the new railway line from Paris to Saint-Germain-en-Laye on 14 August 1847.
Hence the steam train design. More precisely, the train station terminus was in Le Pecq. Passengers would walk across the Seine bridge and take the lift up to Le Notre's terrace of Saint-Germain-en-Laye (sadly, this closed down so we have to walk up the steps!).
Le Pavé d'Or
Let me taste more, just to get this right for you – coming up!
Le Maurice Denis
13 rue au Pain
78100 Saint Germain en Laye
Closed Monday
Patisserie Hardy
Since 1978, the Hardy family have continued this bakery from father to son, previously owned by Monsieur Blanc, creator of the Gâteau de Saint-Germain. It's a compact tart made with ground almonds and almond bits and topped with a rum glaze. As they don't reveal the secrets to the recipe, after many tastings, I've developed as close as I can to the original with my recipe for the Gâteau de Saint-Germain.
Patisserie Hardy
42 rue des Louviers
78100 Saint-Germain-en-Laye
Closed Monday
Gontran Cherrier Boulangerie & Patisserie
Since 2013, Gontran Cherrier has tranformed this spot as an ex-garage into The hang-out just about 40 baguettes' length from the bustling market place.
After the Ferrandi school, Gontran Cherrier trained with Alain Passard at l'Arpège and Alain Senderens at Lucas Carton. Now he's surprising us locals – as well as in Paris – with a range of exciting breads, viennoiseries and pastries.
Try his buttery croissants with the most exquisite lamenation, Kouign Amman (butter cakes from Brittany), yuzu cheesecakes, matcha and white chocolate scones and Saint-Germain canelés, éclairs and seasonal fruit tarts.
His artisanal breads are legendary: from a tradition to squid ink baguettes and sandwich-filled buns, to curry baguettes.
Gontran Cherrier Boulangerie & Patisserie
rue de la Grande Fontaine
78100 Saint-Germain-en-Laye
Closed Thursday
Chocolate Shops
As it's the Saint-Germain-en-Laye Chocolate Pastry Tour, let's turn to the chocolate shops. As you can see, we're rather spoiled.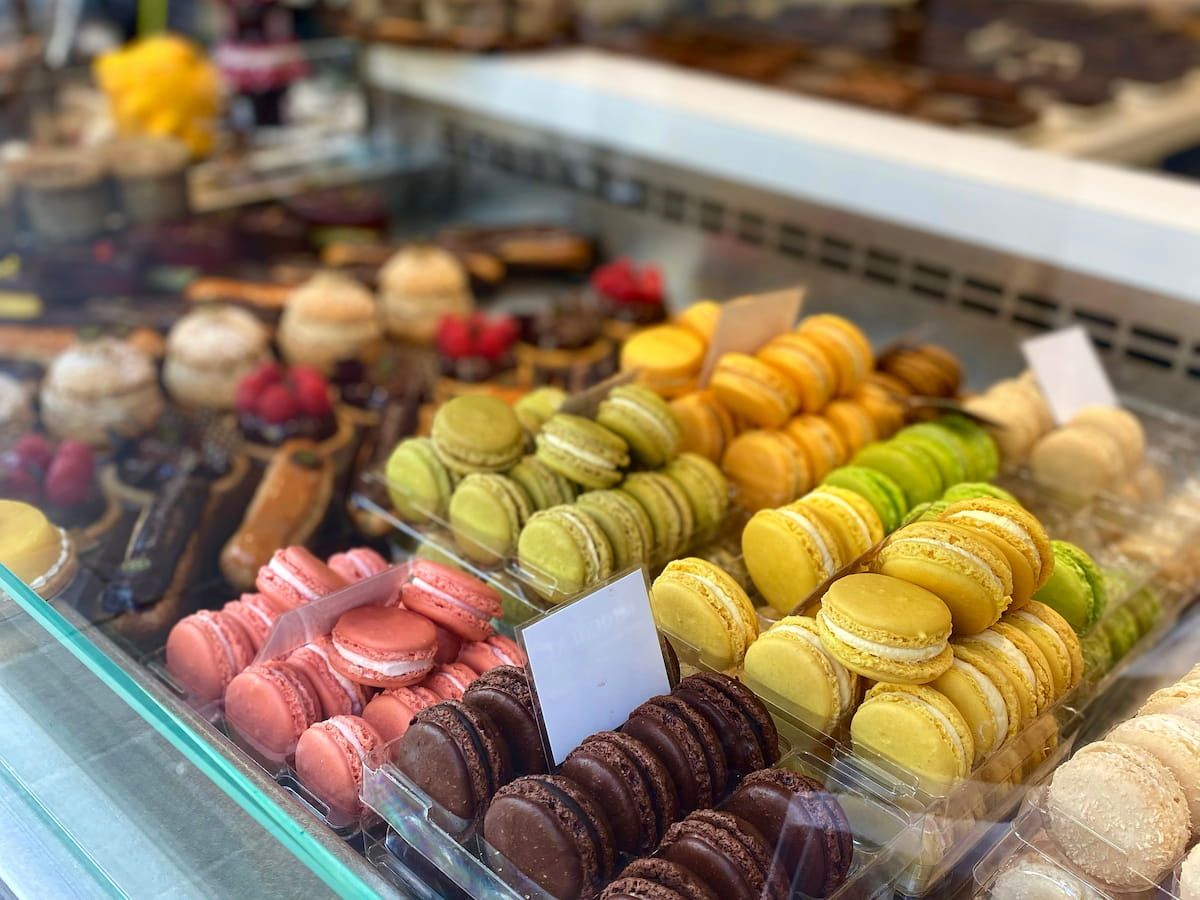 Pascal le Gac Chocolatier
This gem of an address is classed as one of the top 7 chocolatiers in France.
After working at La Maison du Chocolat for 24 years and reaching the accolade of Creative Director, Pascal le Gac set up his own boutique in Saint-Germain-en-Laye in 2008.
He favours "excellence over appearance, simplicity and lasting tradition over passing trends". A peek in the window reveals glistening classic chocolate pastries such as éclairs, moelleux au chocolat, truffles, macarons and opéras.  Each chocolate deserves its own post but a special mention goes to the mango and sage chocolate. Sounds mad? It's a must! Buy 4 tablettes au chocolat and the 5th is free.  What's not to love?
Queues outside the door are the norm, as the Saint-Germanois choose their favourite chocolates particularly over Easter and Christmas.
Step inside and smell that chocolate. Ganaches from miel (honey), spices, to even Mango & Sage – where dark chocolate and mango play together – but a subtle herby sage says a cheeky bonjour in the aftertaste.
The chocolate bars are all particularly accessible. I say that since sometimes chocolate makers can make chocolate dry, earthy and complex that it can be difficult to appreciate. Here I thoroughly recommend a bar of Equator 68% which is delightfully fruity, and the more intense Venezuela 81%. Pascal le Gac also does a 100% cacao chocolate bar.
Have you tried this 100% cacao chocolate mousse recipe from Chapon, Paris?
Before you go, taste at least a couple of macarons – the salted caramel and dark chocolate are my personal favourites.
61, rue de Pologne
78100 Saint Germain-en-Laye
Closed Monday
Chocolatier Nicolsen
Nicolsen's thin chocolate discs or palets continue a whole history of chocolate in Paris. They remind us of Sulpice Debauve who was pharmacist to Louis XVI and Marie-Antoinette, and lived in Saint-Germain-en-Laye. Of Debauve & Gallais fame, the oldest chocolate shop in Paris in rue de Saint-Pères, chocolate discs were considered as medicine for the royal household. Flavoured with orange blossom, ginger or coffee for example, they would each cure some royal ailment – including avoiding paying taxes on medicines, as it was considered as, well, chocolate!
Did you know that Mr. Debauve was the great grandson of David Chaillou who was first to set up a chocolate drinking house in rue de l'Arbre Sec, near the Tuileries Palace in 1660 under Louis XIV.
Nicolsen, based in Chavanay, are easy to spot in summer as their ice cream cart is popular outside the shop, selling the famous Paisian glaces Berthillon.
19 rue au Pain
78100 Saint-Germain-en-Laye
Closed Monday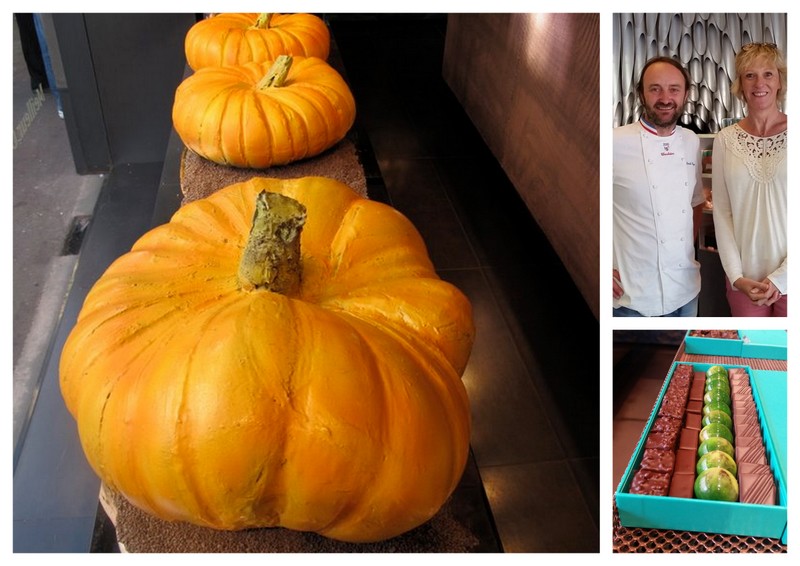 Patrick Roger
Patrick Roger is no stranger to the Paris Chocolate scene. He's the chocolate sculptor who thinks well outside the chocolate box. Titled Meilleur Ouvrier de France for his house speciality: Amazone, a bright green dome of chocolate lime caramel which takes 24 steps to obtain this look without using any colorants. If you're looking for a taste sensation, try the Delphi for a blind tasting and let me know what you think is in it.  I personally love to stock up on Beijing, his large chocolate covered candied gingers. As with top quality chocolate, this is more on the priciest side of chocolateries around Paris but worth indulging for a special occasion.
A wider range of his chocolate sculptures which he creates from his laboratory in Asnières are on show at his boutique in Place de la Madeleine in Paris.
2 rue de Paris
78100 Saint-Germain-en-Laye
Closed Monday
How could I finish a Saint-Germain-en-Laye Sweet Chocolate Pastry Tour without stopping for a cup of tea?
Chez Alice Salon de Thé
Hidden off the pedestrian precinct of Rue des Coches, Chez Alice's tearoom is a quiet haven.  Be secretly decadent with a marshmallow hot chocolate and cream, a Champagne lunch, brunch on a Sunday (reservations a must) or a most civilised teatime with a selection of teas retrieved from one of the oversized Compagnie Coloniale tea caddies.
Alice is not only one of the most adorable French women I know, but her cakes – all made by herself and her mother – are such a special treat to enjoy while escaping the hustle and bustle of everyday routine. In fact, I wish I could make it a routine to come here more often!
Chez Alice Salon de Thé
10 rue des Vieilles Boucheries
78100 Saint-Germain-en-Laye
Closed Monday
How to Get to Saint-Germain-en-Laye from Paris
Have I at least whet your appetite to jump on that train from Paris?  It only takes 20 minutes on the RER A line from Charles de Gaulle Etoile station (Arc de Triomphe) and you'll discover even more chocolate shops (such as Jeff de Bruges, deNeuville) and many more boulangerie/pâtisseries (Eric Kayser, Goulay, Maison Hardy, Paul, Fabien Ledoux, etc.), biscuit shops (La Cure Gourmande) and even a new American-style cupcake shop, Daisy Cake – I'll leave that to you to try them all!
Please note that none of this post is sponsored.
This post was originally published 20 October 2016 but is currently being updated to reflect the latest boutiques in St Germain-en-Laye.