How to make the best French toast like in our bakeries or restaurants in France. Easy Pain Perdu recipe, how it's served in France with plenty topping ideas and tips. With many thanks to our local boulangerie in Saint-Germain-en-Laye near Paris for sharing their authentic recipe.
Best French toast, ever! Thank you from USA! - Elaine
What is the French Version of French Toast?
While French toast is usually served for breakfast or brunch in America, plus eggy bread in the UK - in France it is usually served for dessert. It's often seen on dessert menus around Paris in brasseries and bistros.
So, how do you order the French version of French toast or recognise it on the menu? It's simply known in French as pain perdu (pronounced 'pang pear-doo'.)
As it's seen as a dessert, this explains why certain smaller French hotels are unlikely to have it on their breakfast menu.
Why is it Called Pain Perdu?
The meaning for Pain Perdu is literally translated as 'lost bread' in English.
'Lost Bread' refers to the time-old method of reviving fresh bread that has gone slightly stale a day or two later. So not to be lost, it's an easy recipe that has been around for centuries - since at least the Romans in the 1st century - in the combat of avoiding food waste.
Not only is fresh French bread central to our culture here from our boulangeries or bakeries, it is the utmost priority to save good bread from being lost or wasted.
Did French Toast Originate in France?
Before the French name, pain perdu was used in France between the 14th-15th century, it actually originated from the Romans.
The Roman author, Marcus Gavius Apicius (approx. -25 BC to 37 AC), first mentions a recipe ('De re coquinaria', meaning 'Culinary Art') using the same ingredients of using up old bread dipped in milk and honey then fried in oil.
So French toast was known as 'pain romain' in France, meaning Roman bread. It wasn't until the 17th century that the sweet recipe version of French toast arrived as we know it better today.
Henry IV, who was French king (1589-1610) was a particular fan of Pain Perdu. He brought the original basic dish for the poor to use up old bread into something a bit more aristocratic in France.
See the fun facts below for much more on French toast.
Best Kind of Bread to Use for Pain Perdu
While using a day-old baguette is good at home, it's not the kind of bread that's used in bakeries and restaurants serving pain perdu in France. For example, Laurent, our baker, uses any unsold baguette sticks at the end of the day not for this recipe but for a charity association.
Instead he uses more fluffy white bread like pain de mie which is unsliced bread for slicing. The closest is brioche. They are both the best kinds to use as they are so much lighter. So, if yours is not fluffy, it's probably down to the kind of bread you're using.
As a result, if you want the best authentic French toast made like the French in restaurants or boulangeries, use an unsliced bread that's white, light and fluffy.
Any of the following are good:
White bread (pain de mie) meant for slicing
Brioche
Challah
Pain au lait
Boule, large and round white bread loaf
Most popular these days, the best to use is pain brioché - get my fluffy brioche recipe to make your own. This is the global closest equivalent to the pain de mie.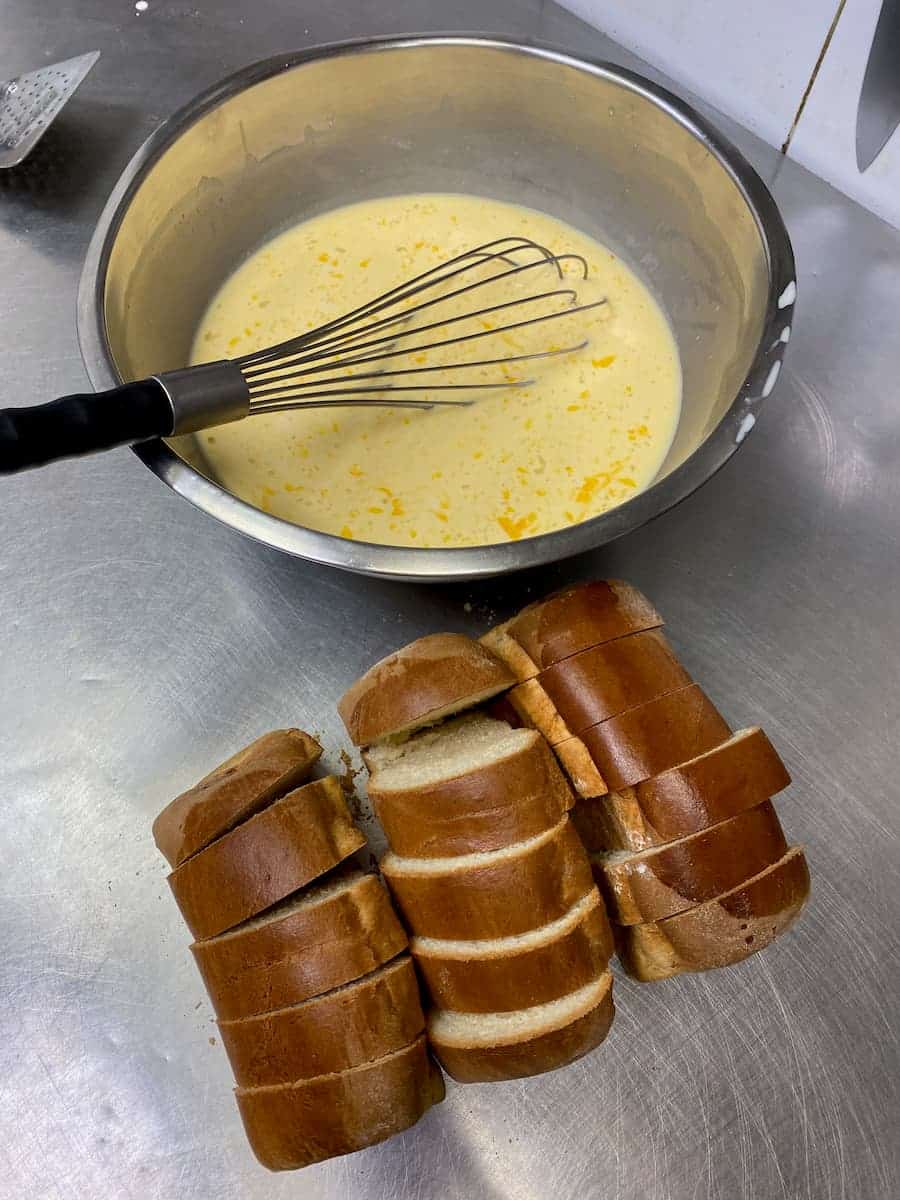 What is the Trick to Making the Best French Toast?
Here are our easy recipe tips to making the best French Toast or Pain Perdu like in France. By following these tricks, you'll avoid making the most common mistakes in making it:
Quality ingredients. The better the bread, the better the toast - and it will be fluffy.
To make the most authentic pain perdu from our boulangerie or French bakery, avoid using processed ready-sliced bread in packets. Unsliced, old 'fresh' bread is best (1-2 days' old). If you can't find this, the best and nearest option is brioche;
Measure out your ingredients using a scale. It sounds complex but it's not. It makes a huge difference!
Slice bread into thick slices. Cut to 2-3cm (an inch) thickness.
If sliced too thin, they fall apart;
Adding milk to bind the eggs. Should French toast have more eggs or milk?
Although eggs are a main ingredient, it needs the equivalent quantity of milk as liquid to make it all light. If it's mainly eggs (as often misleading in the name, 'Eggy Bread') without the milk, then it's like a stodgy omelette bread;
The bread should be totally soaked in the eggy milk.
A few seconds is all it takes, depending on how dry the bread is. (Unless your bread is really too hard - otherwise please don't use it. Make croutons instead!) Test it is soaked enough by squeezing the sides of the bread (seen on upcoming video);
Beurre Noisette: Use butter, not oil and in a non-stick pan.
Browning the butter as it cooks is what gives its naturally nutty, toasted flavour to the bread. It adds a slightly crunchy texture to the outside, while the inside remains soft and slightly spongy;
Serve warm: avoid them turning cold while making them.
Keep toasted slices in a warm oven (100°C fan/120°C) or reheat for a few seconds in the microwave.
In a nutshell, the slices should not be too thin and cooked in enough good quality butter to give them that toasted, nutty flavour.
Fun Facts about French Toast
There are many fun facts I've found associated with French Toast. However, it's not clear how genuine each of them are, hence the word, fun.
So here are the main ones with the following sources ('On va déguster France' by François-Régis Gaudry; Larousse Gastronomique; Wikipedia; Europe 1 French documentary 'Historiquement Vôtre' by Olivier Poels; and Escoffier's Le Guide Culinaire):
It was known as pain crotté or pain à la romaine (Roman bread). Said to exist from the Romans in the 1st century BC, it first appeared in a cookbook by Marcus Apicius;
According to Olivier Poels, it was called 'French Bread' in England - with 'French' meaning 'sliced' in old Irish, rather than French - although I can't find any other source for this;
According to popular legend, perhaps it should have been called French's toast. In 1724, New York tavern owner, Joseph French, came up with the idea of re-cycling leftover bread;
In New Orleans, it's only known as pain perdu, while around the world it has other names:
e.g. UK Eggy Bread, Portuguese and Brazilian Rabanadas, Danish, Norwegian and German Arme Riddere/Ritter (Poor Knights), and Indian Bombay Toast;
According to Chef Auguste Escoffier, he calls it pain perdu but also Croûte Dorée, meaning golden crust;
In the south of France, it was served during religious festivals, notably at Easter;
In Alsace, there's a savoury variation called Brotknepfle. Formed into quenelle shapes with shallots and nutmeg.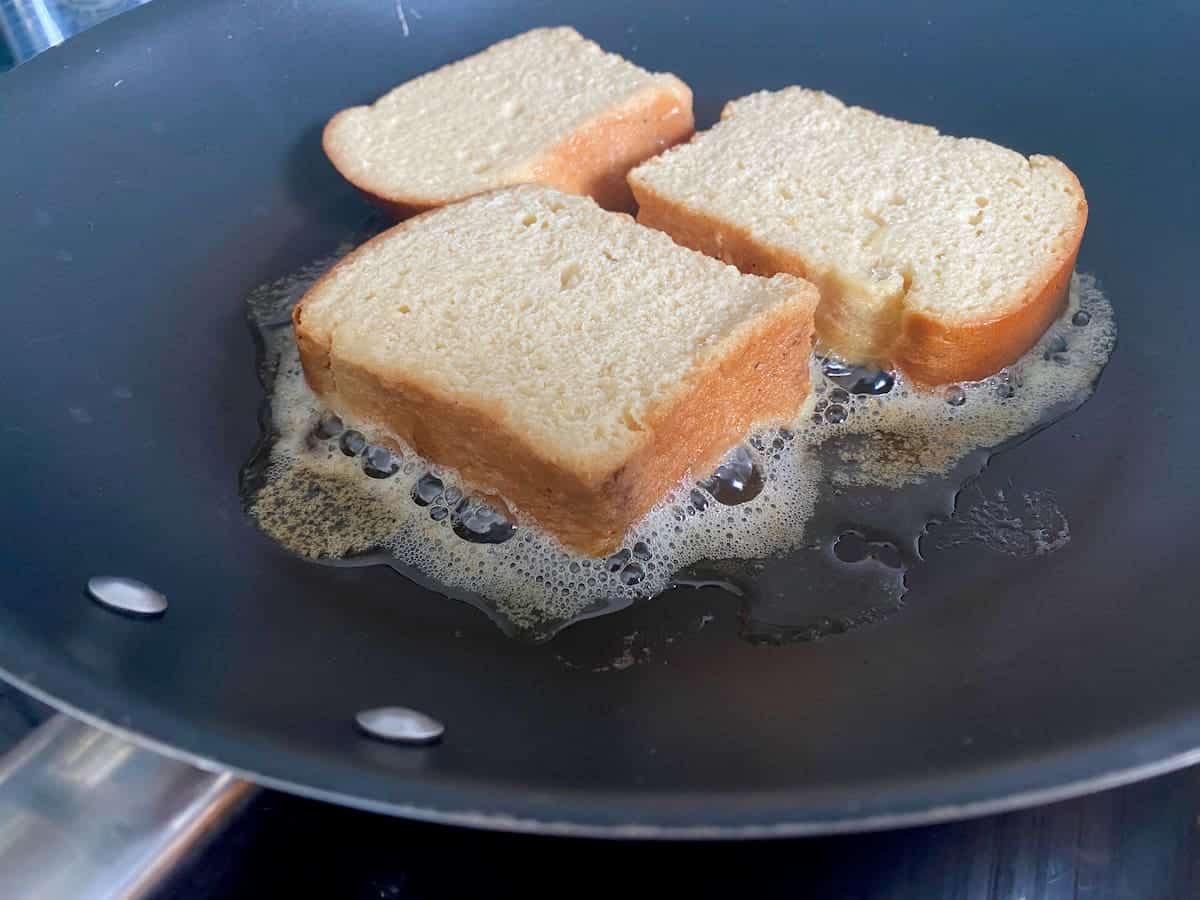 Variations of Pain Perdu
While this recipe is the most classic and the one used in our local bakery (boulangerie), chefs also add a personalised touch, such as:
Vanilla: ideally scraped seeds from a vanilla pod (or bean) or 1 teaspoon of powder or extract;
Adding more heavy cream;
Different liqueurs depending on French region: Armagnac, Calvados (or Pommeau), Cointreau, Rum.
Is it Healthy?
This pain perdu recipe is healthy, as it is low in sugar and uses a little butter. Don't forget that butter isn't bad for you - as long as it's consumed with moderation and is good quality butter (French style at 82% - see US/UK glossary of French ingredients).
However, much like with French pancakes or crêpes, it's the toppings that can end up making this unhealthy. Especially if the products are ultra-processed: such as synthetic cream, ice cream and synthetic chocolate spreads.
As a result, I strongly urge you to use the most natural toppings as much as possible and avoid industrialised packaged foods which mostly contain far too much sugar.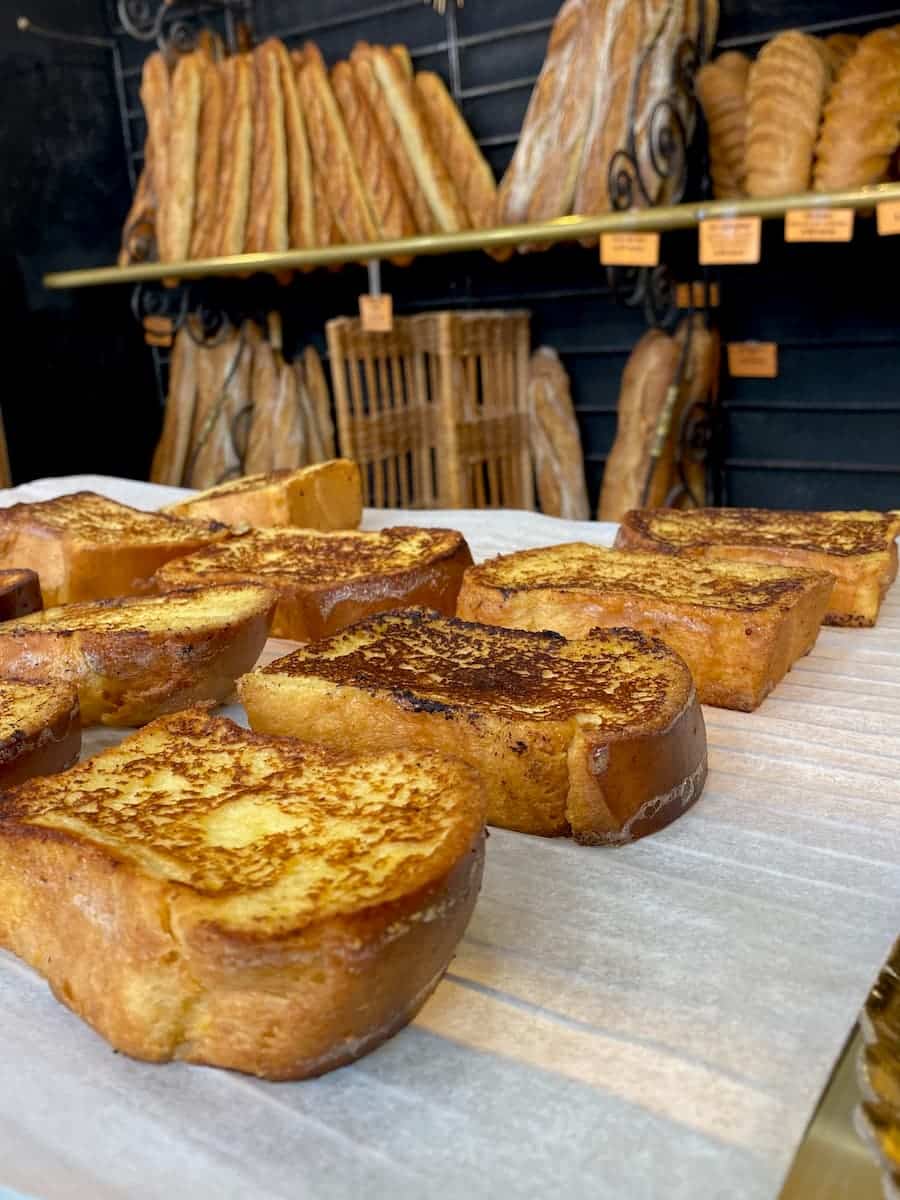 What are Good Toppings for French Toast at Breakfast?
Slices are delicious served simply on their own, just like pain perdu is sold in our bakeries in France.
Add the following healthy toppings, according to season and mood to make the ultimate breakfast or brunch: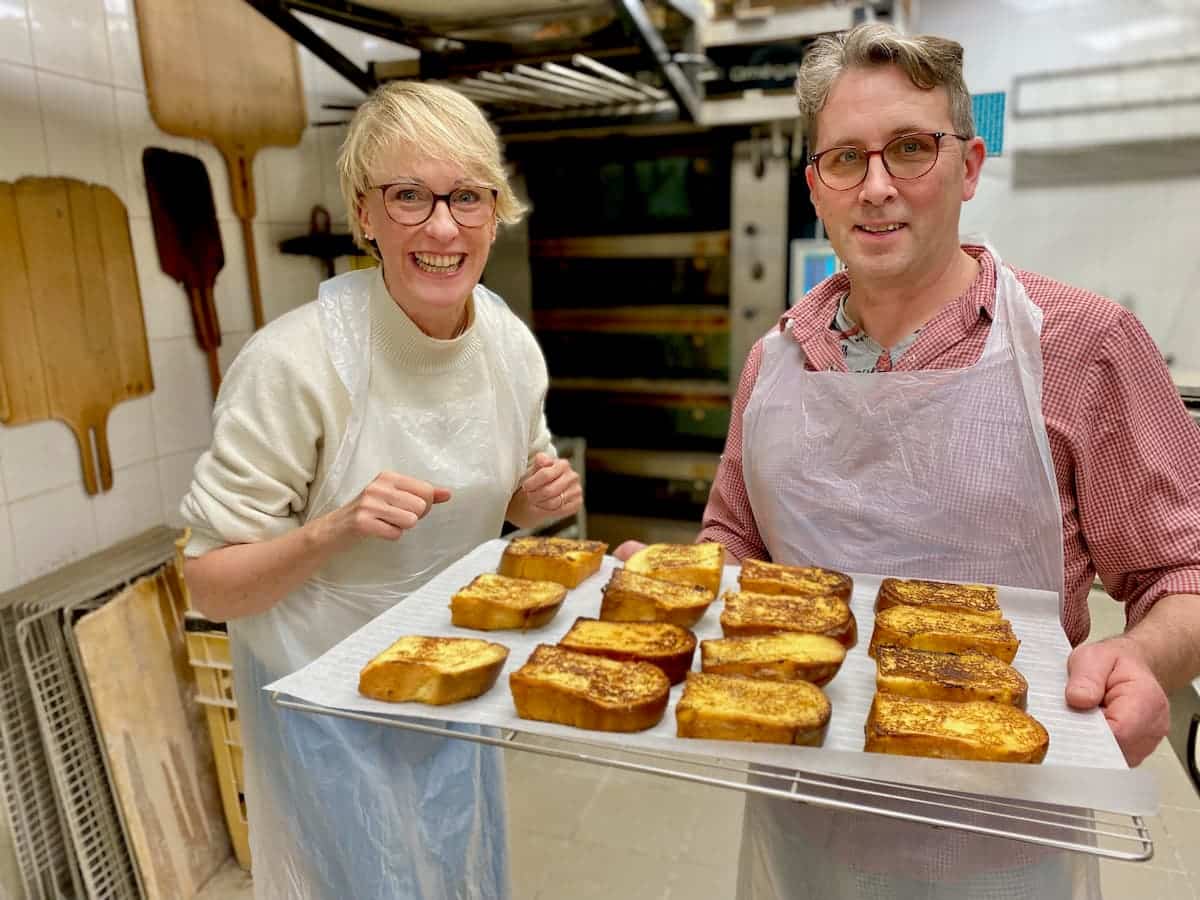 Best Pain Perdu Topping Ideas for Dessert - Like the French
If serving pain perdu slices as a dessert like in France, enjoy them served warm with either fresh seasonal fruits, roasted fruits or sauces from my following accompanying recipes. Some of my top 10 sweet topping ideas are inspired by the desserts from Ladurée in Paris: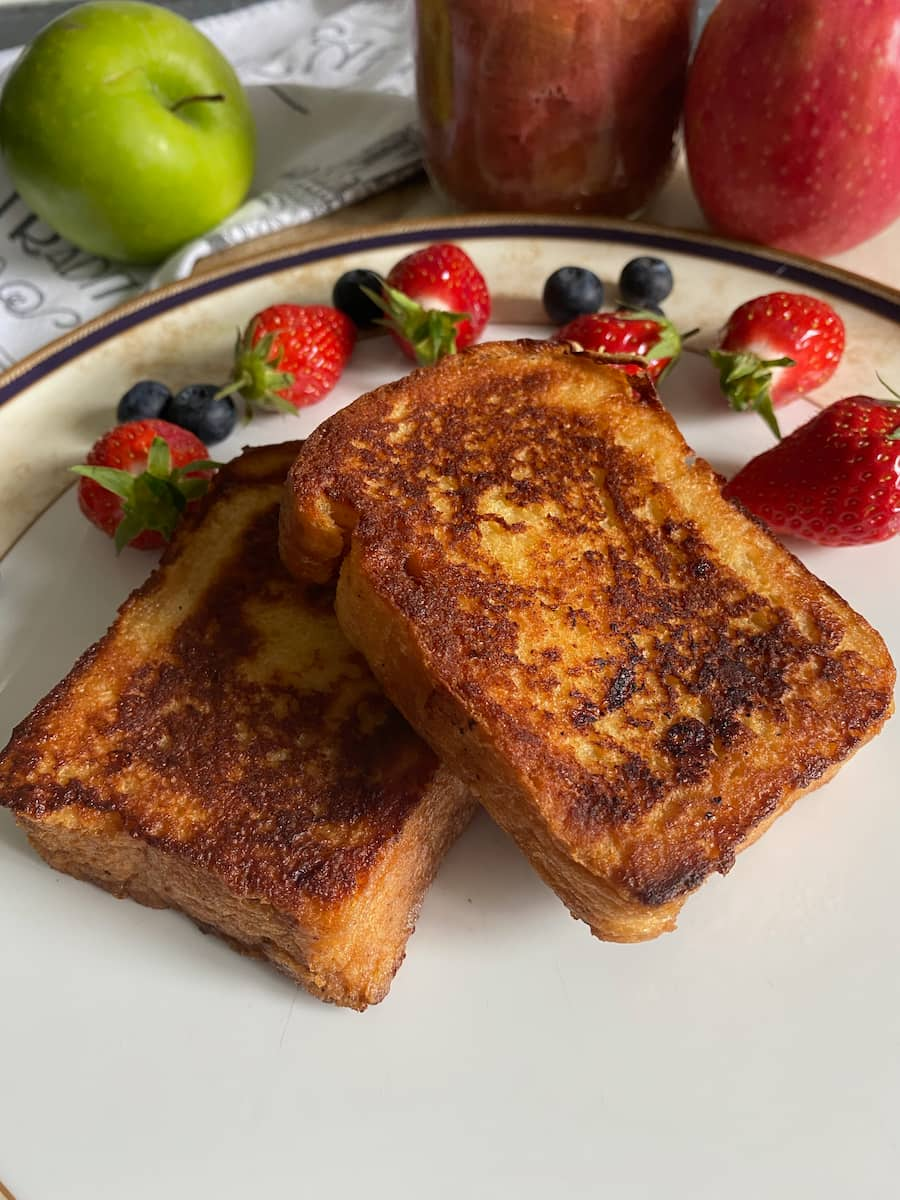 With huge thanks to Laurent Ehmig for welcoming us into his boulangerie, l'Aigle d'Or in Saint-Germain-en-Laye near Paris. As you can see from his easy recipe, he has shared all his tips so you can make French toast just like the French.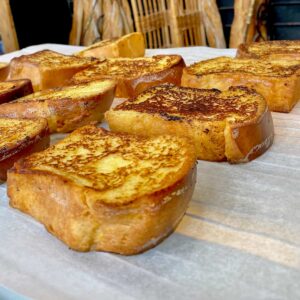 Best French Toast Recipe (Pain Perdu)
Easy French recipe for Pain Perdu - French Toast made the French way. The best, day-old fluffy white artisanal bread or brioche slices are soaked in a mix of milk, cream, eggs and sugar and fried in toasted butter. Recipe with thanks to Laurent Ehmig, baker at l'Aigle d'Or in Saint-Germain-en-Laye near Paris.
Ingredients
loaf of day-old white bread or brioche

(unsliced)

3

(150g)

eggs

organic

200

ml (¾ cup)

whole milk

or semi-skimmed

50

ml (bit less than ¼ cup)

heavy cream

(crème liquide)

50

g (¼ cup)

sugar

25

g (2 tbsp)

cane sugar

pinch

sea salt

fleur de sel, Maldon or Celtic

25

g (2 tbsp)

butter

unsalted
Instructions
In a large bowl, whisk together the eggs, sugar and cane sugar. Pour in the milk and cream.

Cut the bread or brioche into about 6 thick slices of about 2-3cm (an inch) per slice.

Soak each slice in the liquid for a few seconds (or more if the bread is quite dry) until completely soaked through the bread. Transfer each slice to a tray.

In a medium-hot non-stick frying pan, melt the butter until it starts to mousse a little.

Fry the slices in the butter until well toasted on each side. As the slices cook, the butter will also become toasted. Repeat until all the slices are used.
Notes
To serve: serve warm either immediately or keep warm in the oven at 120°C/100°C fan for a few minutes before serving. Top with a dusting of powdered sugar and fresh berries or slices of fried apples with salted caramel sauce.
Storage: leave any leftover slices to cool then stack on a plate covered with another upturned plate. The pain perdu can also be frozen, sealed in freezer bags.
Measures: Please note that all my recipes are best made using digital kitchen scales in precise metric grams. Both ounces (and cups) are given as an approximate guide.