Easy recipe for sliced roasted pineapple - oven baked with a wet caramel of sticky vanilla, ginger, cayenne pepper/chilli and dark rum.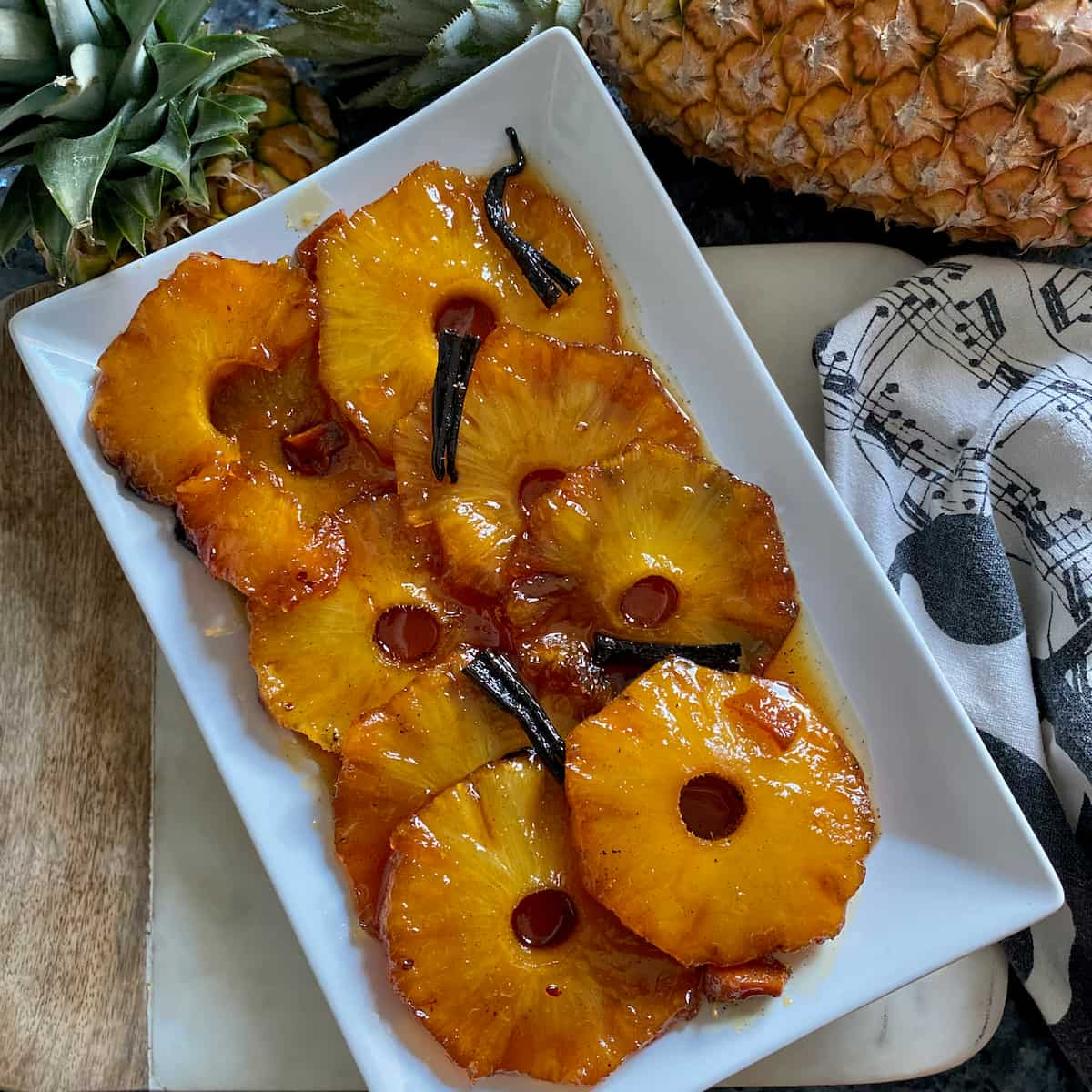 Does Roasting Pineapple Make it Sweeter?
Pineapples, when ripe, are deliciously juicy and naturally sweet. Especially the small Victoria pineapples - they are so characteristically sweet that even the inner core is edible. However, there is an acidic element to pineapples which some people prefer to sweeten further - and so this recipe is the ultimate way to sweeten pineapple without it being too sweet.
Before I made this by roasting it whole; now I prefer slicing the pineapple first before baking. This way, the pineapple bakes in the rum caramel and caramelises the whole pineapple, rather than just on the outside.
Brief History and Symbolism of Pineapples
Ever since Christopher Columbus brought the pineapple to Europe from Guadaloupe in 1493, this exotic fruit has symbolised wealth and generous hospitality. By the 18th century, pineapples were such a rare, expensive delicacy that they weren't always eaten straight away.
Pineapples were seen as a wealth indicator and the utmost symbol to welcome guests.
So they adorned dinner tables as centre-pieces and could even be rented out by the day. Royalty and the aristocracy wanted to be seen with such a rare - and exotic - status symbol, so set about discovering how to grow them.
For much more facts, including nutritional information,
see the market page on pineapples.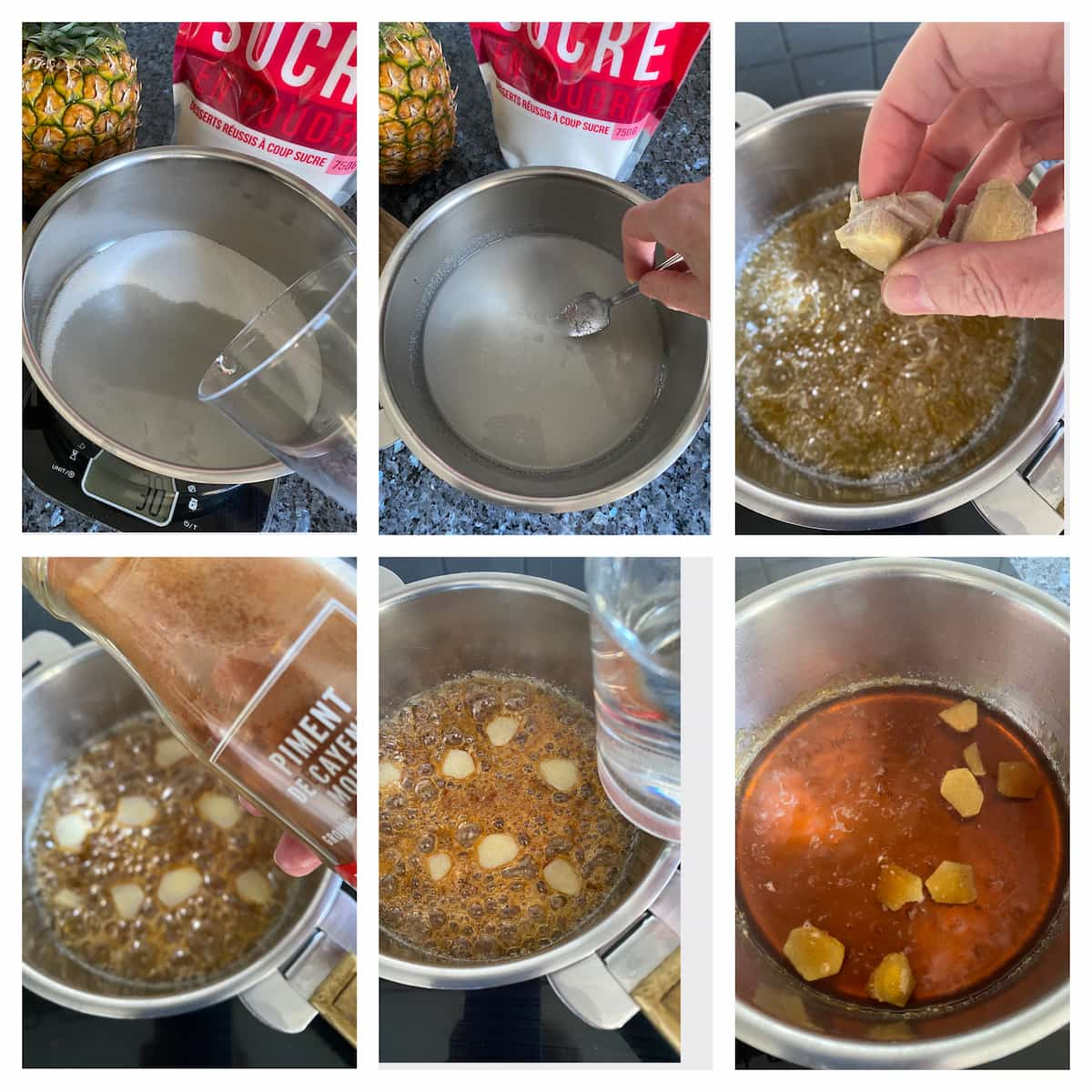 Roasted Pineapple Recipe - With Just One Vanilla Bean
This dessert was originally inspired by the roasted pineapple recipe, Ananas Rôti à la vanille caramélisée from the French book, Larousse des desserts by Pierre Hermé. Although, in light of rising living costs, however, I reduced the whopping amount of SEVEN vanilla pods to just one.
After experimenting many times, one is more than enough - especially thanks to this easy trick I picked up many years ago in Provence:
Tip: as soon as I buy a vanilla pods/bean, store in a jar steeped in a little rum.
For more about this vanilla tip, see my recipe post for confiture de lait or Dulce de Leche.
I also previously made this recipe with passion fruit but now feel there is no need. This helps the pineapple's roasted flavours shine through.
Making a Caramel
The original recipe included a complex caramel then added 220ml of water. Instead, I make a quick wet caramel, just like I do for my Tarte Tatin recipe, then add a little water later. For us home cooks, this is much easier.
See my video demonstration of making wet caramel (from exactly 2:00 minutes),
from my French crème caramel recipe.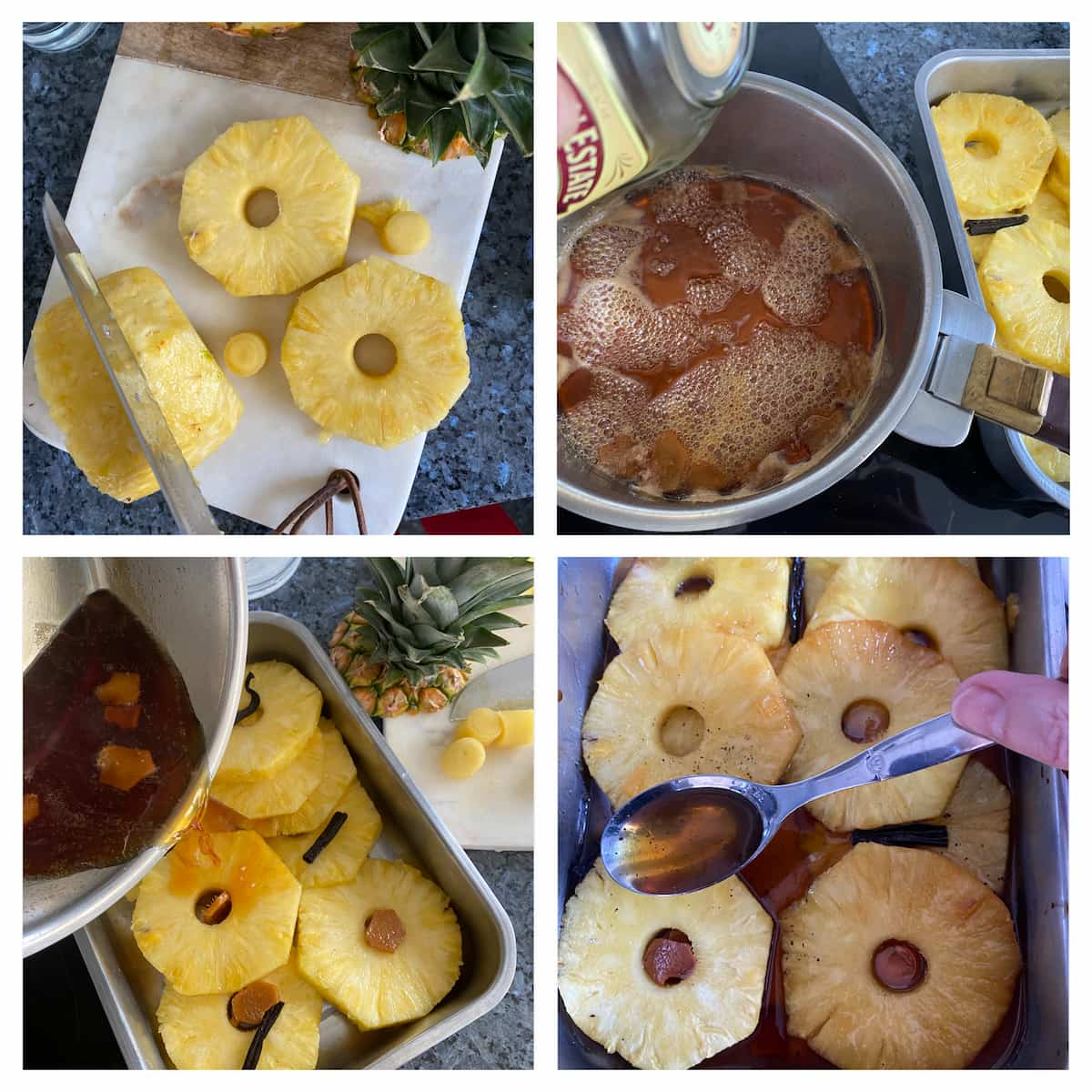 Roasted Pineapple with Spice
Love heat with the exotic? Add a good pinch of cayenne pepper or chilli powder to this recipe.
I also add slices of fresh root ginger. Unlike the original recipe where we're instructed to strain it off before baking, I keep it in as the resulting taste in the final dessert is still fiery. Adjust according to your taste - add less or more.
How to Serve Roasted Pineapple Slices
This dessert is delicious served simply on its own at room temperature or chilled. Use this recipe as a base for the following. Simply use the pineapple slice at the bottom and layer it with:
Vanilla or candied fruit (plombières) ice cream (no-churn).
For an elegant dinner party presentation, press ice cream into pretty moulds like in the above photo and surround with the remaining caramelised vanilla roasted pineapple juices.
Top with a dried pineapple flower - to make these, see my post for dried rhubarb chips, and follow exactly the same techniques.
Top with French-style rice pudding, Pineapple Riz Condé - Alexandre Dumas called it this, but see Escoffier referred to it as Ananas à la Créole.
Delicious served simply with Coconut macaroons for dessert.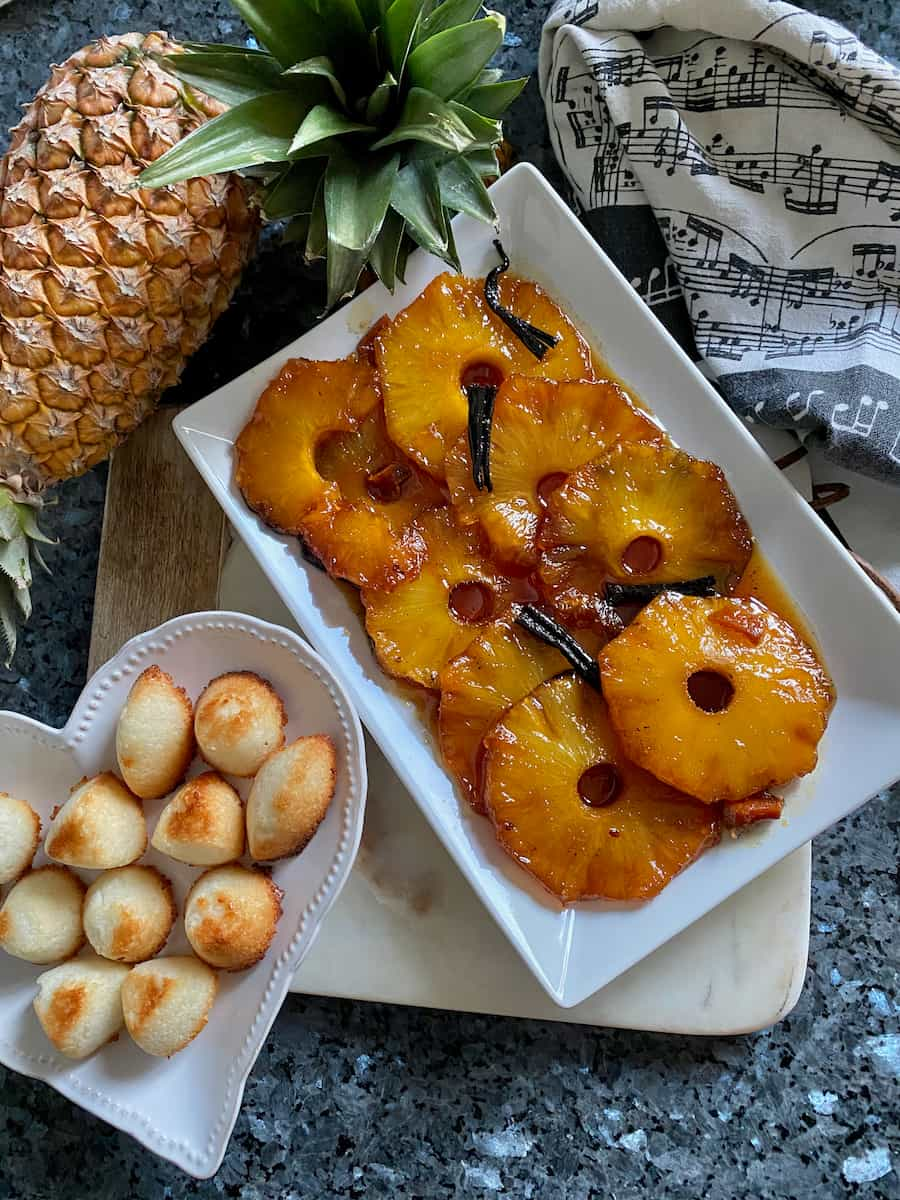 Roasted Pineapple with Sticky Vanilla
Caramelised, roasted pineapple slices oven baked with vanilla and dark rum. Adjust the ginger and cayenne pepper to your exotic and spicy taste.
Ingredients
1

large

pineapple (at least 1 kg)

100

g (½ cup)

sugar

220

ml (1 cup)

water

warm

6

slices (10g)

ginger

less or more, according to taste

good

pinch

cayenne pepper or chilli powder

1

vanilla pod (bean)

cut in 4

30

ml (2 tbsp)

dark rum
Instructions
Prepare the syrup: carmelise the sugar. Stir sugar in a saucepan with 2 tablespoons (30ml) of the water to dissolve a little then place on a medium heat without stirring.

After about 10 minutes, as soon as the caramel turns a dark golden colour, add the ginger slices and cayenne pepper then immediately add the rest of the warmed water (it's important it's warm-hot, otherwise the caramel will instantly harden.) Stir then bring to the boil.

Take off the heat then add the rum.

Preheat the oven to 210°C. Prepare the pineapple by cutting off the outer skin with a sharp knife then cut into 3-4cm slices, removing the inner core (an apple corer makes this easier, otherwise cut out with a sharp knife).

Cut the vanilla pod down the middle and cut into 4. Place the pineapple slices in a roasting tin, pour over the caramel and roast in the oven for about 50-60 minutes, spooning the syrup over the pineapple every 15 minutes to coat evenly.

Remove from the oven and leave to cool slightly.
Notes
Serve either at room temperature or chilled. Best either on its own or

 served with coconut macaroons.
Use this recipe as a base and serve a pineapple slice as a first layer for:
This recipe post was first published 28 May 2013 but is now completely updated - the recipe is also adjusted to adapt to rising living costs, with less vanilla pods/no passion fruit.