How to make dried rhubarb chips, an easy delicious garnish for fruit desserts, ice creams/sorbets and savoury dishes such as terrines and pâté.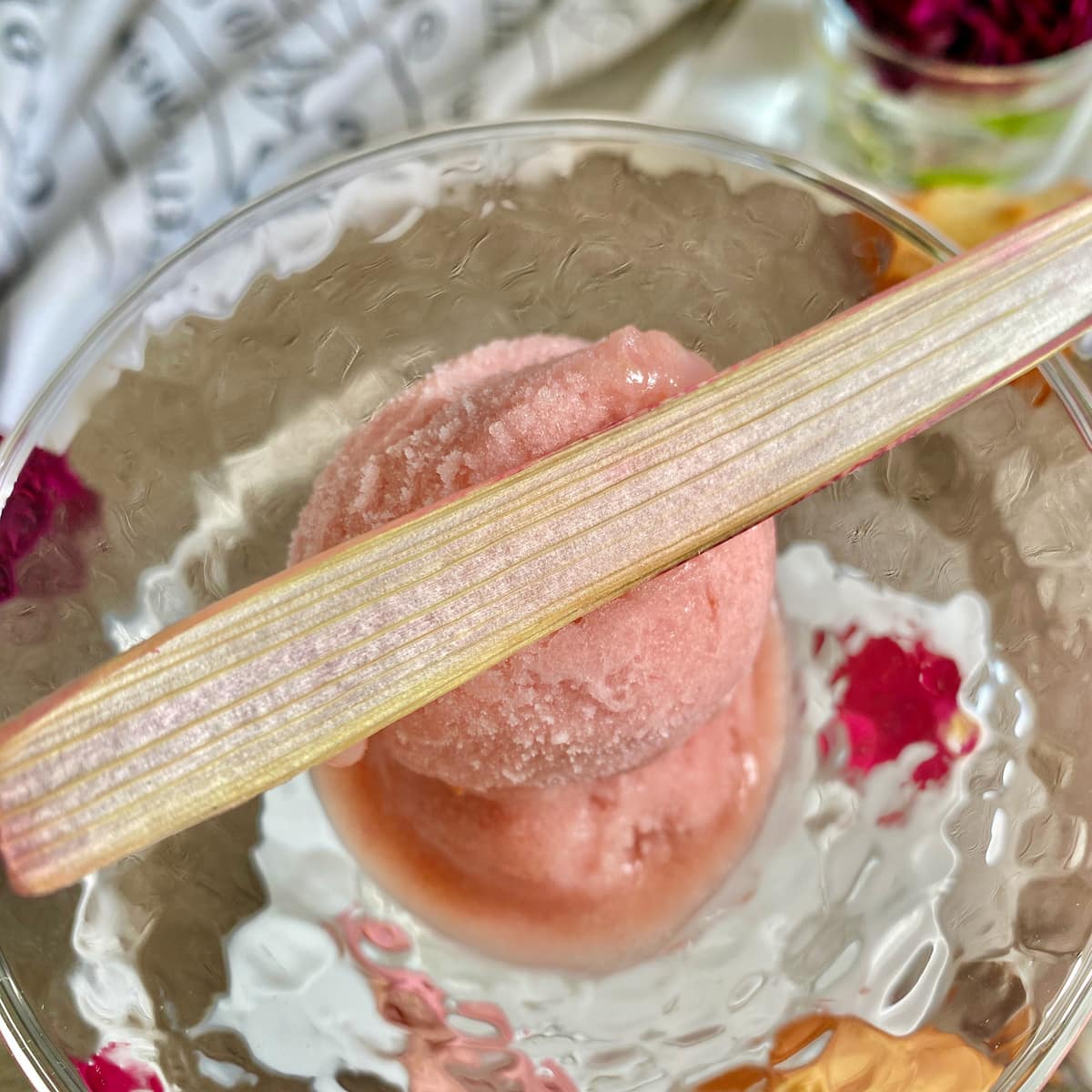 Dried Rhubarb Chips - A Parisian Restaurant Trend
This recipe stemmed (pun groan) when I first saw pretty dried pineapple sunflowers decorating an exotic fruit dessert a few years ago in Paris (by Chef William Ledeuil at Ze Kitchen Galerie). I just had to make them at home. And they're so easy!
Same Method as for Pineapple or Apple Chips
After trying them out successfully in my own kitchen (well, not that successfully: I just missed cutting my thumb to the nerve with the mandoline - so please be extremely careful!).
I cut a pineapple then also a Granny Smith apple into thin slices, soaked them in syrup then oven baked them to dry.
So I tried it out on rhubarb too, using the same simple method. This time being a lot more careful with the mandolin's blade with the security attachment - and it worked!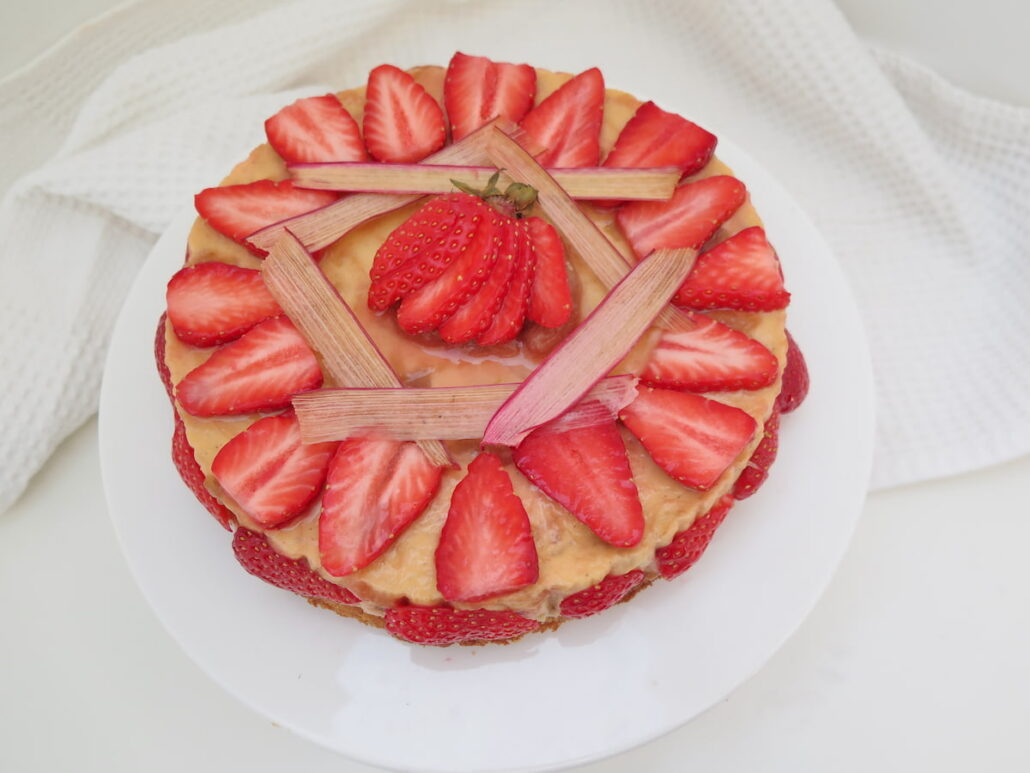 What to do with Dehydrated Rhubarb
We've seen dried apple chips - either sold in packets as a healthy alternative to potato chips (crisps as we say in the UK), or used as a garnish in desserts. So why not dried rhubarb chips? They are the perfect decor for ice creams and sorbet plus your Spring desserts.
Ideal garnish for this rhubarb and custard cheesecake (or any cheesecake as they're beautifully tart) and all sorts of these rhubarb dishes.
Even savoury! The tartness is fun to match up with Foie Gras, terrines or pâtés, for example.
How to Make Dried Rhubarb Chips
Cut the thinnest, wafer-thin slices using a mandoline cutter (be very careful - use the safety attachment if possible)
I prefer the bigger stalks of rhubarb for drying effectively but if you prefer the smaller, then be even more careful with the cutter!
Soak rhubarb slices in a light syrup of sugar and water. Cover and leave for about 15 minutes
Once they've been soaked, they will have stopped curling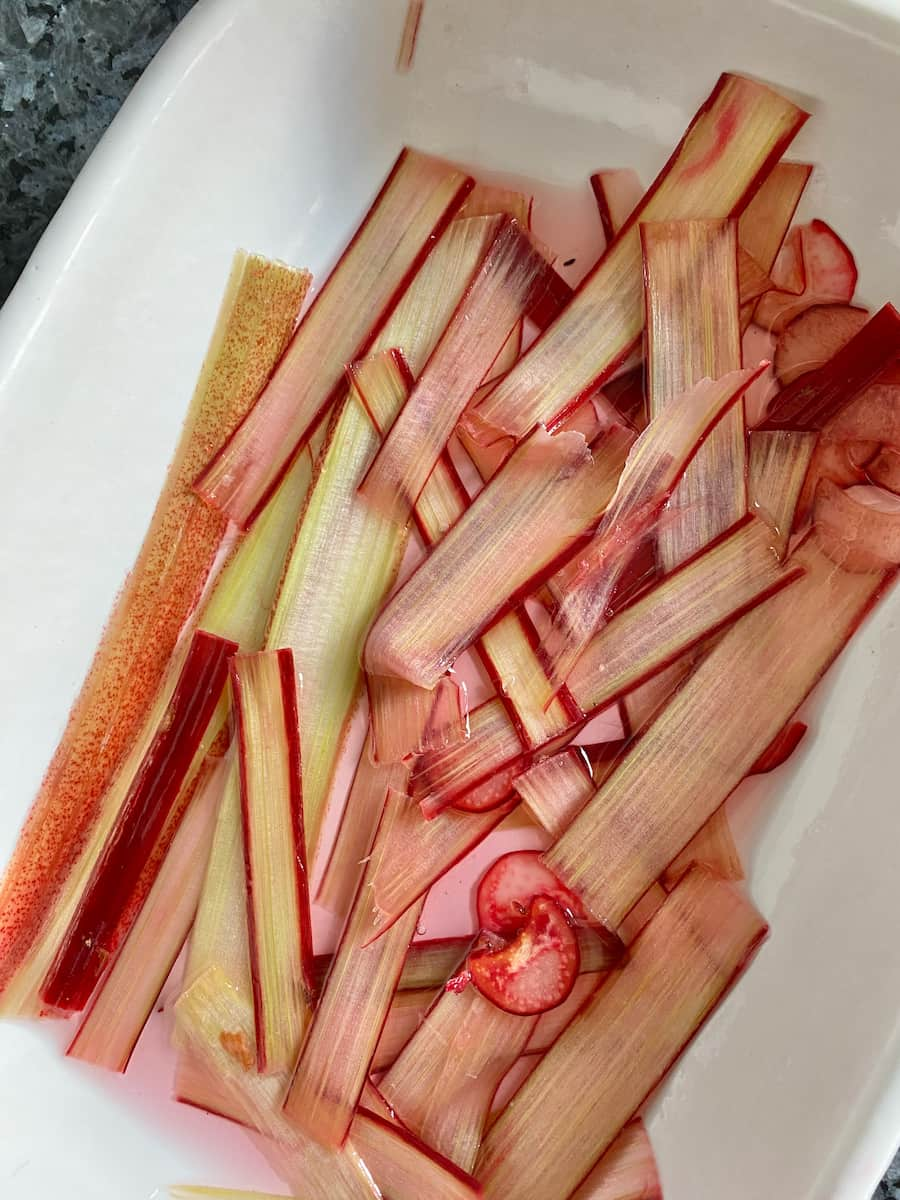 pat slices to dry using kitchen paper or a clean towel
bake in a cool oven to dry for up to 2 hours - smaller slices take between an hour to 1h30.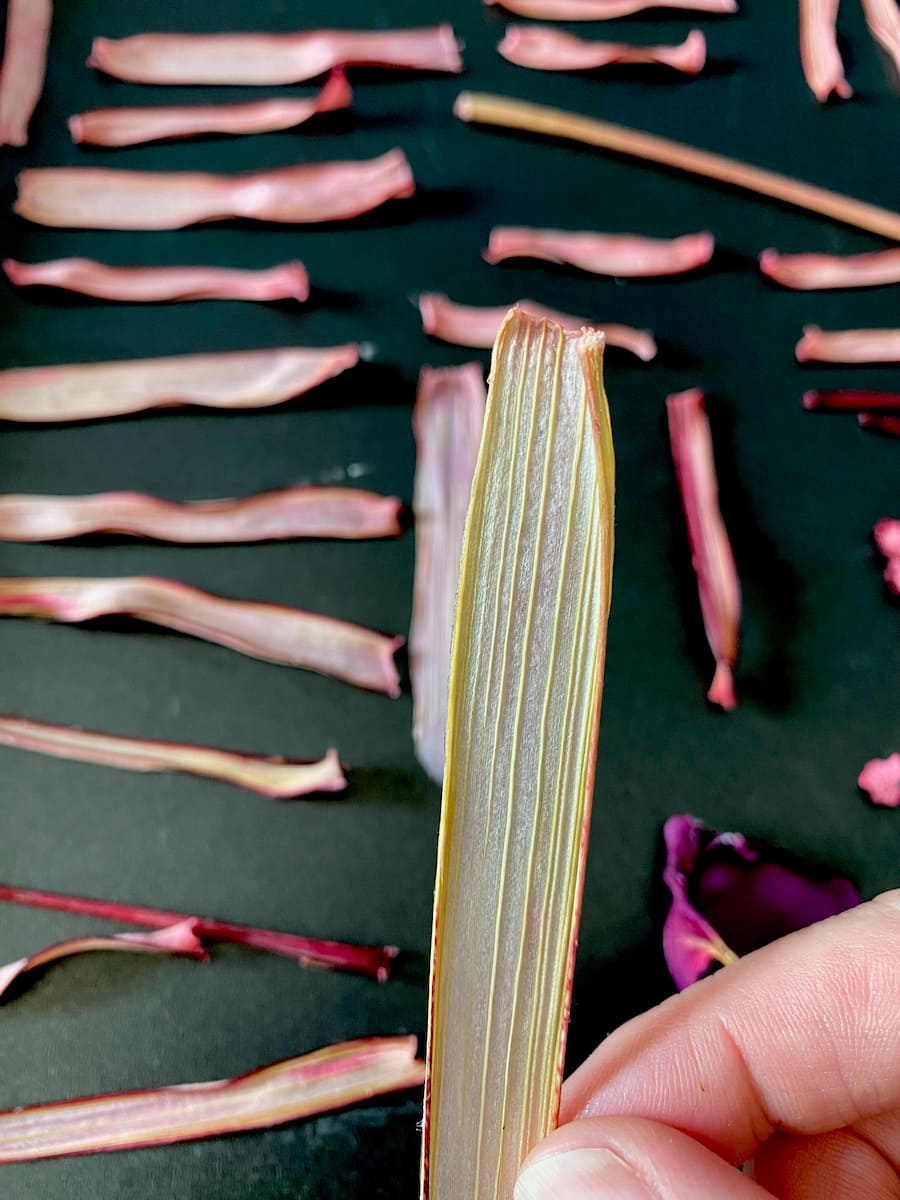 The lightly coloured rainbow-like ribs along the stalks look rather arty, don't they?
Either you love rhubarb's tartness or not, but use it to your advantage to surprise guests with these arty chips. They're also great on savoury dishes such as Foie Gras, terrines or pâtés for that Parisian restaurant touch.
Add them to this rhubarb sorbet with rose or try on creamy lemon ice cream for a real tart dessert.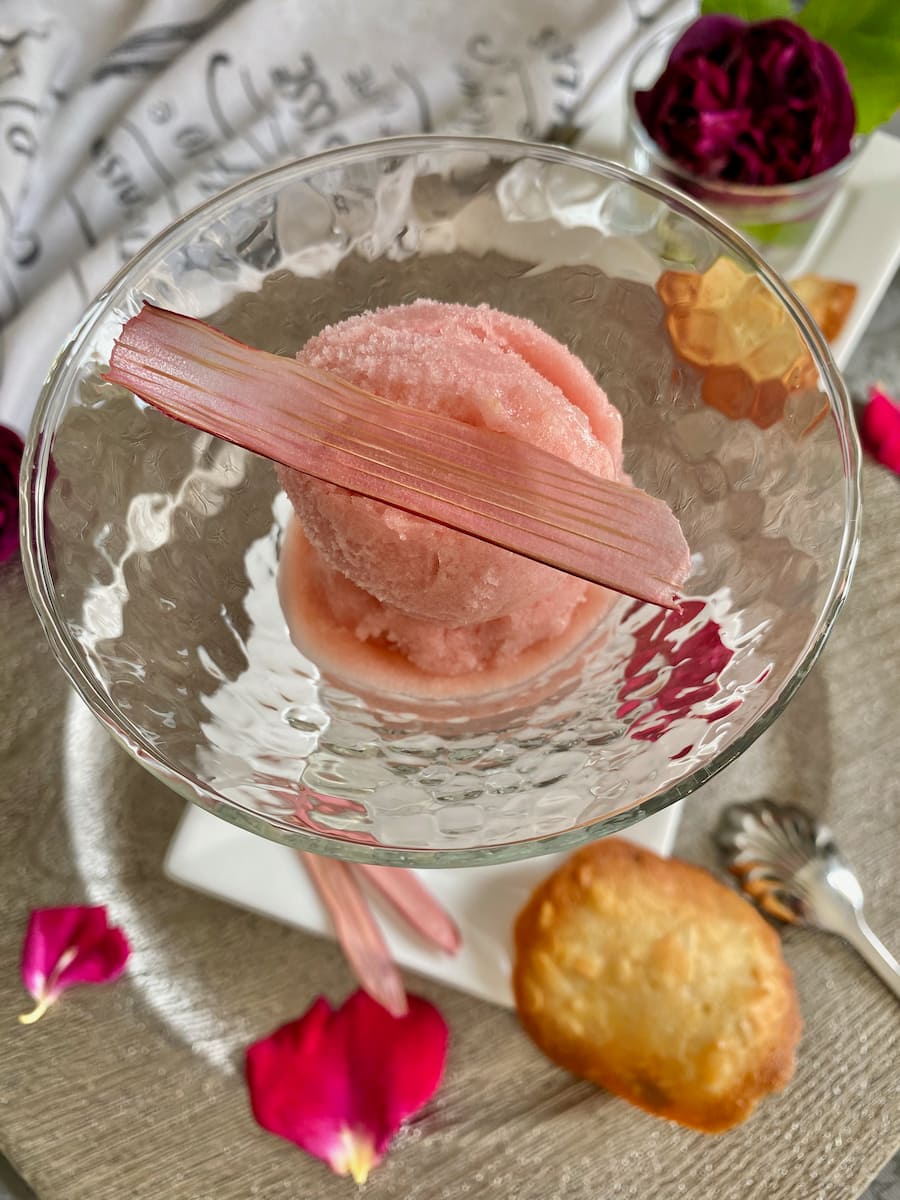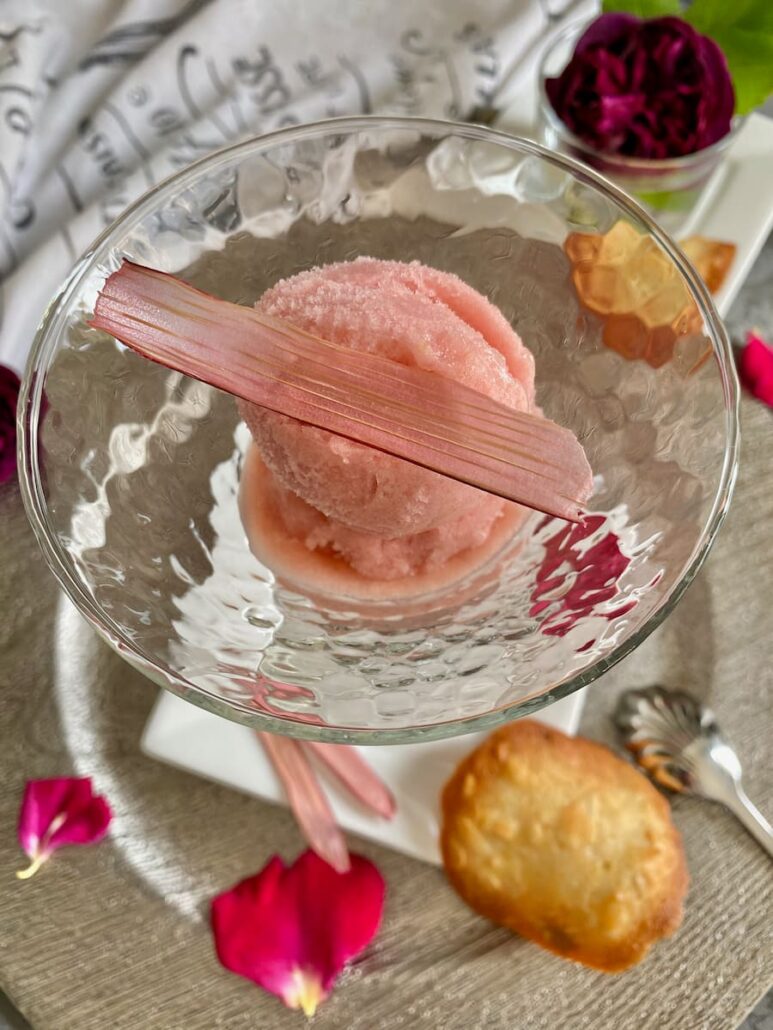 How long can Rhubarb Chips keep?
The good news is that they can keep for a couple of months if stored in an airtight container.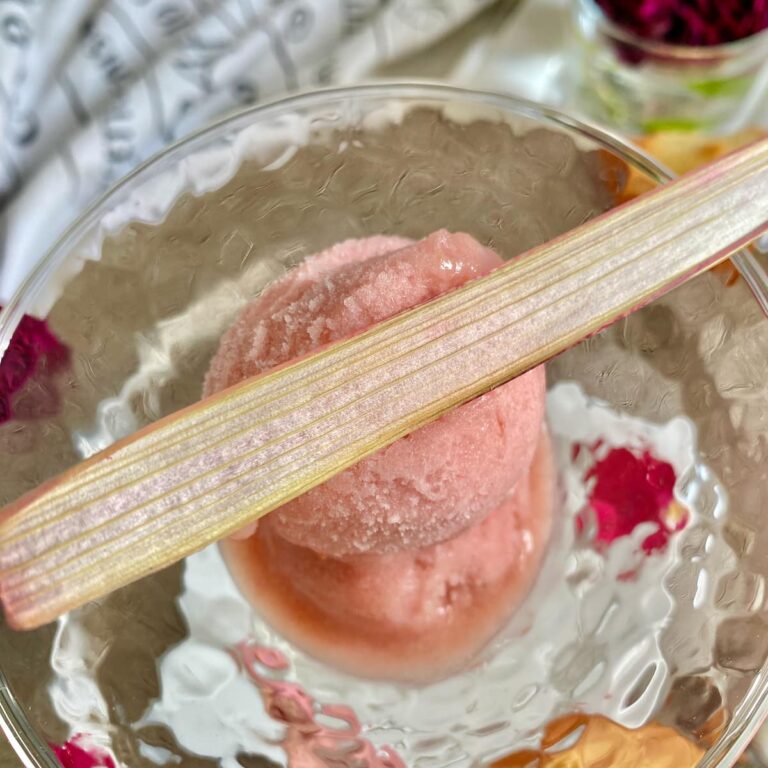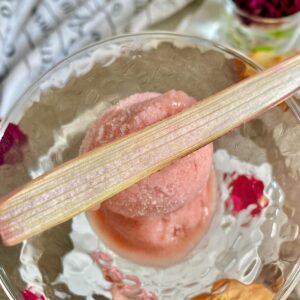 Dried Rhubarb Chips
How to make dried rhubarb chips, an easy delicious garnish for fruit desserts, ice creams/sorbets and savoury dishes such as terrines and pâté
Ingredients
2-3

Thick rhubarb sticks

trimmed both ends

1

tablespoon

Caster sugar

(superfine)

100

ml (3.5floz)

Water
Instructions
Wash and trim off both ends of the rhubarb. Using a mandoline cutter, slice the rhubarb as thin as you can, leaving on the rhubarb skin (please be careful and use the security attachment)

Bring the water and sugar to boil in a saucepan.

Transfer the rhubarb to a long shallow dish that will hold the rhubarb slices, depending on the length you wish to create for each chip. Pour over the hot syrup, ensuring that all the slices are coated. Cover the dish with cling film (plastic wrap) and leave to cool for about 15 minutes.

Preheat the oven to the lowest setting you can, no more than 90°C/70°C fan/200°F.

Dry the rhubarb slices on kitchen paper and place them apart on non-stick trays (slices touching will end up sticking together).

Dry in the oven for up to 2 hours. Keep an eye on them after an hour, to ensure they're not darkening. If they're small, they will require less time to dry.
Notes
Rhubarb chips work best if using large sticks of rhubarb.
Storage: keep in an airtight container in a cool place - can keep for up to 2 months.
This post was first published 8 May 2016 but has now been completely updated.