Easy foolproof recipe for thick salted caramel sauce, a French classic made with few ingredients including best quality French butter.
What is Salted Caramel Sauce Made Of?
Salted Caramel sauce is made out of only three ingredients: sugar, salted butter and cream.
The French always use whipping or heavy cream (30% fat), not condensed milk. In this recipe, I prefer to use unsalted butter (due to varying qualities around the World which dose the salt differently). That way the salt is added separately and can be perfectly dosed.
Who Invented the Salted Caramel?
Fans of salted caramel have Henri Le Roux to thank. He created the CBS® (Caramel au Beurre Salé) in 1977 in Quiberon, the location of his first chocolate shop in Brittany (Bretagne). Who would have known it was so recent?
Since Henri Le Roux invented it, salted butter caramel has been world famous, so he wisely registered it in 1981.
Thankfully we can taste the genuine article in Le Roux's shops or caramélier like in Rue de Bourbon le Château or in rue Saint-Dominique near the Eiffel Tower.
Now we see salted butter caramel so often around France. You'll see it as a popular topping on crêpes at stalls around Paris.
Why Add Butter to Caramel?
Salted caramel is made with good quality French salted butter with 82% butterfat. It's what gives its chewy character in hard caramels and for the sauce, thickens it, giving its glossy consistency.
As it's not always easy to find outside of France, I state unsalted butter in my recipe and add good quality salt separately at the end of cooking.
Can I Use Salted Butter Instead of Unsalted for Caramel?
The short answer is yes, you can use salted butter in caramel and omit the salt (fleur de sel) in the recipe. However, it's on condition that it's good quality French butter, ideally from Brittany or Normandy. A good quality brand that's easy to find outside of France is President. Look for the label "demi-sel".
See more on my baking chat's glossary of UK/French/USA baking terms.
On the other hand, I say on condition you can find good quality French butter. As it's not always easy to find, I prefer using unsalted butter in the recipe and adding salt. As a result, it's easier to control the dosage.
For the best type of salt, use French fleur de sel. Can't find French flower salt? Then Maldon or Celtic sea salt are also good.
This way, it tastes more like the real French deal wherever you are. So transport yourself to Brittany or Paris by making it.
Does Salted Caramel Taste Salty?
Well, there's a good dose of salt in French salted caramel sauce. So, as the caramel is particularly sweet with mainly sugar, the salt just takes on an intriguingly addictive flavour to it. The resulting taste is sweet with salty undertones.
As salt is a flavour enhancer, this sweet sauce is deliciously addictive. Served warm, it's the best topping on many classic French desserts.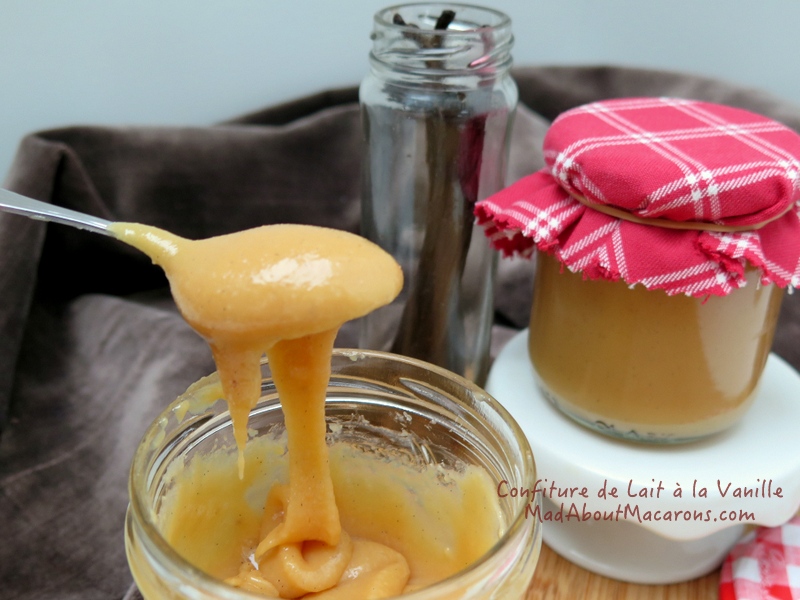 Is Salted Caramel Sauce the Same as Dulce de Leche?
The consistency of caramel sauce and Dulce de Leche (known as Confiture de Lait in France - see this recipe) may look the same but they are both very different.
Dulce de Leche is made with just milk and sugar (or sweetened condensed milk) and left to slowly simmer until a caramel consistency forms.
On the other hand, classic caramel sauce is quicker to make by creating a caramel by melting the sugar until it caramelises. Then butter and cream are added.
In the recipe below, however, the sauce is made even easier!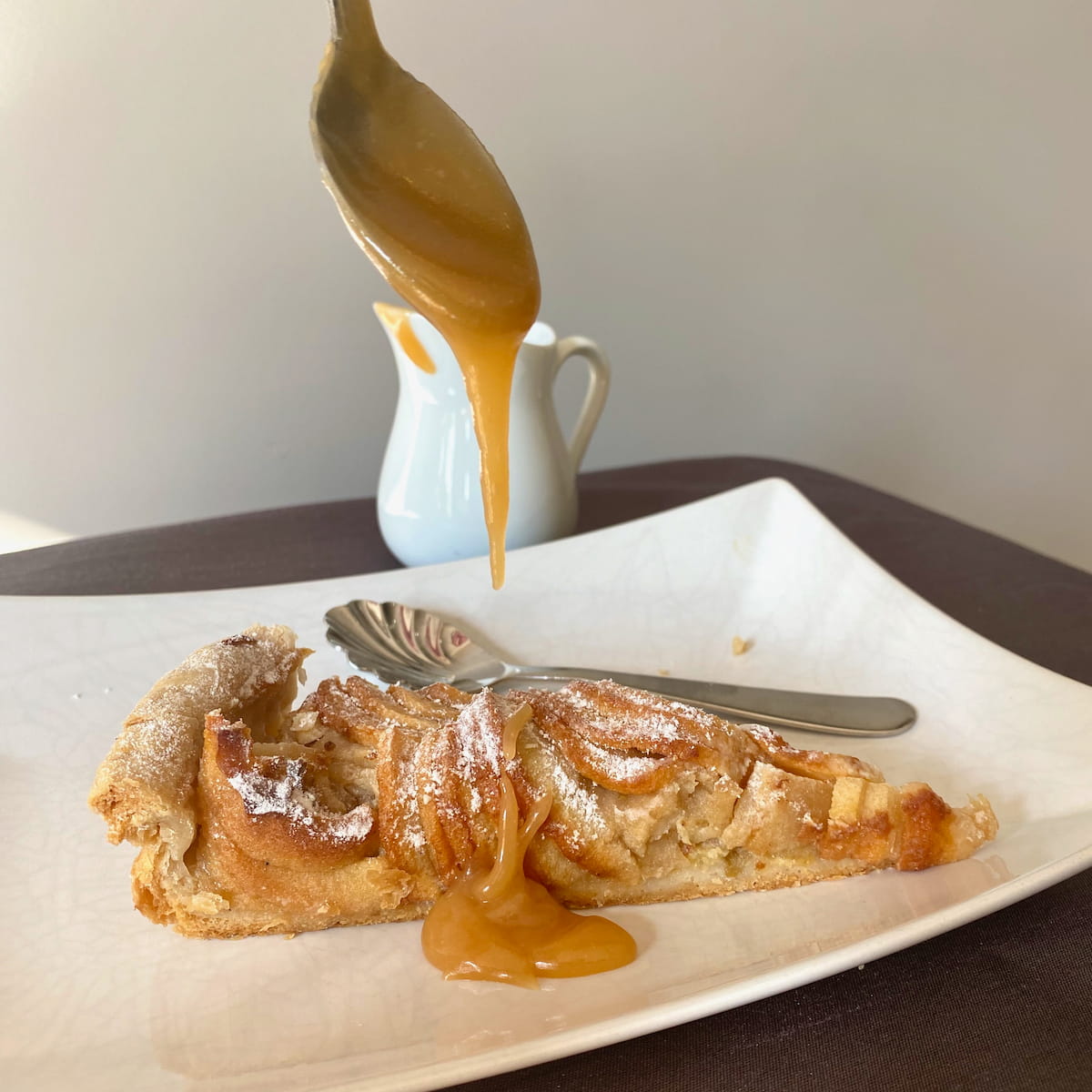 How to Make a Wet Caramel
Salted caramel sauce is reputed to be quite difficult to make as it's quite finicky cooking the caramel first.
To watch how to make a wet caramel,
see my recipe video for Crème Caramel or Flan.
Foolproof Easy Salted Caramel Recipe - Using Science!
This recipe is the easiest method for making salted caramel sauce. The sauce's flavour is round and even creamier than the traditional way of caramelising the sugar first then adding the butter and cream afterwards.
This recipe method comes from French food scientist, Raphaël Haumont. I had the fortune of meeting him on the jury at the previous Amateur Pastry Competition run by Christophe and Julie Roussel in La Baule - he works with Thierry Marx and has even made Thomas Pesquet's favourite French classic food to be enjoyed in Space! To give you an idea of how Raphaël beautifully explains making caramel, see his video of Allo Docteur for La Magazine de la Santé (in French).
By cooking the butter and sugar slowly together to create a caramel, it creates the Maillard reaction - whereby proteins in the butter react with the sugar molecules. If you love science and food, I recommend reading his fabulous books. Raphaël further explains caramelisation in his book, Les Couleurs de la Cuisine.
How to Make Salted Caramel Sauce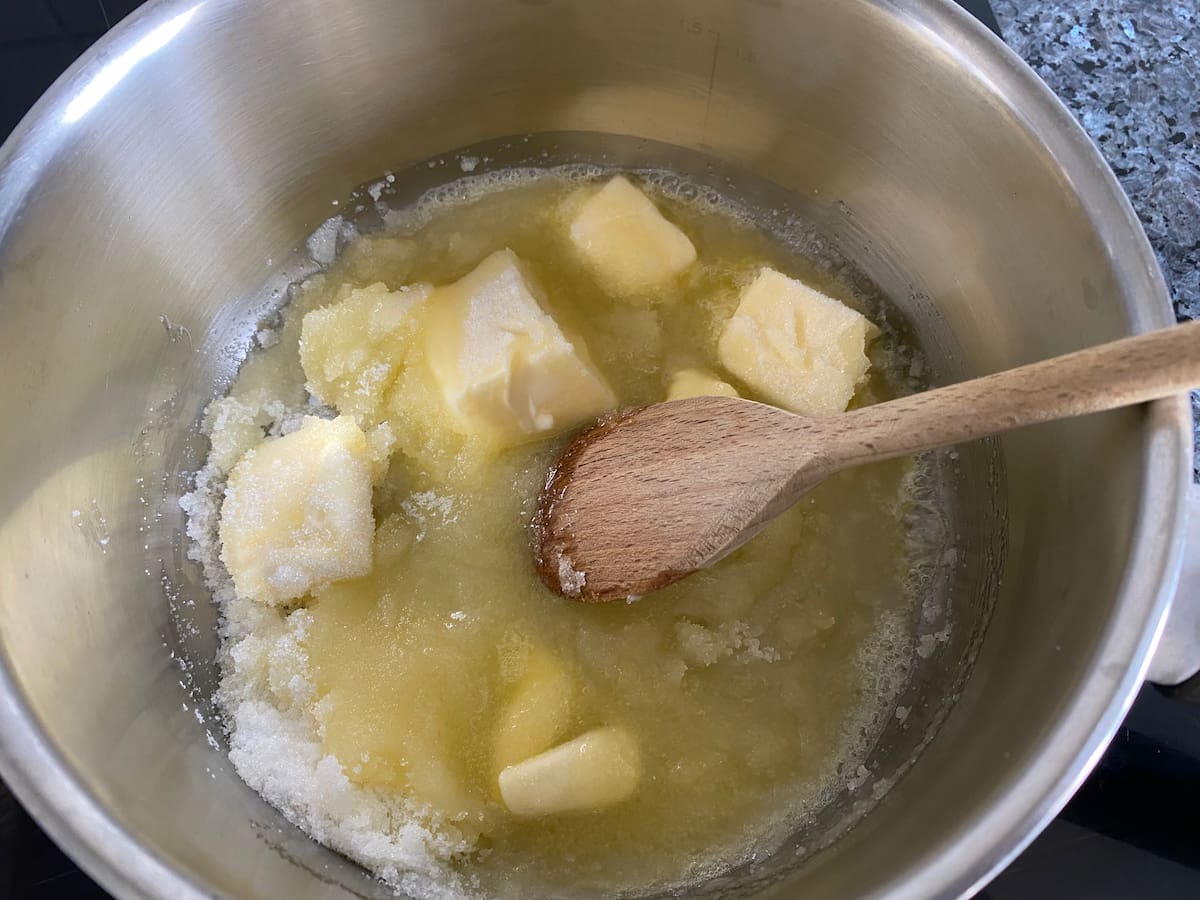 First heat the butter and sugar together, stirring constantly.
When the butter melts and sugar dissolves completely, the mixture begins to mousse.
Keep stirring as the mousse bubbles away until it starts to change colour and caramelise.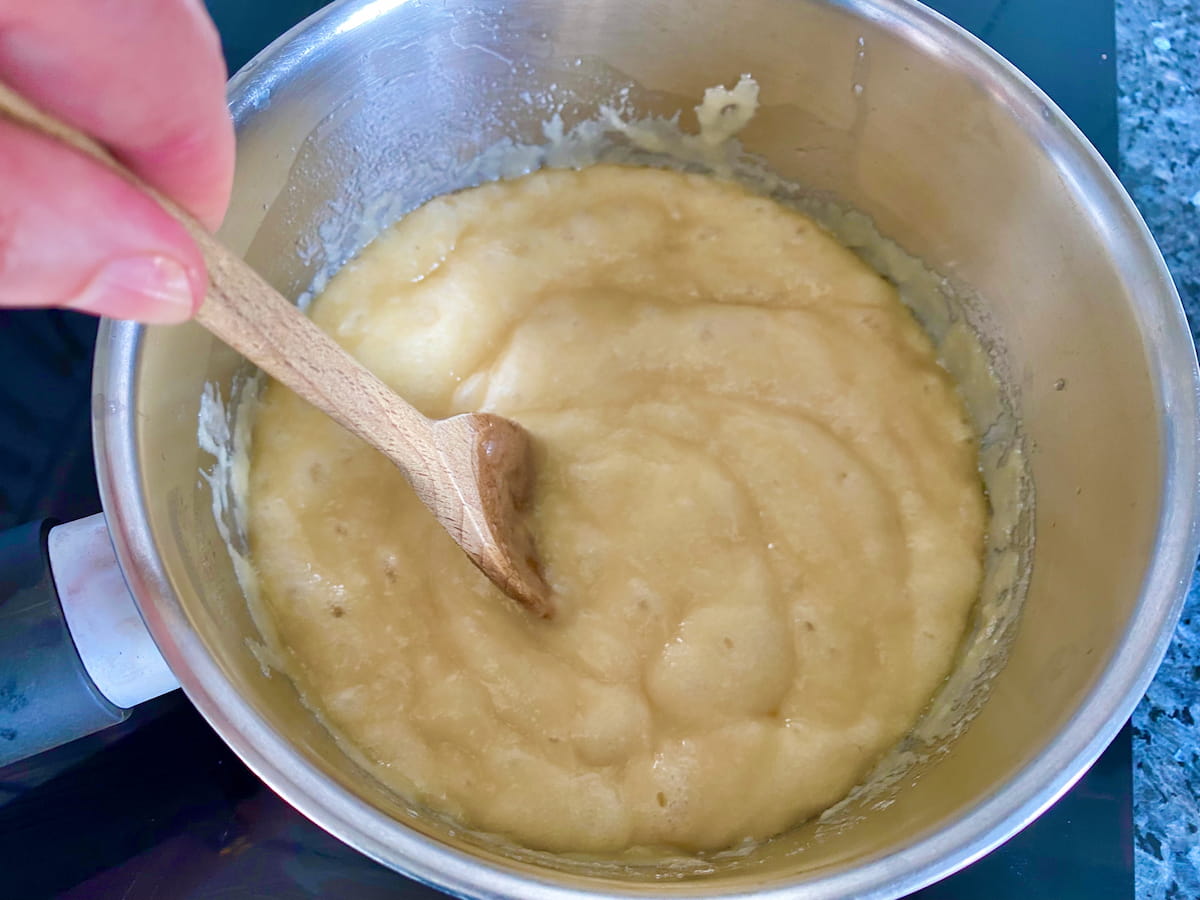 As soon as it turns a deep golden caramel colour, add the cream (I like to slightly warm the cream first but it's not crucial).
Continue stirring until the sauce blends well together and add the flower salt (fleur de sel).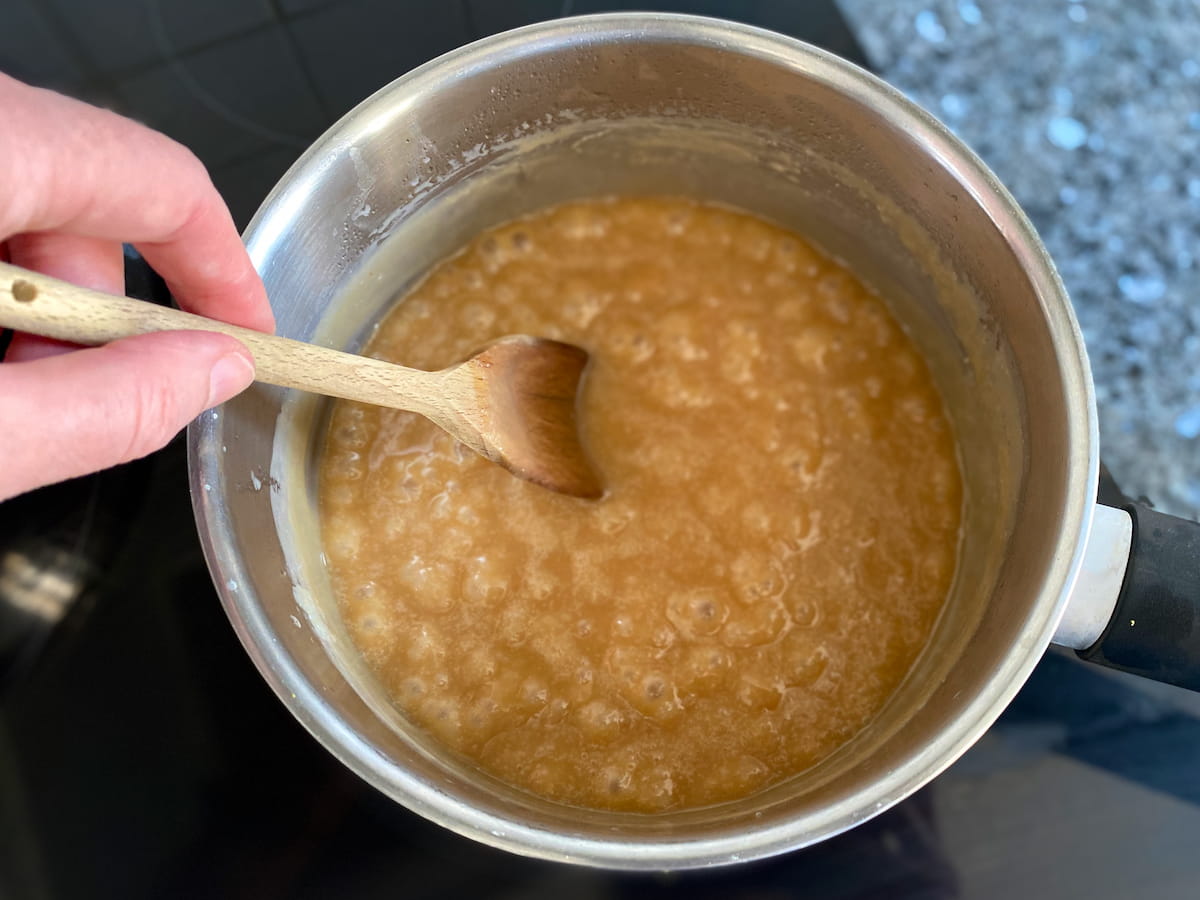 How Do You Thicken Caramel Sauce?
Salted caramel sauce naturally thickens with the butter as it cools. It will thicken even more when stored in the fridge.
However, if you think that your sauce is a bit too runny, just simmer for a further 5-10 minutes.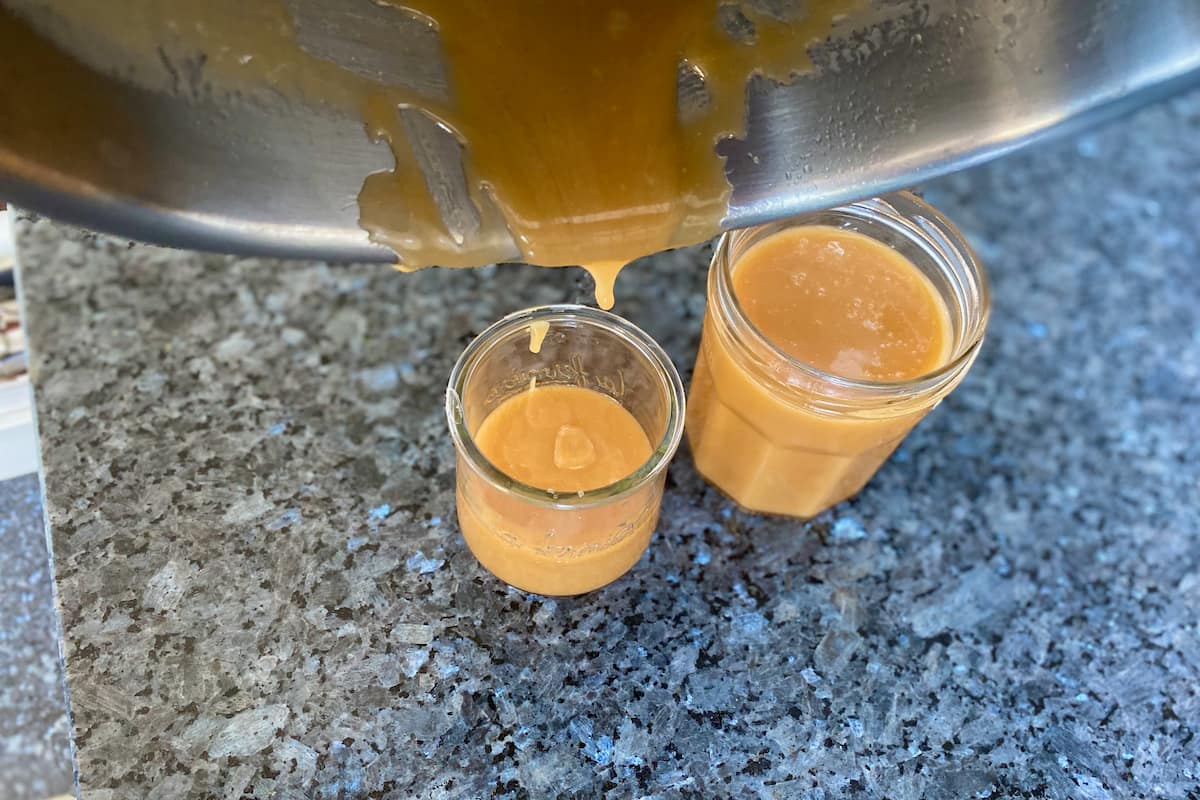 What Goes with Salted Caramel Sauce?
Salted caramel sauce is best served warm. So, when ready to serve, spoon into a small pouring jug and reheat. Either reheat gently for a few seconds in the microwave or over a gentle heat for a few minutes in a saucepan.
It goes so well with most seasonal winter desserts such as the following, including chocolate desserts. Serve with
How Long Does Salted Caramel Sauce Last?
Not only is it a handy accompaniment to many desserts, the bonus is that it keeps well. This salted caramel sauce keeps for 3 weeks or up to a month if sealed well in the refrigerator. However, if truth be told, it doesn't stay for long in our house.
It's not just money in the bank in the fridge; if you have a batch already made, it's so much quicker to make this Tarte Tatin and for the filling in salted caramel macarons.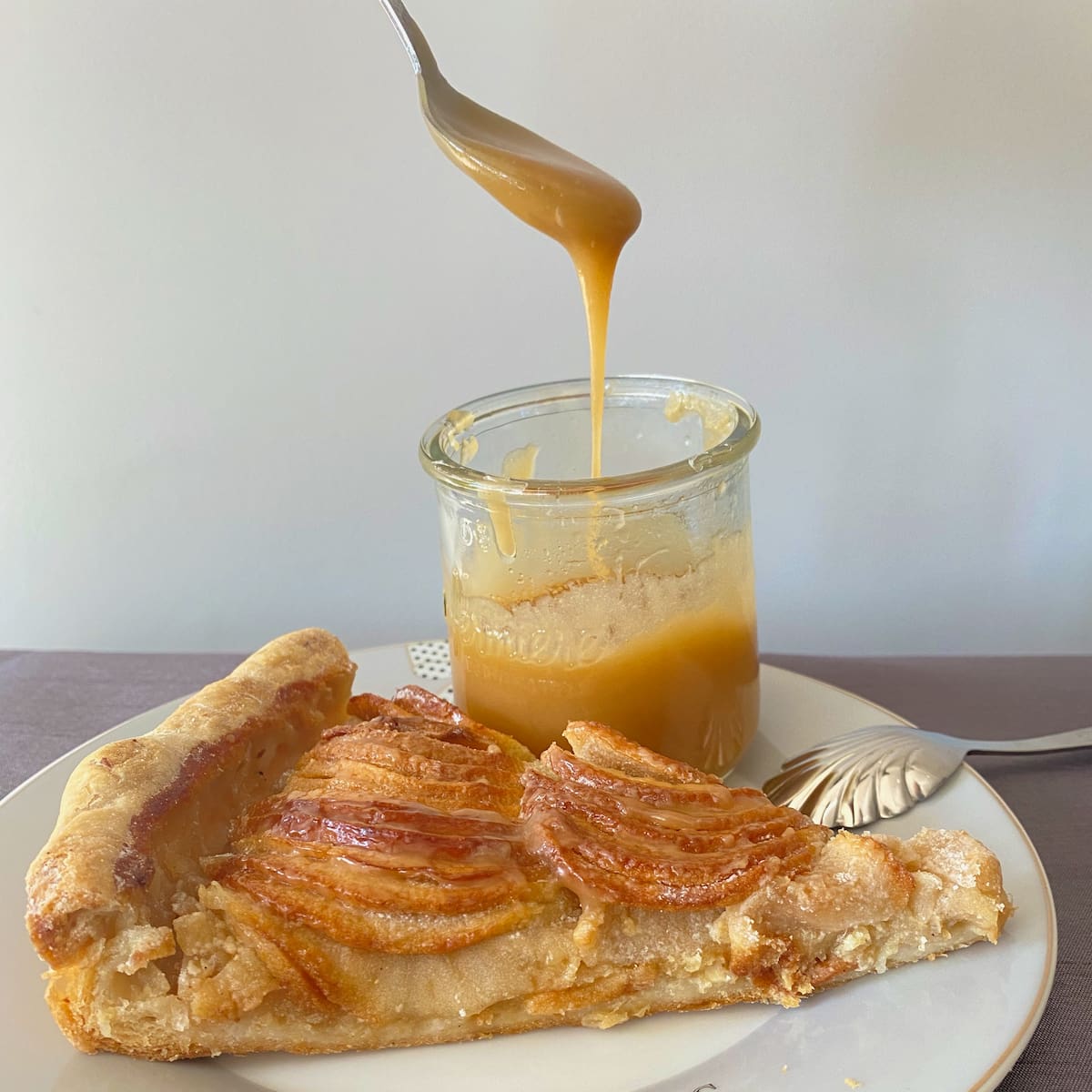 Different Salted Caramel Flavours
Add your own touch of additional flavours to the caramel, to accompany or personalise your desserts. Add at the end of cooking, after adding the cream once the sauce comes together. Here are a few ideas:
Vanilla:

scrape out the seeds of a vanilla bean/pod or

¼ teaspoon of vanilla powder or good quality extract;

Coffee: Add a tablespoon of granulated coffee to the caramel for a perfumed coffee caramel;
Citrus: Add the zest of an orange for extra zing - or excellent with limes, kumquats or lemon.
Salted Caramel Sauce
Best foolproof recipe for salted caramel sauce using a scientific method by food scientist, Raphaël Haumont. Served warm, it's a great topping on all sorts of classic French chocolate, apple and pear desserts and on crêpes, ice cream, waffles, profiteroles plus rice pudding.
Ingredients
140

g (5oz/¾ cup)

granulated sugar

75

g (3oz/1/3 cup)

unsalted butter

good quality

150

g (5.5oz/¾ cup)

whipping cream 30% fat (crème fleurette)

warmed

½

teaspoon

'fleur de sel' salt

(or Maldon, Celtic sea salt)
Instructions
Weigh both the butter (chop up roughly) and sugar directly into a heavy-bottomed saucepan.

Weigh the cream in another pan, heat gently and set aside. Alternatively, heat in a glass in the microwave for 30 seconds (do not boil).

Using a wooden spoon, stir both the butter and sugar constantly over a medium heat until the butter has melted and the sugar dissolves.  The mixture should start to foam and bubble gently. Keep stirring until they turn a more golden, caramel colour - it should also start to smell like caramel.

This should take about 10 minutes maximum.

As soon as the butter/sugar are a nice deep golden/straw caramel colour (don't wait until it's amber, otherwise the sauce will be bitter), add the warm cream, stirring constantly. Turn down the heat, keep stirring until thickened and add the salt. After about 5 minutes pour directly into a sauce jug or into sterilised jam jars. Leave to cool then seal.
Notes
Consistency: The sauce will thicken as it cools and will harden when stored in the fridge. When ready to serve, heat for a few seconds in the microwave.
If you like your caramel sauce more runny, add more cream.
To thicken the sauce even more, reduce by simmering for another 5-10 minutes.
Butter: I use unsalted butter in this recipe as good quality salted butter can be difficult to find outside of France. If you do have access to quality salted butter from Normandy or Brittany, then use it and omit the extra salt.
How Long Can the Sauce Keep?
The caramel can last for 3 weeks or up to a month if stored in a sterilised sealed jar in the fridge.
Method of Cooking: This alternative approach to cooking the salted caramel sauce is thanks to food scientist, Raphaël Haumont. However, if you prefer to use the classic method, then first make a caramel by stirring the sugar with a tablespoon of water in a pan.  Over a medium heat without stirring, leave until a caramel forms (about 10 minutes) then as soon as a golden caramel forms, lower the heat and add the butter then the warmed cream.
Measures: Please note that all my recipes are best made using digital kitchen scales in precise metric grams. Both ounces (and cups) are given as a guide. 
This post was first published 23 February 2011 but is now completely updated with more explicit step-by-step instructions, new images and a different method of initially cooking the sugar and butter together.