Let me be your online guide to the best pastries and patisseries on Rue Saint-Dominique in Paris.
Inspired by my second book, Teatime in Paris, which is essentially a pastry tour of recipes all around Paris, I include rue Saint-Dominique. In just 2 blocks, this street boasts many famous patisseries and chocolate shops, all in the shadow of the Eiffel Tower.
We're starting my online pastry tour at the intersection with Rue Saint-Dominique and the bottom of the popular pedestrian street of Rue Cler in the 7th Arrondissement. Please do check exact opening times directly from their website, as times are subject to change.
Aux Merveilleux de Fred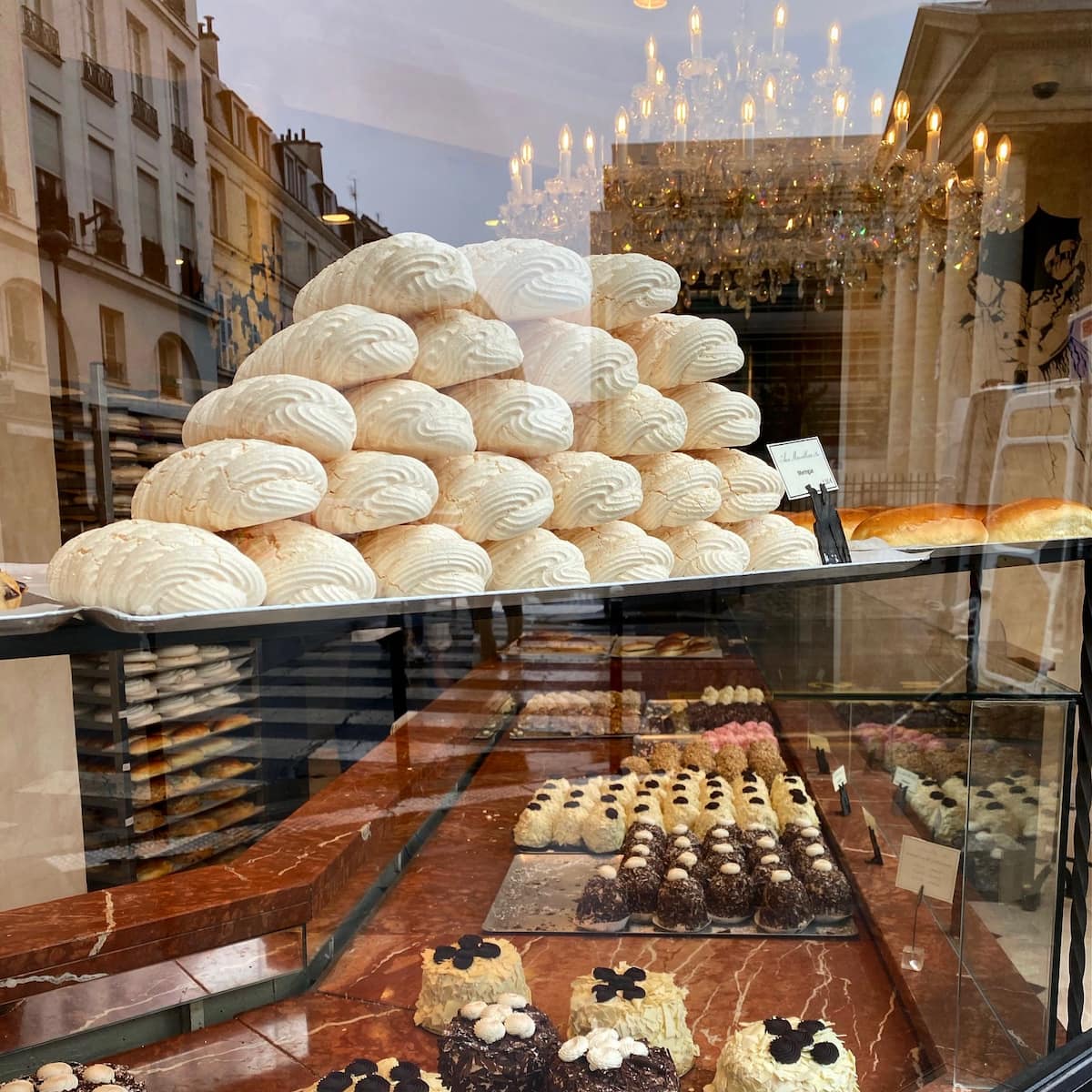 If you have a particularly sweet tooth, this is your address. On the corner of the Church of Saint-Pierre du Gros Caillou, marvel at the Merveilleux meringue-and-Chantilly-cream domes – or les gaufres fourrées (vanilla and rum waffles) – being freshly prepared in the window. With its door always open, it's not difficult to be lured in to this chandelier-clinking bakery, where Frédéric Vaucamp has brought us  back to 18th century specialities of Northern France and Flanders.
Each Merveilleux meringue cake comes in large, individual or mini, and each take a theme from French society. Cinnamon lovers will enjoy the Incroyables (cinnamon speculoos cream), or why not try the Unthinkable (the Impensable) with its crispy creamy coffee meringue?
My personal favourites are the Cramiques for an extra sticky brioche-style breakfast. There are 3 kinds: either studded with juicy raisins, sugar pearls, or densely packed with dark chocolate chips. See my complete guide to Aux Merveilleux de Fred.
Aux Merveilleux de Fred
94 rue Saint Dominique, 75007 Paris
Tuesday-Saturday 9am-8pm
Sunday 9am-7pm (Closed Monday)
---
Maison Othon
Popular bakery on the corner of rue Saint-Dominique and rue Cler, recently changed direction.  Tarts and more pastries to choose from plus a wide choice of delicious sandwiches. Try in particular the Pan Bagnat, speciality of Nice: a round bun filled with tuna, mayonnaise, tomatoes and lettuce. It's a must when it's done so well on fresh bread like this!
111 rue Saint Dominique, 75007 Paris
Closed weekends.
---
Sadaharu Aoki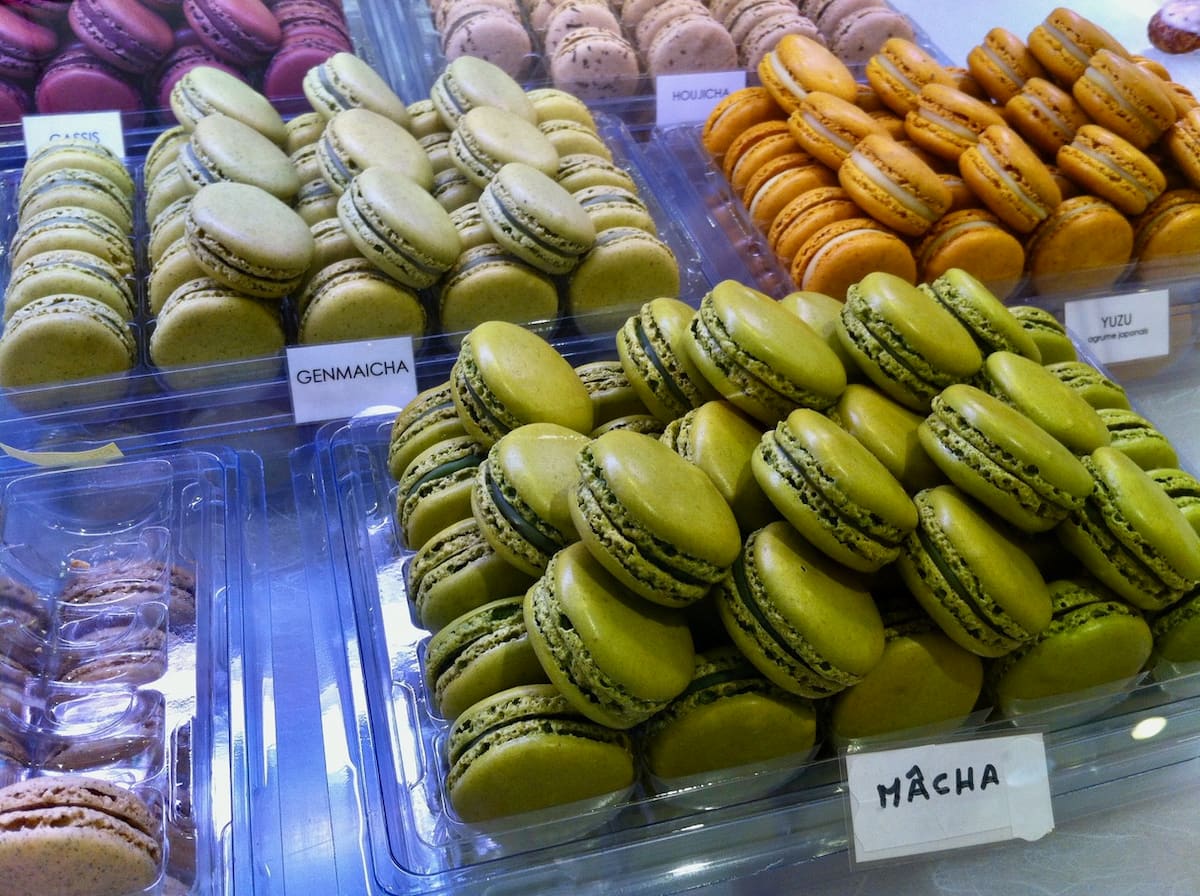 Award-winning pastry chef, Sadaharu Aoki has been amazing Parisians with his distinct Japanese influences on French pâtisserie since he arrived in Paris in 1991. Previously teamed up with Jean Millet, this boutique with its secluded tearoom at the back was completely taken over by Chef Aoki as of May 2017.
The window is often loaded with Matcha Green Tea croissants and colourful macarons but step inside and be prepared for a museum-like experience with his range of exquisite pastries – many decorated with his signature mini macarons – chocolates and rolled Japanese sponge cakes.
Many macarons are tea-infused with Hojicha grilled Japanese tea, and Genmaïcha, a green tea combined with roasted brown rice plus with sophisticated tones of white and black sesame (try my recipe for black sesame ice cream).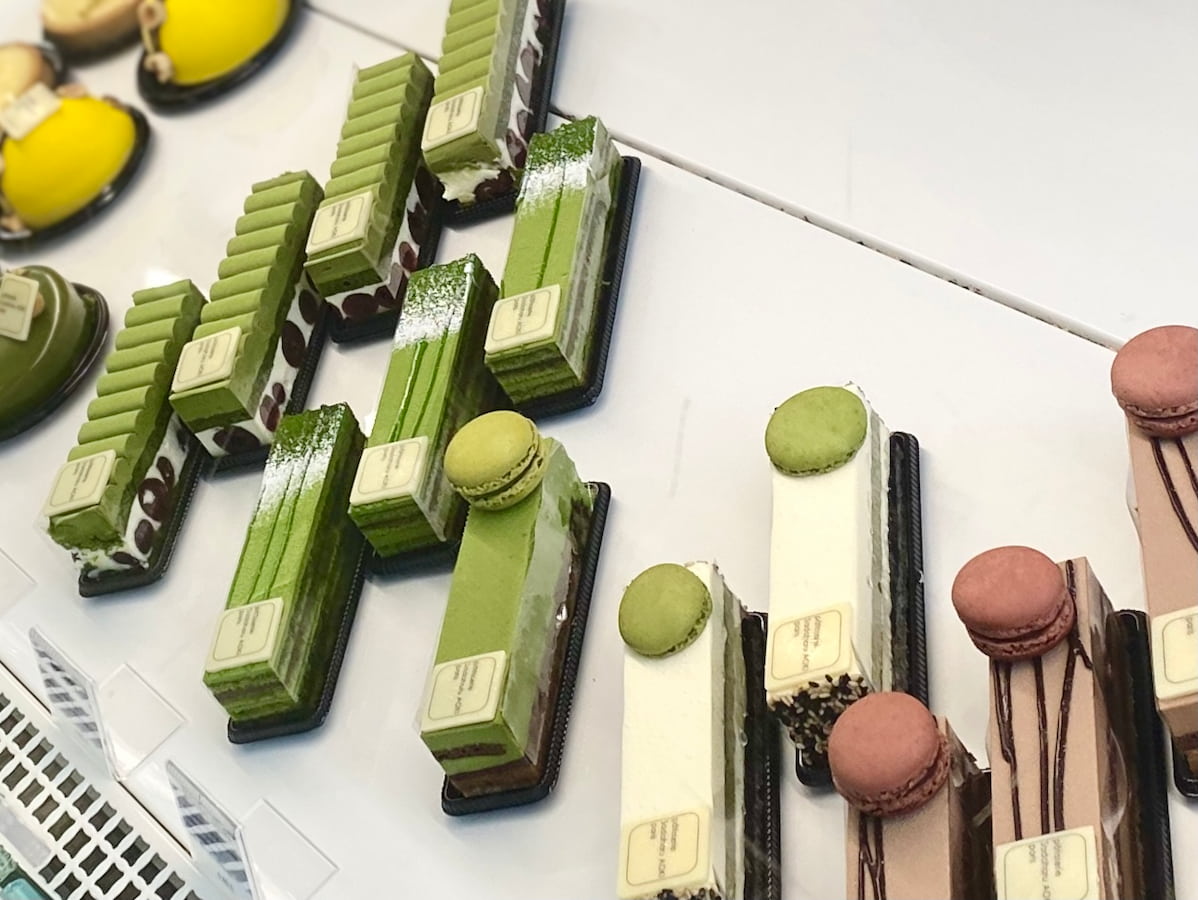 Green tea is given another voice with his popular pastry, le Bamboo – Chef Aoki's Japanese take on the classic Parisian Opéra cake, with each delicate layer consisting of joconde biscuit, buttercream, chocolate ganache, syrup and glaçage (glaze) – but in place of the traditional coffee syrup, chef Aoki exchanges it with Matcha green tea and a splash of Kirsch liqueur, adding that special je ne sais quoi to the opera notes. See more of Aoki's pastries.
Moreover, his tartlets are sublime: tart lemon or yuzu or pistachio. I've tried them all over time and still don't have a preference. OK, perhaps pistachio today.
Sadaharu Aoki
103 rue Saint Dominique, 75007 Paris
Tuesday-Saturday 11am-7pm
Sunday 10am-6pm (Closed Monday)
---
Notre Pâtisserie
Turn right into Rue Amélie, a few steps off rue Saint-Dominique to Notre Pâtisserie with its stylish turquoise storefront. Watch Francesca and her team of pastry chefs in full swing where they produce picture perfect pastries, macarons, cakes and viennoiseries from the lab behind the counter.
Francesca adds an Italian touch to her seasonal pastries. Try the Fleur de Cappuccino, the creamiest coffee tartlet which is sublime.
There's a great choice of savoury too with slices of pizza, salads, savoury cakes and gratins. I adore their slices of quiche or tart with incredibly light and crispy pastry bases.
Don't miss the chic Parisian wallpaper and flowerpots on the original steel frames – kept to remind you of the location's history. The location originally housed the workers of the Eiffel Tower in the 19th Century.
Pastry classes on request.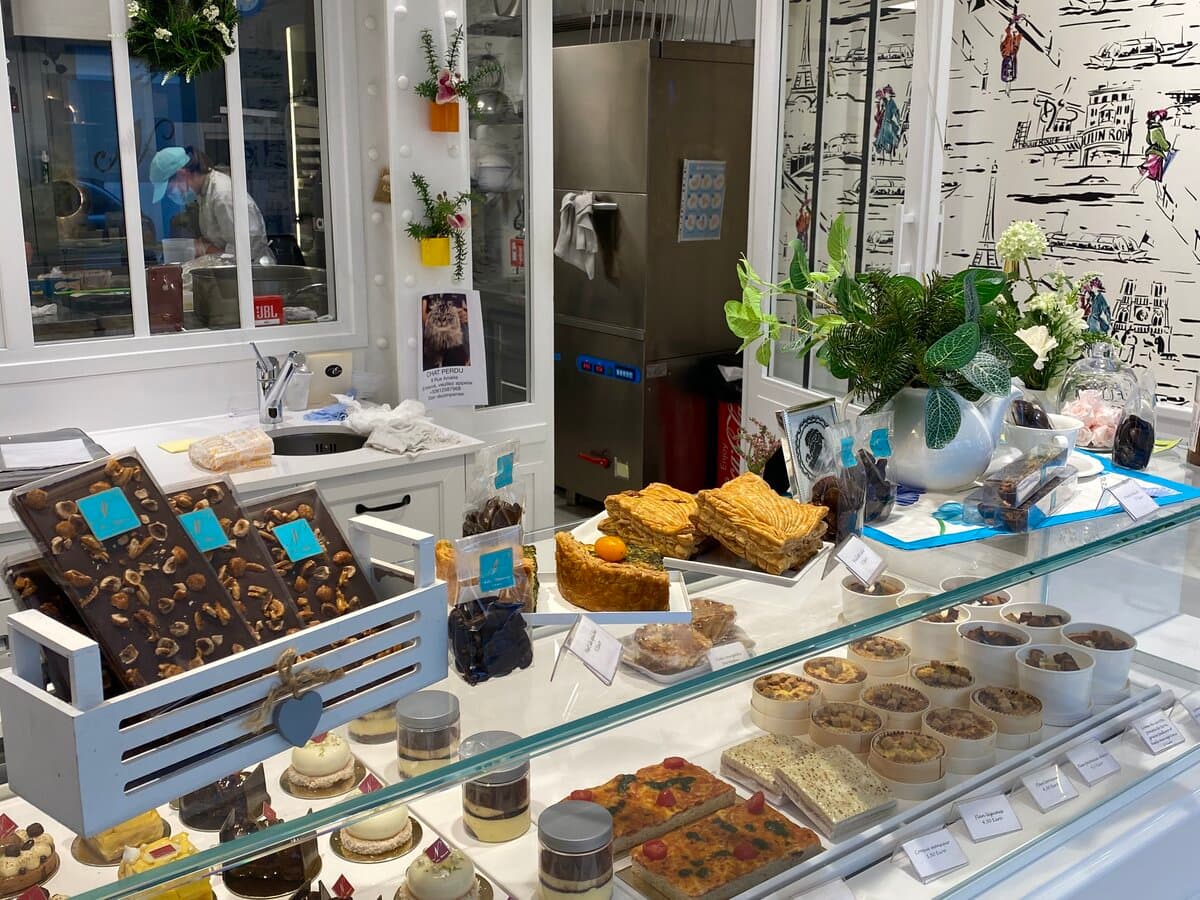 Notre Pâtisserie, 7 rue Amélie, 75007 Paris
Closed Monday & Tuesday
---
Nelly Julien Boulangerie
Nelly Julien took over this artisanal boulangerie, Douceurs et Traditions and has since bagged many prizes. In 2018 and 2017 won first prize in Paris for their Galette des Rois, for example, and in 2019 won second prize for their éclair au chocolat, however, the last couple of times I've tasted them they have not at all been prize worthy, in my humble opinion.
Previous prizes have been for their baguettes, buttery croissants and pains au chocolat.  They're particularly popular with their sandwiches so queues are inevitable at lunchtimes.
Boulangerie Nelly Julien
85 rue Saint Dominique, 75007 Paris
---
Looking for the speciality Bordeaux canéles from Lemoine? Sad news is that they have closed their doors on rue Saint-Dominique in place of a tea shop. You'll find canélés in many other bakeries here and to make your own, see the recipe in my book, Teatime in Paris (it uses up egg yolks!)
---
Le Moulin de la Vierge
This popular Parisian bakery's window says it all:
"Pains sur levain; Viennoiserie – Tout Au Beurre".
Rows and stacks of organic sourdough bread (pains sur levain) plus all kinds of assorted deliciously crusty bread, flutes and baguettes wink at customers behind the cosy lamps on the counter.
Taste their Viennoiseries, the delicious umbrella word which covers the best buttery, flaky croissants, pains au chocolat, pains au raisin, apple chaussons to name a few – typically eaten for breakfast.
More butter cakes come in the form of little Financiers (friands) teacakes, plus their selection of traditional pastries and macarons. They also offer soup and sandwiches to either take out or sit in.
Le Moulin de la Vierge
64 rue Saint Dominique, 75007 Paris
---
Watch this space for more information here very soon on Liberté, as during confinement and then holiday closures, I haven't been able to visit.
Liberté Boulangerie et Pâtisserie
58 rue Saint Dominique, 75007 Paris
Closed Sunday
---
Henri Le Roux Chocolates & Caramels
Who would have known that salted caramel is a recent discovery? Not only is this one of the top chocolate shops in Paris but Henri Le Roux is also known as Caramélier. Fans of salted caramel have Henri Le Roux to thank. He created the CBS© (Caramel au Beurre Salé) in 1977 in Quiberon, the location of his first chocolate shop in Brittany and where salted butter is added to many local specialities. Since then, salted caramel has been world famous, so he wisely registered it in 1981.

So, don't leave Paris without a taste of the CBS: dark and soft half-salted caramel with crushed walnuts, hazelnuts and almonds. Choose from dozens more flavours, including a subtle Japanese-inspired Sakura Spring cherry blossom caramel. His range of chocolates are impressive (including one with truffle), as well as the caramel (Caramelier) and chocolate (Bonsoncoeur) spreads that are a special luxury on crêpes – or just smothered on the best baguette!
Maison Le Roux
52 rue Saint Dominique, 75007 Paris
Closed Sunday
---
Alas, one of my favourite tea salons and patisseries, Karamel, closed its doors in 2020. Hopefully Breton pastry chef Nicolas Haelewyn will return soon! Instead the boutique is now replaced by Louloutte & Co., a new salad bar, tea salon & patisserie – still to try and report here. Open all week.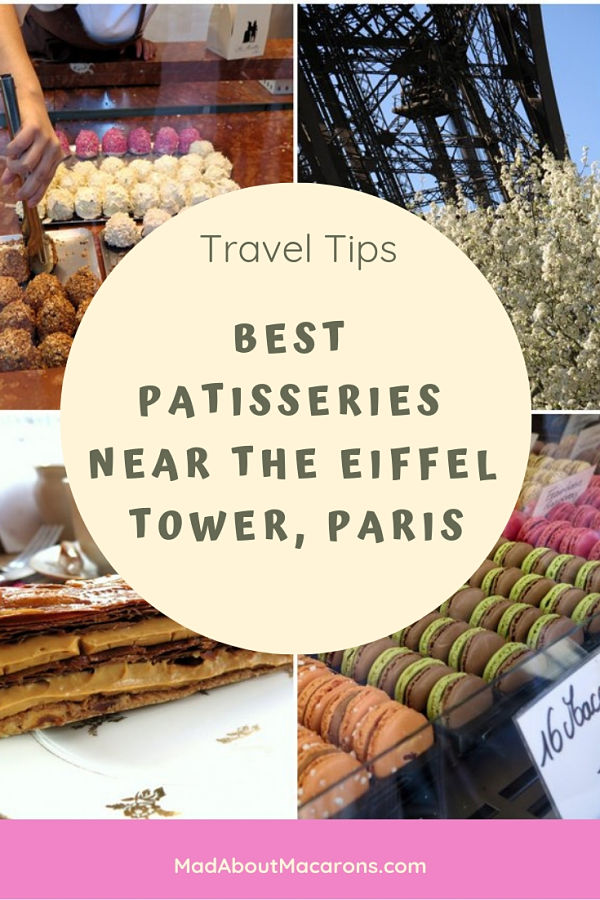 Disclaimer: None of the establishments mentioned above are sponsored and all views and opinions are entirely my own.  Please note that tasting the pastries and breads are done over time and not intended to be presented as if eaten in all one tasting!
This post was first published on 28th June 2017. Since then a few boutiques have changed so this post is now being updated to list the latest patisseries on rue Saint-Dominique.