The classic French Niçoise Salad has probably the most debates worldwide over its ingredients, even amongst the French! Discover what's in the real-deal, authentic recipe from Nice and what surprising popular ingredients are not included.
The result is a quicker preparation time of just 30 minutes.
French Tuna Salad
First spot the difference between the first two tuna salads. The first uses fresh tuna which has been quickly seared in a little olive oil. The second uses good quality tinned tuna in brine. Both are great in flavour and they use seasonal, fresh ingredients.
However, the first salad is what we find in so many French restaurants. While it's really tasty and well served, it's a tuna salad - not the more classic Niçoise salad like the one below. Even then, it needs some improvement.
Why is it Called Niçoise Salad? What it Means
So why Nicoise Salad? As this salad is originally from the town of Nice in southern France, in French it is referred to as Salade Niçoise, meaning 'Salad from Nice'.
I have often heard chefs outside of France refer to this as Niçois. Oh-là-là-la-la.
As 'salade' is feminine in French, the correct pronunciation and spelling is 'Salade Niçoise' (pronounced 'Nee-swau-ze').
So from southern France, which is right on the Mediterranean coast, it will contain only local, fresh and seasonal ingredients. That's mainly tomatoes, tuna and/or anchovies, garlic, basil, olives and olive oil.
What Does Niçoise Mean in Food?
In French food, Niçoise is a culinary term to designate the type of regional speciality around Nice.
For example, on menus, if a fish dish is named 'à la Niçoise', grilled fish (such as sole, rouget/red mullet) is usually served with chopped tomatoes, anchovy fillets and olives.
What is in a Niçoise Salad?
Now that's THE question! It's also the most interesting part - apart from enjoying the recipe and its fresh flavours.
Even the French (and Niçois!) are often confused as to the genuine ingredients in a classic Niçoise Salad - from restaurants to celebrity chefs demonstrating how to make it.
For years, I thought I was expert enough to a good Niçoise salad. After all, I studied flute at the Conservatoire de Nice (1989-1990) and tasted many as a student there - then returned years later with a French husband to taste yet more.
It was puzzling. Even in different restaurants in Nice, they often served different ingredients!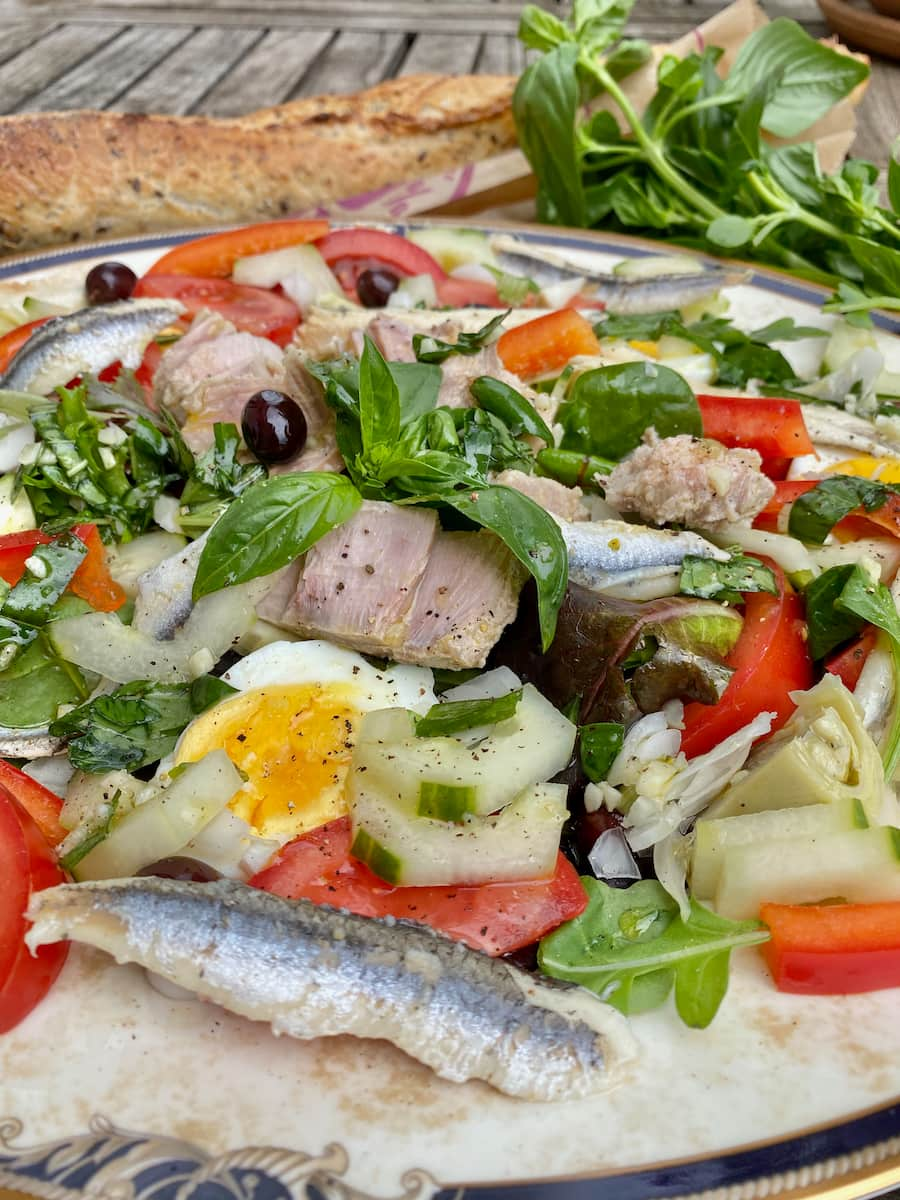 Some History
So I did some homework to discover just what's supposed to be in it. Surprisingly, popular common ingredients used worldwide in this salad are, in fact, not classic from Nice.
French food journalist, François-Regis Gaudry already laid down much of the historical groundwork around Nice in 2016. In his incredible gourmet masterpiece (only in French), 'On va déguster la France' (2021), 'la salada nissarda' or Salade Niçoise was a popular recipe characterised by Auguste Escoffier. This has perhaps been the culprit of the circulating mixed up ideas. In my copy in French of Escoffier's bible of French cuisine, le Guide Culinaire, he precises:
In equal quantities: green beans and potatoes cut into pieces, small tomatoes quartered. Composed decor of capers, olives and anchovy fillets. Serve with oil and vinegar.

Auguste Escoffier, le Guide Culinaire (1903) on Salade Niçoise
Was it that Escoffier was promoting tinned produce such as green beans and potatoes? At the time, he had called for the need to create canning factories in France to help for future war efforts (in his memoires on feeding soldiers, digital library, Bibliothèque Nationale de France) and in his campaigns to stop food waste.
Even Asterix spells out the speciality of Nice salad's 'rules' in popular cartoon form to educate French kids their heritage or patrimoine!
La spécialité de Nice : La Salade Niçoise.
The rules: the salad never contains cooked vegetables. It's made of tomatoes, artichokes, olives de Nice, little fève beans, hard boiled egg, spring onion and anchovies.

'Le Tour de Gaule d'Astérix' in Nice (Nicae) 5th Album of 'Des Aventures d'Asterix', 1965
It wasn't until the 1970s that the salad was officially taken in hand by the ex-mayor of Nice, Jacques Médecin, a food enthusiast and ambassador for rekindling the culinary classics of the city.
Together with starred chef and Meilleur Ouvrier de France, Jacques Maximin (10 years chef at the famous Negresco Hotel and restaurant owner in Nice), they collaborated in 1981 to publish the Niçoise salad's genuine local recipe in the book's second edition, 'La Cuisine du Comté de Nice'. The word was out how to do it properly rather than rely on Asterix.
Trish Deseine also explains the real Niçoise ingredients beautifully in her book, Nobody Does it Better (2007), under the chapter title, 'The French Home Cook Knows her Classics'. Like Gaudry, Jacques Médecin and Jacques Maximin, they all precise the following, genuine ingredients.
The classic Niçoise Salad from Nice is composed of the following traditional ingredients with these typical Mediterranean flavours:
cucumber
bell peppers
spring onions, cebettes or shallot
olives from Nice - these are the little black olives which are a speciality of Nice
hard boiled eggs
tuna (in brine) and/or anchovies
small artichoke hearts or peeled beans ('fevettes'), when in season
basil - fresh basil leaves, not the dried
olive oil - with a touch of salt and pepper
fresh garlic - this is an important ingredient of the Mediterranean and adds that typical touch of spice and flavour. Although served raw, it is finely chopped or crushed to a paste to add to the sauce. Please use a fresh garlic clove and never the dried in powdered form. The taste is not at all the same.
salad leaves (preferably rocket/arugula, mesclun, pourpier). Even this addition is debatable. It's mixed!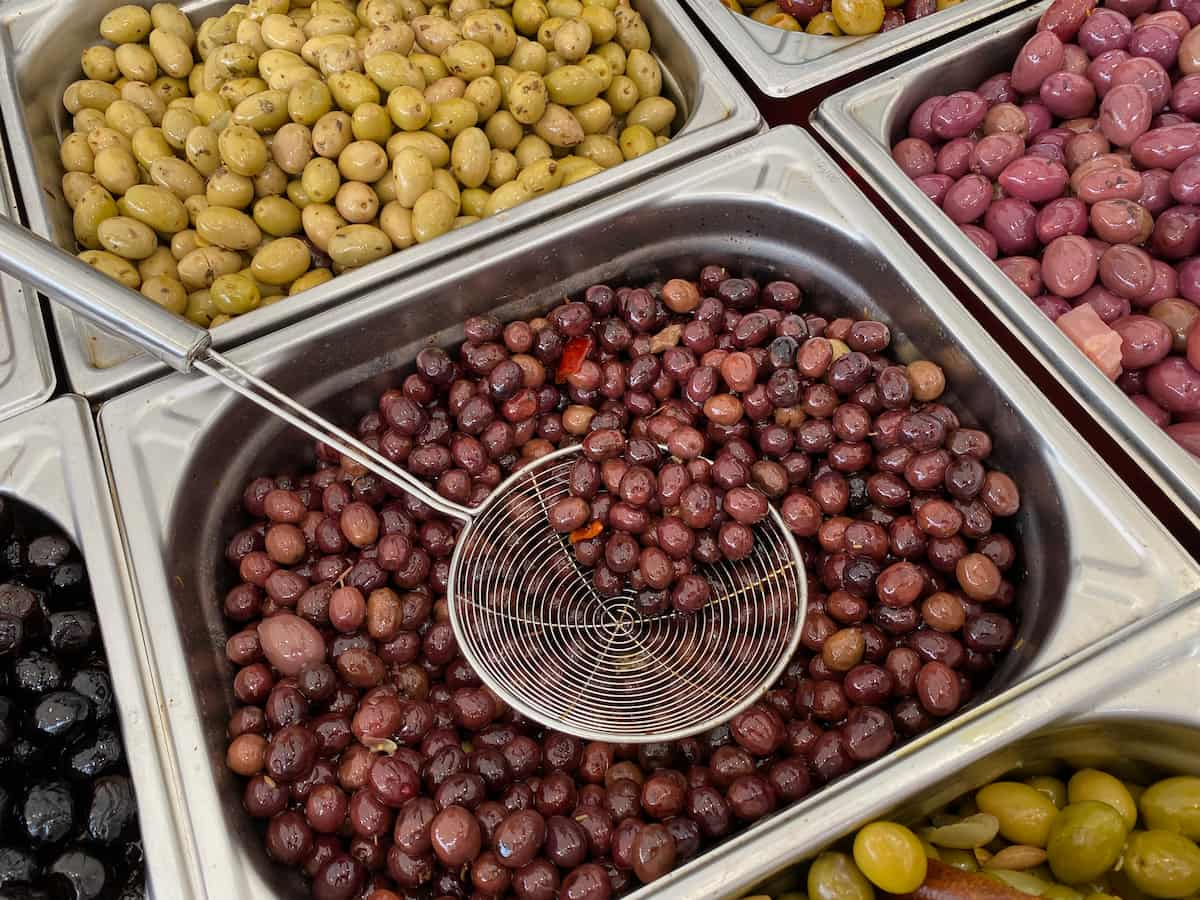 What are Niçoise Olives?
Each time we visit my French parents-in-law in Provence, a trip to the market in Apt is a must. One of the main specialities of the south are Niçoise olives.
Les olives de Nice have their own quality status of AOP (Appellation d'Origines Protégées) so when buying them, ensure they are from a reputable source from the region without a lot of ingredients mentioned on the label.
What makes Niçoise olives different to the other varieties is that they are much smaller than the others. As a result, their stones are kept inside; you will never find them stoned ('dénoyautées' in French).
Although referred to as black olives, they're not jet black. Instead they're deep violet in colour and their taste is strong: these little ones pack a punch! Particularly salty with a slight nuttiness to them, they add the typical flavour to the salad.
What Ingredients Shouldn't be Included?
This is where the confusion begins. Countless Niçoise salad recipes include both cooked green beans and potatoes plus a vinegar and oil dressing. We're back to Auguste Escoffier's version. So, who's right and who's wrong?
Even top chefs often add at least one of them - or all three! French starred chef, Hélène Darroze created such a French culinary scandale with her salad in 2016 that it's still a topic of dispute. Philippe Etchebest literally creates a new dish by adding cooked, fried potatoes and cooks then torches the peppers. To top that, he mixes the tuna and olives to make a tapenade topping. Lovely - but imagine what the purists are saying. Catastrophique.
The French culinary dictionaries confirm that there are certain ingredients that should not be included in the genuine salad from Nice:
So, while delicious, the following ingredients are not included in an authentic Salade Niçoise from Nice. Most importantly, no vegetable is cooked.
Green Beans - none means less cooking and quicker prep time!
Mustard - not a typical ingredient from Nice so don't add it. It's closer to Dijon.
Vinegar - likewise, there is no vinegar used, just good extra Virgin olive oil.
Honey - adds a complex sweet taste, detracting from the main ingredients
Capers - while this is a delicious addition, the real thing doesn't include them
Rice or sweetcorn - absolutely not to be included.
So for the real classic Salade Niçoise from Nice, while the taste is still good, don't add sweetcorn, rice, potatoes or green beans.
At a pinch, you could add a few chopped fresh radishes and lemon - just saying. I only live in Paris!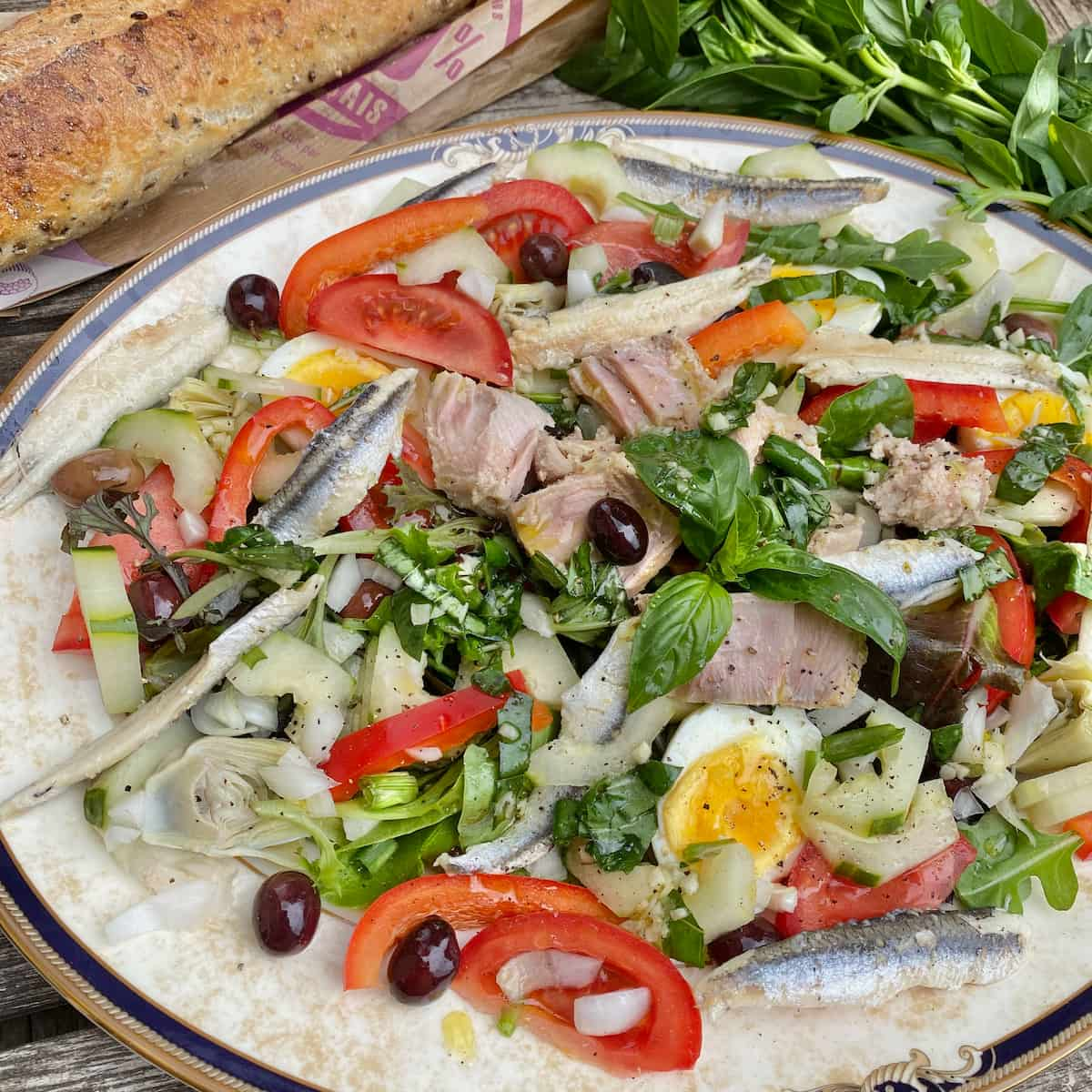 How to Prepare an Authentic Niçoise Salad
First hard boil the eggs. In the printable recipe below, I use 2 for 4 people. So, depending on number of mouths around the table, aim for an egg per person.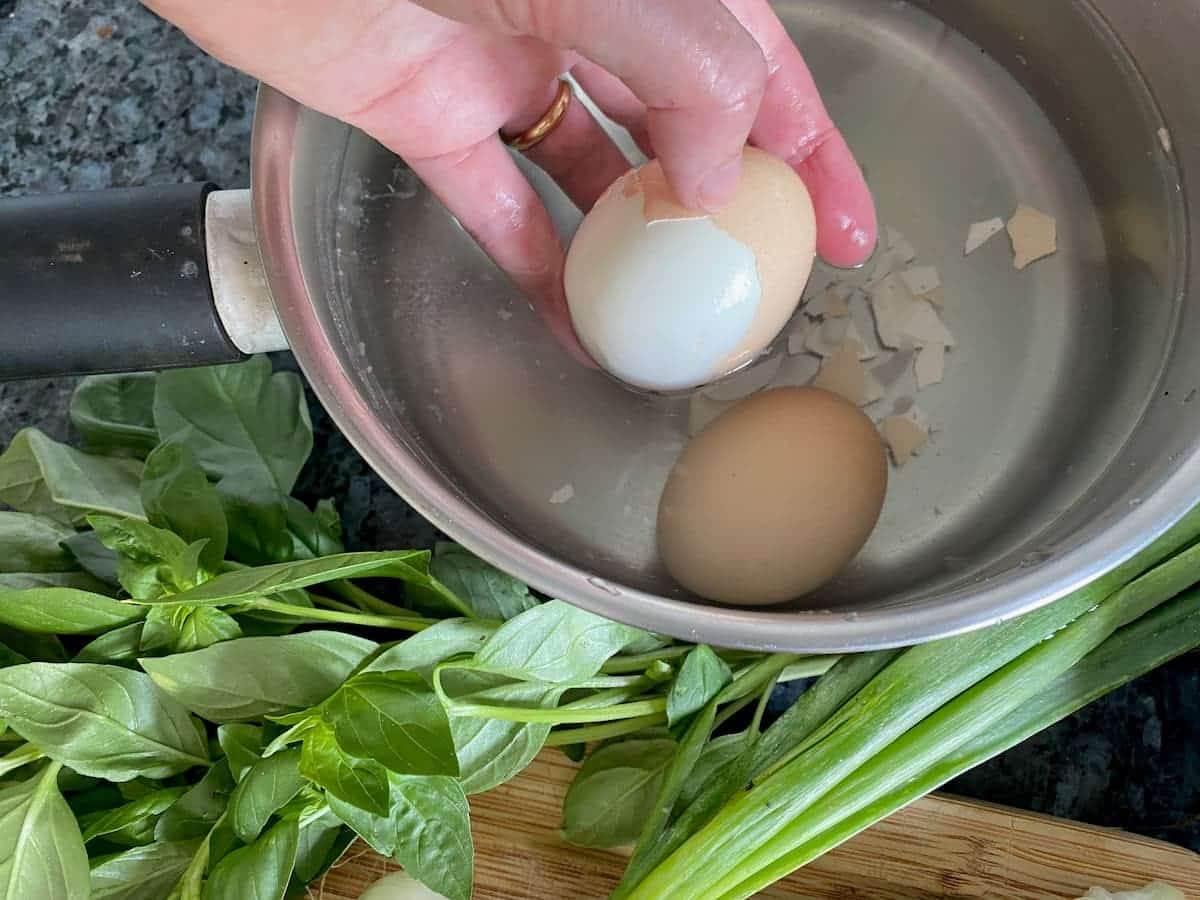 How to Cook Hard Boil Eggs to Perfection
Use the freshest, organic eggs you can find. If eggs are at room temperature, cook for 10 minutes in simmering water to get the perfect hard boiled egg. For chilled eggs out of the fridge, cook for no longer than 15 minutes. The cooked egg yolks should remain fluffy and maintain their lovely yellow colour.
Cooking any longer will result in rubbery eggs. Even worse, their yellow colour will fade. The worst is when they turn a little grey and start to smell of sulphur - a sure sign that they are well overcooked.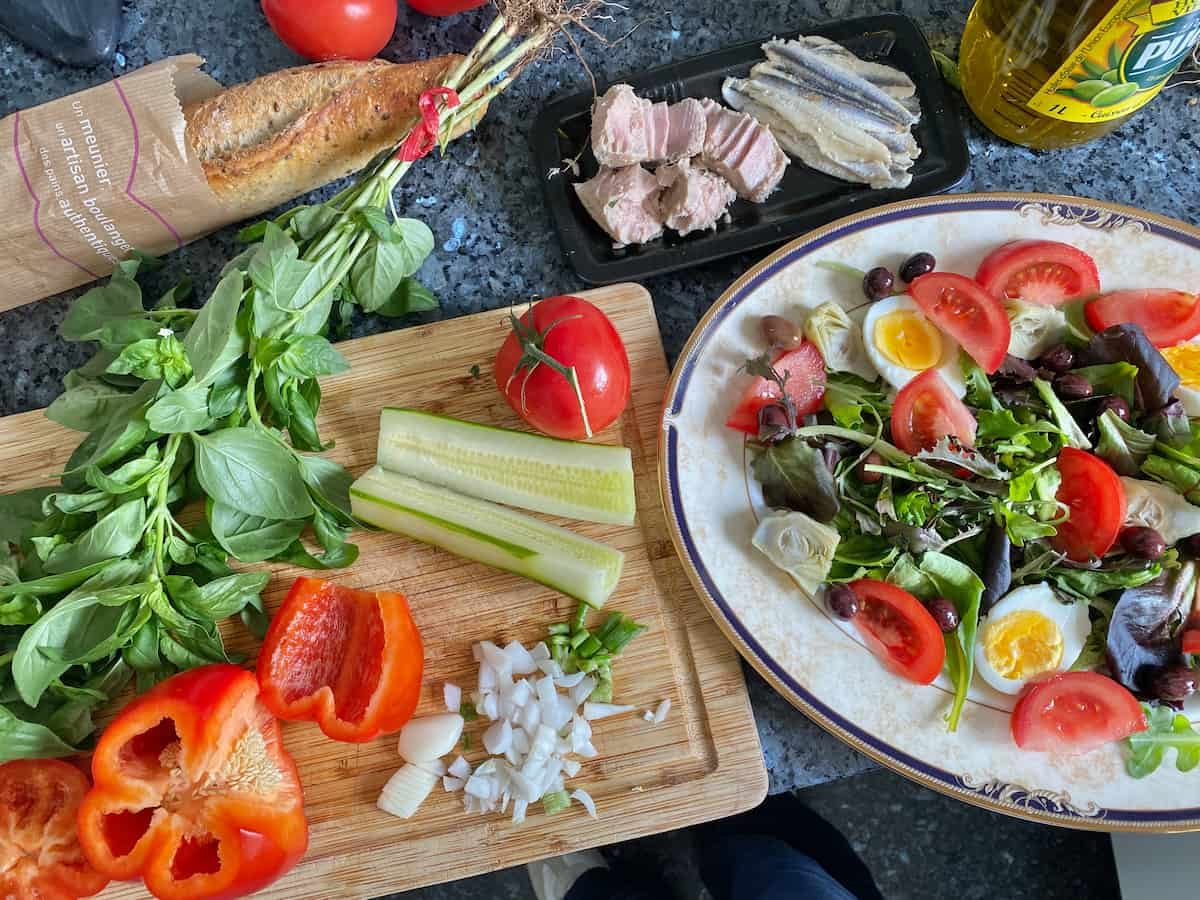 Assemble all ingredients. As we want to taste the typical flavours of the Mediterranean, use the freshest produce you can find in season. This includes vine tomatoes (or cherry tomatoes), fresh basil and garlic.
Here I used fresh anchovies in oil, which are not as strong as regular tinned or bottled anchovies conserved in salt (that's why I use more). Use a good quality brand of anchovies and, if stored in the fridge, remove them 20 minutes before to enjoy them at their best. The resulting flavours will be clean and fresh.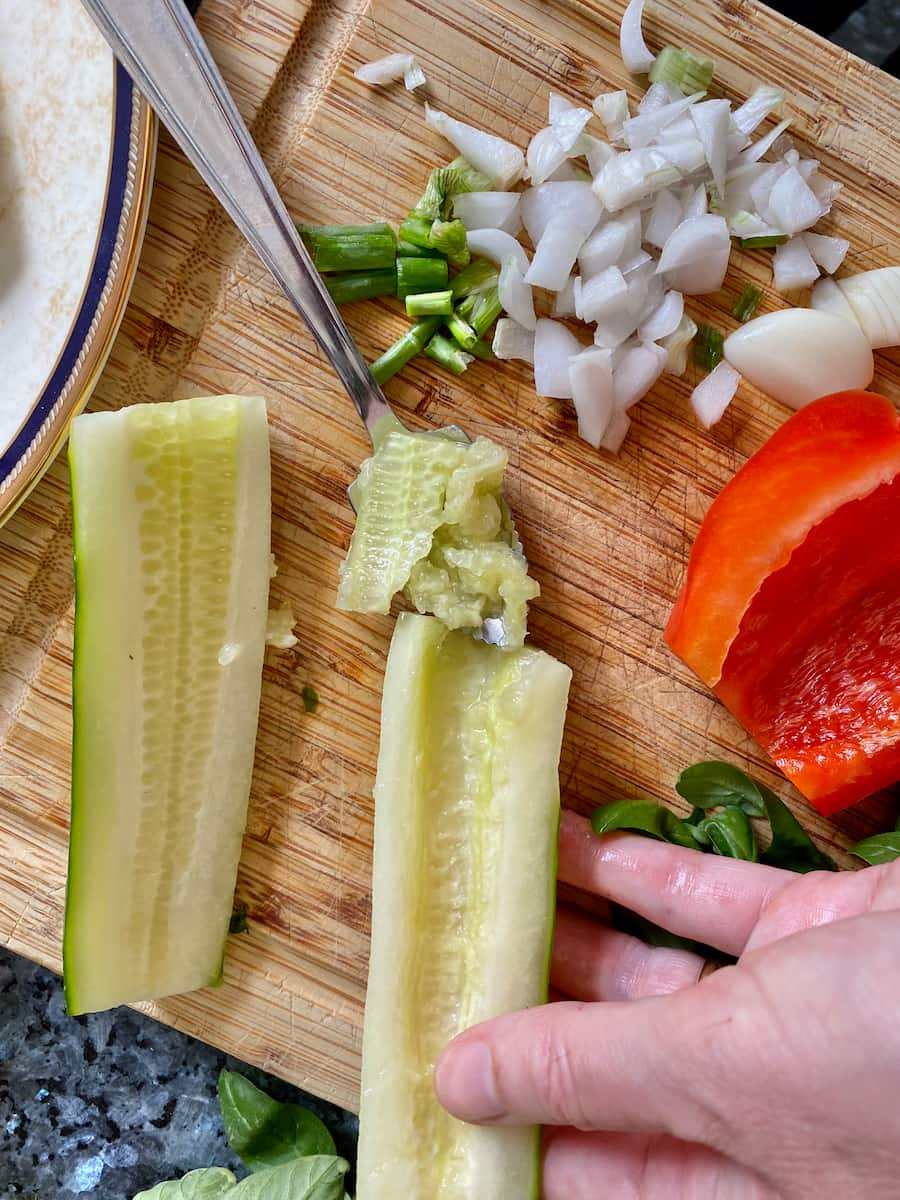 Prepare the cucumber by cutting it vertically in half and scoop out the seeds with a spoon (even better, use a grapefruit knife that's serrated). Then chop into thin slices.
Chop all the remaining ingredients and assemble on a large serving plate.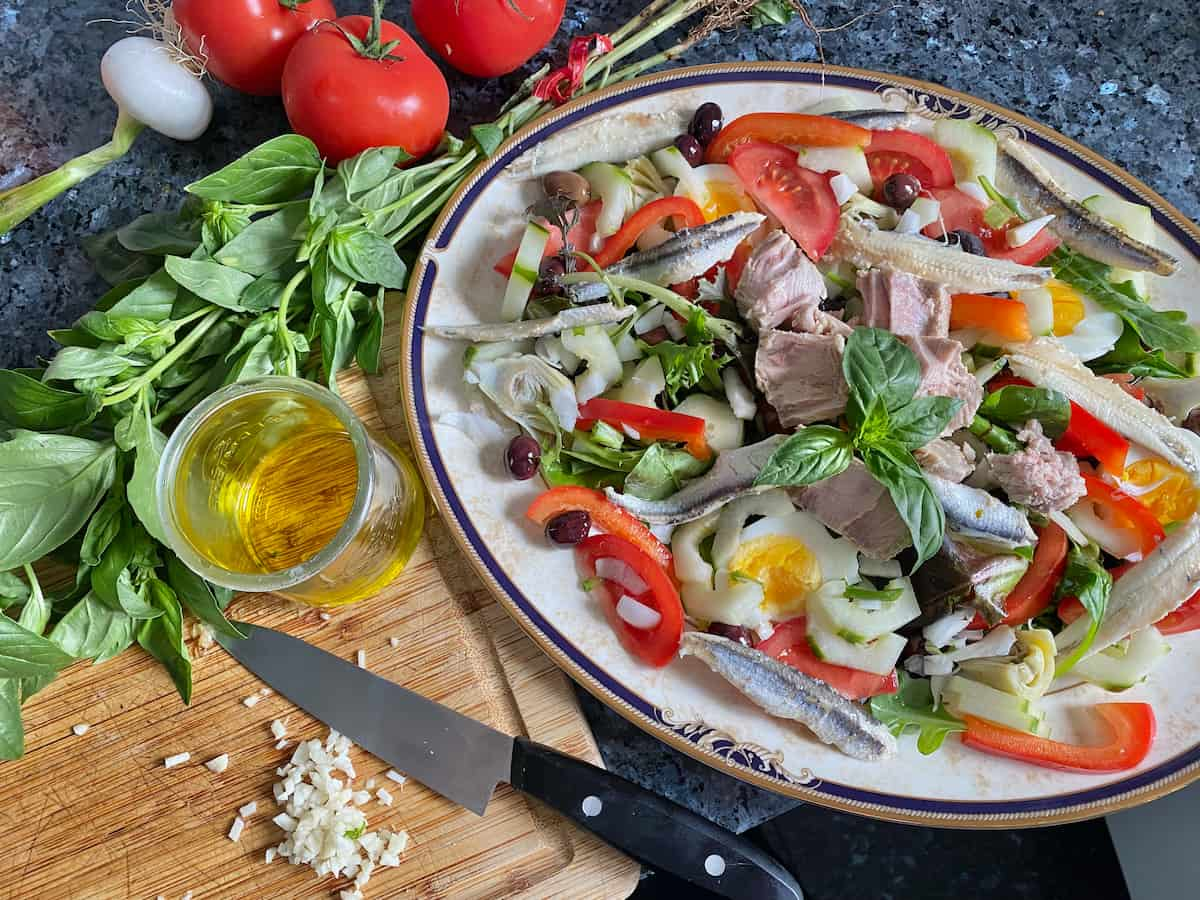 The Classic Niçoise Salad Dressing
To make a real Niçoise salad dressing, use good quality, extra virgin olive oil. No vinegar, mustard or honey is in sight. However, adding a little optional lemon juice is a delicious option that marries the flavours well.
The Mediterranean flavours always include fresh garlic. If you prefer not to add raw garlic to the sauce, then rub the garlic clove liberally around the serving dish before topping with the salad (according to chef Jacques Maximin and Médecin). Otherwise, finely chop the garlic and crush it further with the blade of the knife. I personally love garlic so much, I just chop it finely and serve.
Add chopped, fresh basil to the olive oil, the crushed garlic and season well with fleur de sel (sea salt or Maldon/Celtic sea salt are closest) and serve over the salad.
How to Serve
As this is a composed salad (salade composée), the Niçoise salad is traditionally served with each ingredient arranged on the plate to highlight the colours and flavours.
Unlike a regular salad where the sauce is tossed together then served, the dressing is poured over directly on the plate. Here I mixed up the ingredients as, in our family, I'm ensuring all of us get everything from one serving each around the table!
After all that without the cooked vegetables, the good news is that this seasonal, classic dish is much quicker to make and ready in just 30 minutes.
'Wine down' and serve with a good crusty baguette and a chilled glass of Rosé de Provence.
Niçoise Salad
The classic French Niçoise Salad has many debates over its ingredients, even with the French! Discover the taste of the real, authentic recipe from Nice which results in a quicker preparation time of just 30 minutes.
Ingredients
2

eggs

organic (to be hard boiled)

6

vine tomatoes

quartered

150

g (regular tin)

tinned tuna

in brine or oil

8

anchovy fillets

(see notes)

½

cucumber

peeled, seeds removed and chopped

salad leaves

Mesclun or rocket (arugula)

1

green or red pepper

deseeded and chopped

100

g

black Niçoise olives

(includes stone)

1

spring onion or shallot

finely chopped

6

small violet artichokes (if in season)

raw and sliced (or small raw fève beans)
Dressing
4

tablespoon

olive oil

extra virgin

1

clove

garlic

chopped then crushed to a pulp

12

fresh basil leaves

finely chopped

fleur de sel sea salt

Maldon salt flakes or Celtic salt

pepper

freshly milled
Instructions
First prepare the hard boiled eggs. Cook room temperature eggs for 10 minutes in simmering water. (If chilled eggs out of the fridge, cook for no longer than 15 minutes.) Leave to cool by plunging in cold water then peel shells while water still warm. Cut each in half.

Cut the tomatoes into quarters and salt slightly. Peel and halve the cucumber vertically, scoop out the seeds and slice finely. Chop the other fresh vegetables. Either assemble all ingredients mixed or compose an arrangement by each ingredient on the plate.
Dressing
Chop the garlic finely then, using a sharp knife, crush or press to a pulp. Add to a bowl of olive oil, stir in the chopped basil and season with salt and pepper. Pour over the salad.
Notes
Serve immediately to appreciate the freshest flavours or chill until ready to serve.
A Note on Ingredients
Use the best quality of fresh ingredients you can and find. Only the eggs are cooked in this salad (hard boiled).
Tuna fish is often replaced by anchovies and vice versa. Small artichokes are often replaced by fresh fevettes (little beans) but both ingredients are only used when in season.
Worried about the raw garlic? Instead rub the garlic clove on the presentation plate before dressing.
Depending on the quality of tomatoes, these are often peeled (drop in boiling water for a minute first to peel) or replaced by cherry tomatoes.
Each portion provides 14g of protein.