Recipe for warm goat cheese salad, or Salade de Chèvre Chaud, a French popular classic seen on many brasserie menus around France.
How to make it at home using fresh, quality ingredients with top tips how to bring out the best flavours. Serve with a glass of chilled fruity white or rosé wine and lively conversation.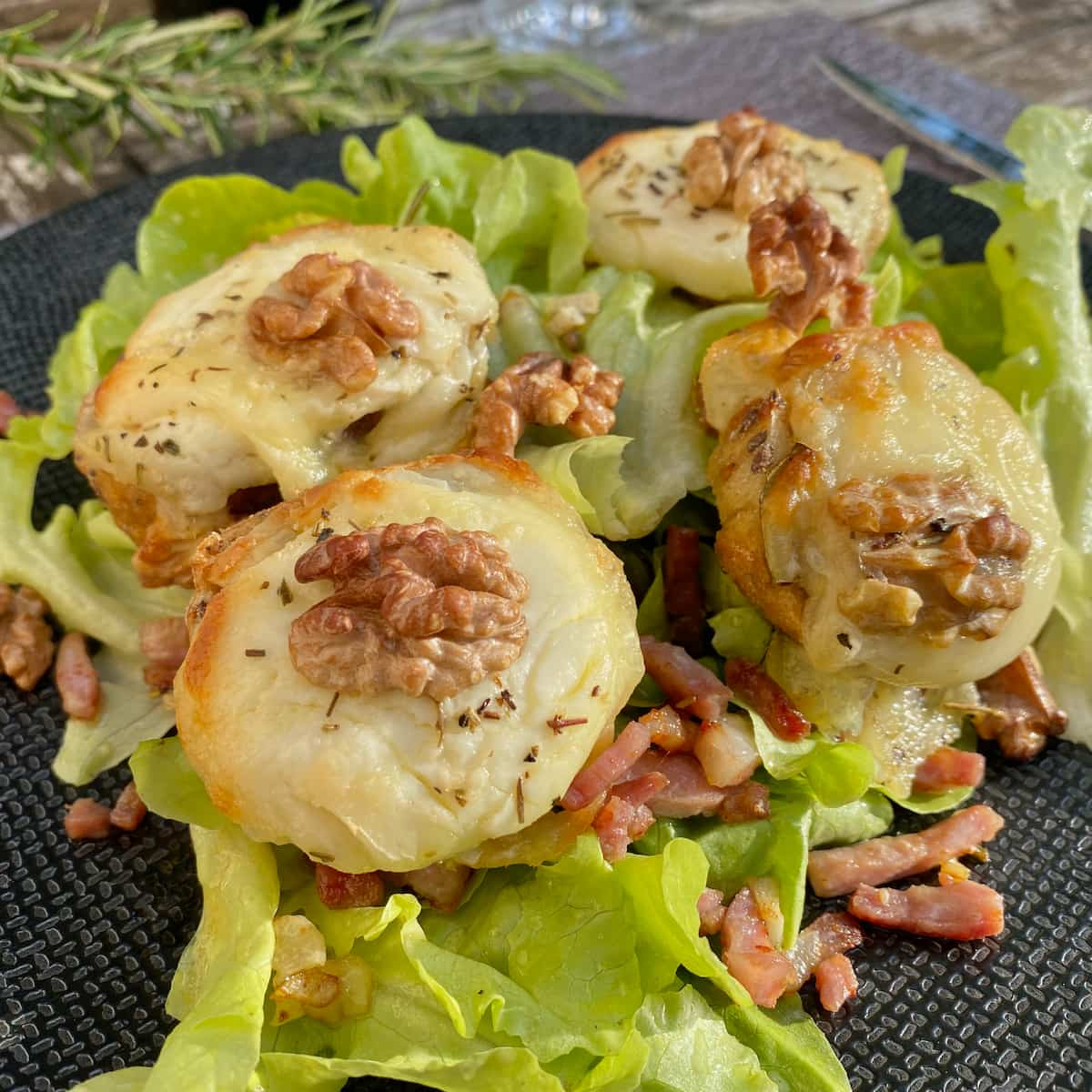 Can you Eat Goats Cheese Raw?
My Corsican husband refuses to eat salad as a main dish.  C'est comme ça. In Antoine's book, if a main meal is served cold, it's not dinner - even when the temperatures can soar to a sweltering 40°C like it did last week in Paris.
So, although goats cheese can be eaten raw, this is a delicious compromise for those that don't like eating "just a cold salad". By making a typical French salade de chèvre chaud, the goat's cheese is melted under the grill over slices of toasted baguette. Hot melted cheese always works.
When I first tasted this as a French language student in 1992 in a Parisian brasserie, it was a far cry from the one I learned to make in Provence that summer. Alas, many Parisian touristy brasseries still serve the horrid plastic-tasting, industrial 'bûchette' goat cheese. What's more, they serve it on top of tasteless white slices of toasted pain de mie (sliced bread).
If you do see this, RUN! Instead make this recipe below using the best quality ingredients you can find and taste the real France like us at home.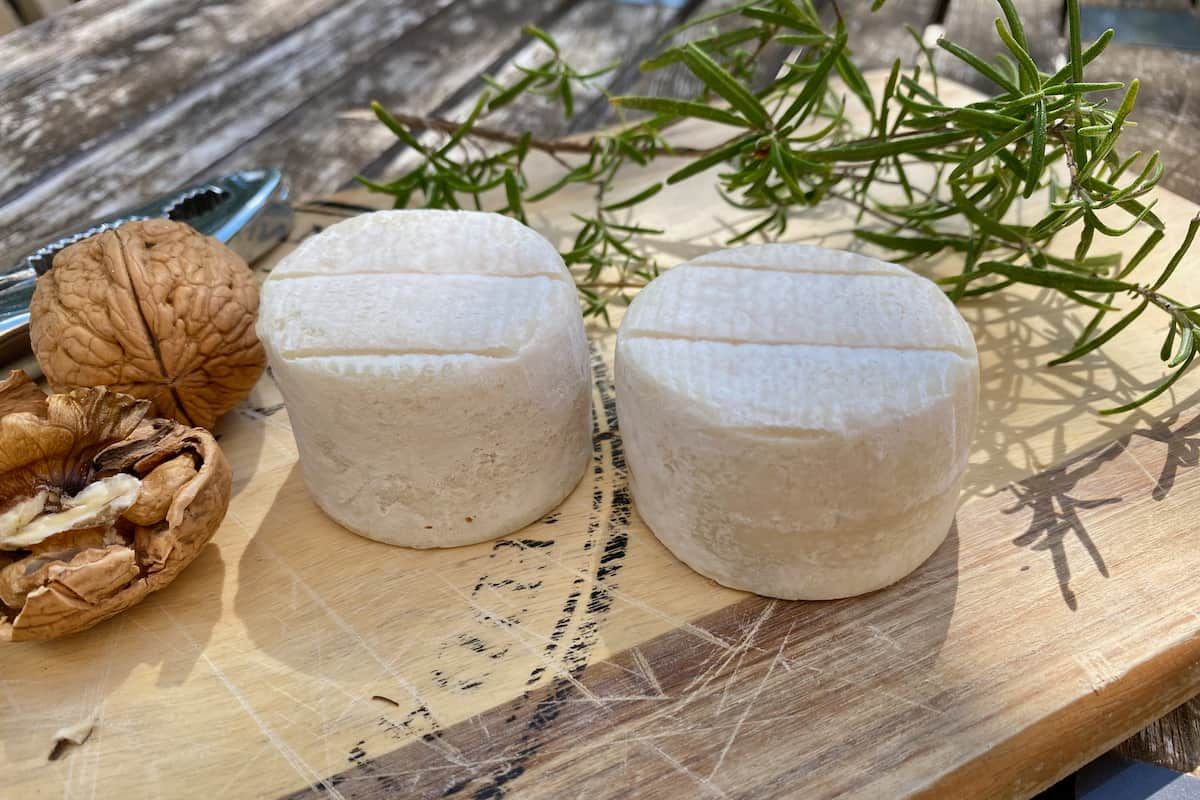 What's the Best Cheese for a French Goat's Cheese Salad?
Most medium matured goats cheeses work well for this French salad. However, the best goat cheese to use is a Crottin de Chavignol from the Loire Valley. Made from lait cru (raw milk), it's a small cylindrical cheese. It matures from a young 10 days to just over 2 months for a drier (sec) more powerful result. The best Crottin to use is young to medium rather than the stronger more mature cheese for this - but it's all a question of personal taste.
Crottin de chavignol has been made traditionally since the 16th century and has both quality status since 1976 of AOC and protected (AOP) since 1996. As a result, the cheese has to be made around the Chavignol area and adhere to strict production criteria.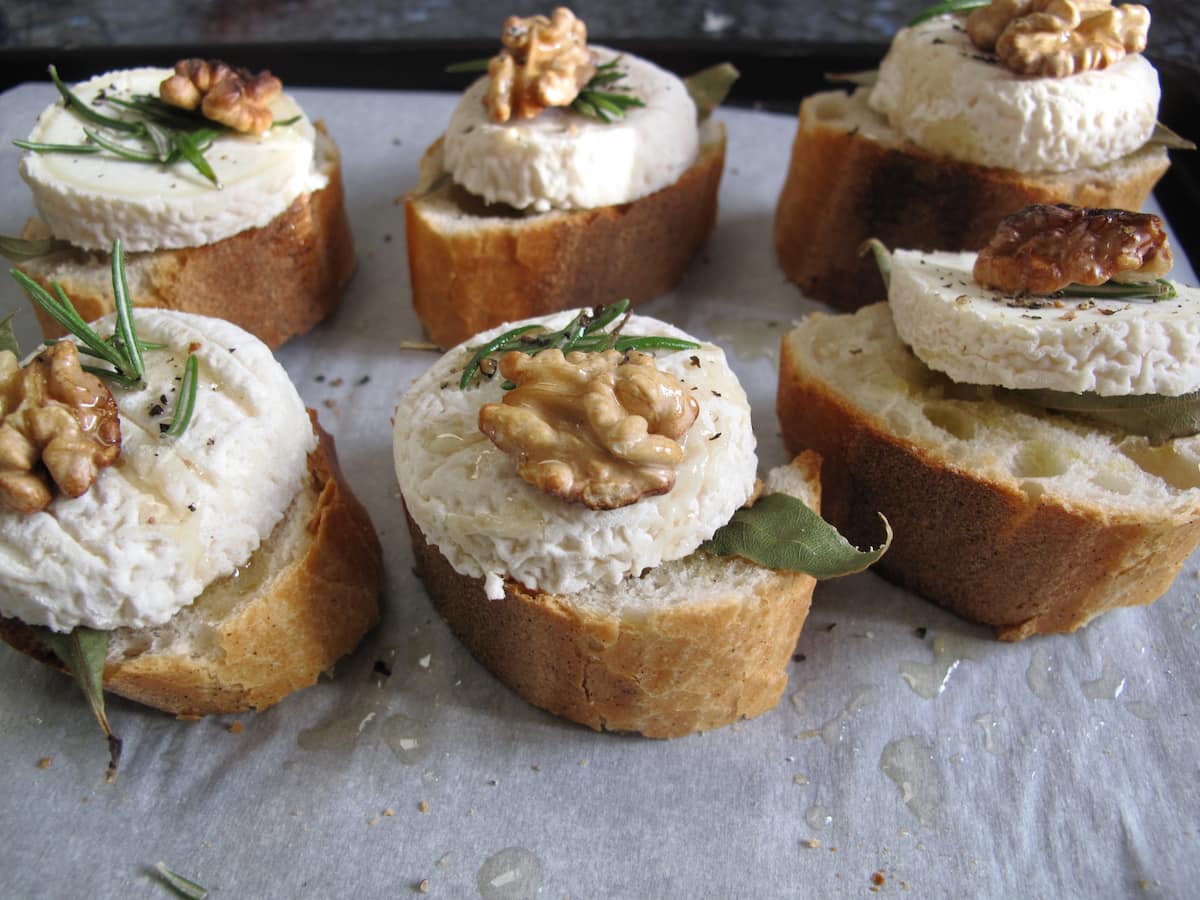 Why is it Called Crottin?
Why the name Crottin? The French are normally so poetic but when it came to officially naming this cheese, they somehow lost their romantic charm: it literally means goat's droppings.
However, that's not what it refers to. Instead, according to the local community of Chavignol, it's from the local French word 'crot' meaning hole or an area next to the river where women cleaned their clothes. The clay soil here was used to make not just oil lamps but also the moulds for the cheese.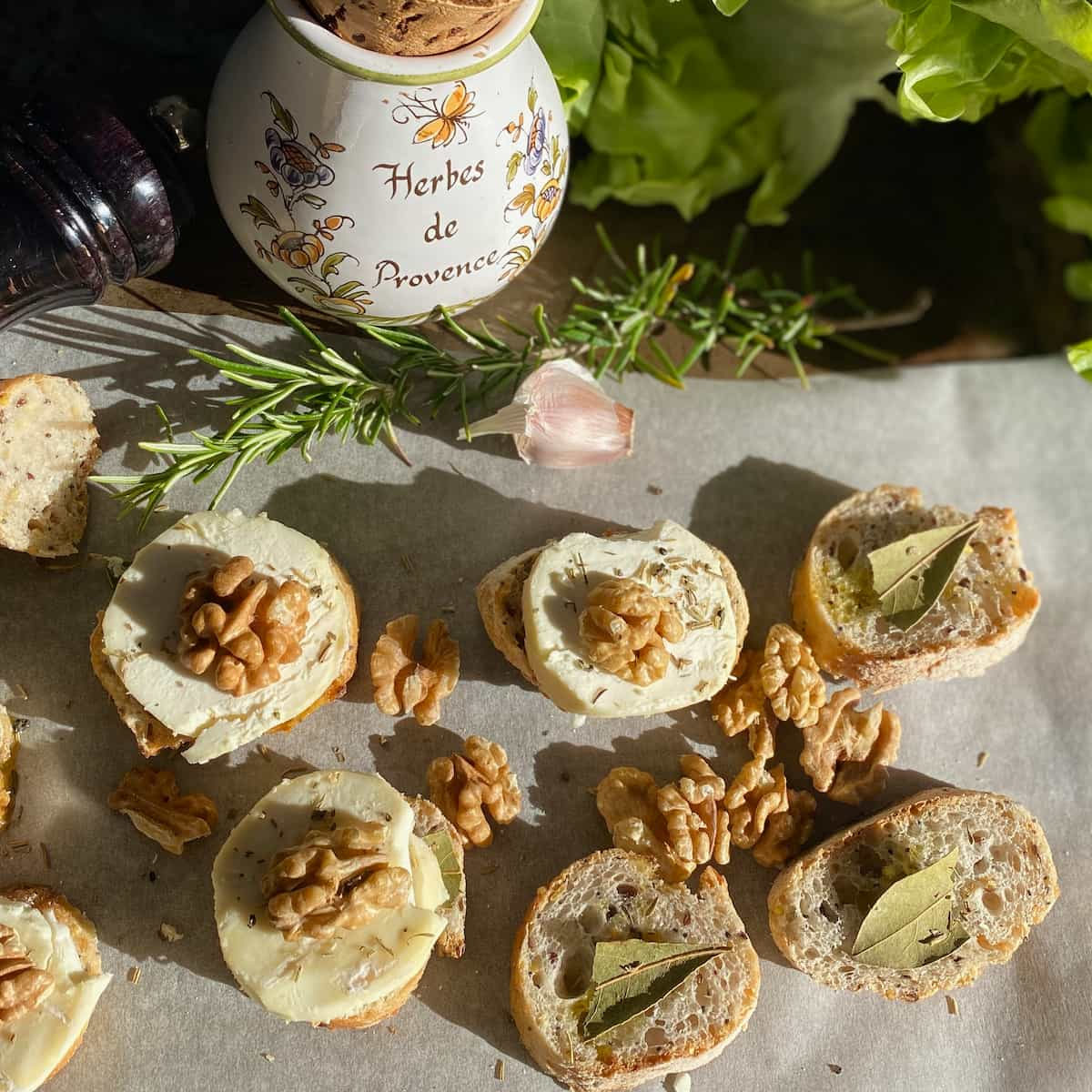 What Goes Well with Goats Cheese?
Hailing from the tiny village of Chavignol next to Sancerre, Crottin de Chavignol goats cheese goes famously with Loire white wines. This village also has tastings and fabulous Sancerre wines from the surrounding vineyards of Sauvignon blanc grapes. Put the two together and the resulting flavour combined brings out the nutty flavours of the cheese with a floral aftertaste of honey.
More generally, the other local variety of grape, Chenin, also accompanies goats cheese very well. That's why the two main fruity white wines from the Loire marry well. So the simple rule of thumb of marrying local foods with local wines usually works - it's all about le terroir, the land. However, a light fruity rosé wine (also from the Loire or Provence) is excellent too.
Likewise, as goats cheese has a nutty taste, toasted nuts also go well together: hazelnuts, pecans and walnuts in particular. Provençal herbs too such as rosemary, thyme, parsley - even lavender. Although honey goes well, avoid using it in this salad as it makes it too sweet.
How do you Cut Goats Cheese for Salad?
Typically, we use one Crottin de Chavignol goat cheese (typically 60g /2.5oz) per person.
As it's round, we cut 3-4 slices from each horizontally. So each person has 3 or 4 cheese toasts. If using a different kind of goats cheese, then cut to size to fill the top of each bread slice.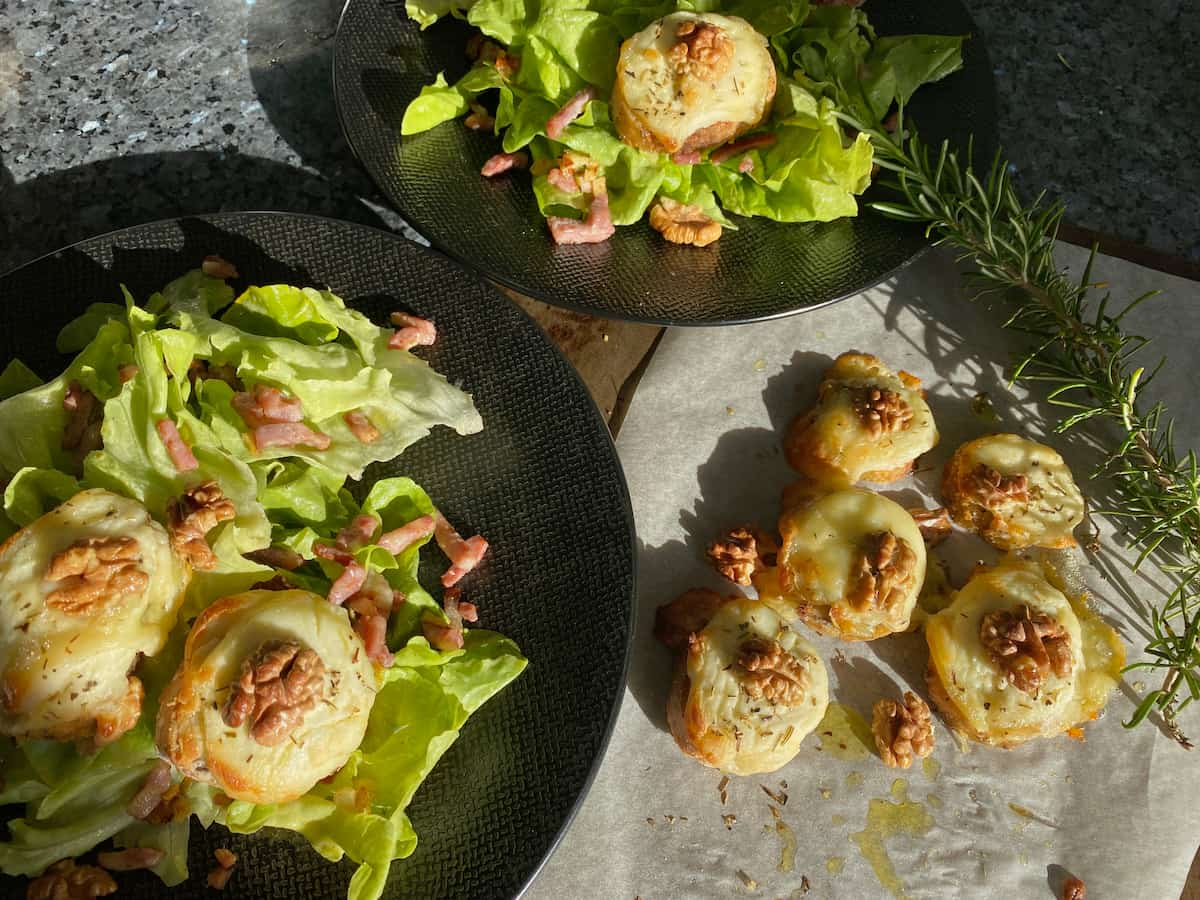 How to Warm Goat Cheese for Salad - the Tips
As a student, Antoine introduced me to some of his friends in Provence at his parents' home in Saignon (near Apt). I hardly spoke a word, apart from Je m'appelle Jill with a pronounced Scottish accent. What's more, their twangy French southern accents were initially bewildering: 'du pain' (pronounced 'du ping'), 'du vin' ('du ving'), and so on.  Even when they swear it has a song to it!
As the men sat around - catching up on gossip on the terrasse - the girls took me under their wing in the kitchen.  We didn't need much language to understand each other. The most fresh and flavourful produce sat on my mother-in-law's solid kitchen table: lettuce, olive oil, cheese, walnuts, garlic, bacon, herbs and bay leaves. So how did they do it? Here are the top tips for warm goats cheese salad:
Dribble olive oil on each small rustic slice of bread previously rubbed with garlic;
Put half a bay leaf under each slice of cheese;
Top with a walnut, a sprinkle of herbes de provence (or fresh rosemary/thyme), drizzle more olive oil then grill;
Serve with fried bacon bits and chopped garlic tossed together in the salad leaves with more toasted walnuts.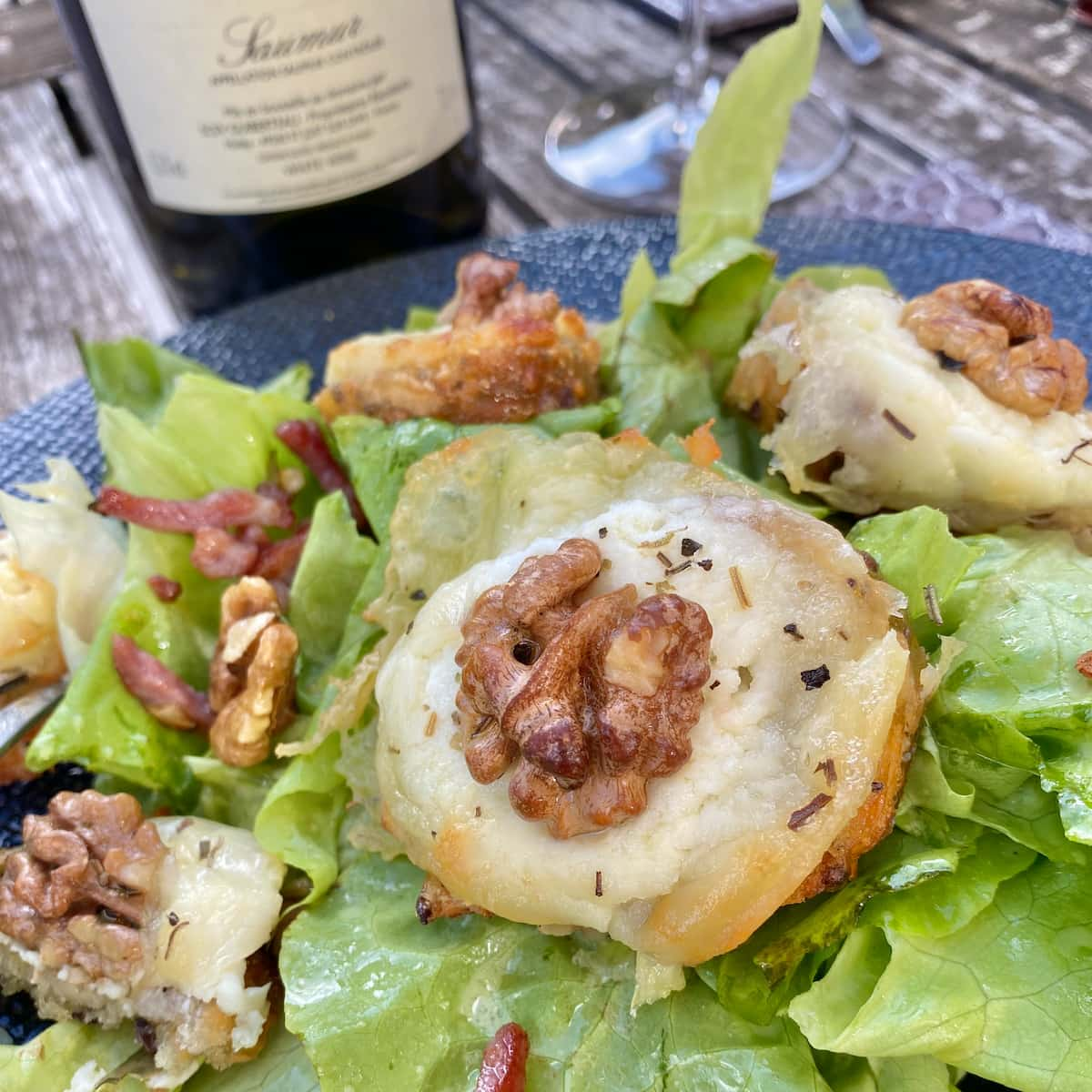 Salad Dressing for Goat's Cheese
Serve on top of your choice of freshest green lettuce (Batavia, feuille de chêne, mâche/lamb's lettuce). Top with some lardons (bacon bits) that have been fried together with freshly chopped garlic.
Add some more finely chopped fresh herbs such as flat leaf parsley then toss the salad in a simple dressing of olive oil (with some walnut or hazelnut oil). If you prefer more of a vinaigrette, add a little vinegar and Dijon mustard.
Before eating, remember to take out the bay leaf from under the grilled cheese. Taste how the bread and cheese are beautifully fragranced with such a simple ingredient. Ooh-là-là ! It's a real taste of French summer. Serve with a glass of chilled Loire white wine or Provençal rosé amongst friends.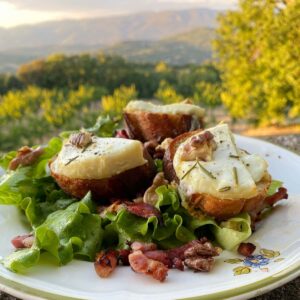 Warm Goat's Cheese Salad (Salade de Chèvre Chaud)
A French classic found on many menus around France and so easy to make at home. Use quality ingredients and add a bay leaf to each toasted cheese slice and the salad is taken to another level.
Ingredients
1

baguette

cut into small slices (3-4 per person)

2

tablespoon

olive oil

extra virgin

240

g (9oz)

firm goat's cheese

Crottin de Chavignol (1 @ 60g/2½oz per person, one slice on each toast)

4

bay leaves

1

teaspoon

dried herbes de provence

or chopped fresh rosemary

1

handful

walnuts

1

lettuce of your choice

leaves washed and dried

2

garlic cloves

finely chopped (first clove cut in half initially - see first step)

1

tablespoon

bacon bits (lardons)
Salad Dressing
3

tablespoon

olive oil*

extra virgin (SEE NOTES)

1

tablespoon

white wine vinegar

1

teaspoon

Dijon mustard

1

tablespoon

fresh flat parsley

finely chopped
Instructions
How to Warm the Goat Cheese for Salad:
Slice the baguette or bread or your choice into medium chunks and rub each top with half a clove of garlic.

Dribble a little olive oil on each baguette slice, add half a bay leaf then top with a slice of goat's cheese. Add a walnut and a little more olive oil on top and sprinkle on some herbes de provence or chopped fresh rosemary/thyme.

Place under a hot grill for up to 5 minutes, or just enough to melt the goat's cheese, toasting the extra walnuts around them.
Salad Dressing
Meanwhile, gently fry the garlic and bacon bits/lardons (if using) for about 5 minutes in the rest of the olive oil.

Whisk together the oil*, vinegar and mustard (or shake in a jam jar) with some fleur de sel salt and a few turns of the peppermill. In a bowl, toss into the salad leaves with the fresh parsley.

Arrange the salad leaves on each plate. Top with the garlic, bacon, the toasted goat's cheese slices and extra toasted walnuts.
Notes
* I like to use a little walnut oil (speciality of the Dordogne/Périgord region) in this salad - so use half walnut/olive oil. Don't forget to remove the bay leaves just before eating each toasted cheese slice. The taste is so fragrant. To make this recipe vegetarian, simply omit the bacon bits and add a dusting of smoked paprika before grilling the cheese to get that flavour sensation.
This post was first published 1 July 2011 but is now updated with more readable text and better images.
Have you made this recipe?
I'd love to know how it turned out. Please let me know by leaving a review below (now you can rate it!). It means so much to have your support. On Instagram? Share a photo and tag @JillColonna and hashtag it #madaboutmacarons. À bientôt!