High in protein, discover the health benefits of peas, a familiar French expression using them and links to easy pea recipes.
Random Facts About Peas
Brief History: the pea is one of the most ancient of vegetables consumed in Asia and Europe - but as a dried vegetable: chickpea and split pea.
It wasn't until the 17th century that fresh peas were consumed, especially in Europe. King Louis XIV adored peas, and ensured his botanist, La Quintinie grew them at the Potager du Roi in Versailles;
In France under Louis XVI, war minister, the Count Saint Germain adored fresh peas from Poissy (Yvelines, west of Paris) and so French recipes called 'Saint Germain' contain fresh peas - see recipe for pea soup, Potage Saint Germain;
Healthy Peas
Peas are high in protein. According to Aprifel, fresh peas are also rich in fibre, vitamin B9, manganese and phosphorus.
To cook them best to retain their vitamins, steam for just a couple of minutes. Add to sauces, rice, pasta, salads and soups for a healthy last-minute touch. Frozen peas are just as nutritious as fresh peas.
Storage: fresh pea pods are best kept in the fridge for up to 48 hours in order to keep their vitamins.
Do Peas Count as Vegetables?
Although categorised under vegetables, like the tomato, according to the King's Kitchen Gardeners at Versailles (the school at the potager du roi), the pea is botanically a fruit as it contains seeds and is grown from a flower (pisum sativum).
However, we know fresh green peas more commonly as a vegetable and they're best eaten fresh from the pods (3-8 per typical pod), frozen or canned/tinned. Split peas are dried and shelled from the matured pods.
Fresh Pea Season
French season for fresh green peas in their shells is between May to July.
As they appear around the same time as asparagus, are often associated together as ideal flavour partners.
French Expression Using Peas
"Il a un petit pois dans la tête"

Familiar/colloquial French expression meaning he's a bit of an idiot (literally translated as having a pea in the head). Although please don't use in good company!
Recipes with Green Peas
Slightly sweet tasting. Delicious served raw, straight from the pod and in salads.
Although not noted as a main ingredient in many recipes here, add it to stews in the last few minutes of cooking. It's a great way to make the most of them fresh when in season.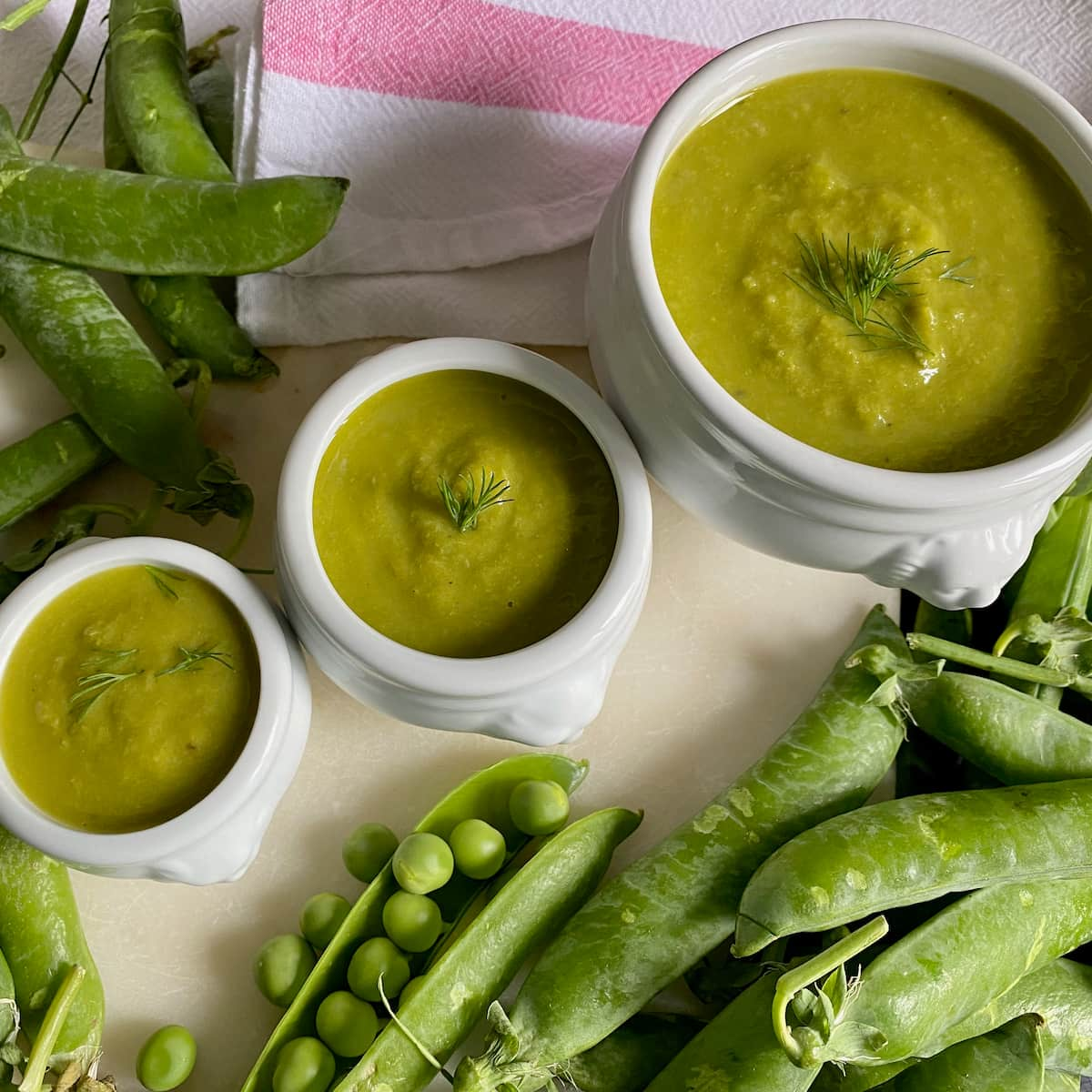 Fresh pea soup, or Potage Saint-Germain is a classic French soup made with freshly shelled peas. However, I also give the recipe using frozen peas and dried split peas when fresh are out of season.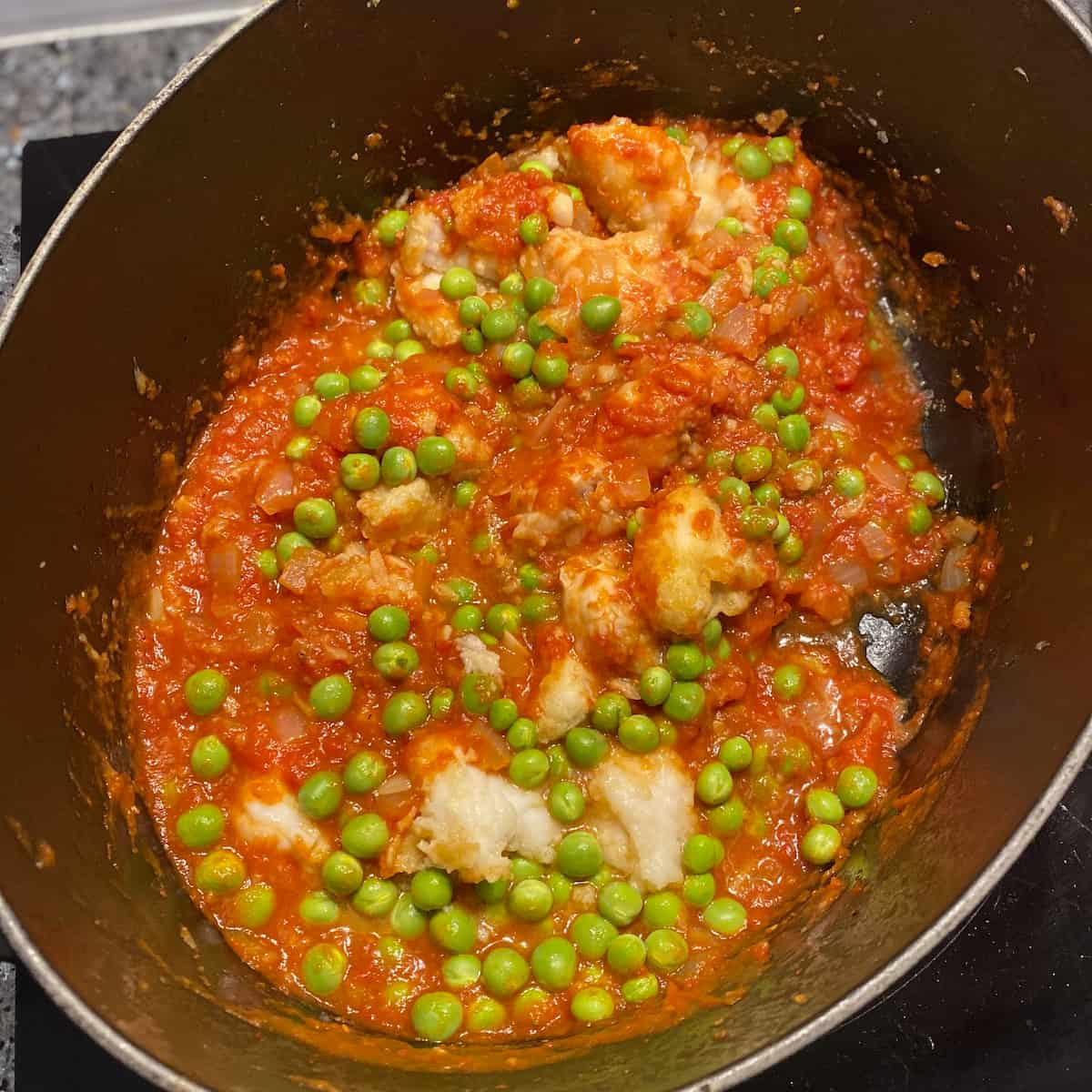 Add fresh or frozen peas to this classic French monkfish stew. Known as lotte à l'Armoricaine or l'Américaine, this is also delicious with Mahi-Mahi or any meaty fish.
Add peas at the last minute to sauces such as beurre blanc and to roasted asparagus. Also delicious associated with cooked carrots.
Add peas to this Corsican Mint Omelette. Pea and mint are so fresh and delicous to welcome summer.
Add freshly shelled peas to this pure vegetable soup. It's so delicious made with extra fresh produce.