A visit to the King's Vegetable Gardens in Versailles (potager du roi) with some history and what fruit and vegetables are there today.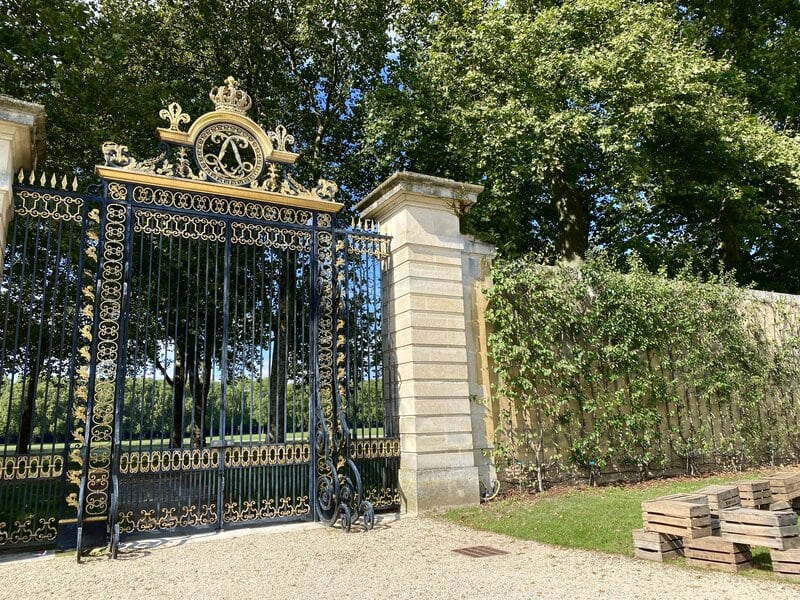 Saveurs du Potager Festival (October)
Their gates have been open to the public since 1991 following its renovation. Every October they have a special Saveurs du Potager, an annual culinary festival to showcase the diversity of the 300-or-so varieties of fruits and vegetables that are grown here.
These gates are rare here, the only ones left not to be melted down for canons during the French Revolution. They're also surrounded by French plum trees - lines of different varieties (mirabelles de Lorraine, etc.) next to the gate. However, four aisles of the same variety of Reine Claudes (greengages so named as King François I's wife adored them) are grown as it's easier to produce plums this way.
Today, classed as a UNESCO World Heritage Site, in 9.4 hectares of plot, 30 tons of fruit and 20 tons of vegetables are produced each year at the Potager du Roi, thanks to the horticultural school's students (ENSP Versailles) next door. Produce can be bought all year round from their shop at the entrance.
Who Was La Quintinye?
While Le Notre was responsible for the gardens at Versailles, Jean-Baptiste La Quintinye (pronounced Cantini) was responsible for building the potager-fruitier over five years (1678-1683), turning it out of swamp land, and ensuring the best quality fruit and vegetables on the royal table.
His statue surveys the daily pickings plus the continuation of experiments and new gardening techniques. If he continued gardening today, he would be seen as a chemical gardener: to fight off diseases and insects, he'd use arsenic and nicotine. Luckily today it's organic (known as 'bio' in French).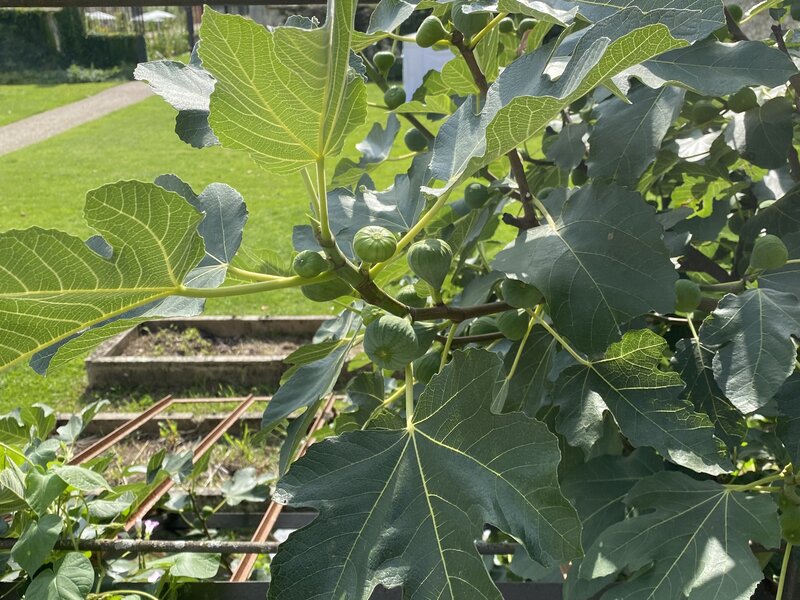 The Fig Garden (Jardin de la Figuerie)
La Quintinye wrote one book in his lifetime, passing on his techniques to others. It opens with one striking image of La Quintinye offering a fresh fig from his basket to King Louis XIV. He's also wearing a hat, unheard of in society to be wearing one in the presence of the King.
His genius was also king. He'd found a way to produce figs all year round as well as other incredible tricks that continue the 'fruits of his labour' today. There are now 700 fig trees in the shadow of La Figuerie building.
For more, see the French market page on figs (figues)
Louis XIV was so proud of this garden that he loved to bring visitors such as the Doge of Venice on a tour here, passing the exotic Orangerie en route. The King could show off his own pruning techniques and explain how his talented gardener managed to ensure that asparagus or strawberries could arrive 3 weeks before season by using different manures.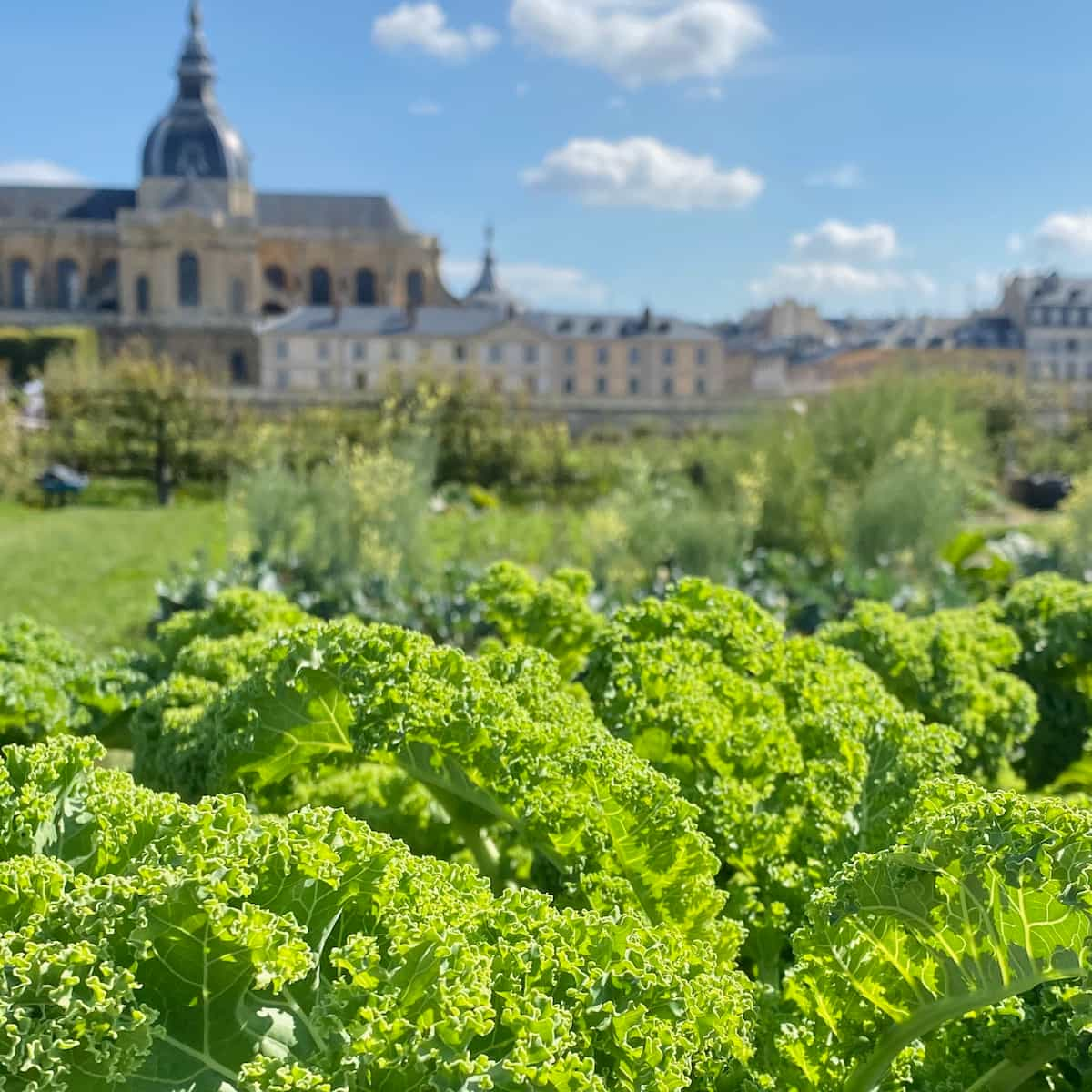 The Royal Herb Garden
My eye was drawn to the aromatic herbs of the garden since I love decorating dishes with edible flowers. Bourrache (borage) is popular here, almost growing wildly - but imagine the perfume of a huge patch of mustard plants, out in pretty white flowers.
Likewise, an abundant sea of tarragon.
Louis XIV, XV and XVI were yet to discover the blissful Béarnaise sauce, which primarily uses tarragon. This was to be invented much later in Saint-Germain-en-Laye, just a few kilometres away between Versailles and Paris.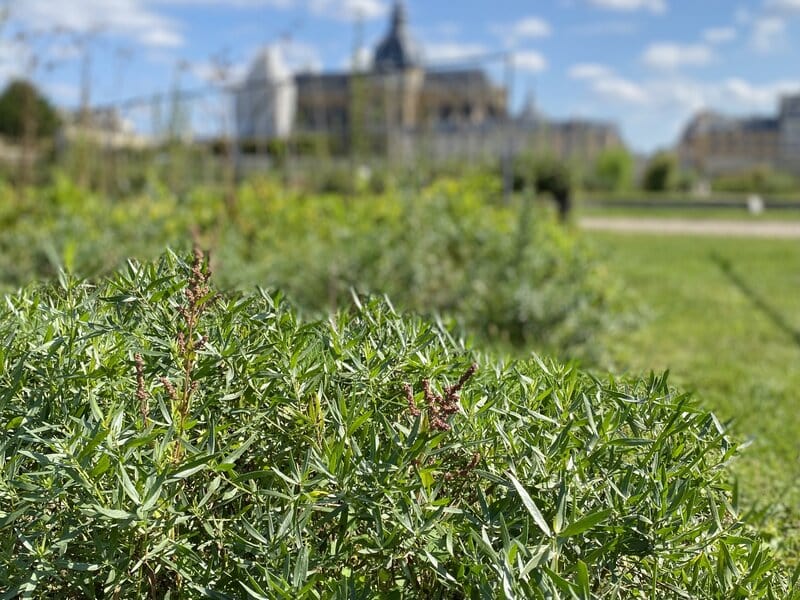 Genius of Auguste Hardy
Just when I thought Beurré Hardy was one of the most popular varieties of French pears (poires), Auguste Hardy was head gardener in the 19th century who invented all kinds of growing and pruning techniques.
Hardy invented L'espalier gardening (growing against a wall) vs Contrespalier (away from the wall) - all fascinating techniques which you can learn from any of the gardeners on site.
The King's Vegetable Garden has had such a wealth of gardener savoir-faire which has gone from generation to generation.
Pumpkins and Potimarrons
Hundreds of different squash were ready for harvest. The French are particularly fond of the potimarron pumpkin, appreciated for its chestnut like taste as the name implies. However, the name potimarron is purely commercial (I've got that wrong here in my potimarron macarons!) and known as Rouge de Hokkaido or Red Kuri Squash.
Incidentally, I even discovered that Alkekenge is the real name for physalis or cape gooseberries, cages d'amour (love cages - trust the French to be so romantic).
For more, including recipes, see the
French market page on Pumpkins and Squash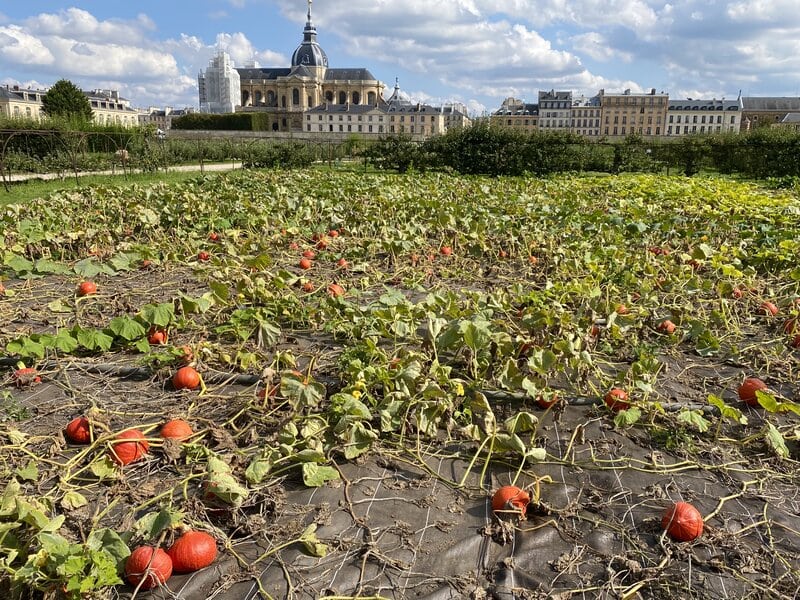 Combatting Birds & Insects
This year parasites have been a huge pest to fruit and vegetables. The biggest problem with apple trees (pommiers) are the Tigres de Poirier (literally pear tree tigers). So, unlike Le Quintinye who would use arsenic or nictotine, today gardeners use a talc that's used in making porcelaine that creates a barrier.
It's like humans says one of the gardeners:
"It's like treating a cold with antibiotics - what's the point? Like Covid today, we have to learn to live with it." (Head Gardener, Potager du Roi, Versailles)
Birds are also a huge problem, in particular the growing number of perakeets in the area, who help themselves to the fruit just as they start to ripen.
So, when we were there mid September, the apples and pears had already been harvested early to ripen off the plants in time for the Fête des Saveurs in October. Birds also don't help with weeds: they eat the weed seeds and spread them around too.
Chaste Tree (Oh-là-là)
Antoine couldn't resist sharing this find in the vegetable gardens. Hidden in a small corner was this beautiful plant with purple flowers. Apparently used in medieval times and placed in the bed of monks to stop any arousals, hence the name, Chaste Tree.
The spice extracted from the plant is named Monk's Pepper.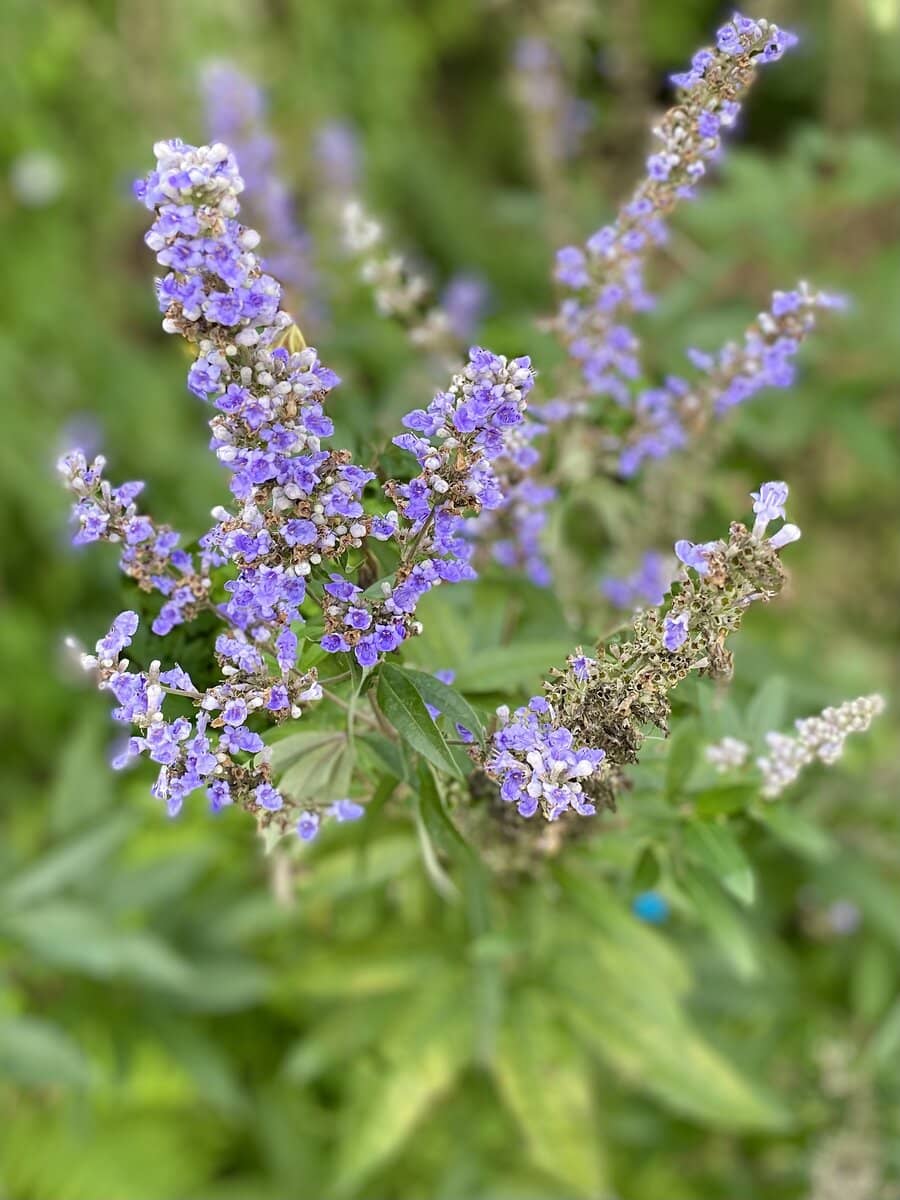 Rhubarb Nectar
Rhubarb wasn't grown at the time of Louis XIV but they're making up for it now!
I adore rhubarb and seeing rows and rows of it against the terraced walls made me rejoice with all my recipes with rhubarb. At the King's Vegetable Garden, they produce the most incredible rhubarb nectar: it's not too sweet, just the right acidity.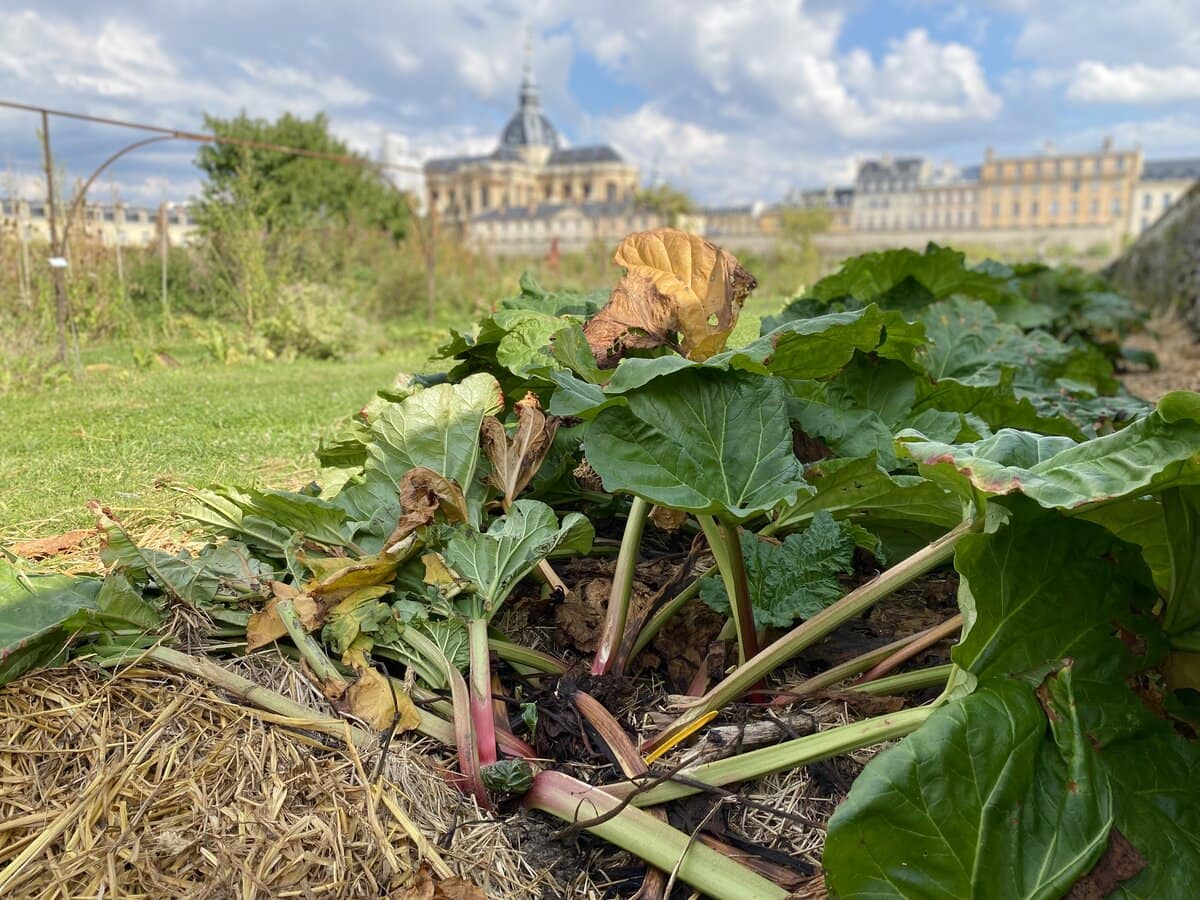 Festival of Taste in October
If you're in Versailles in October, do pop in to the Fête des Saveurs. It's also where various local gardening clubs show visitors how to create compost, how to create a shelter for ladybirds, make your own apple juice - plus how to construct a 'hotel' for insects.
However, at their shop at any time of year - or at the market in Versailles - it's where you can buy their freshly pressed apple juice and rhubarb nectar. It's also where you can pick up fascinating gardening books on growing your own fruit and vegetables.
For more information and opening times:
Potager du Roi (King's Kitchen Garden)
10 Rue du Maréchal Joffre
78000 Versailles
For much more from the French market, see the guide to fresh fruit and vegetables.
This post was originally published 11 October 2012 but text and images are now updated.