Random facts about apples in France: what apples are best for baking/cooking, French expression with apples and a collection of heathy apple recipes with reduced sugar.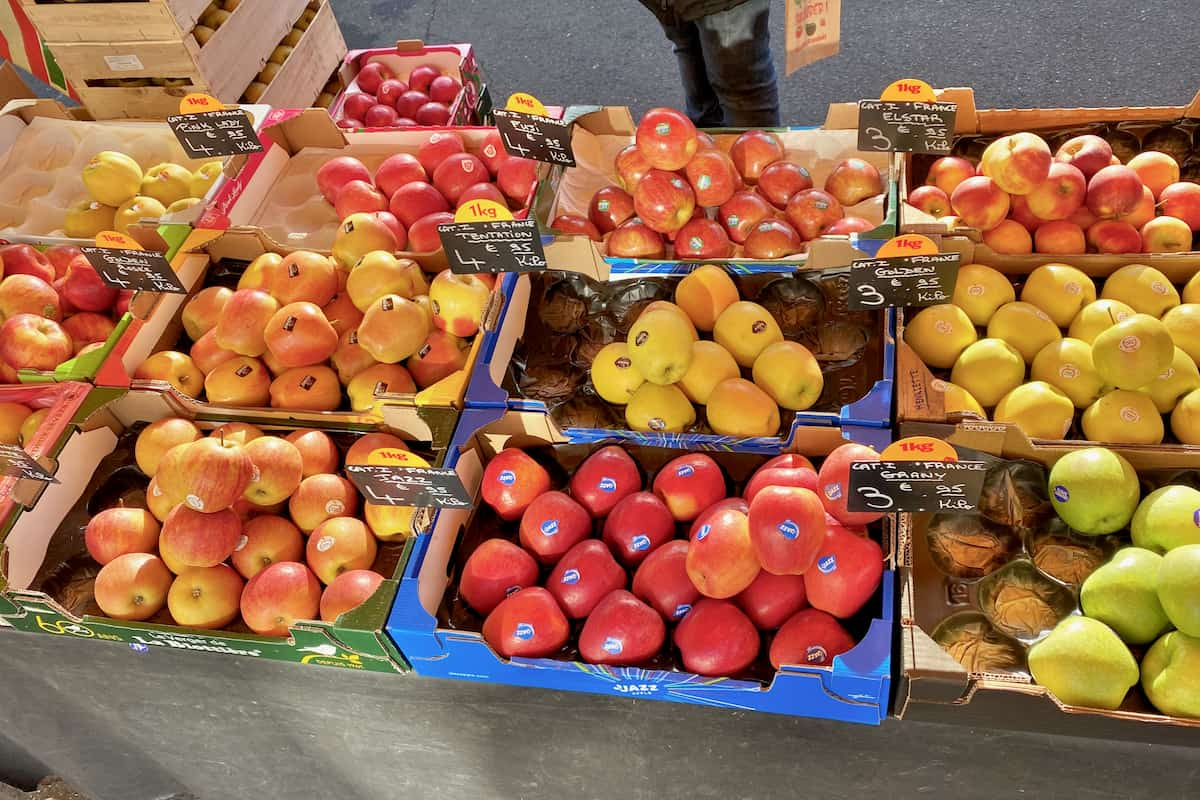 Apple Season:
Mainly in Autumn & Winter in France, although French apples are available from September to May.
French Apple Facts:
Most popular fruit variety in France and most cultivated in the world;
About 50 varieties (cultivar) available in France (about 2000 in the world);
According to Statista 2021, most popular varieties in France are: Golden (20%), Granny, Reine de Reinettes, Pink Lady, Gala, Canada, Boskoop, Fuji (3%);
Potager du Roi (under Louis XIV) grew pommes d'Api, de Reinette, Calvilles, Fenouillet;
In 2018, France was the 9th biggest global producer of apples (French Ministry of Agriculture);
Best eating apples, crunchy & not too sweet:Pink Lady, Honeycrisp, Braeburn, Jonagold, Fuji, Opal - great for biting into or served sliced with cheese and walnuts;
Apples often used in main dishes: with chicken, pork, and fried in butter to accompany boudin noir and boudin blanc;
French apples are fermented to make French sparkling Cider (Cidre) with 2-8% alcohol, either brut or doux (sweet). Served chilled traditionally in bowls (bols) to accompany savoury galettes and/or sweet crêpes from Brittany and Normandy;
If double distilled from Cidre, makes Calvados (apple Brandy, 40-60% alcohol). Normally served at room temperature in small glasses but also perfect for cooking. Add to dishes containing apples for that extra kick. Try this Calvados cream recipe for apple tarts or make a Calvados ice cream, following this no-churn liqueur ice cream recipe;
How to choose: avoid over shiny apples as these are often polished with wax!
How to store: for the utmost flavour, keep apples in a cool, dark place and avoid the fridge if possible as chilling them dulls their full flavour.
Fun French Expression Using Apples
"Elle est tombée dans les pommes"
is a familiar expression meaning She fainted (literally translated, she fell in the apples).
What Apple Types are Best for Cooking or Baking?
The following French apples are best for cooking or baking, as each type has certain benefits for particular dishes:
Golden - best for most cooking and patisserie, especially as keeps its shape after baking. Not acidic, crunchy, naturally sweet but lacking in flavour. Great for apple tarts, pies, crumbles, tarte tatin. Pommes flambées: roast at 220°C in a little butter and sugar then flambé in Calvados. Also exists as Golden Rosé;
Opal - a cross between Golden Delicious and Topaz, good for apple tarts etc - just like for Golden;
Granny - like Golden, but acidic (acidulée) and not sweet. Perfect for most cooking and patisserie (also great mixed with Golden). Great for apple tarts, pies, crumbles, baked apples and for adding to savoury dishes;
Reine de Reinette & Canada - Acidic, not too sweet; best for making, tarts, Tarte Tatin, pies & baked apples;
Boskoop - Sweet with just a touch of acidity. Reduces best for compotes and sauces but also good in tarts, pies and charlottes;
Pink Lady - Slight acidity and crunchy. Ideal for crumbles, pies and compote, as not too sweet and reduces to sauce well;
Gala - naturally sweet, great for fruit salads as doesn't mask the flavour of other fruits;
Fuji - doesn't adapt well to cooking so best enjoyed eating on its own. Crunchy but lacking in flavour;
Jonagold - unlike the others above, they don't keep as well so use quickly, especially for crumbles and pies but also best eaten on its own.
Do Apples Have Pectin?
Apples are high in natural fruit pectin, including the cores and seeds, which is useful for making jams and jellies.
So add an apple to homemade jams to thicken them naturally. The same goes for pears and oranges, which also contain pectin.