What types of apples are popular in France and what kinds are best for eating or baking/cooking. Includes a familiar French expression and our favourite heathy apple recipes, all with reduced sugar.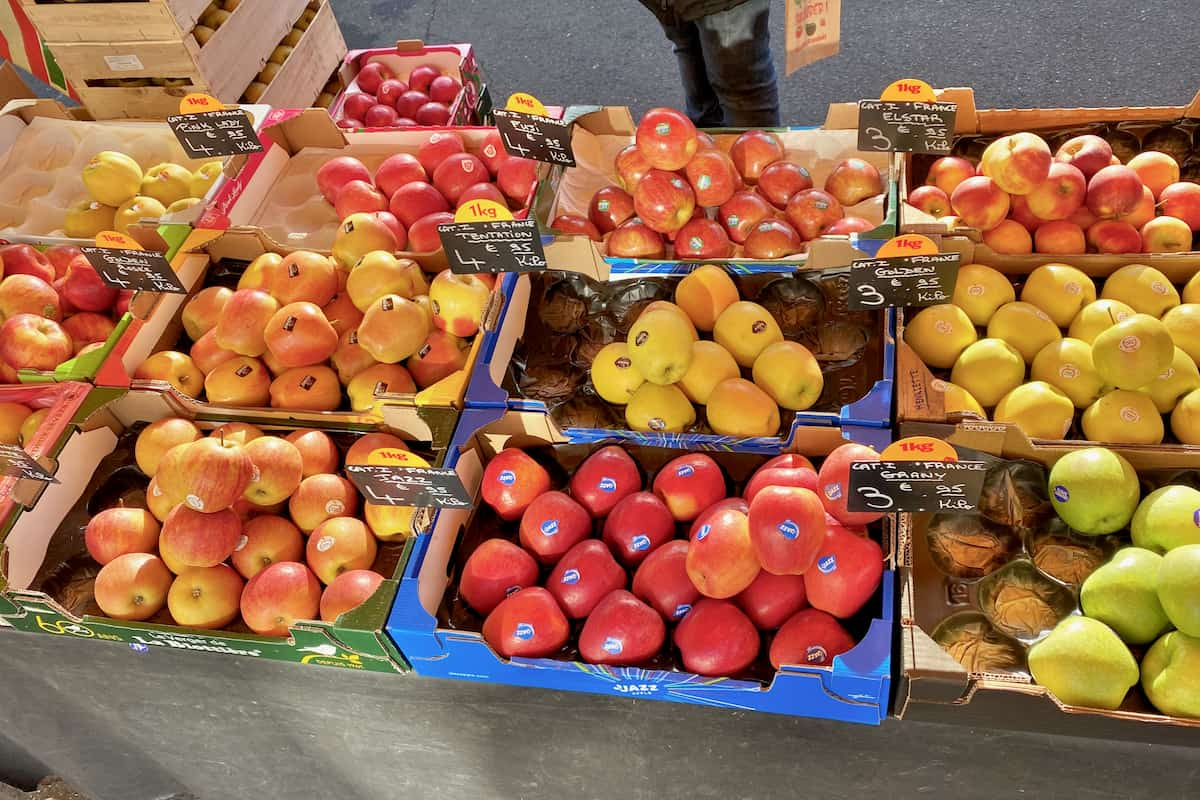 Apple Season
Although apples are easy to find at any time of year and preserve well, high season is mainly in Autumn & Winter in France.
Types of French Apples
Apples are not just the most popular fruit variety in France but they are the most cultivated fruit in the world.
There are about 50 varieties (cultivar) of apple available in France - compared to about 2000 in the world.
What are the Top Apples in France?
According to Statista 2021, most popular varieties in France are: Golden (20%), Granny, Reine de Reinettes, Pink Lady, Gala, Canada, Boskoop, and Fuji (3%).
In Versailles at the Potager du Roi (under King Louis XIV's reign in the 17th century), they grew pommes d'Api, de Reinette, Calvilles, Fenouillet. Pommes d'Api even has a French song that most French kids learn at school (it's so cute!)
In 2019, according to the French Ministry of Agriculture, France was the 9th biggest global producer of apples with 1519 million tons produced from France's orchards.
La pomme du Limousin is the only apple to have quality status of Appellation d'origine protégée since 2005 - known as le grand cru de la pomme! Every Tuesday and Thursday in July and August, it's possible to visit the orchard.
Fun French Expression Using Apples
Elle est tombée dans les pommes"
means she fainted. Literally translated, she fell in the apples.

Familiar French expression
What are the Best Eating Apples?
The best eating apples, crunchy & not too sweet:
Pink Lady, Honeycrisp, Braeburn, Jonagold, Fuji, Opal. These eating apples are great for biting into or served sliced with cheese and walnuts.
French Cidre
French apples are fermented to make French sparkling Cider (Cidre) with 2-8% alcohol, either brut or doux (sweet). Served chilled traditionally in bowls (bolés) to accompany savoury galettes (buckwheat pancakes) and/or sweet crêpes from Brittany and Normandy in traditional crêperies.
Calvados - Apple Brandy
Calvados, the French apple Brandy (40-60% alcohol) from Normandy is double distilled from Cidre. Normally served at room temperature in small glasses but also perfect for cooking. Add to dishes containing apples for that extra kick. Try this Calvados cream recipe for apple tarts or make a Calvados ice cream, following this no-churn liqueur ice cream recipe.
What is the Brittany Version of Calvados?
While Calvados is from Normandy, the Bretons have their own version of apple Brandy, known as Lambig or Fine de Bretagne.
How to Best Choose and Store Apples
To choose the best apples: avoid over shiny apples as these are often polished with wax!
How to best store: for the utmost flavour, keep apples in a cool, dark place and avoid the fridge if possible as chilling them dulls their full flavour.
Top storage tip: keep apples away from other fruits (or store in a separate paper bag) as they naturally contain a substance which matures nearby fruits quicker.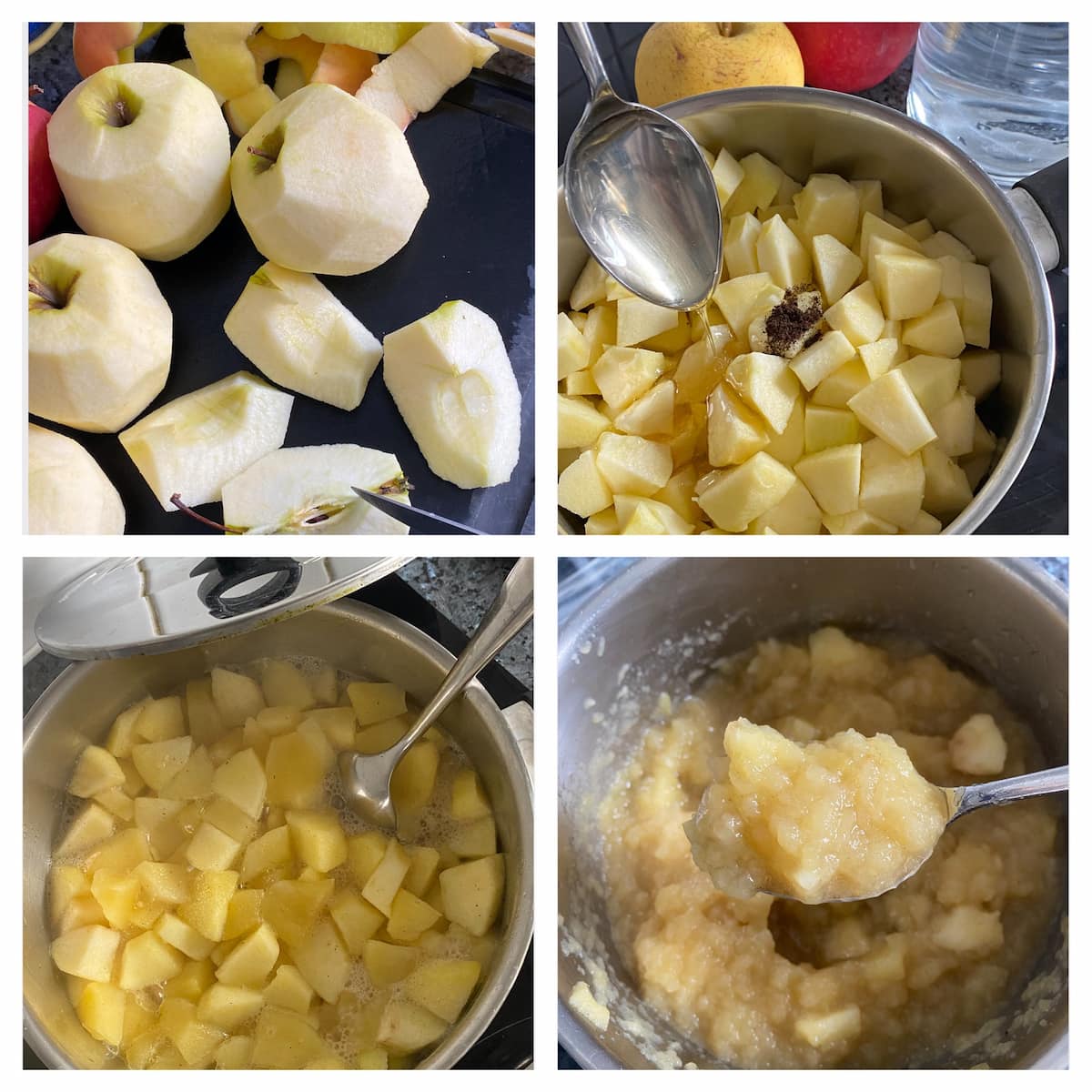 What Apple Types are Best for Cooking or Baking?
The following types of apples are best suited for particular cooking or baking.
Golden - best for most cooking and patisserie, especially as keeps its shape after baking. Not acidic, crunchy, naturally sweet but lacking in flavour. Great for apple tarts, pies, crumbles, tarte tatin. Pommes flambées: roast at 220°C in a little butter and sugar then flambé in Calvados. Also exists as Golden Rosé;
Opal - a cross between Golden Delicious and Topaz, good for apple tarts etc - just like for Golden;
Granny - like Golden, but acidic (acidulée) and not sweet. Perfect for most cooking and patisserie (also great mixed with Golden). Great for apple tarts, pies, crumbles, baked apples and for adding to savoury dishes;
Reine de Reinette & Canada - Acidic, not too sweet; best for making, tarts, Tarte Tatin, pies & baked apples;
Boskoop - Sweet with just a touch of acidity. Reduces best for compotes and sauces but also good in tarts, pies and charlottes;
Pink Lady - Slight acidity and crunchy. Ideal for crumbles, pies and compote, as not too sweet and reduces to sauce well;
Gala - naturally sweet, great for fruit salads as doesn't mask the flavour of other fruits;
Fuji - doesn't adapt well to cooking so best enjoyed eating on its own. Crunchy but lacking in flavour;
Jonagold - unlike the others above, they don't keep as well so use quickly, especially for crumbles and pies but also best eaten on its own.
Apple Recipes
The following are our best healthy family apple recipes and all reduced in sugar. Apples are often used in main dishes in France: with chicken, pork, and fried in butter to accompany boudin noir and boudin blanc.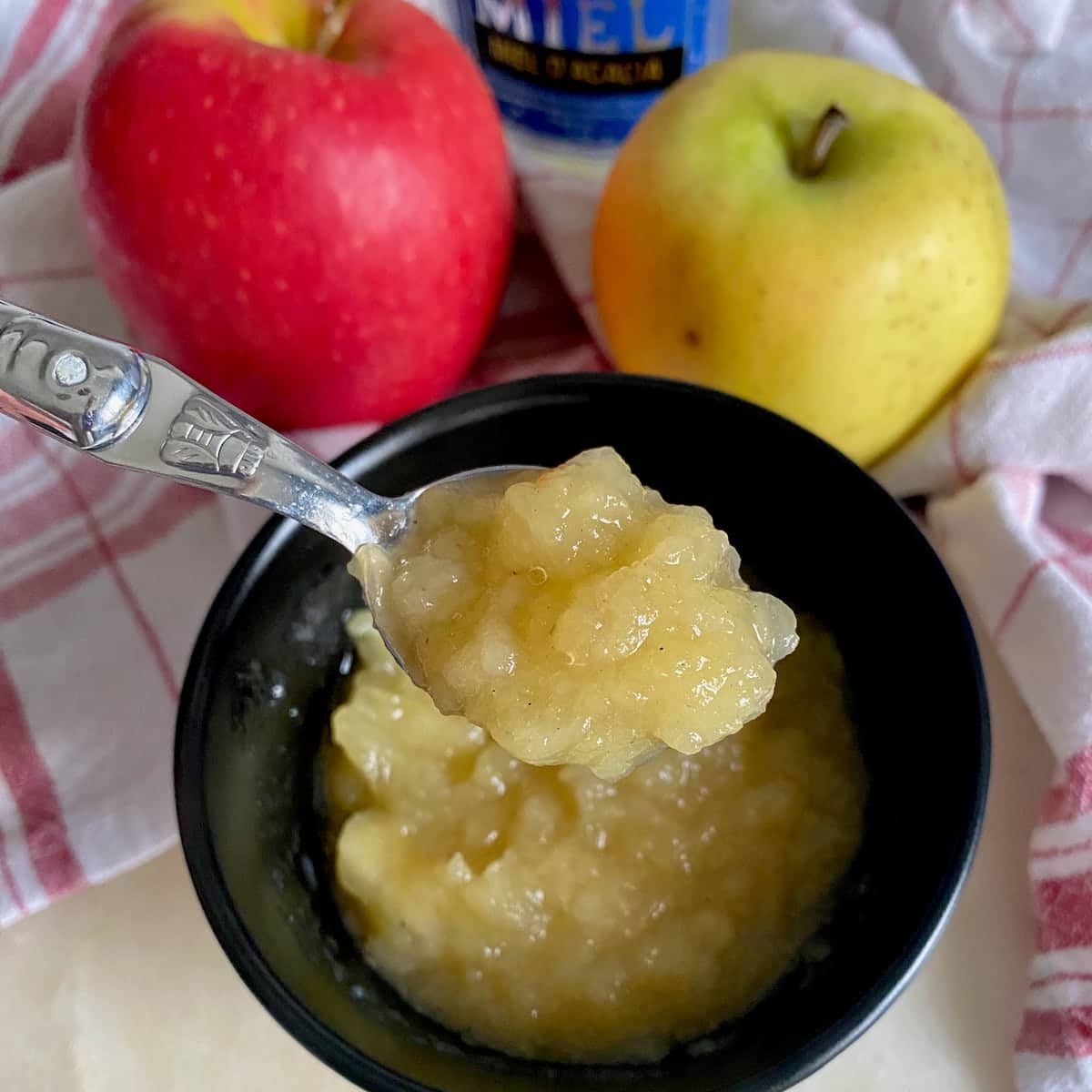 Apple Compote or apple sauce is widely used in France for either savoury or sweet dishes. Serve with boudin noir (black pudding), boudin blanc (especially popular at Christmas) or on top of crêpes, our favourite thin French pancakes. As apples contain pectin, they keep the perfect moisture with coconut when added to coconut macaroons (rochers coco).
This quick French apple tart is so easy and made using ready-made puff pastry. Serve with a calvados cream for the ultimate appley taste.
If you love apples and custard, you need to try this French Apple Custard Tart from Alsace. Together with the vanilla, this is heaven on a plate!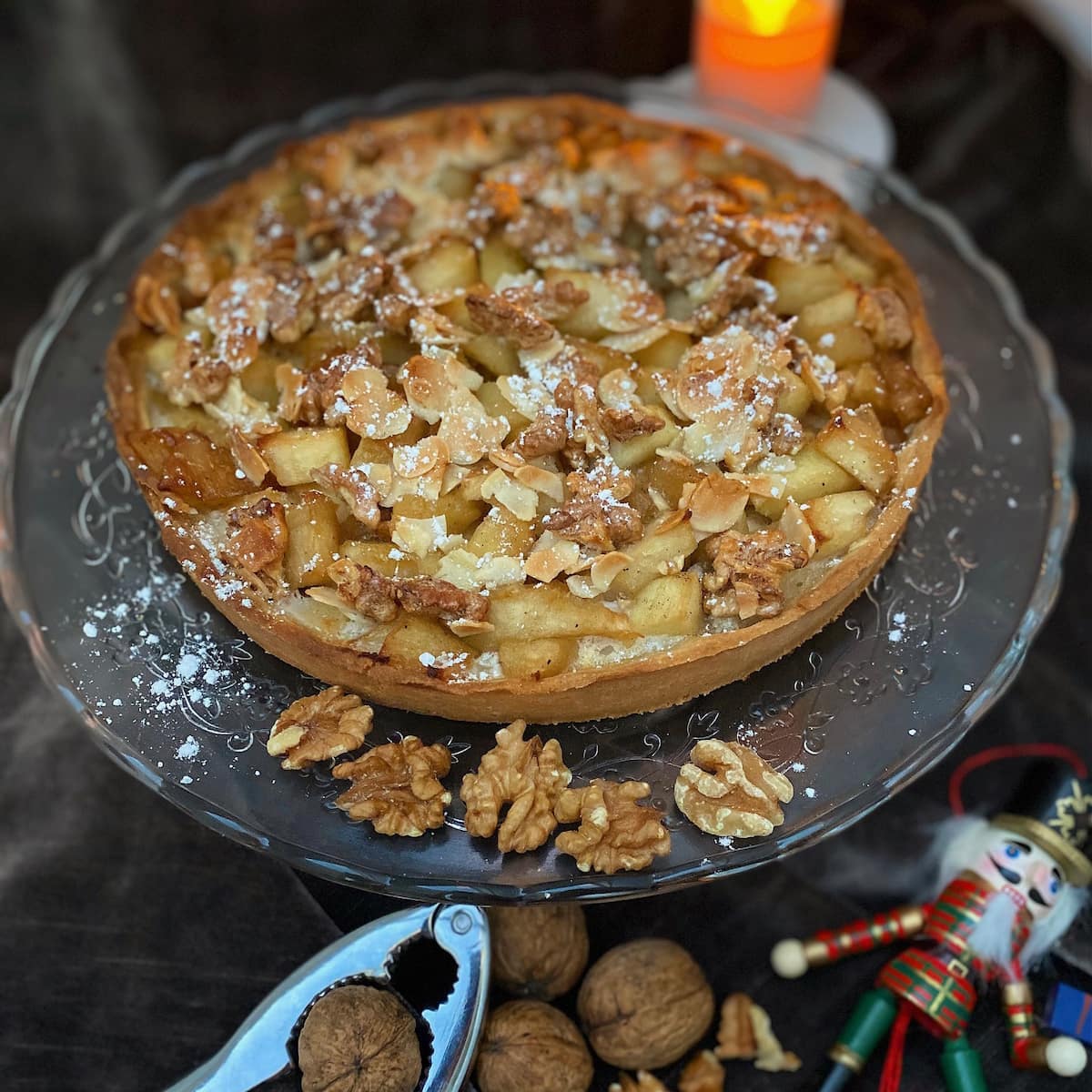 Apple Nougat Tart - this is a real showstopper, particularly during the festive season topped with toasted nuts. As with many of the tarts, serve with a jug of warmed salted caramel sauce (caramel au beurre salé).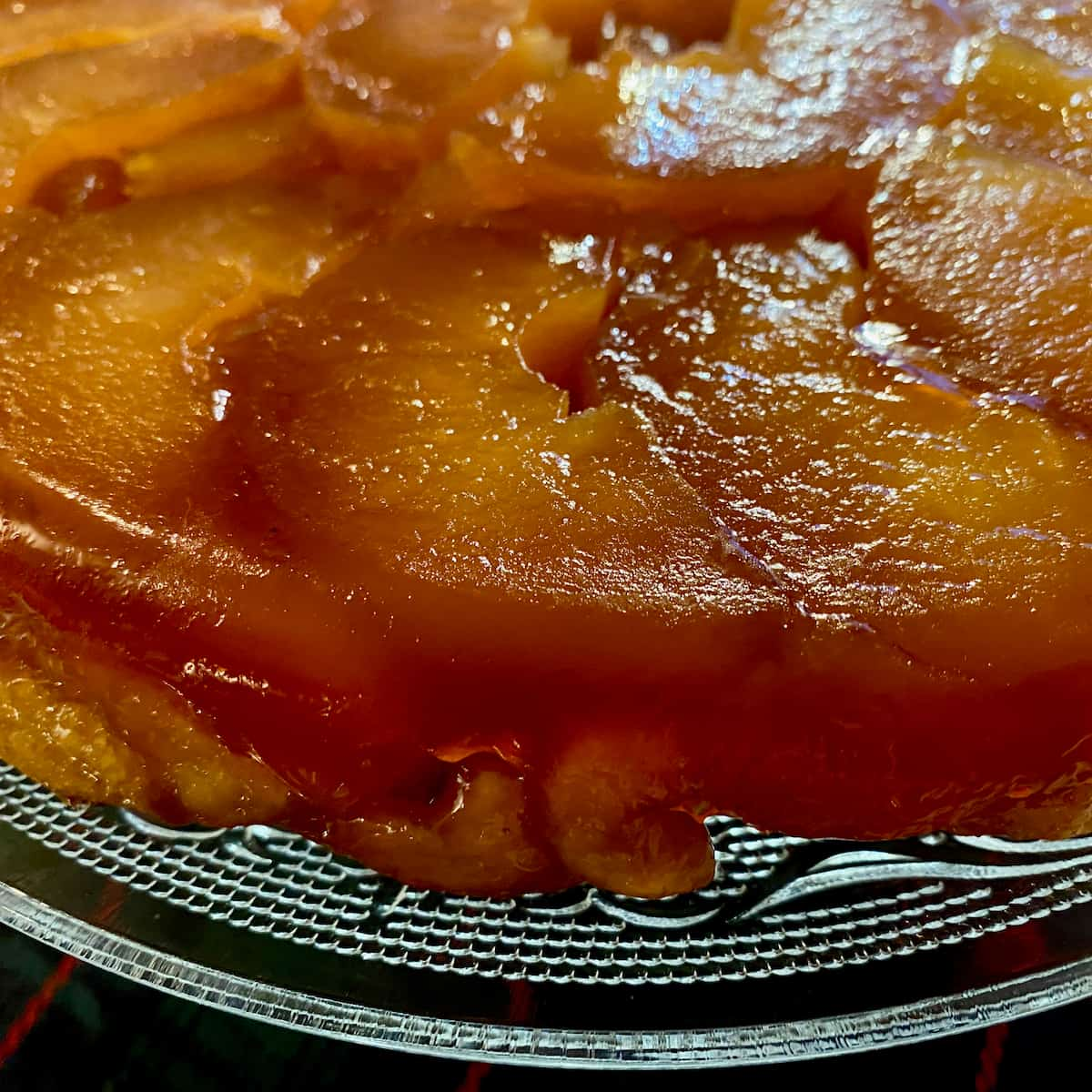 A classic French Tarte Tatin is the ultimate apple dessert baked in caramel. Serve a slice with a dollop of real crème fraîche (or Greek yoghurt) or homemade ice cream such as this Whisky ice cream (or replace the Drambuie with Calvados).
Serving smoked salmon and looking for a delicious sauce? Grate a Granny Smith apple, the basis of this easy Apple and Horseradish sauce. Ideal as a festive starter or appetizer.
French apple crumble cake is something a bit different. Made in advance, it's served chilled and has a scrumptious, toasted crunch to it.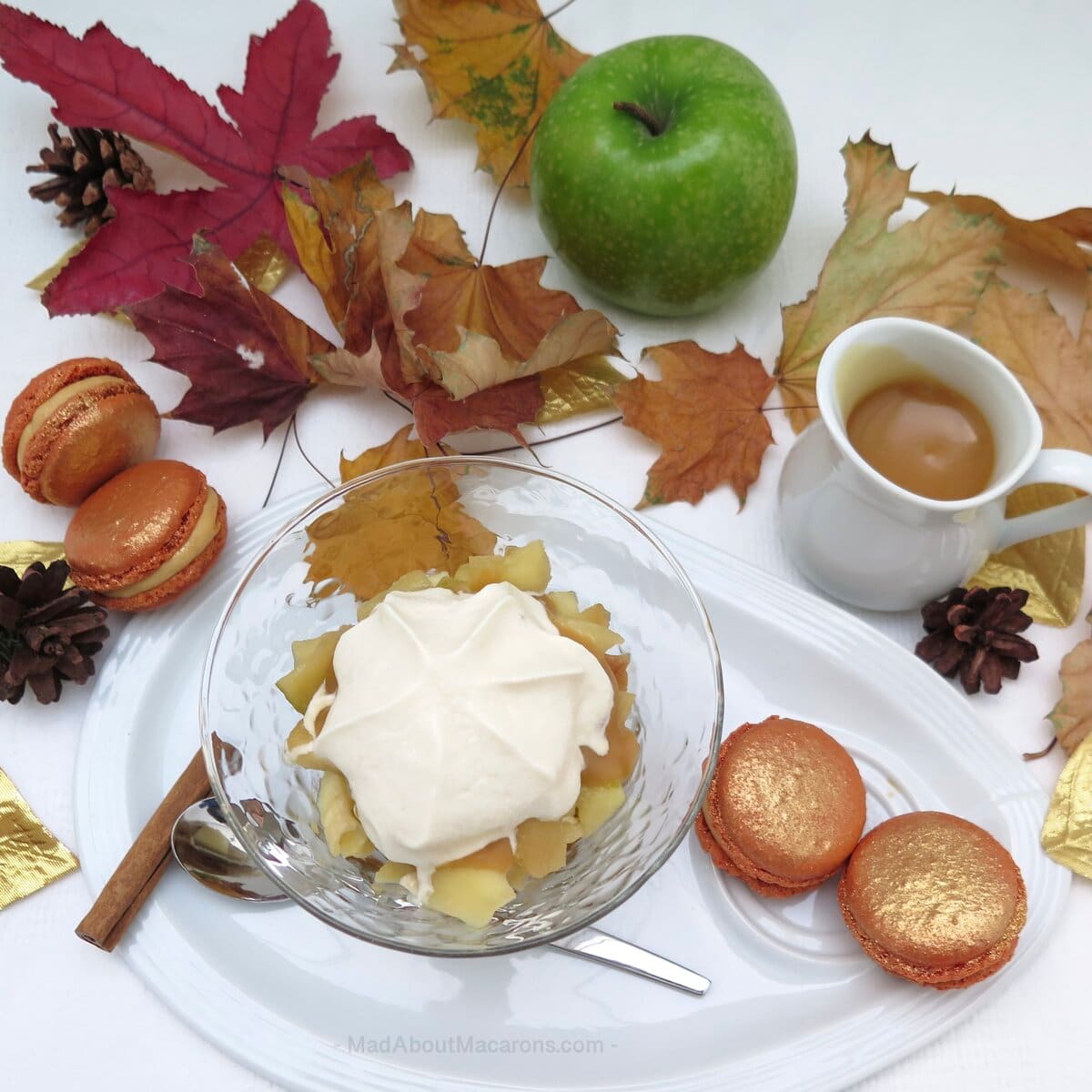 For that ultimate Autumnal or Winter dessert, this is easy made with leftover pain d'épices (French gingerbread). Make a gingerbread trifle with apple and caramel.
Mini Apple Rose Tarte Tatins - for that special occasion to show someone they're the apple of your eyes (couldn't resist that one!) Ideal as a Valentine's Day dessert.
Last but certainly not least, is Sticky Toffee Pudding with Apple. This is my favourite treat from Britain (as well as these carrot cake muffins) so no trip back to my parents is the same without it! However, since learning to make this myself, I add an apple to it. The result means it's extra moist and feels less wicked.