Deliciously healthy pear crumble with oats, chocolate and a hazelnut crispy topping. Warm comforting dessert with the best quality dark chocolate melted into juicy pears.
Apples are added just to soak up a little of the juices but this is a crumble that's not soggy but nicely balanced. So revel in each spoonful of different textures: a crispy topping with gooey chocolate and fruit saying bonjour underneath.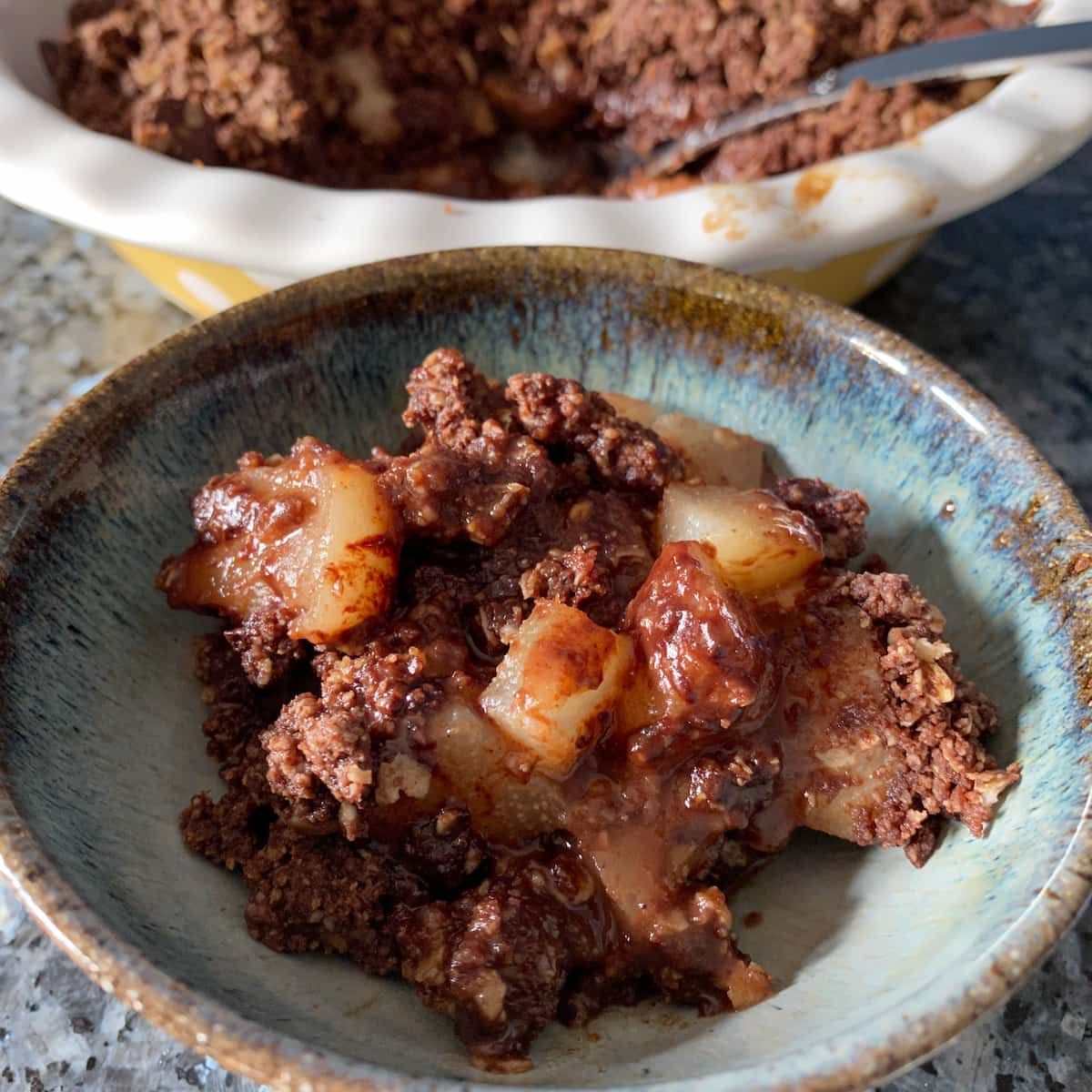 Easy Pear Crumble with Oats
This Pear Crumble is so quick and easy to make. It also ticks the autumn-winter pear comfort food dessert boxes thanks to the melted dark chocolate inside. As a Scottish lass, I add oats to all my crumbles (in fact, all my crumbles have to contain oats!). It adds a healthy touch making it a crispy topping with extra chocolate and hazelnuts.
In a nutshell, it's just taken to another level.
The family love this not just for dessert but any leftovers are pounced on for breakfast, weekend brunch and, typically French, for teatime too. I love how the French call it a crrrrumbeulle. Crumbles in France are becoming increasingly popular on teatime and winter dessert menus. Serve with a pot of tea for the ultimate cosy treat.
What Kind of Pears are Best for a Crumble?
All throughout Autumn and Winter, we've had a constant supply of ripe-firm pears at our local market, which are just right for this crumble.  For this recipe I use Comice pears but you can use Williams, Conference - any of the winter varieties are good.
For more on pears, see the French market produce pear guide.
No More Soggy Crumbles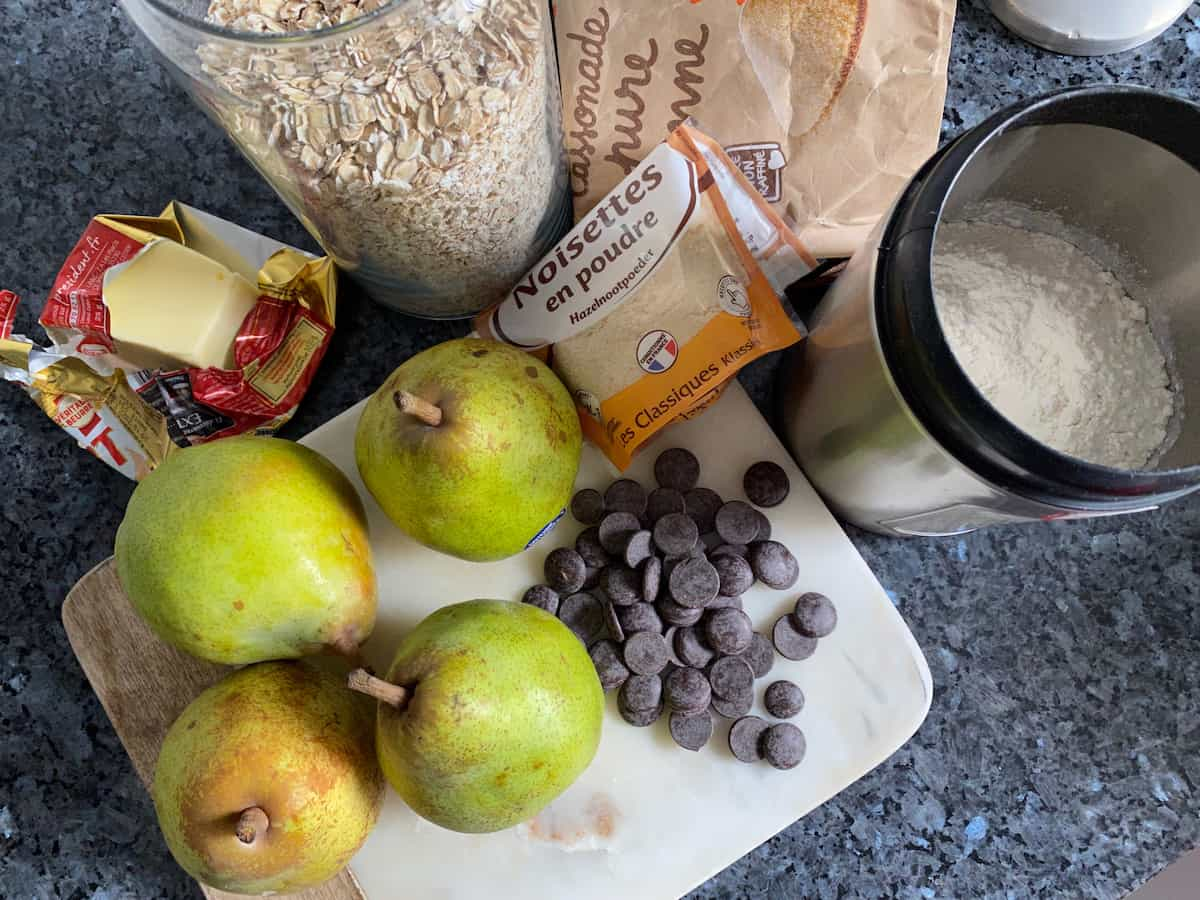 As I was developing the recipe, I found that adding some apple helped soak up the juices. Pears, if extra ripe, tend to be rather wet and juicy for a crumble, which could make it a bit too juicy if used on their own.  However, the mixture of the two together and cooking them lightly at the beginning will prove to be just right.
If you find that your fruit give off too much excess liquid, please don't add flour to the fruit! Instead, I suggest you drain off the extra juices (only if a lot, a little is good) and later reduce it by heating in a pan then serving as an extra topping later.
Although I add unsweetened cacao powder to the hazelnut crumble, the real secret is hidden underneath: good quality dark bittersweet chocolate (at least 64% cacao), in cooking disks or grated, just merges in to the fruit. It's a perfect marriage in a baking dish.
How do You Keep Crumble Topping Crisp?
As long as you follow the crumble proportions exactly (using a digital kitchen scale - see my article why it's best to use one), the oat, chocolate and hazelnut topping will be crisp and crumbly. It's a great balance with the more juicy fruit mixture underneath.
To make this recipe a little less in gluten than my classic apple crumble, I've replaced some of the flour with oats and the hazelnuts just add that incredible flavour.  It's like having a homemade Nutella crumble but much healthier.
Find your topping not crumbly or it goes hard? Then that's because you haven't measured the ingredients correctly.  The butter and mixture of flours and cocoa powder should all be in proportion.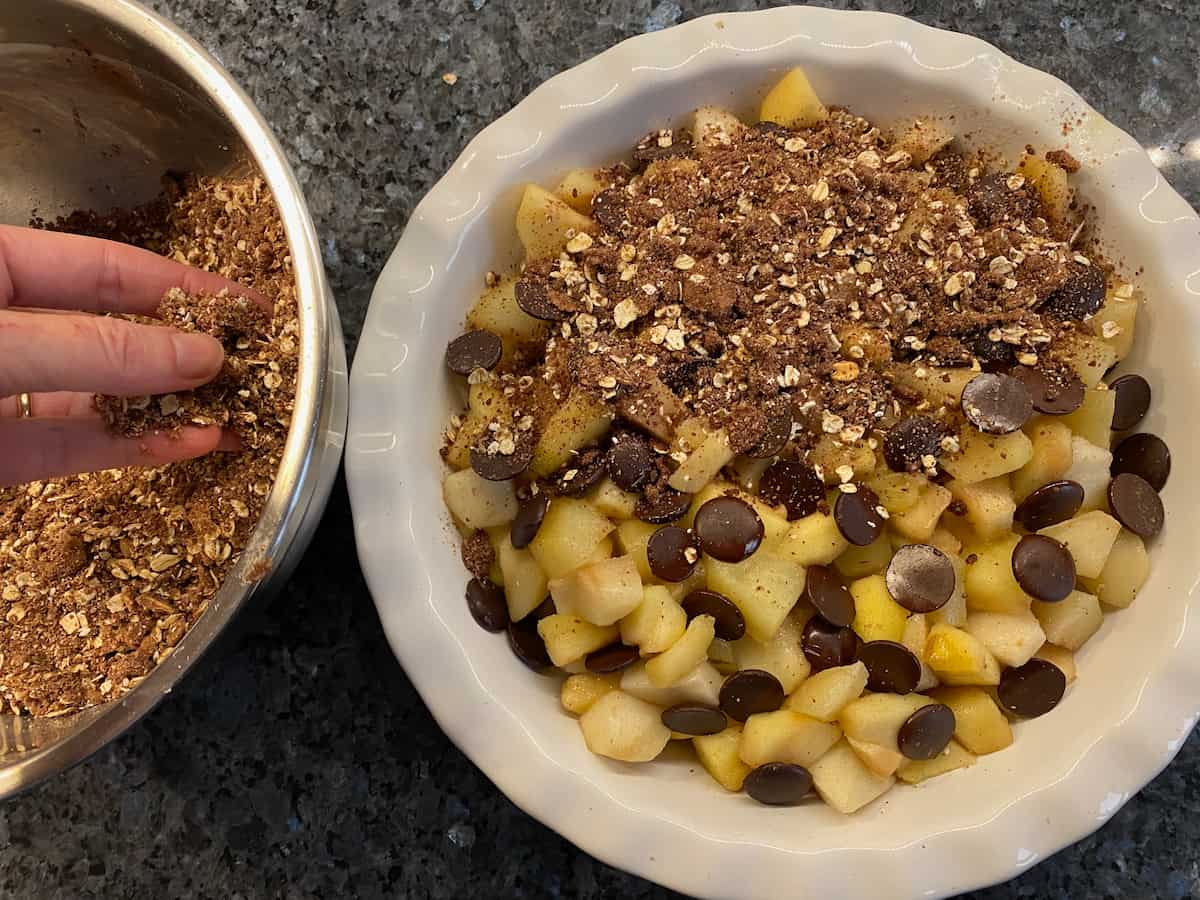 How Long Does Uncooked Crumble Last in the Fridge?
If you plan to make this in advance, I suggest keeping the crumble topping mix apart.
Keep in the fridge for up to 2 days maximum and when ready to bake, sprinkle on the oat crumble topping. This will ensure a lovely crispy crumble.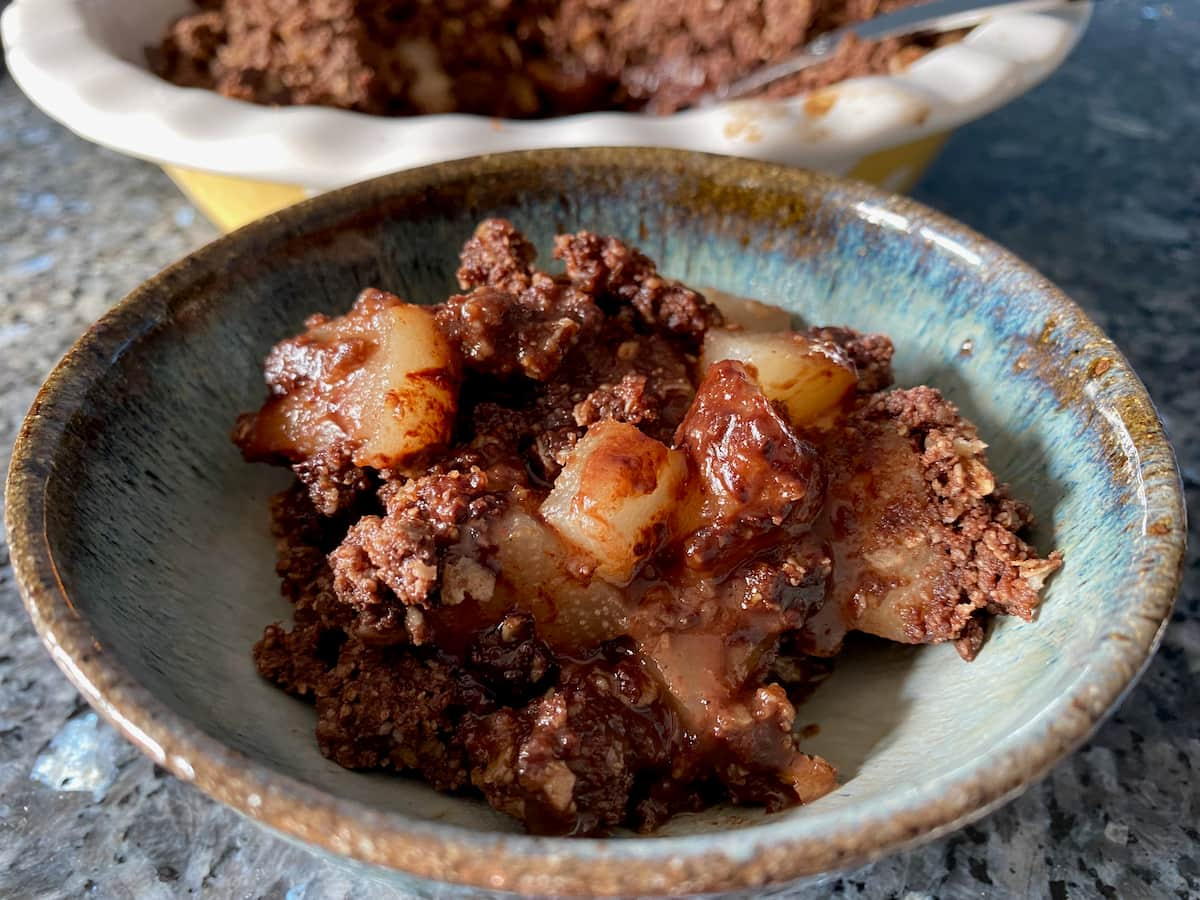 Can I Freeze Pear Crumble?
If you have any leftovers, this pear crumble can be frozen once cooled in a sealed container for up to 2 months.  Any longer and the flavours will be lost. I do prefer eating this next day rather than freezing, however. It's excellent served for breakfast or brunch too!
On the other hand, the oat crumble topping freezes very well.  Store in a sealed freezer bag, again for up to 2 months.  I often prepare double the amount of crumble and freeze the extra half for later. When ready to use the crumble, defrost first before baking.  Using frozen crumble mix directly into the oven will result in extra moisture, creating a soggy result.
This whole crumble can also be frozen unbaked, although I do prefer either two methods above in preference.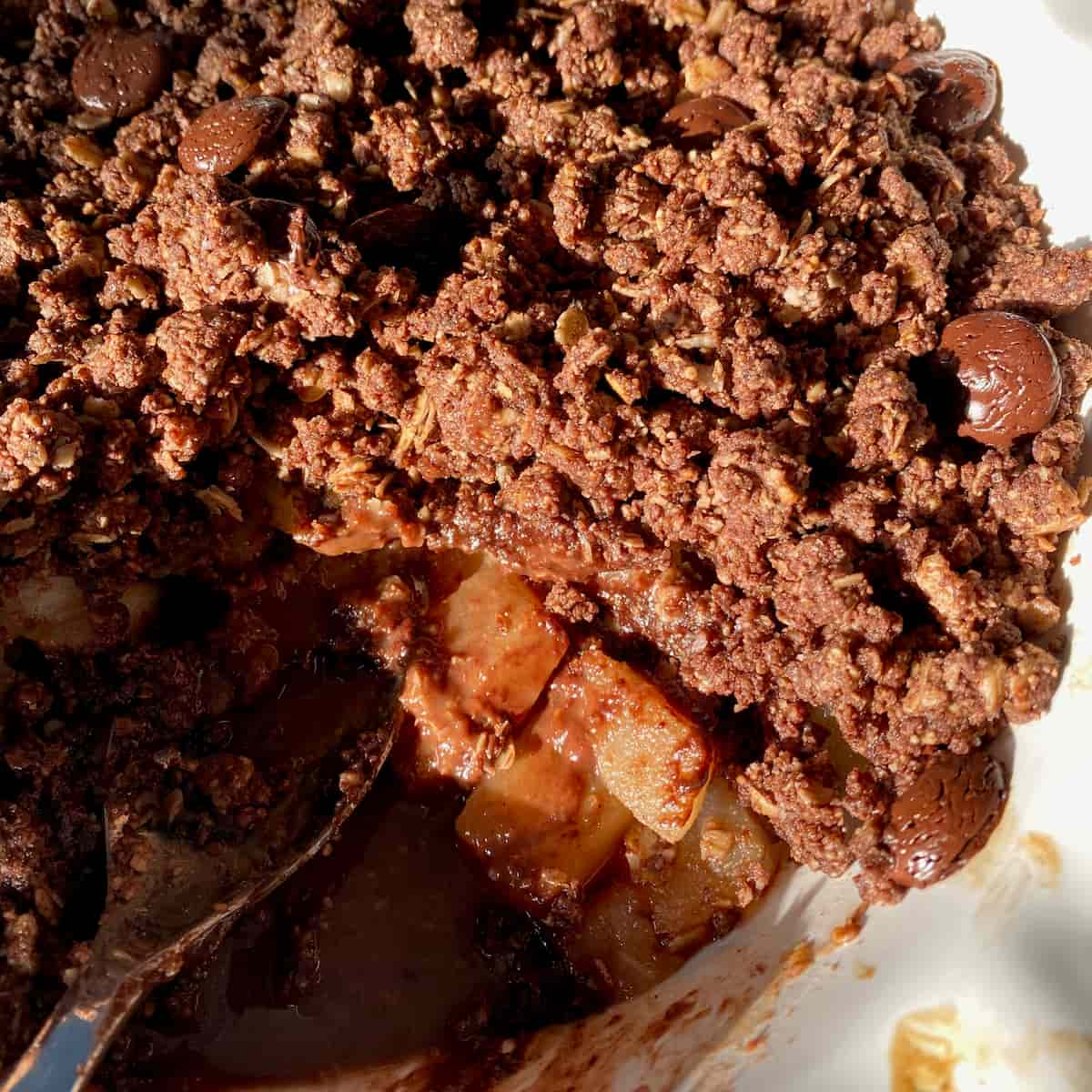 More Crumble Love
If you love crumbles, have you tried these yet? See more pear recipes below.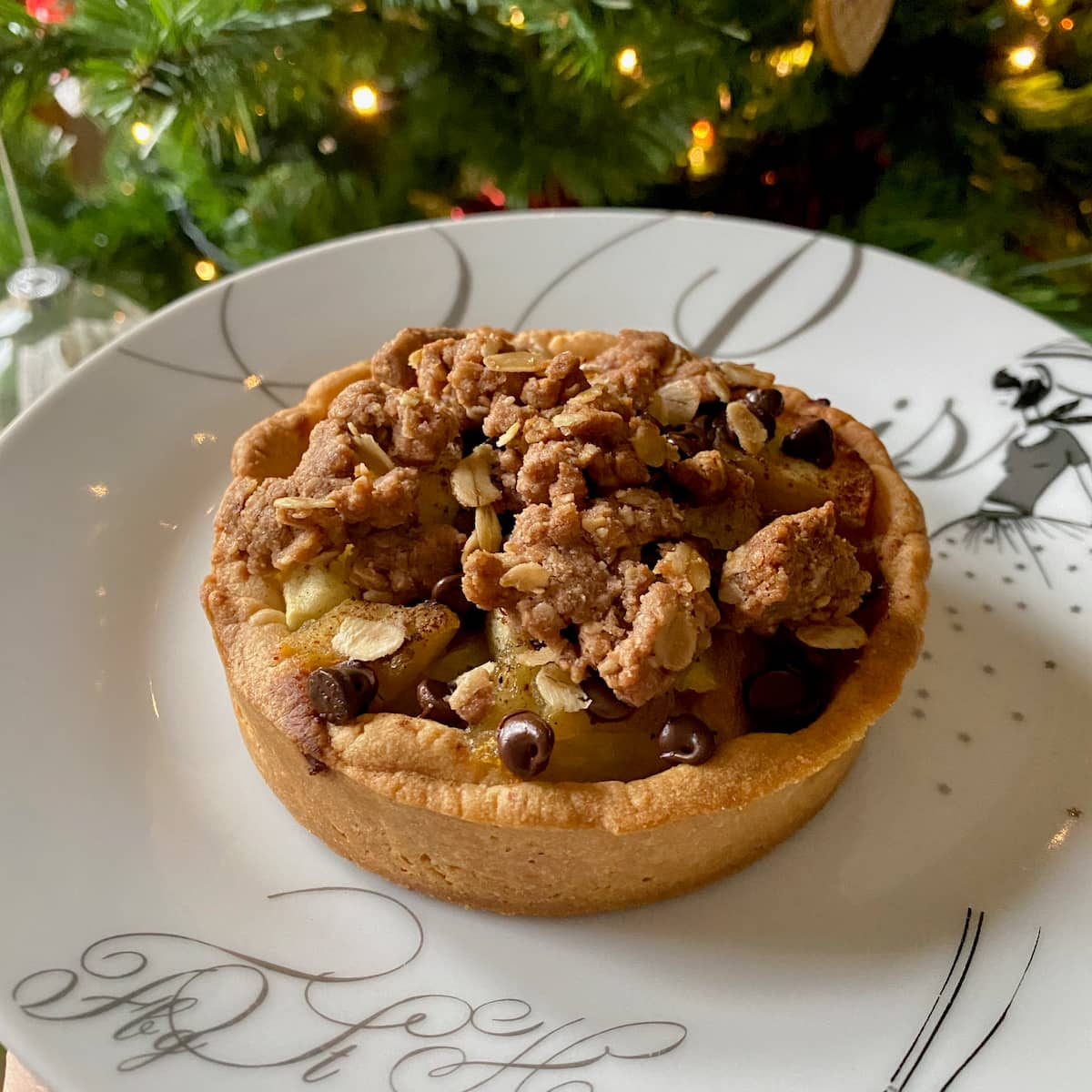 What's more, add this chocolate and oat crumble as a topping for this French apple tart.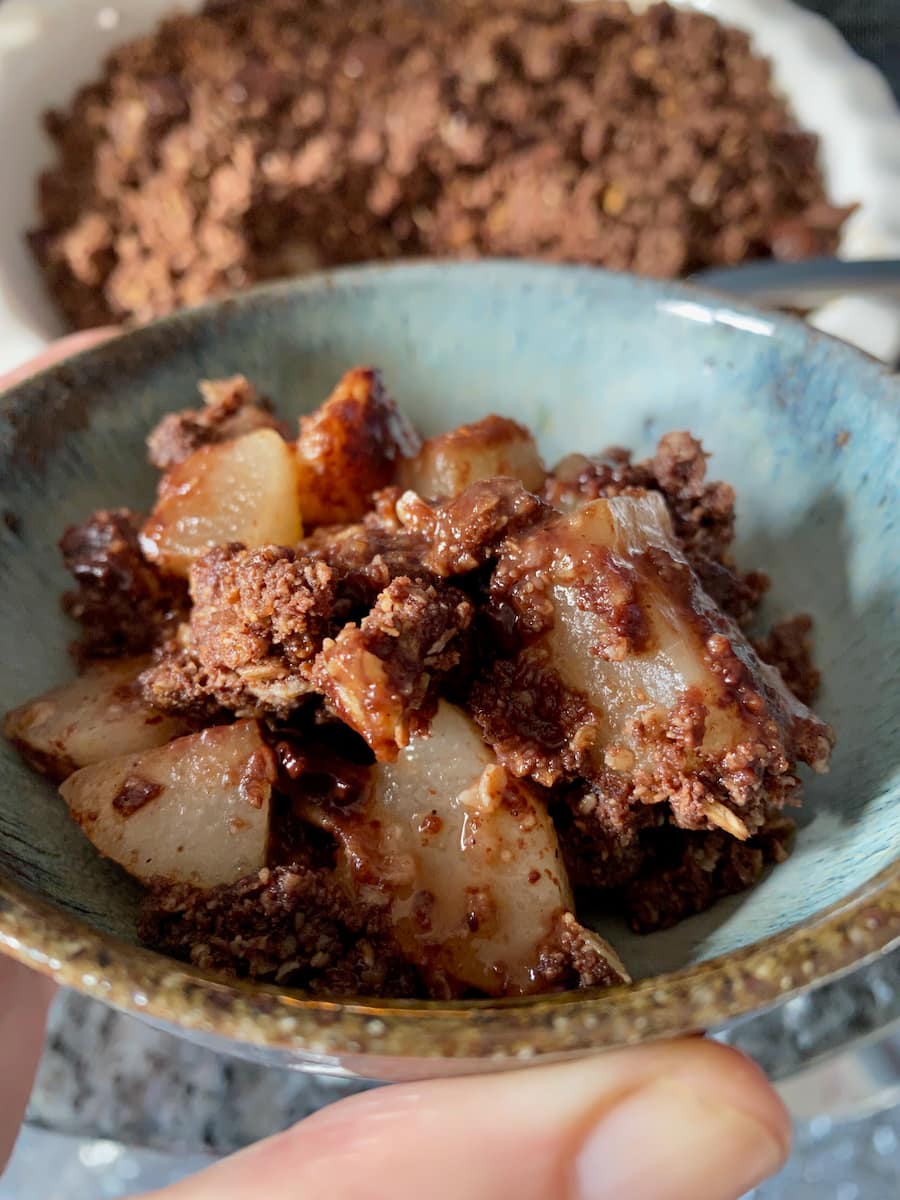 Pear Crumble with Oats, Chocolate and Hazelnuts
Have you made this recipe? Please leave a comment and rated review below. I appreciate your support!
Pear Crumble with Oats, Chocolate and Hazelnuts
An easy pear crumble with oats is the ultimate comfort-food. Spoon into its crispy topping with hazelnuts and get the gooey, dark chocolate juicy bliss of pears and apples underneath.
Ingredients
Chocolate Hazelnut Crumble
75

g (3oz/¾ cup)

Ground Hazelnuts

50

g (2oz/½ cup)

Plain (all purpose) flour

75

g (3oz/1 cup)

medium oats

(porridge oats)

2

tablespoon

unsweetened cocoa powder

100

g (4oz/½ cup)

butter

unsalted

1

good pinch

salt

(fleur de sel)

40

g (1.5oz/¼ cup)

soft light brown sugar

(cane sugar)
Fruity Filling
10

g (0.5oz)

unsalted butter

slightly softened

4

firm to ripe

large pears (Williams or Comice)

peeled, cored, chopped

2

apples (Granny Smith or Golden Delicious)

peeled, cored, chopped

10

g (2 tsp)

vanilla sugar

or cane sugar with ½ teaspoon vanilla powder

50

g (2oz/¼ cup)

dark bittersweet chocolate (min 64%)

good quality, in button form or grated
Instructions
Combine all the crumble ingredients in a large bowl, lightly rubbing through your fingertips until the mixture resembles breadcrumbs. Set aside.

(At this point the crumble topping can be frozen for up to 2 months in a sealed container.)

Preheat the oven to 200°C/180°C fan/400°F/Gas 6.

Peel, core and chop up the pears and apples roughly into chunks. Melt the butter in a large non-stick frying pan, toss in the fruit chunks and sprinkle over the vanilla sugar. Leave to cook over a medium heat, turning the fruit now and again, for about 5 minutes (no more than 8). The fruit should not be mushy, just lightly cooked.

Drain off any excess fruit juice if there is any (set aside and reduce over medium heat to serve apart with the crumble later so that there's no waste).

Transfer the fruit to a gratin or pudding dish (no need to butter it) and scatter over the dark chocolate. Sprinkle on a generous amount of crumble until the fruit and chocolate are completely covered.

Bake for about 25 minutes, or until the top is toasted or lightly browned. Leave to cool slightly before serving.
Notes
Serve warm or at room temperature.
Replace the dark chocolate with milk chocolate according to taste.
Although fresh pears are best for this recipe, tinned pears are also great!
We normally serve this crumble on its own (as the French do) but if you prefer, add some vanilla ice cream, crème fraîche, pouring cream or chai crème anglaise. Excellent served with homemade chestnut ice cream or an adult boozy ice cream such as this non-churn Drambuie ice cream.
This recipe was first published 16 March 2019 but is now completely updated with new images.