Healthy recipe for a super moist banana nut bread with walnuts. Low in sugar and decorated like the French cakes in a Parisian bakery.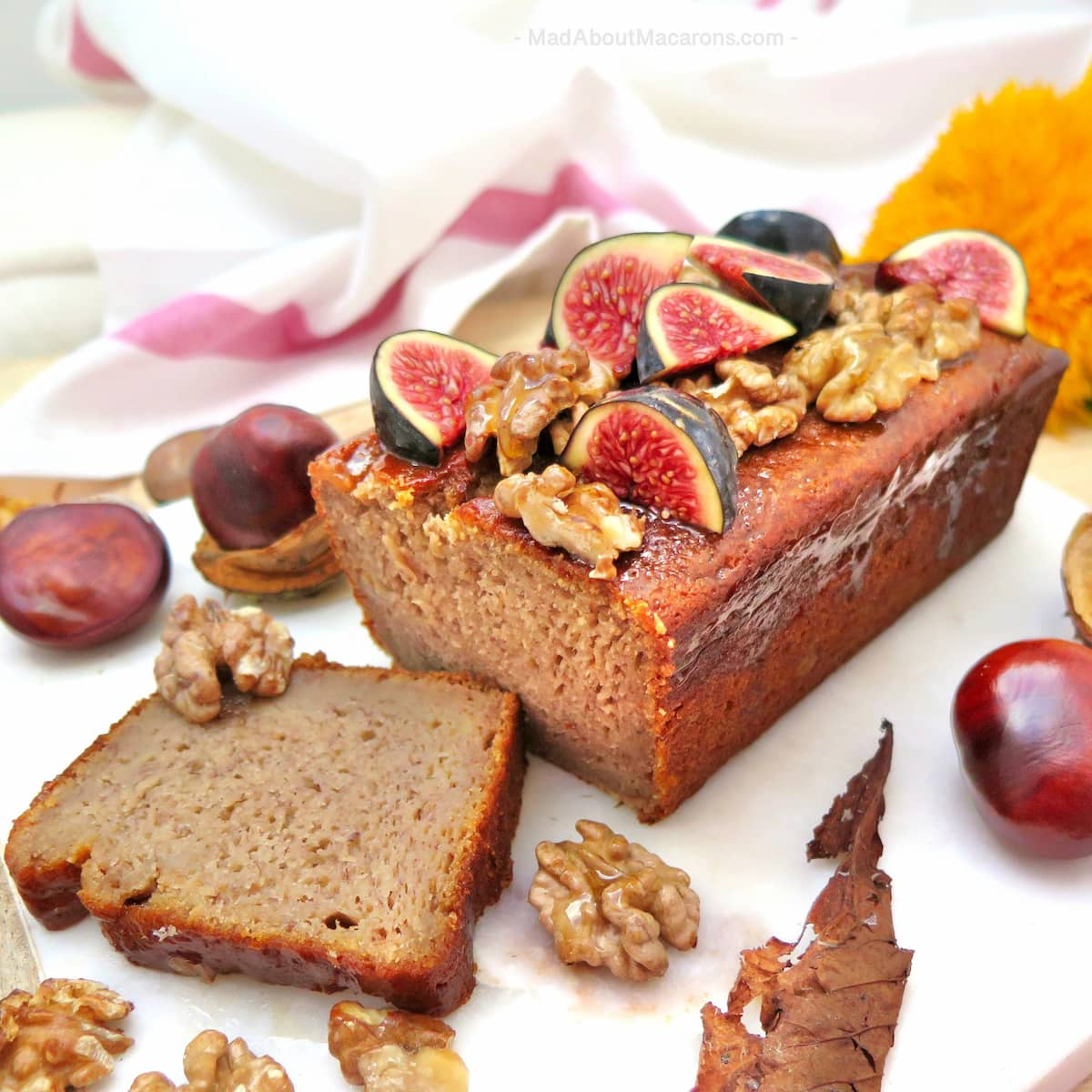 French Nuts in Banana Bread
As the French are crazy mad about everything chestnuts during Fall, we add chestnut flour and chestnut vanilla paste (crème de marrons) to many cakes - even Scotch pancakes - and this banana bread particularly loves them.
At many metro exits and the Tuileries Gardens, sellers with their familiar beaten-up trolleys are roasting chestnuts on top of them. It's a typical Parisian scene in Autumn and Winter with skydiving leaves and tourists wearing banana-yellow berets like Emily in Paris.
With a few extra ripe bananas, rather heavily speckled and brown, it's the perfect time to conjure up a loaf of this moist banana and nut bread.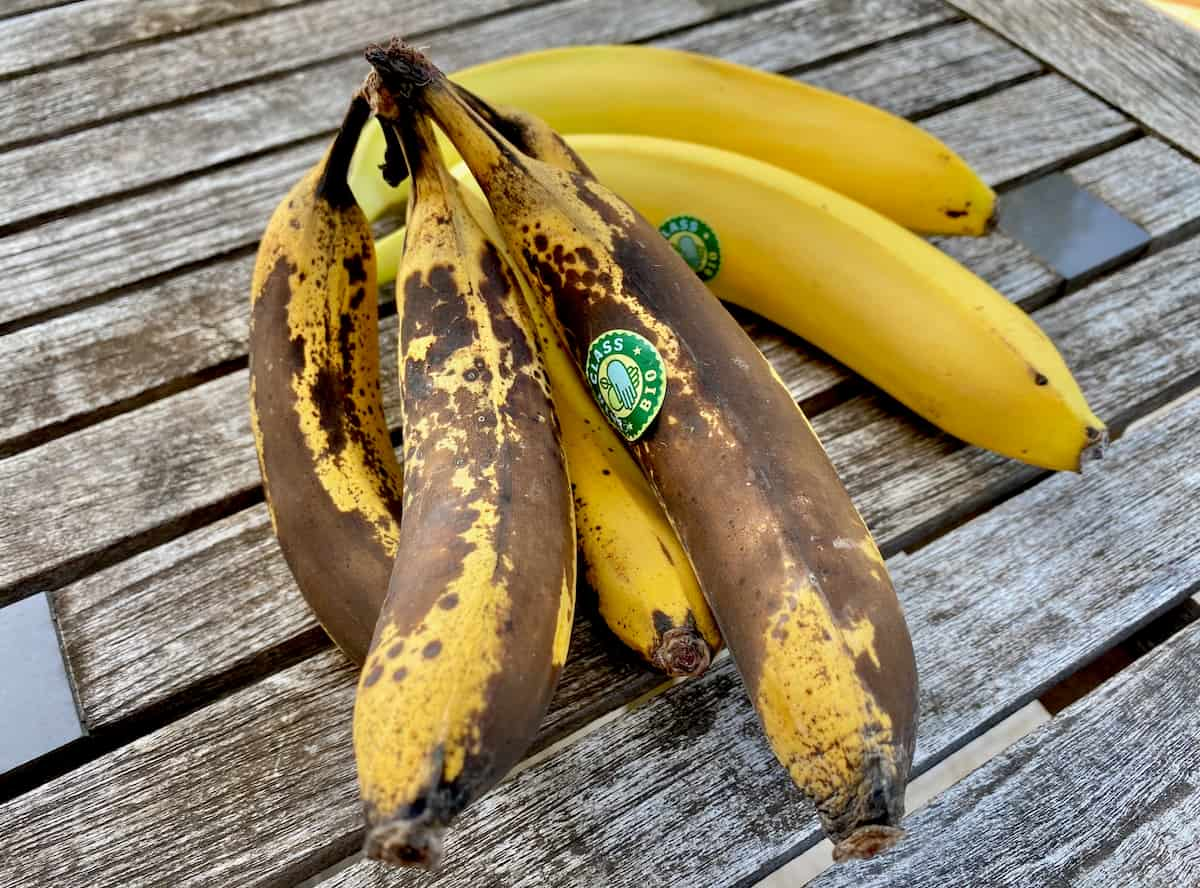 Healthy Banana Nut Bread - Reduce the Sugar!
The kids love banana bread for breakfast. We started with an Italian-style banana coffee cake, inspired by a UK celebrity chef with the coffee - who put in way too much sugar.
At first, we reduced the sugar by less than half - but now feel that the sugar is not necessary at all in any banana bread. Likewise, no sugar is needed in these healthy banana oat muffins, as extra dried fruits add enough natural sugar.
When bananas are extra ripe, they provide enough natural sugar. Ensure they are spotted and brown - not really 'ap-peeling' (groan) to look at, but they contain much more natural sugar than younger, green-yellow bananas. To find out more about banana's ripening levels of sweetness, see this interesting article on bananas by Harvard School of Public Health.
If you prefer your cake a little on the sweeter side, or your bananas are not as over-ripe, then use the little optional sugar in the recipe. Although with the sweetened chestnut paste and honey glaze, it's not needed.
In France, it's a myth that we eat sweet cakes each day and gorge on patisseries. It's not true. We totally watch what we eat. Inspired by French pastry chefs, their mantra is too much sugar kills the flavour of pastries and cakes.
So, likewise, we reduce unnecessary sugar as much as we can.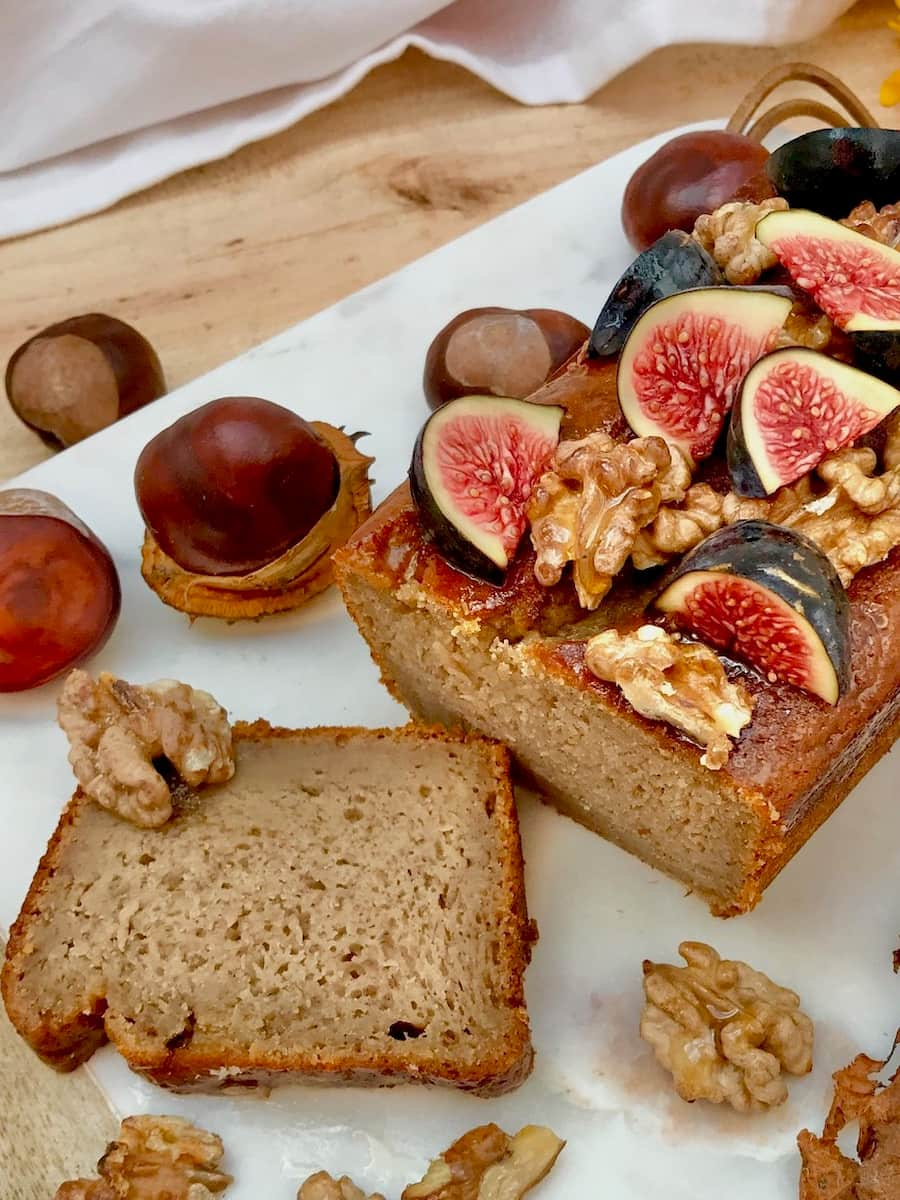 Are Chestnuts and Conkers the Same?
The conkers from horse chestnut trees are not edible - unlike the sweet edible chestnuts (marrons) so popular in France. See more on the chestnut page.
The edible chestnuts are particularly popular in both France's Ardèche (known for the crème de marrons) and in Corsica. As you may know, my husband is Corsican, and they love using chestnut flour in many recipes (have you tried this Chestnut Flour Tart with Pumpkin and Mushrooms? It's Autumn on a plate!)
It adds that nutty intrigue. As it's a strong flour (and gluten free), so that it's not overpowering, use a a mix of plain flour with the chestnut flour.
Just so you know, chestnut flour does tend to make cakes rise less, so although it doesn't look the most photogenic of cakes, the taste is what counts. It's so good! Can't find chestnut flour? Replace with spelt or buckwheat flour or just use plain flour.
How Do you Keep Banana Nut Bread Moist?
In this recipe, I add two tablespoons of sweetened chestnut and vanilla paste. This adds that extra French chestnut flavour - but most importantly, makes this banana nut bread extra moist.
To make this super moist, glaze with warmed honey when the loaf has cooled after baking. This helps to keep the banana's moisture and has the same effect as adding honey to these coconut macaroons.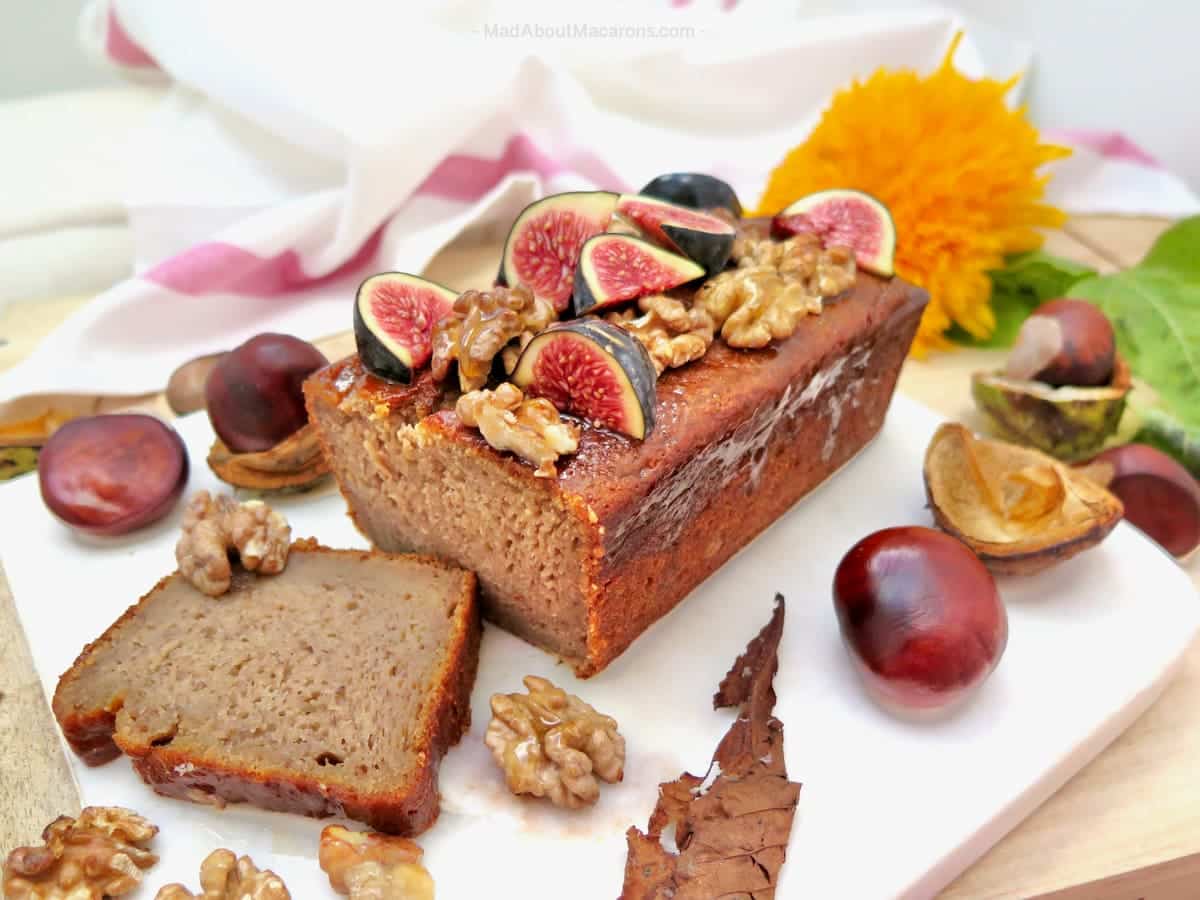 What is a Popular French Cake?
I find a French "cake" rather amusing since it can be a bit confusing. The French call a Cake (pronounced KeK) - but it's not a round cake as we know it like a sticky orange caramel cake, or chocolate ginger passion cake. It's appearance is more like a loaf in shape, as the cake is baked in a loaf tin. French cakes like chestnut cake in Corsica are popular and so merging the two with British banana bread meets together in this moist banana chestnut loaf.
If you look around the patisserie windows around Paris, you'll see that many French pastry chefs top their cakes with fancy frills.
Loaf-shaped cakes are topped with the likes of quartered fresh figs, walnuts, candied fruits like orange or cherries. Even the barest has a simple honey glaze on it.
So it's rare to see a bare, naked-topped French cake in any Parisian pâtisserie. If you do see one, tell me and I'll eat my cake!
How to Serve Banana Nut Bread
Super moist and reduced in sugar, this doesn't need much to serve with it. As in French pâtisseries, they decorate cakes with a glaze and fresh fruits or nuts.
So be inspired as to what's around in season and top to your heart's content. Decorate with a brushing of melted honey or apricot jam, even more walnuts, figs or dried apricots.
As this healthier loaf has less sugar, it's great served with cream cheese, fig jam or peanut butter (see my notes how to choose a healthy brand in my peanut butter cookies). Even a scraping of more chestnut and vanilla spread? Perhaps that defeats the purpose of lowering the sugar!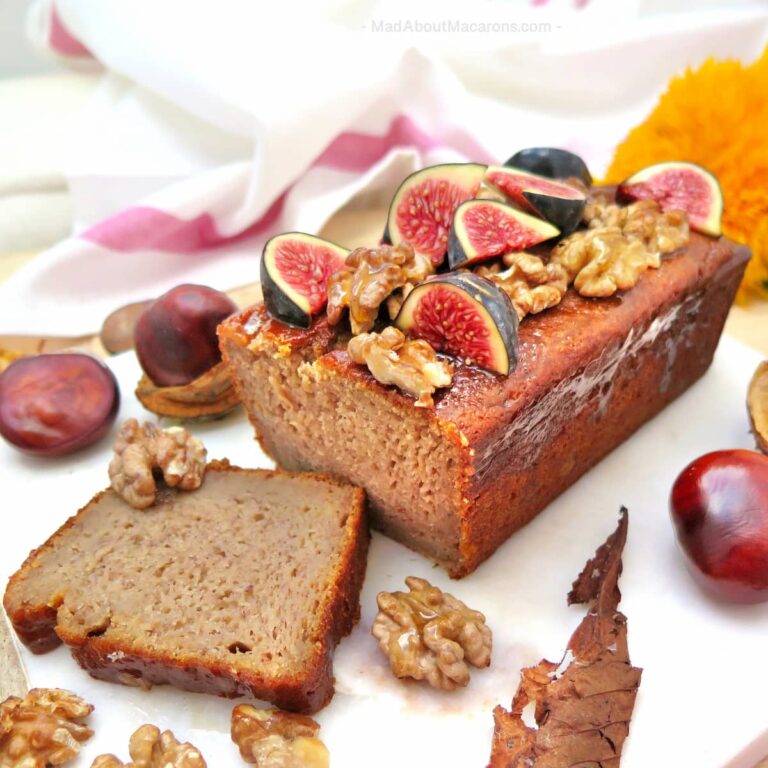 Moist Banana Nut Bread
Healthy recipe for a super moist banana nut bread. With a taste of Corsica, it's made with chestnut flour, chestnut paste and glazed with melted honey and walnuts - ideal for teatime or breakfast.
Equipment
450g/1LB loaf tin

non-stick
Ingredients
3

medium (300g without skin)

bananas

very ripe

2

medium

eggs

organic

pinch

sea salt

fleur de sel (Maldon, Celtic)

100

g (3.5oz/¾ cup)

plain flour (all-purpose)

50

g (1.75oz/ 6 tbsp)

chestnut flour

(or spelt/buckwheat flours)

1

teaspoon

baking powder

2

teaspoon

ground cinnamon

(optional)

50

g (2oz/¼ cup)

soft brown sugar

OPTIONAL

85

g (3oz/ ⅓ cup)

unsalted butter

melted

2

tablespoon

sweetened chestnut paste

(I use Clément Faugier)

30

g (1oz/2 tbsp)

walnuts
Glaze & Topping (optional)
2

tablespoon

honey

to glaze

2

fresh figs

chopped
Instructions
Preheat the oven to 170°C/150°C fan/340°F (gas mark 3).

Mash the bananas in a large mixing bowl, then mix together the eggs (and sugar if using) until mixed.  Add the salt, flours, baking powder and cinnamon. Add the melted butter and mix until smooth.

Pour in the batter in to the loaf tin. Top with walnuts and bake for about 45 minutes or until a knife inserted in the middle comes out clean.  If not, bake for another 5-10 minutes.

Leave to cool in the tin then tip the loaf out on to a wire rack to cool further.

To decorate, gently heat the honey and brush it on the top of the loaf, adding extra walnuts.
Notes
To Serve: Top with either more banana slices, fresh figs or other seasonal fruits for decoration. Delicious served warmed with a scraping of butter or chestnut spread.
Reduced Sugar: Even although this cake is reduced in sugar, it's optional according to taste. Personally with the sweet bananas there is no need. Try it once with then without.
Measures: Please note that all my recipes are best made using digital kitchen scales in precise metric grams. Both ounces (and cups) are given as an approximate guide. 
Nutritional value includes the sugar but without, it's lower in calories.
This recipe was first published 21 October 2017 but is now completely updated.